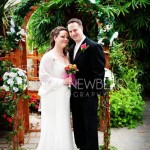 I have been thinking about writing something about this for awhile now, so.. here it goes!
Brides & grooms always want the digital files from their wedding day. Why wouldn't they? They *should* be able to archive their images, of course! BUT the digital files shouldn't be the final product! Wedding photos weren't meant to be viewed on a computer screen! I know that wedding albums are expensive, but they are SO worth it! For a few reasons…
They are timeless. Having something tangible in your hands to treasure will never lose it's appeal. Whether it's next week or 40 years from now, you can always look at your album and relive your wedding day like it was yesterday. You can't going to sit down and flip through a few hundred photos on your computer screen – your children and grandchildren won't have the patience for that! They want to see the story of the day, the highlights – and that will all be displayed beautifully in your wedding album.
They are real. – Digital media great, but it's not really permanent. Remember floppy drives? Zip drives? Technology changes so fast, 40 years from now, you probably won't even be able to get your hands on a CD drive (the new Macbooks already come without one), or even a USB drive. Some of the most precious memories you will ever have could literally be trapped in old technology! It doesn't seem logical to me, to spend all that money on a disc of wedding photos, and then at the end of it all, have a drive that will be outdated in who-knows-when. Printed photos will never become outdated, nor do you need any machines or technology to view them!
Where are our wedding photos? It's also true that 9 times out of 10, DVDs or USB drives that go into a drawer, stay in a drawer, and never see the light of day again. USB drives especially, are small and can get lost easily!
It's for your family. When your children or grandchildren want to see your wedding photos, they will be easily accessible. You can sit on the couch together and talk about your wedding. I assure you, the memories will come flooding back! Maybe your daughter wants some inspiration to plan her own wedding. Maybe your grandchildren want to see what all their relatives looked like when they were younger. I have fond memories of flipping through my parents' wedding album on various occasions when I was a little girl. At this very moment I know exactly where it is kept in my parents' house. When your grandchildren are rooting around in your attic in 2075, and they come across an old disc or USB drive, they won't know what it is. They'll toss it aside and keep looking for nostalgic items, and have no idea what they just overlooked.
Of course, people hesitate getting wedding albums for a variety of reasons…
With the digital files, I can make my own album. Of course you can! But honestly, the last thing you want to do after your wedding is make an album from several hundred wedding images. Sure, there are lots of online companies who can print a book for you, but none of those books are as good quality as your wedding images deserve! On top of that, not only do professional photographers have access to the highest quality of printers, and album companies, but we deal with thousands of photos at a time on a regular basis! We are experts at putting together the story of your day, told through photos, and designing the perfect heirloom storybook album.
I don't have time now, but I can make us an album later. When will "later" be? After your wedding, your life will go back to normal and get busy! You probably have a career, and before you know it, you'll have children. Then it's 20 years later, your kids are asking to see your wedding photos, and you have no album to help you recall one of the most memorable days in your life. (Trust me, your wedding day will fly by, you would be surprised at the details you will forget even the week after your wedding!) I'll be honest, as a wedding gift, my mother-in-law gave us a BEAUTIFUL wedding album. All I had to do was print my pictures, organize them, and slide them into the inserts in the pages. I did 3 pages. That was 8 years ago!!! I'm not even kidding. And I'm a *wedding photographer*!! (Note to self: Finish wedding album. In my defense, I'm usually pretty busy with OTHER people's weddings and THEIR wedding albums that I don't have much time to work on my own.) Life gets BUSY, trust me!
It's too expensive. Of course, cost is an issue for many people. Quality wedding albums aren't cheap! Good wedding albums are not only custom-designed, but hand crafted, and assembled just for you. They aren't mass produced. Of all the things you spend money on for your wedding, your wedding photographs are the ONLY thing that will increase in value over time. As the years pass, you'll cherish them more and more. Especially, if you can experience looking through them by flipping through a gorgeous custom-designed album, instead of sitting hunched over in front of your computer and clicking "next" with your mouse. That's no way to view some of the most precious photographs ever taken of you!
Honestly, you can figure out a way to make it happen. It is definitely worth it! If you can't afford the album all at once, ask about payment plans! Forgo a centerpiece. Cut back on some hors d'oeuvres, or have a cash bar instead of an open bar (that will save a lot of money right there! haha). There are other places you can save money, but you don't want to try to cut costs on your memories.