#jenandscottwed

Vaughan Wedding Photographer | The Doctor's House | Hazelton Manor
Jennifer & Scott
In my last blog post, I posted photos from Jennifer and Scott's maternity session. Now it's time to have a look at their Vaughan wedding!
How They Met
Jen and Scott first met at a local bar in Newmarket. Scott saw Jen, and right away knew that he had to talk to her. Jen was sending a text message, and Scott peeked over her shoulder and said "you text message a lot." Jen's first thought was "Who is this creeper watching me?". She looked up at her friend, who gave her the go-ahead to turnaround (because Scott didn't look like a weirdo, haha). When Jen turned around, she thought to herself that "this guy is pretty darn cute!"
They went on their first date to dinner and a movie. They had dinner at Shoeless Joe's, and then they went and saw the movie Hostel. The proposal came 7 years later!
The Proposal
Scott proposed on the beach in Cuba (on Jen's birthday!)
The Wedding
I started photographing at the hotel in Vaughan where both Scott and Jen were getting ready. They had separate rooms just down the hall from each other (or was it across the hall?), so it was easy for me to go back and forth! As I usually do, I started off by photographing all the bridal details.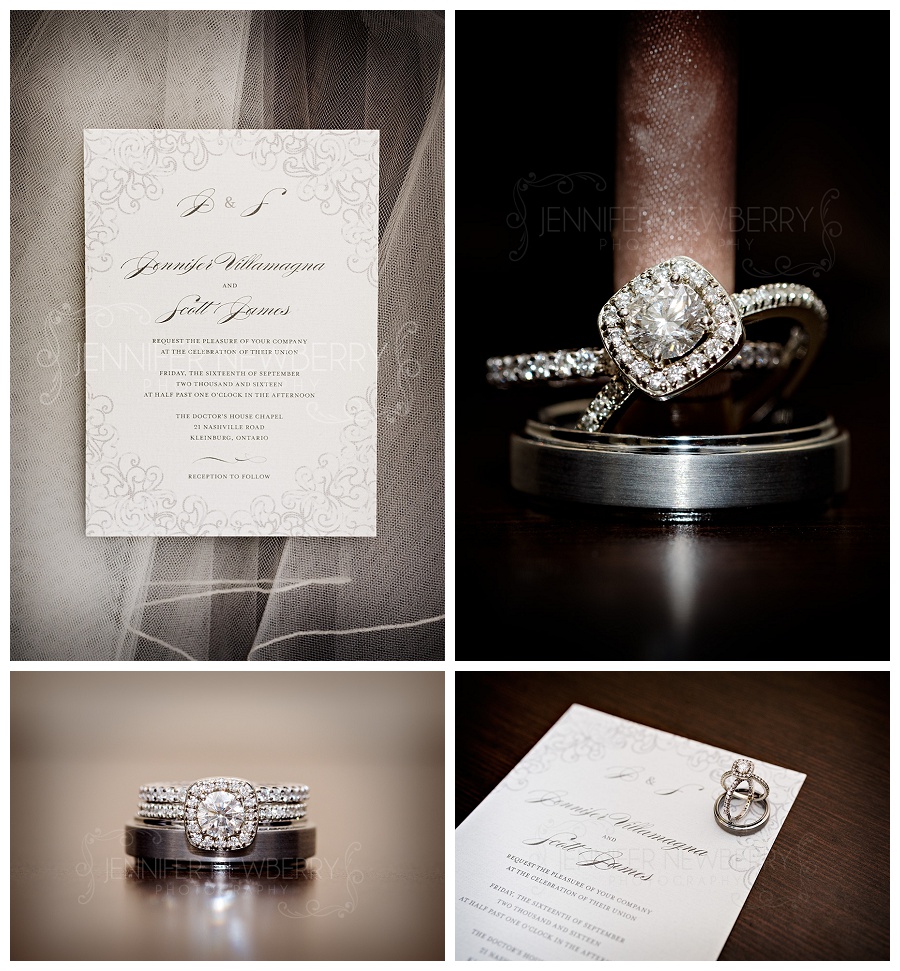 The boys looked very handsome of course – not just Scott, but their 7-month-old son Liam as well! (Look at his cute little bow-tie!!!)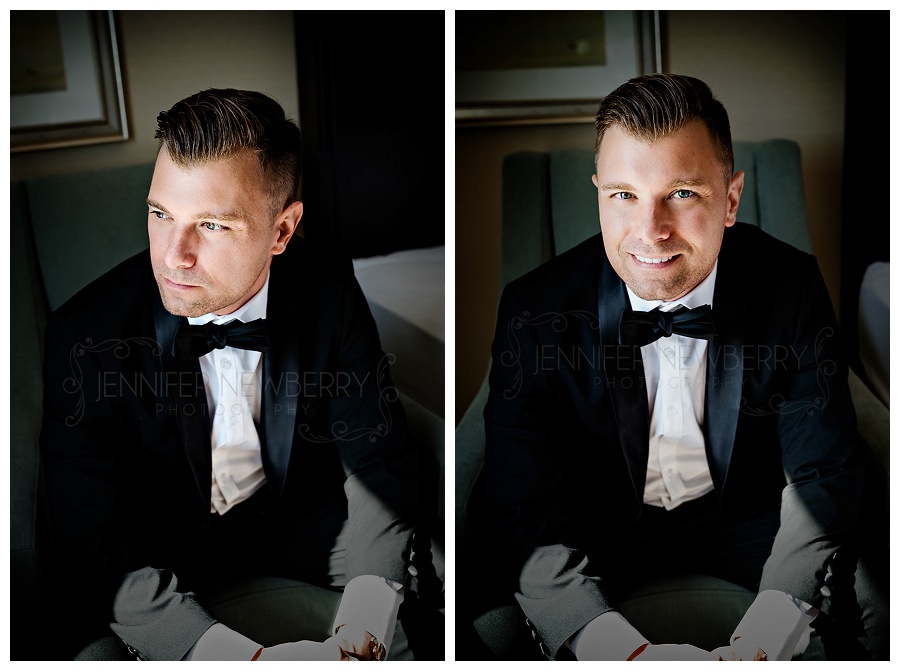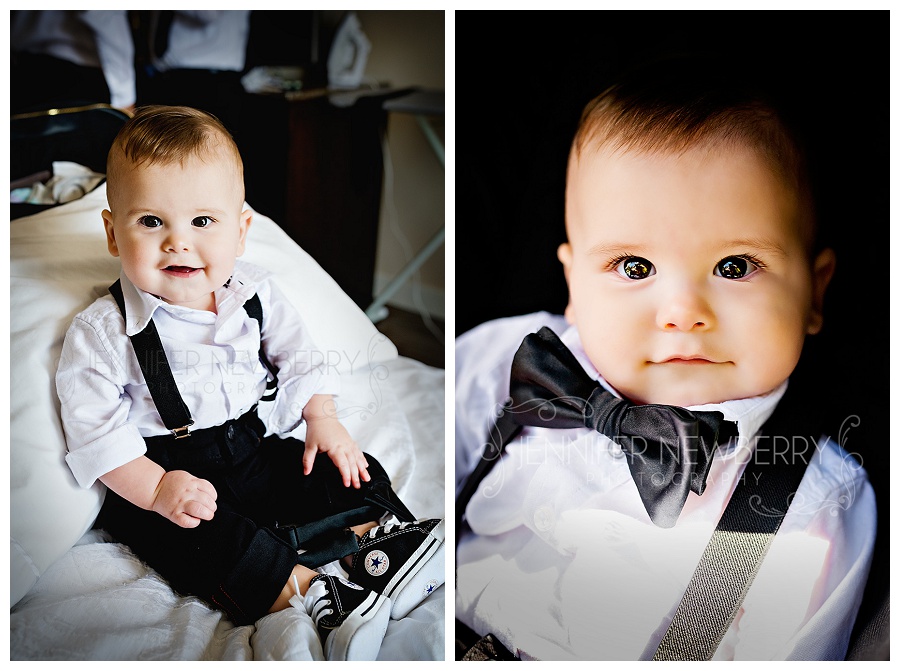 I think the photos speak for themselves, so I don't really have to say it (but I will anyway), Jen was an absolutely stunning bride!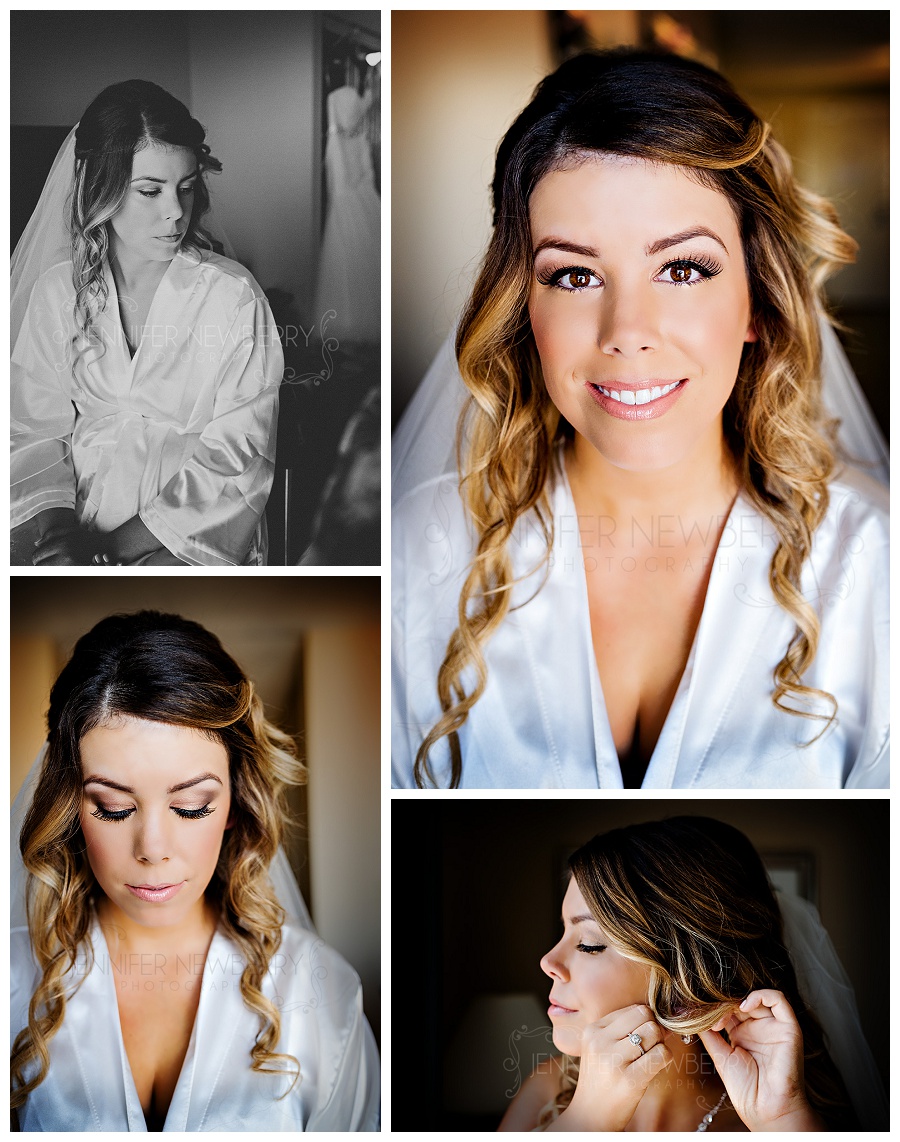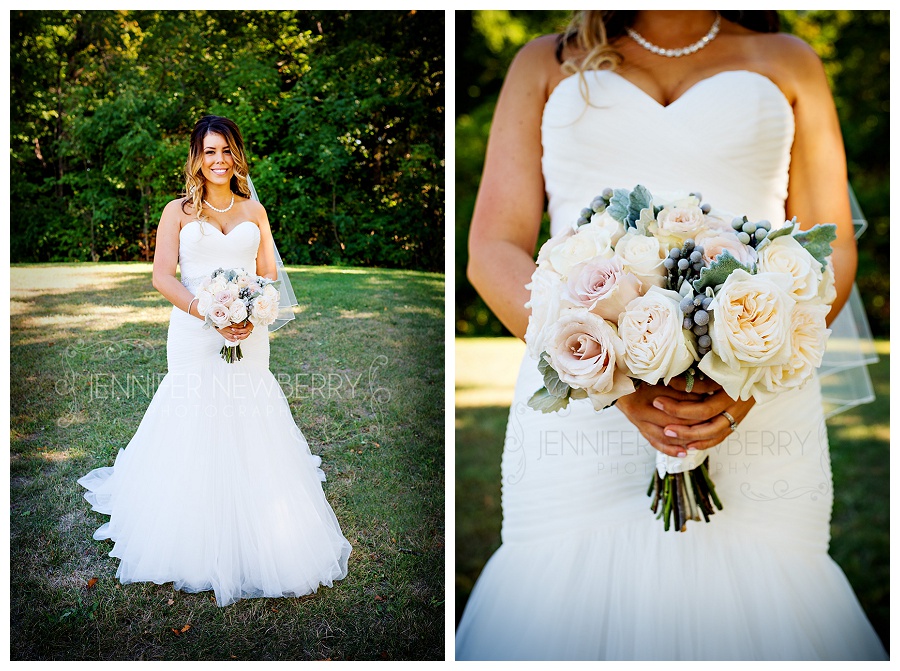 The ceremony was held in the adorable little white chapel at The Doctor's House in Kleinburg.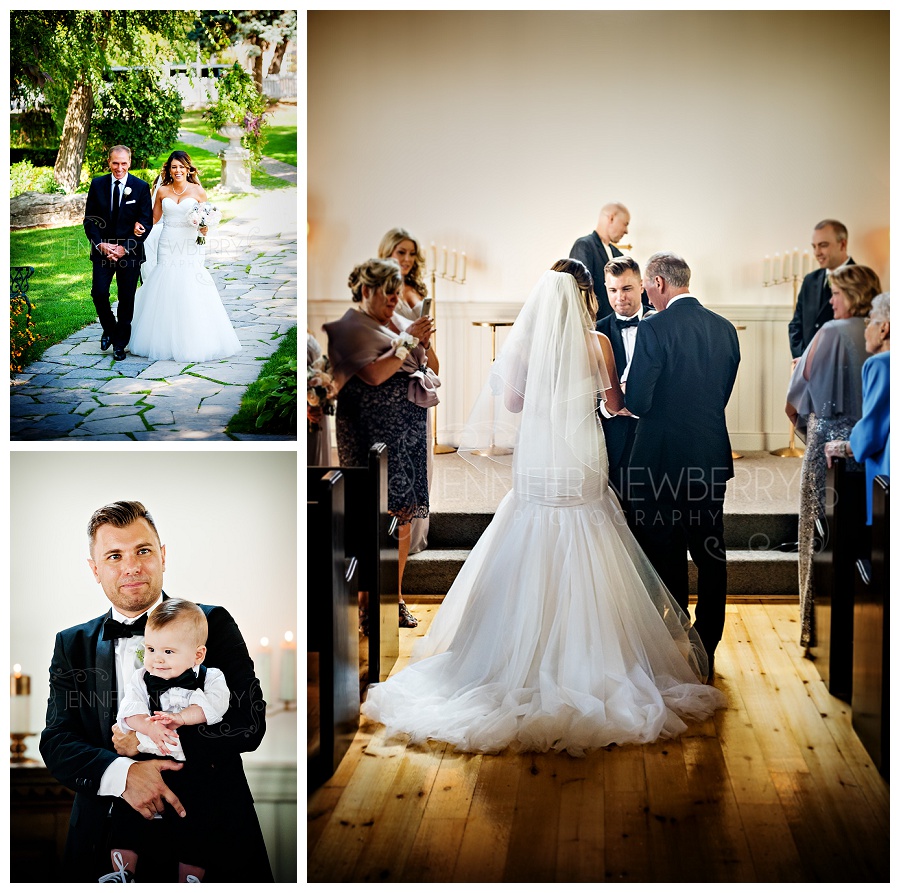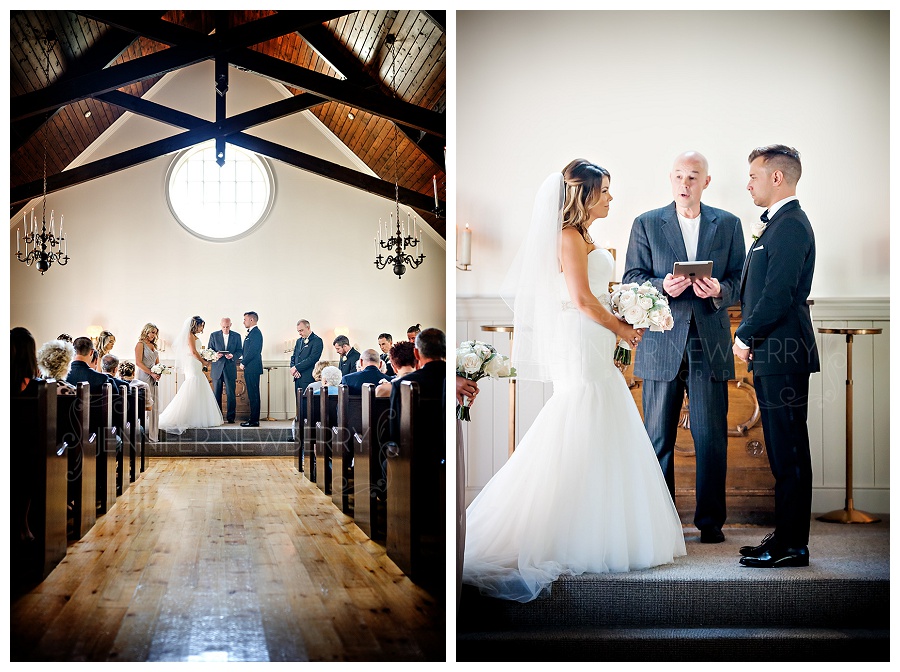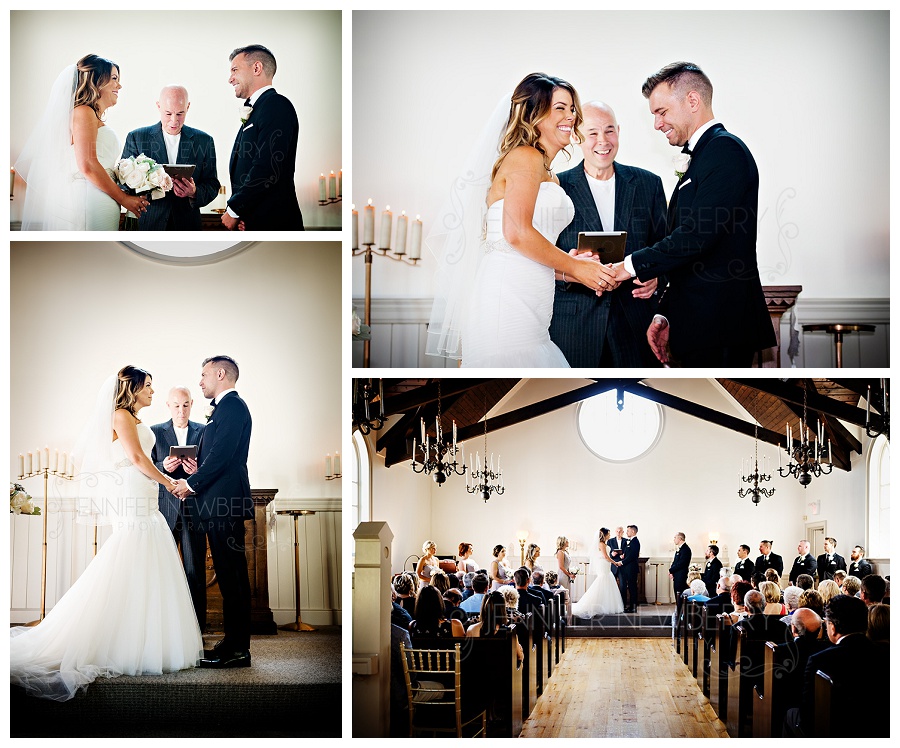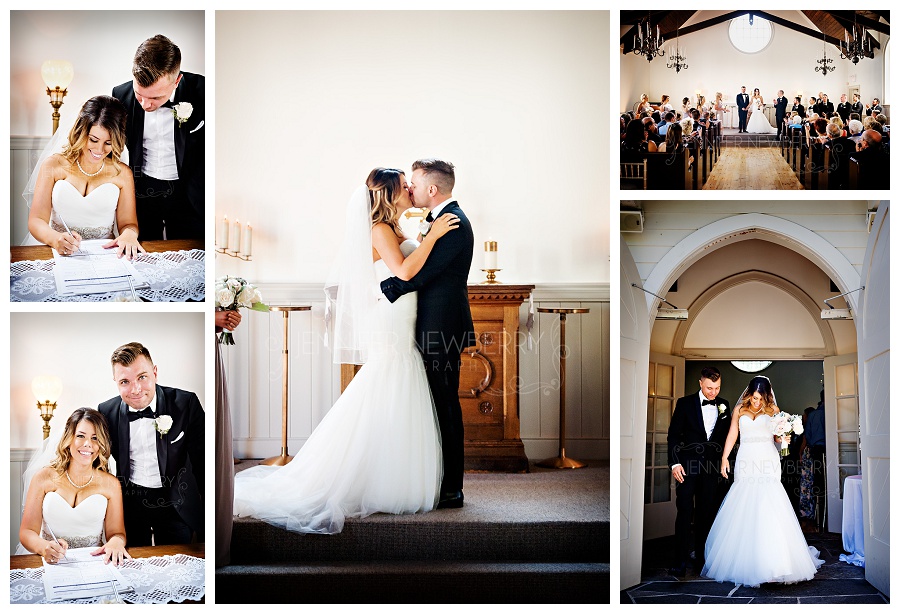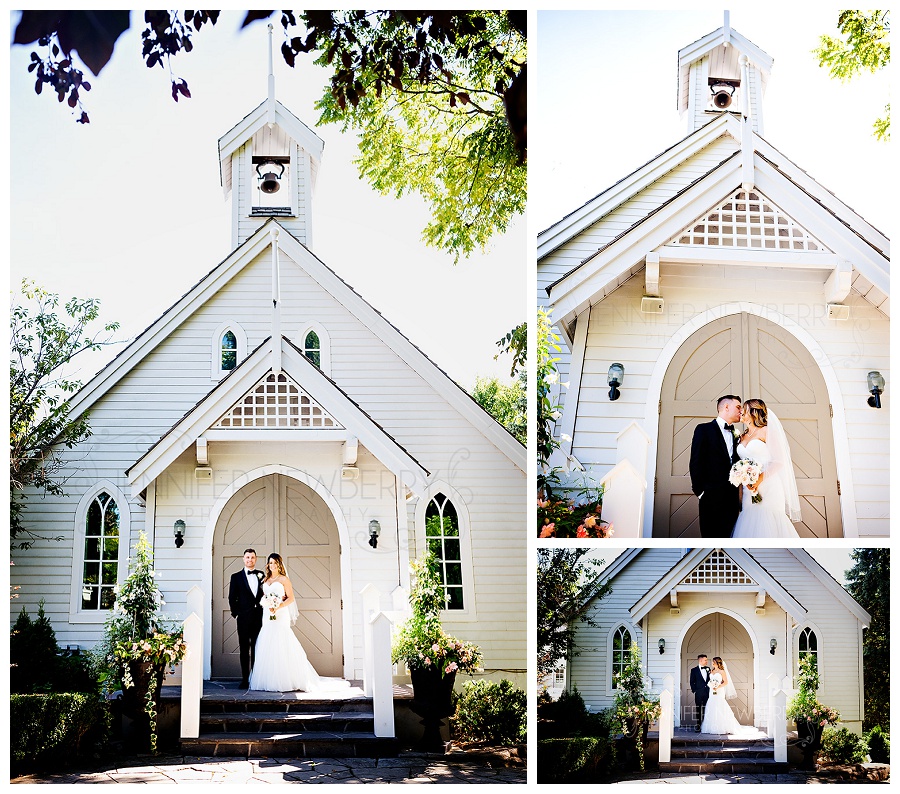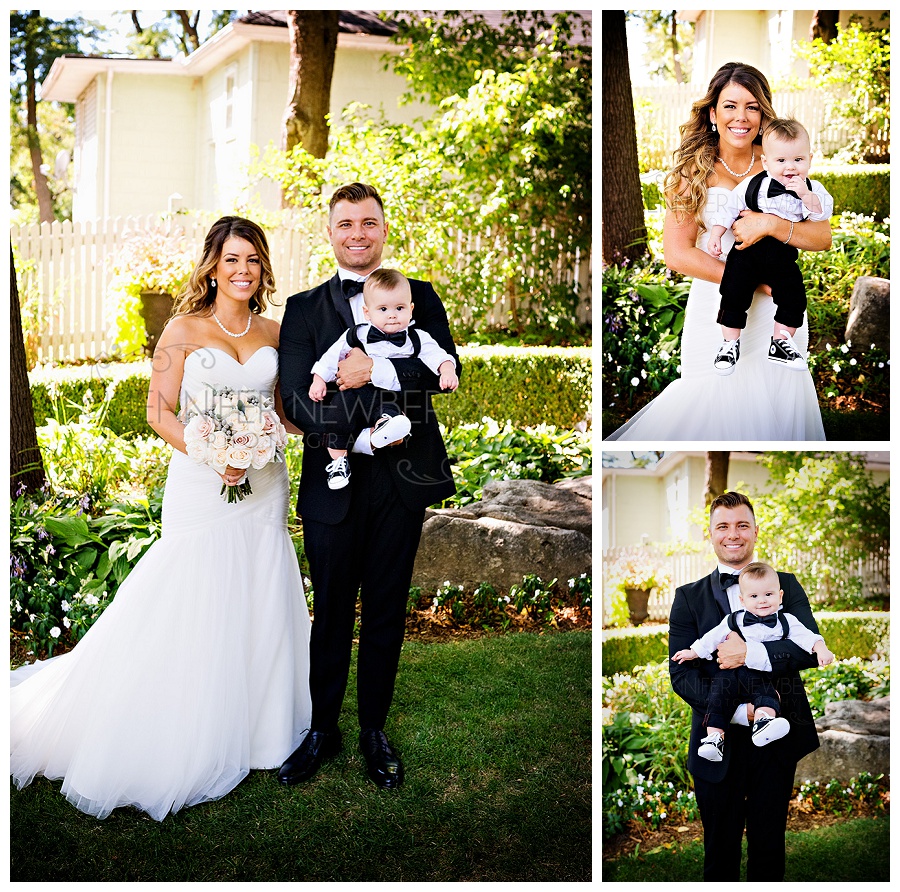 We went to a nearby park, which I scouted out the week before. It was gorgeous, with lots of photo spots – a great place for wedding photos!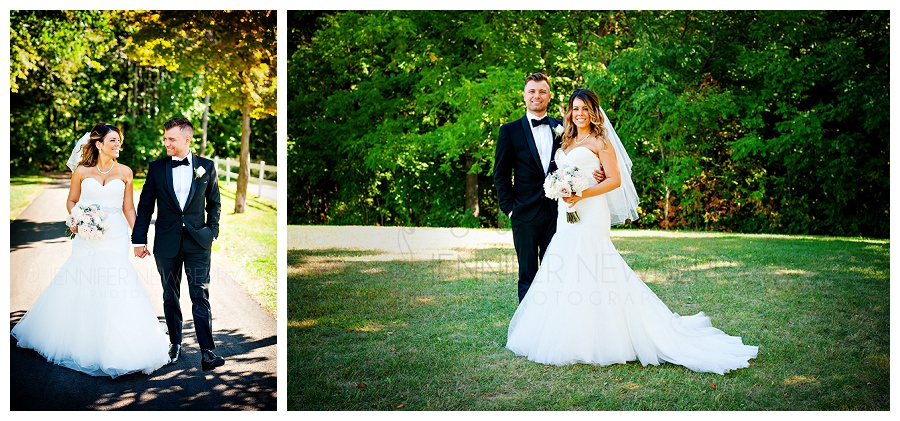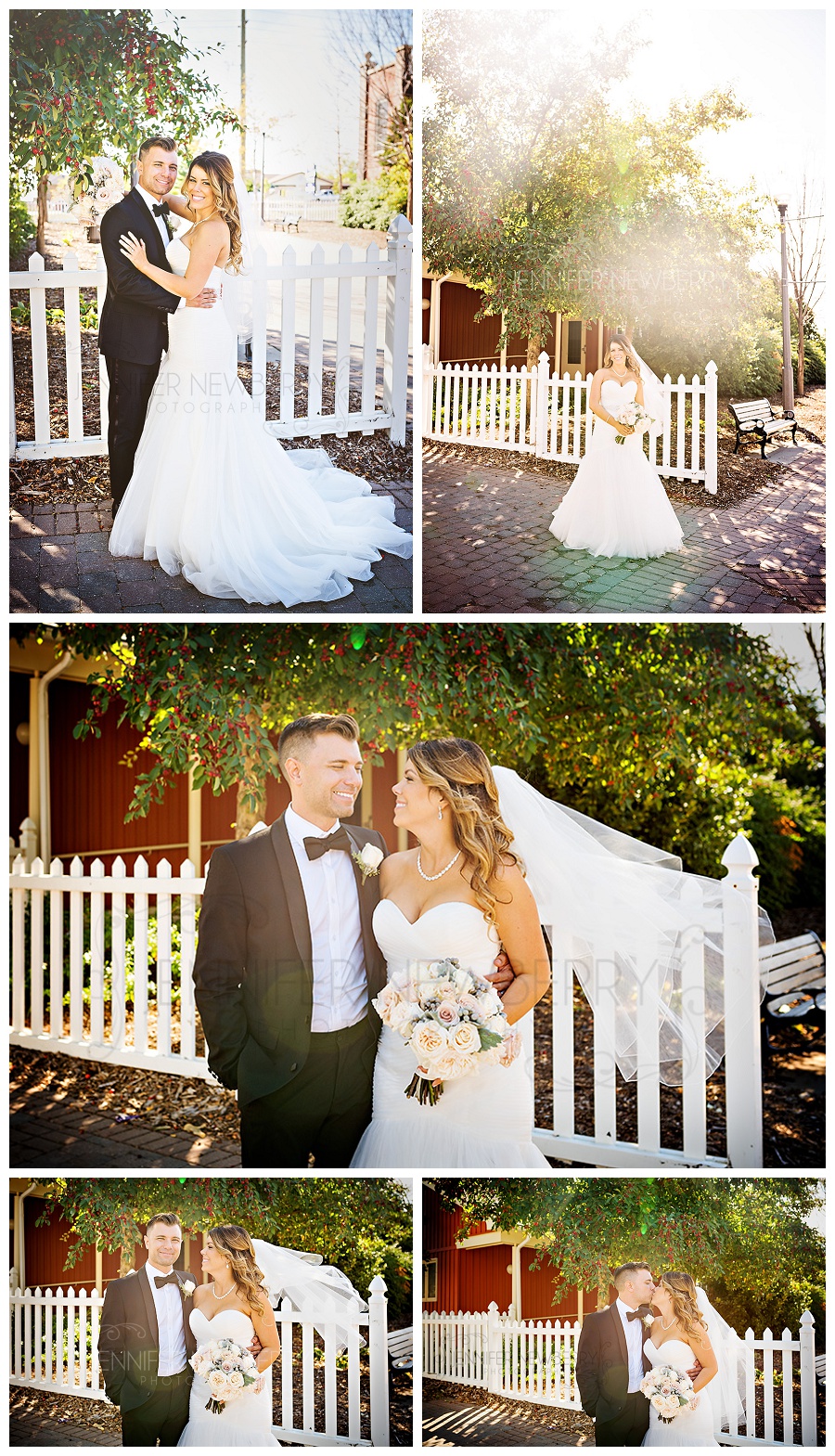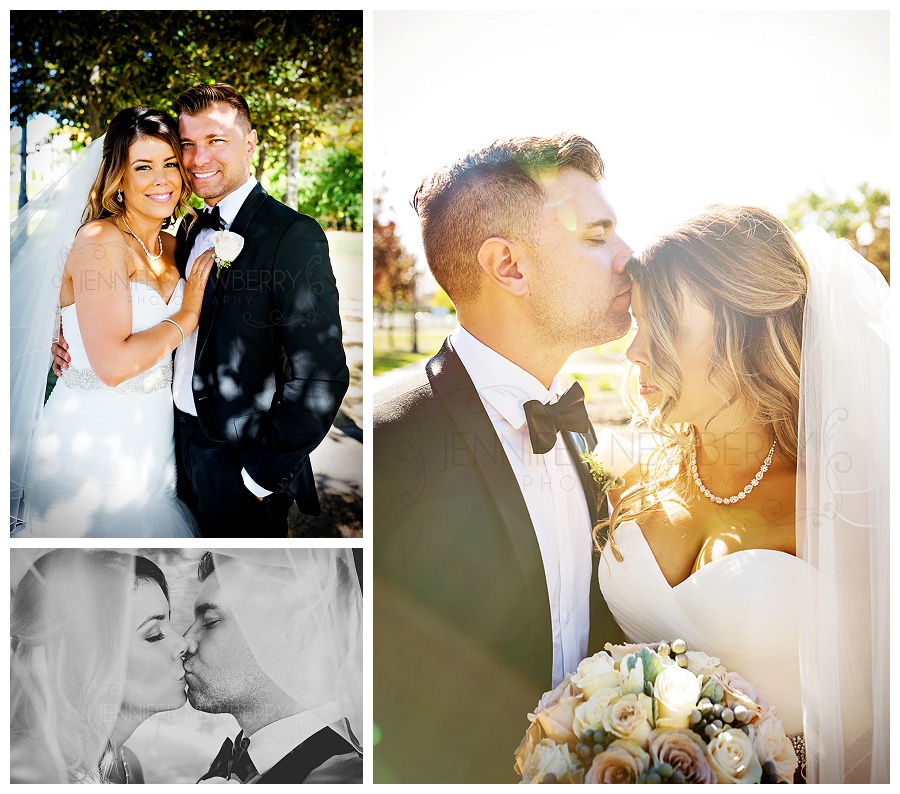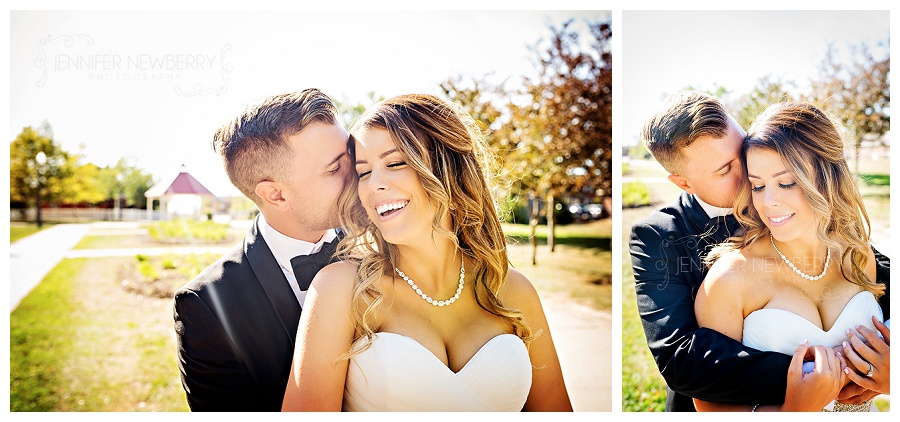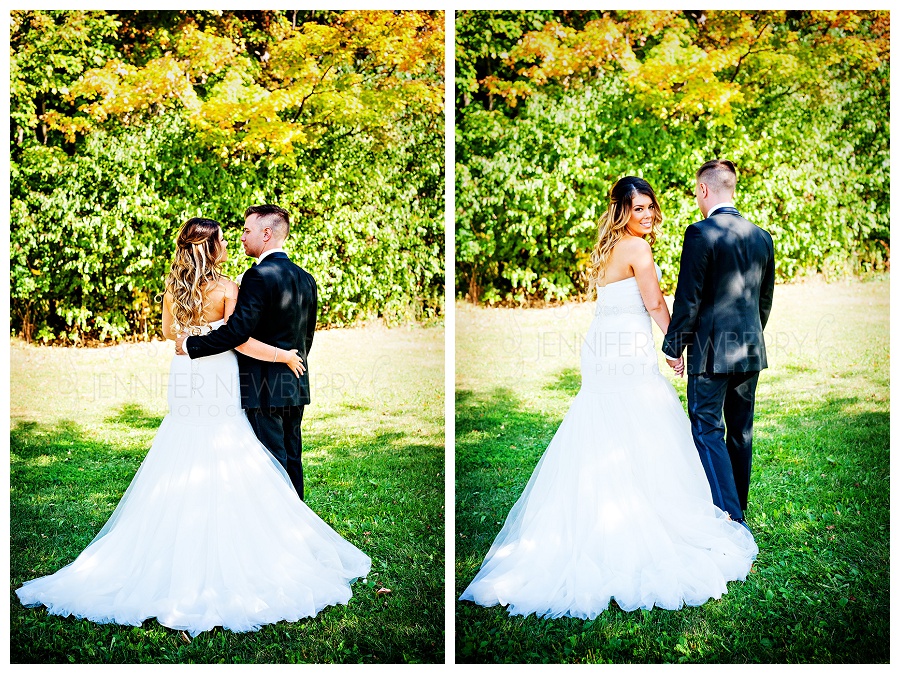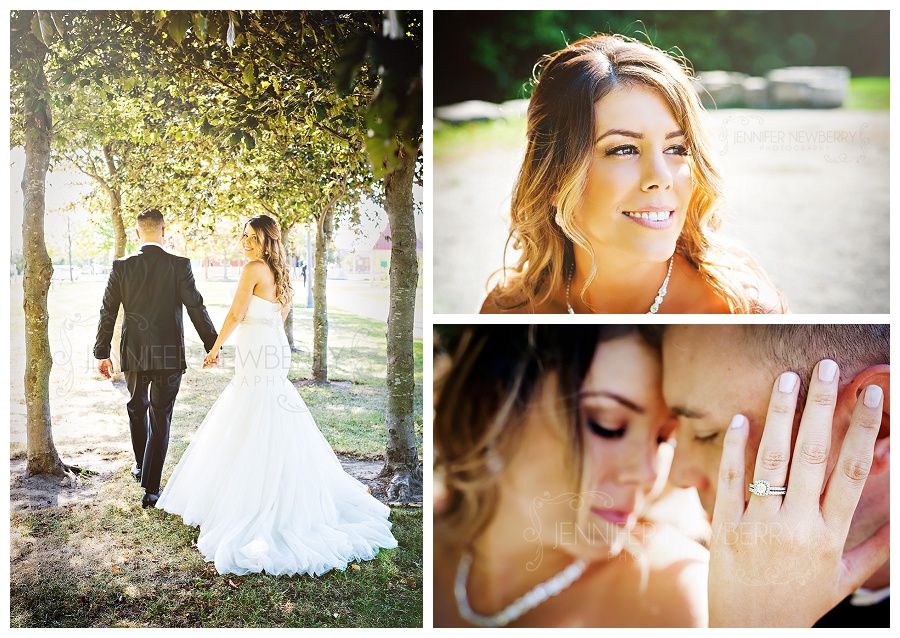 Before I move on to reception photos, I have to include photos of the awesome wedding party! You can't even tell that two of the bridesmaids were pregnant, and one just had a baby, can you? 😉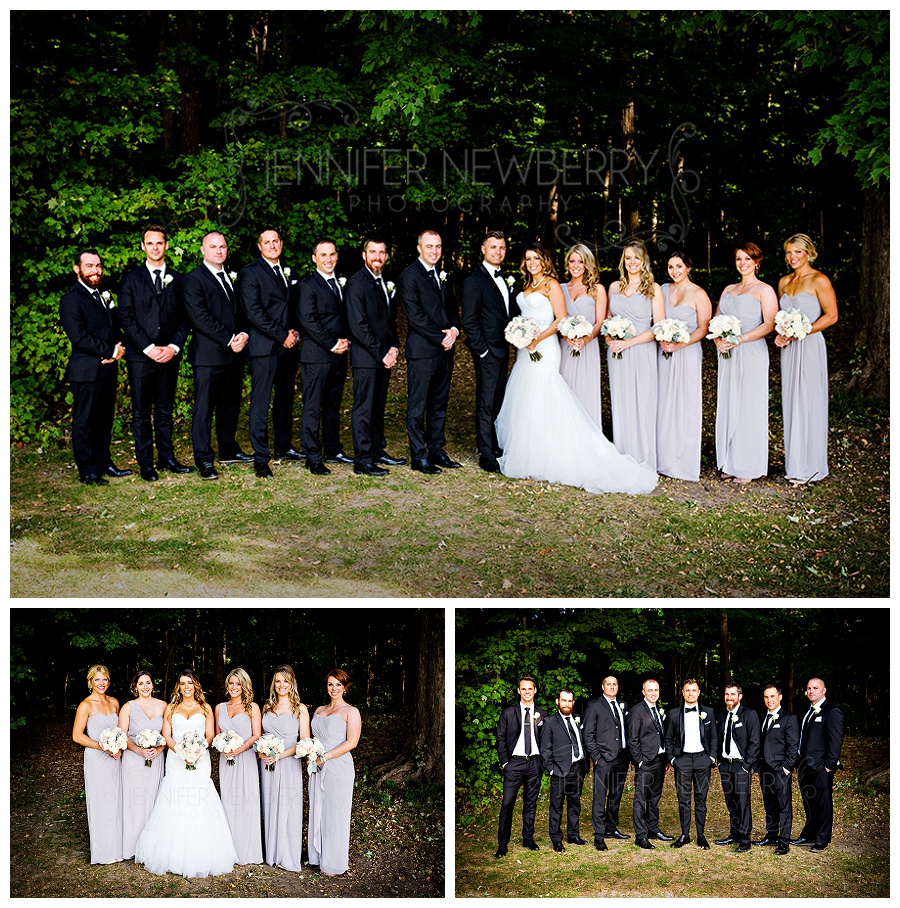 The reception was held at Hazelton Manor, in Vaughan. A great reception venue, with lots of space!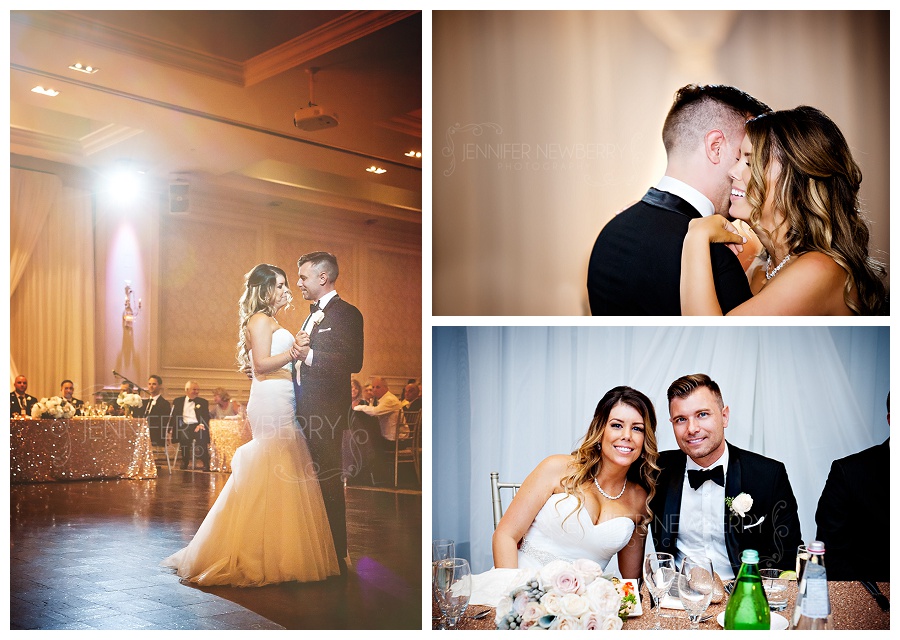 Congrats Jen and Scott! It was an honour to be your Vaughan wedding photographer!

To see more of Jennifer and Scott's Vaughan wedding photos, watch the slideshow below! (If you can't see the slideshow below, click here.)


Thanks to all the wedding vendors who made Jennifer and Scott's wedding the perfect day that it was!
Ceremony venue: The Doctor's House
Reception venue & caterer: Hazelton Manor
DJ: Extreem DJ Entertainment
Hair artist: Hair Envy
Make-up: Sigi Bloomberg
Florist: Kim Janse
Cake Artist: Baker's Crush
Favours: Donation to the Canadian Cancer Society
Invitations: Shutterfly (Previously "Wedding Paper Divas")
Dress boutique: Saratina Bridal
Wedding dress designer: Maggie Sottero
Bridesmaids dresses: Dessy Group Dresses
Bride's engagement ring: Spence Diamonds
Wedding bands: Peoples Jewellers
Bride's jewelry: Emily's Silver Collection
Bride's shoes: Le Chateau
Videographer: SDE Weddings
Vaughan wedding photographer: Jennifer Newberry Photography
---
Are you getting married? Looking for a Vaughan wedding photographer? Get in touch to have me, Jennifer Newberry Photography, capture your wedding, whether it's in Vaughan, Newmarket, Aurora, Richmond Hill, Toronto, Barrie, Waterloo, Hamilton, London, Muskoka, or beyond! I'd love to chat about your wedding plans!