The latest issue of Wedding Bells magazine came out this week (the "Spring & Summer 2014" issue)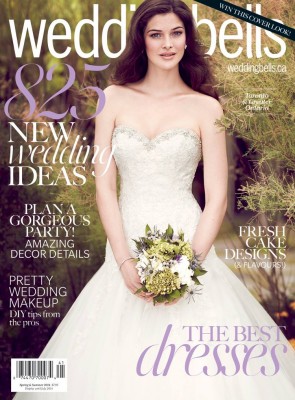 and yours truly has not one, but two weddings that I photographed this year in the "real weddings" section of the magazine! I don't know for sure, but I would assume that it would be pretty rare to have two weddings chosen, in the same year, for the same issue, to be printed in the magazine – so I'm pretty psyched, and flattered!
First they told me they wanted to feature Tara & Jeff's wedding.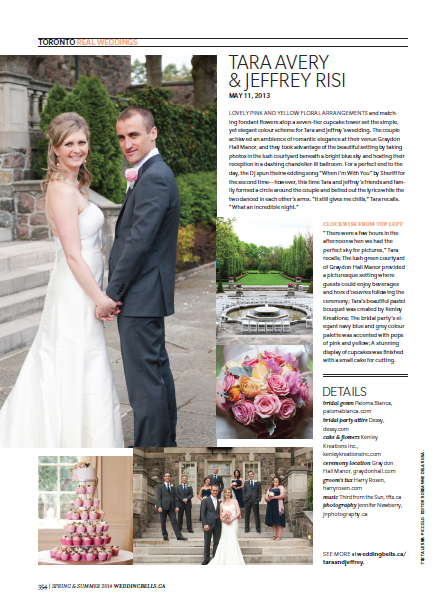 Then a few short weeks after Kate and Holt's wedding, they emailed me saying they wanted to feature Kate and Holt as well!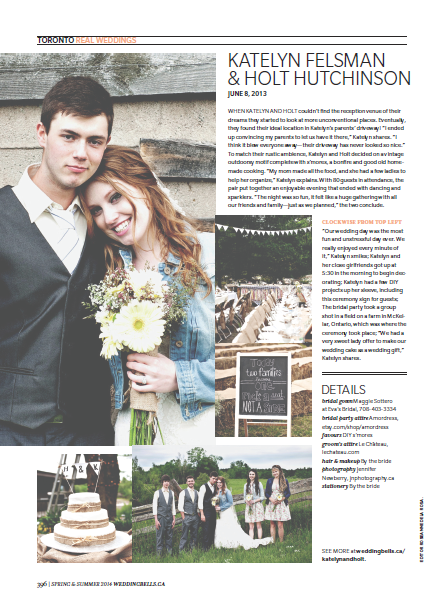 I have been featured on the Wedding Bells website a few times in the past, but this is the first time I've been published in their magazine – in print! It's more prestigious somehow 😉
What a fabulous way to end off my 2013 wedding season!
---
Are you getting married? Looking for a Toronto wedding photographer? Get in touch to have me, Jennifer Newberry Photography, capture your wedding, whether it's in Toronto, Aurora, Newmarket, Barrie, Waterloo, Hamilton, London, Muskoka, or beyond! I'd love to chat about your wedding plans!
---
Toronto Wedding Photography by Newmarket Wedding Photographer, Jennifer Newberry
Jennifer Newberry Photography is anything but your average Toronto wedding photographer. Each wedding is treated with care and creativity not found with other Toronto wedding photography studios. Your wedding day is carefully crafted to offer one of a kind unique photography in the Newmarket, York Region and Toronto areas.
This is Toronto wedding photography at its best. Jennifer Newberry Photography is an award winning photographer based in the Newmarket area. Offering wedding coverage in Newmarket, Aurora, Richmond Hill, Markham, Vaughan, Toronto and all of Southern Ontario, this wedding photography studio is one of the top studios in the area and is located right here in Newmarket.
Creative. Stylish. Award-winning. These are the words typically used to describe this Toronto wedding photographer. With clients based all over the world, Newmarket is home to this Toronto wedding photographer.
I take pride in offering our clients the type of Toronto wedding photography they are looking for. It's one thing to take pictures, it's another to create art for my clients.
Our Toronto clients are typically looking for artwork for their home vs. snapshots, and that is what draws them into our Newmarket wedding photography studio.
Serving Newmarket, Aurora, Richmond Hill, Markham, Vaughan, Toronto and Beyond
Jennifer Newberry Photography offers Toronto wedding photography coverage in the GTA, including but not limited to, Newmarket ON, Toronto ON, Barrie ON, Waterloo ON, London ON, Hamilton ON, Muskoka ON, and the surrounding areas.
Not looking for a Toronto wedding photographer? Please be sure to consider me for your family photography needs in the Toronto area.