#kennyandamanda2016

Kettleby Wedding Photographer | The Manor
Amanda & Kenny
I honestly can't say enough good things about Amanda and Kenny! Being their Kettleby wedding photographer was an absolute joy! Amanda and Kenny are such sweet, kind people – and they are totally adorable together!
How They Met
Amanda and Kenny met in 2007, at their work in Toronto. When they first met, Amanda thought Kenny was cute, but a bit of a know-it-all. Kenny thought Amanda was sweet and innocent (Amanda laughs at that, but I can totally see that! Amanda definitely gives off a sweet/innocent vibe!). They went on their first date to Jack Astors, in the Scarborough Town Centre, and 6 years later, Kenny proposed.
The Proposal
Kenny proposed (and I can only assume he did it in a most adorable manner) while he and Amanda were on a trip to Nigara-on-the-Lake. Amanda said yes at the Price of Wales hotel. They planned their wedding for a little over 18 months before tying the knot!
The Wedding
Amanda and Kenny had a beautiful sunny day for their wedding – which was perfect for their outdoor ceremony at The Manor, right in front of the gazebo, and overlooking the water.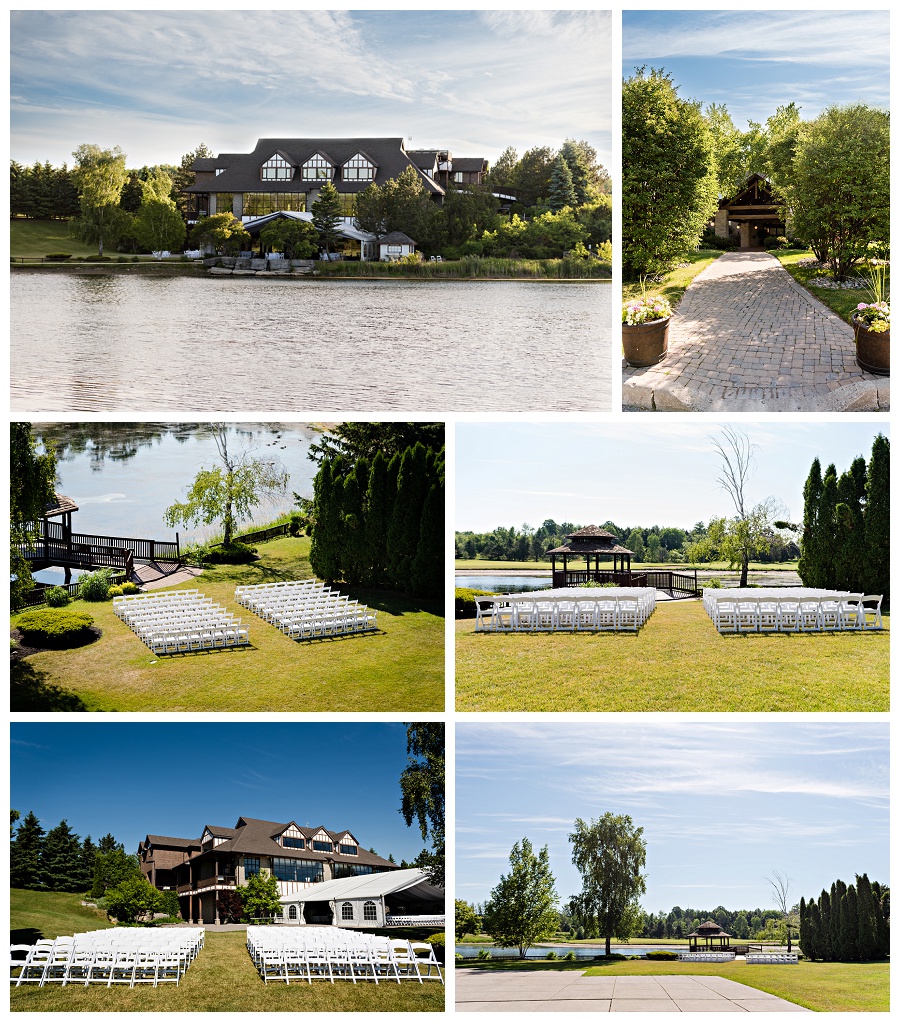 I was especially excited for this wedding, not only because Amanda and Kenny are such a sweet couple, but also because they had my top 3 favourite wedding details! A poofy dress, a looonnngggg veil, and fog during their First Dance!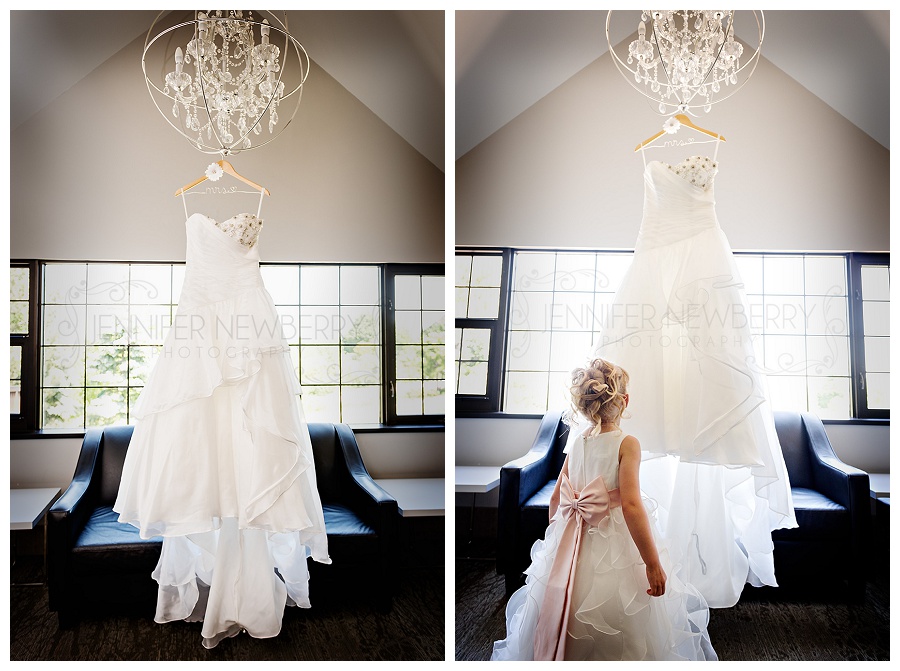 If I had to describe it, I would say that Amanda and Kenny had a very classic, traditional wedding.
Everything just seemed so perfect! I mean, look at Amanda's bouquet – it's perfect!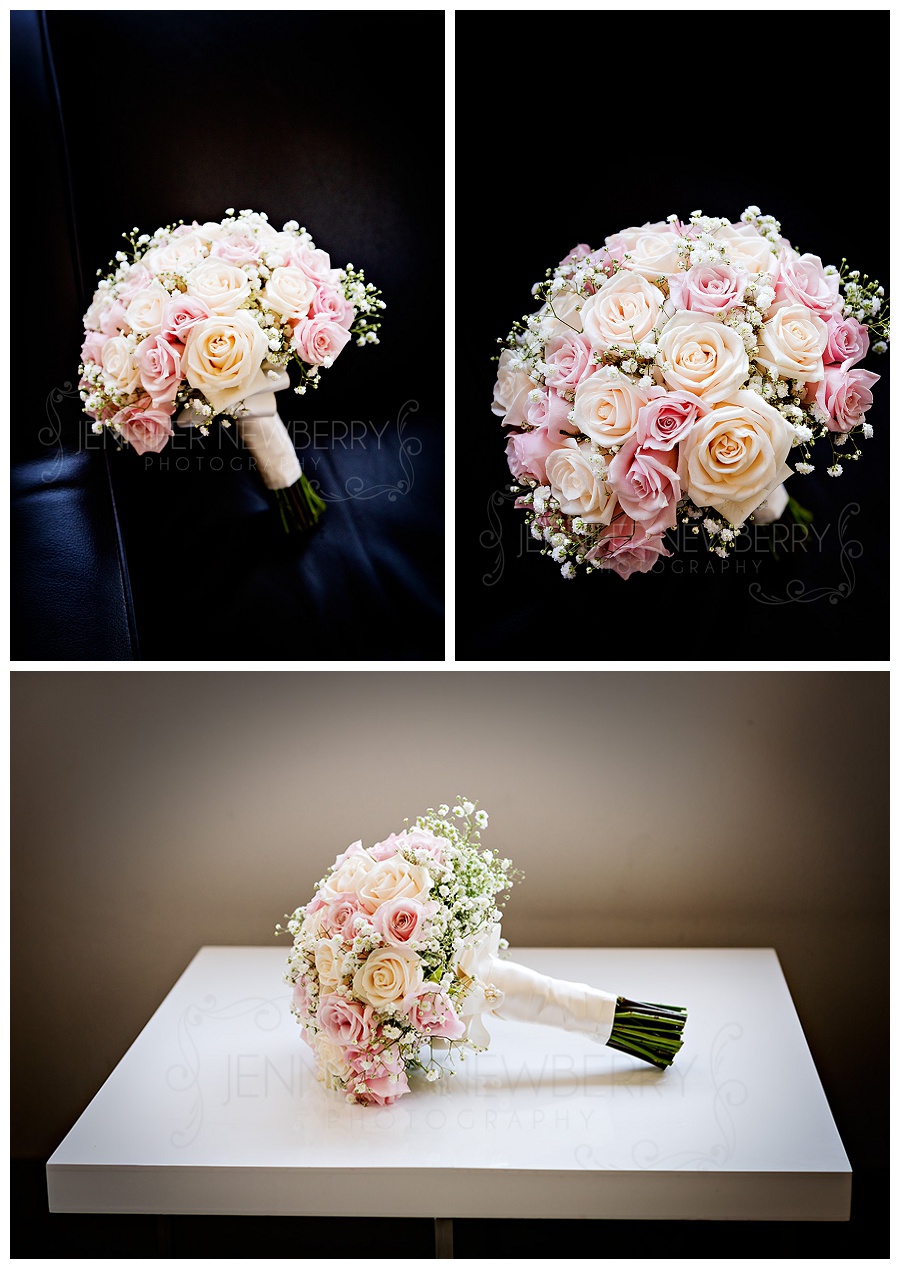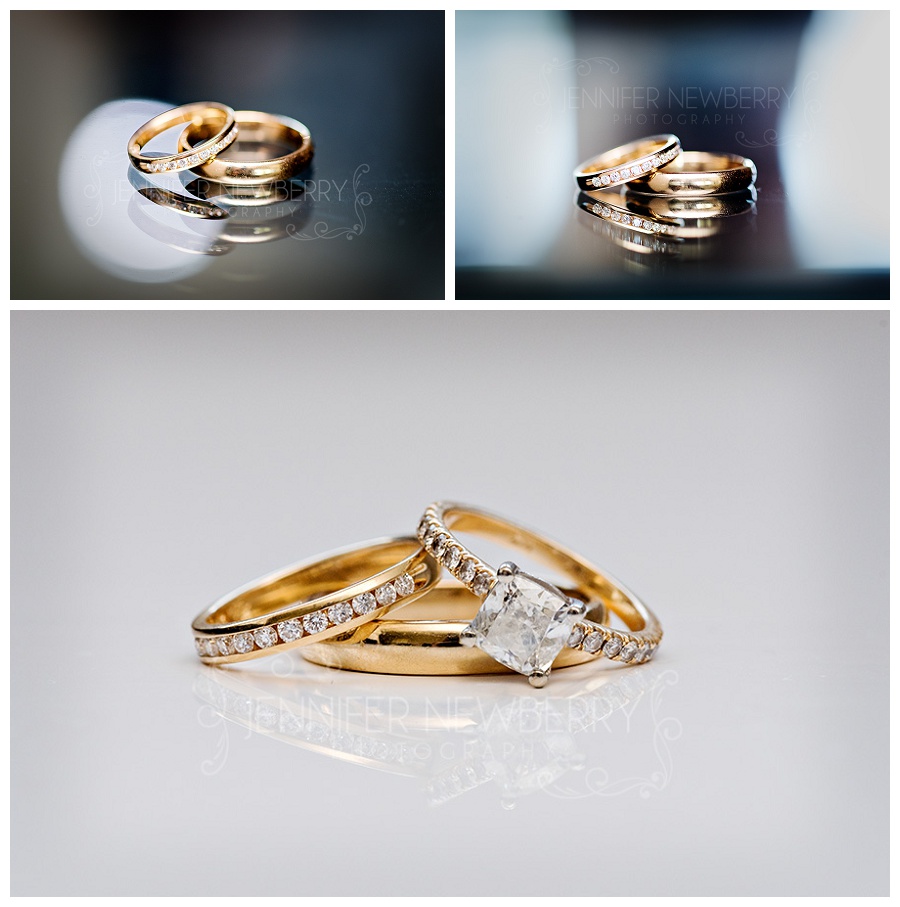 The bridal suite that the girls were in was great. It had a big window, and lots of light!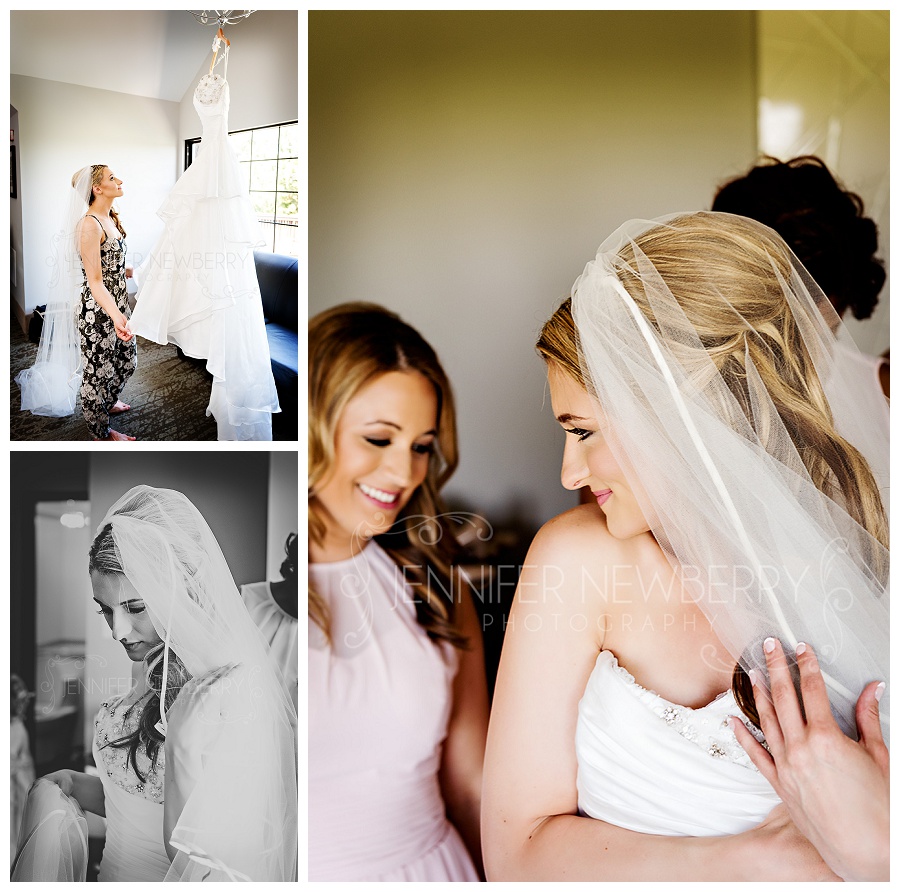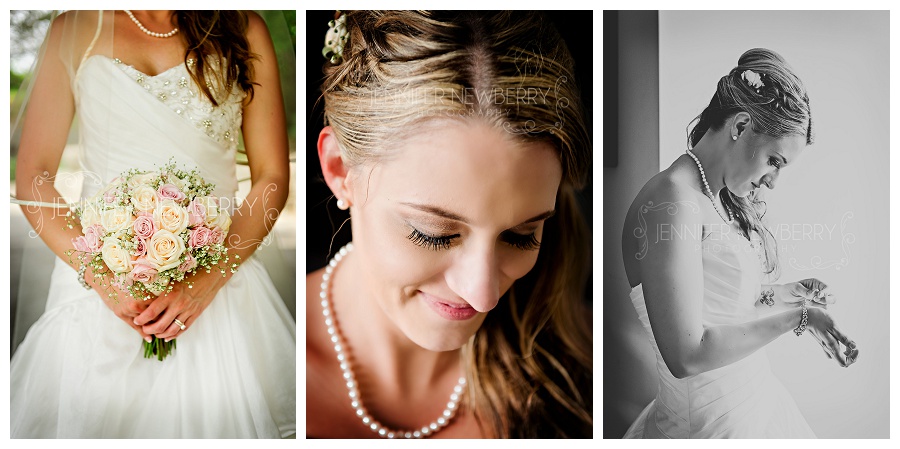 The photo below reminds me of that moment so vividly. Amanda was getting ready and then she turned, looked at herself in the mirror, took a deep breath and said "Okay…. I am ready to get married now." And it was this big moment, like all of the planning that she had done for the past year-and-a-half had finally all come together, and she was ready to enjoy the day, and marry the love of her life.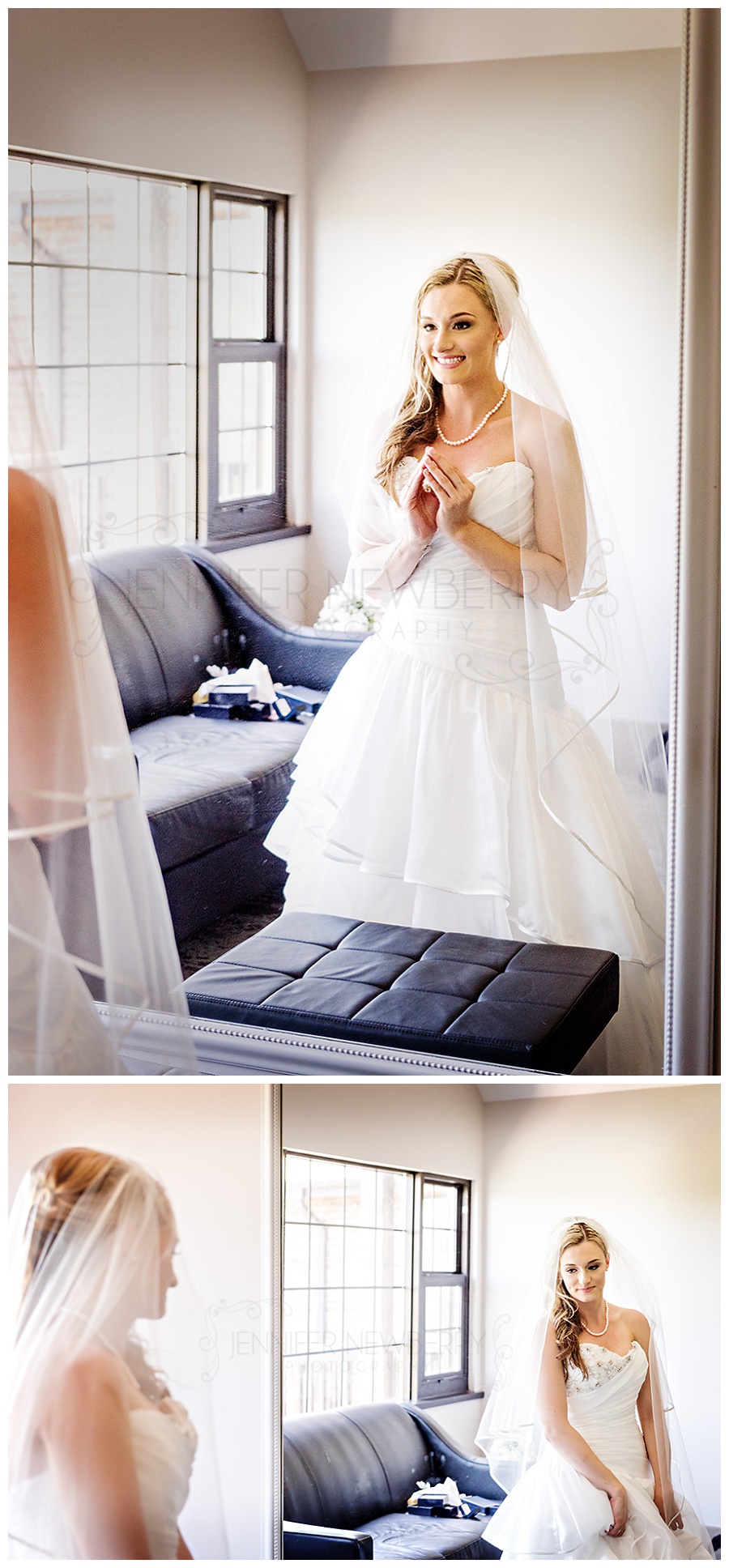 Amanda's mother passed away a few years ago, and they did a Rose Ceremony in memory of her mother, during the ceremony, but we also wanted to do a special photo as well. I love how it came out.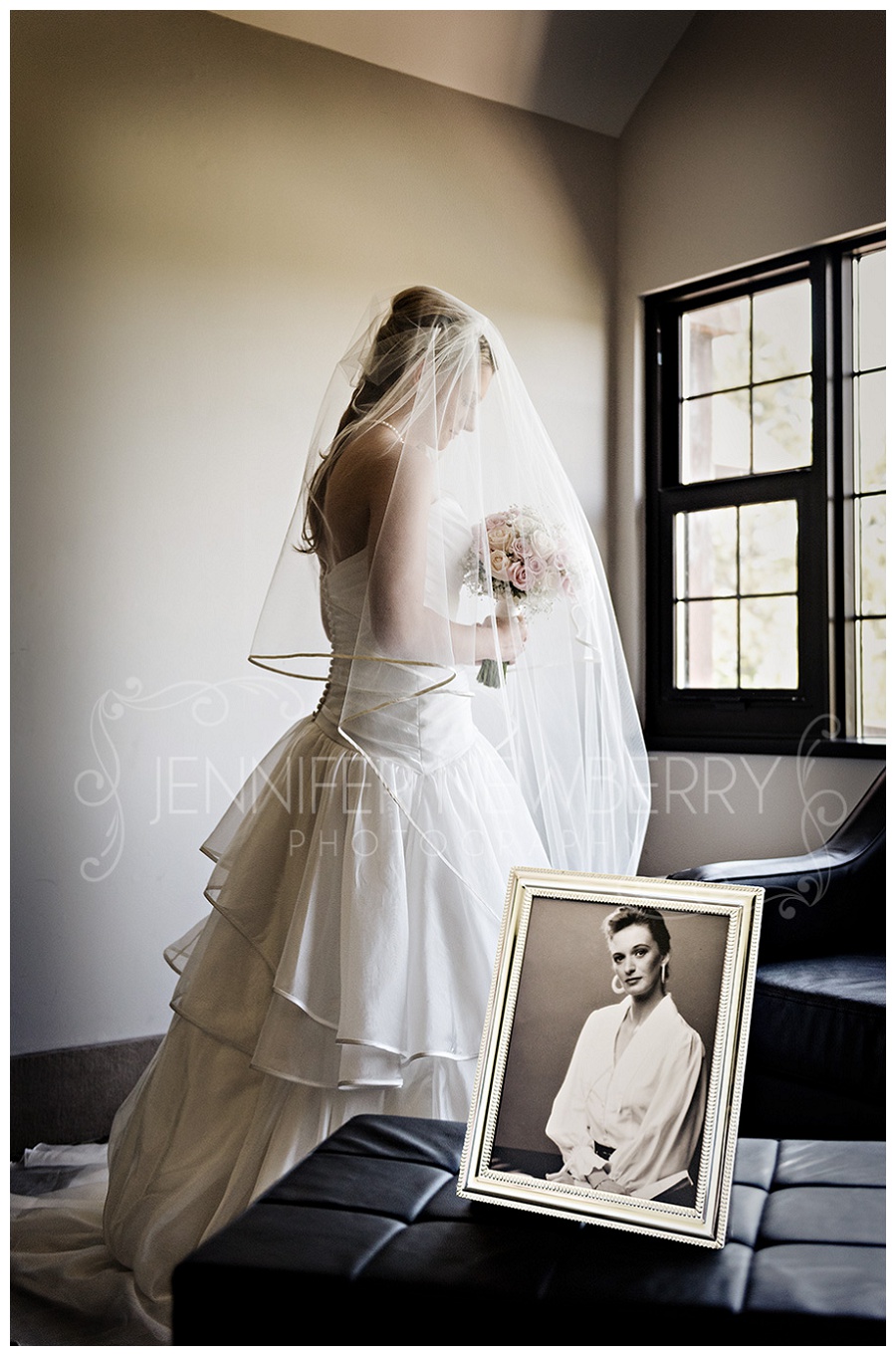 Some pre-ceremony bridal portraits!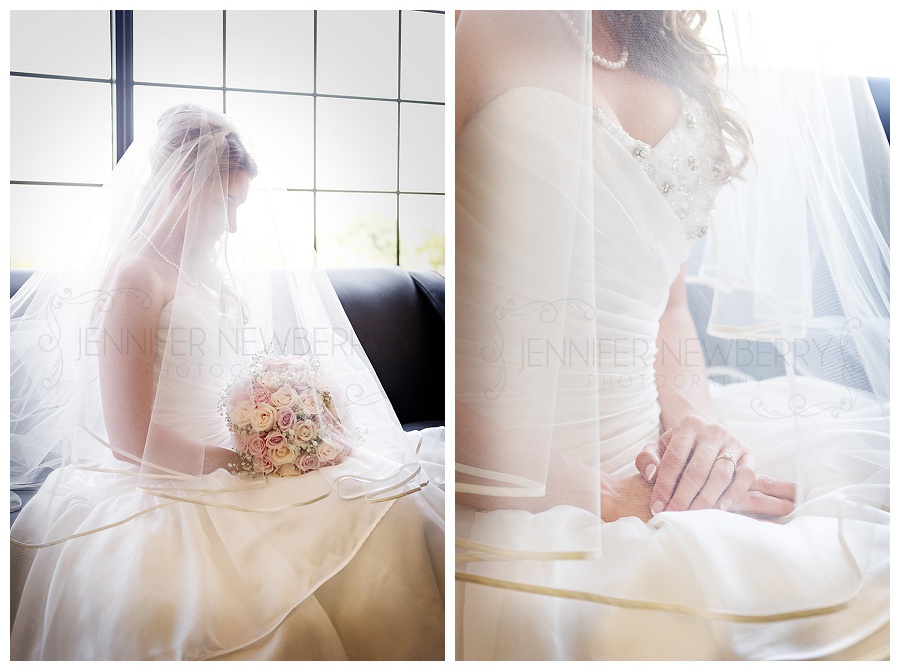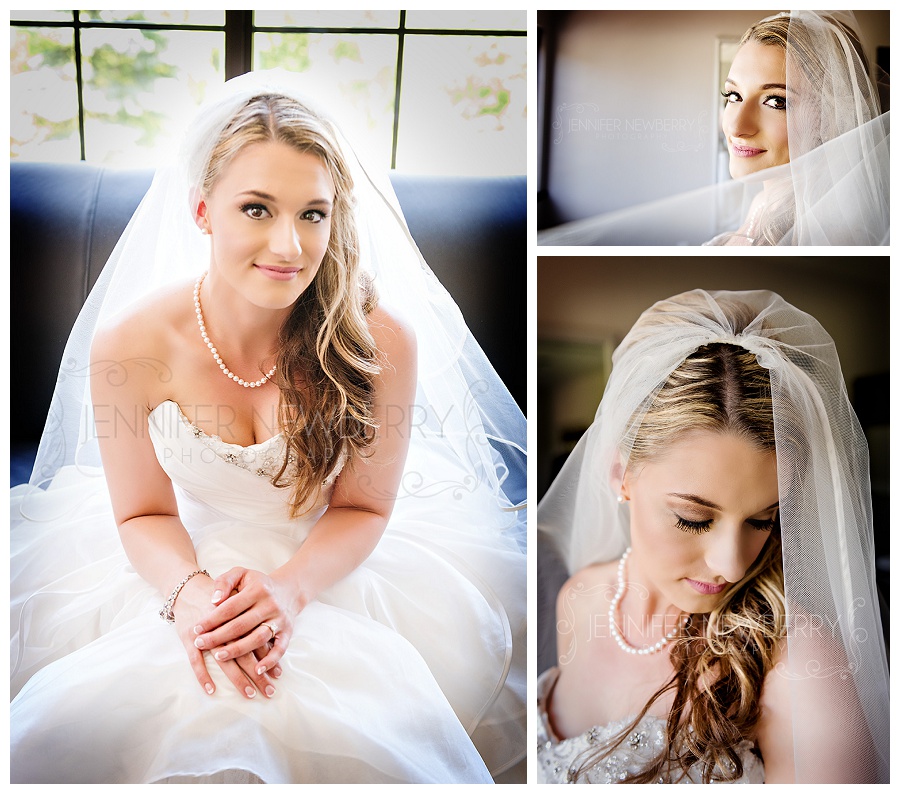 I just love these two photos below. Amanda with the adorable flower girl, Brooklyn – Brooklyn looking up at Amanda and Amanada smiling down at Brooklyn… it's just perfect! Amanda's grandmother putting on her bracelet was such a nice moment as well. It's so rare for grandparents to be involved in the "getting ready" part of the day, I love it!

Blue skies for the outdoor ceremony!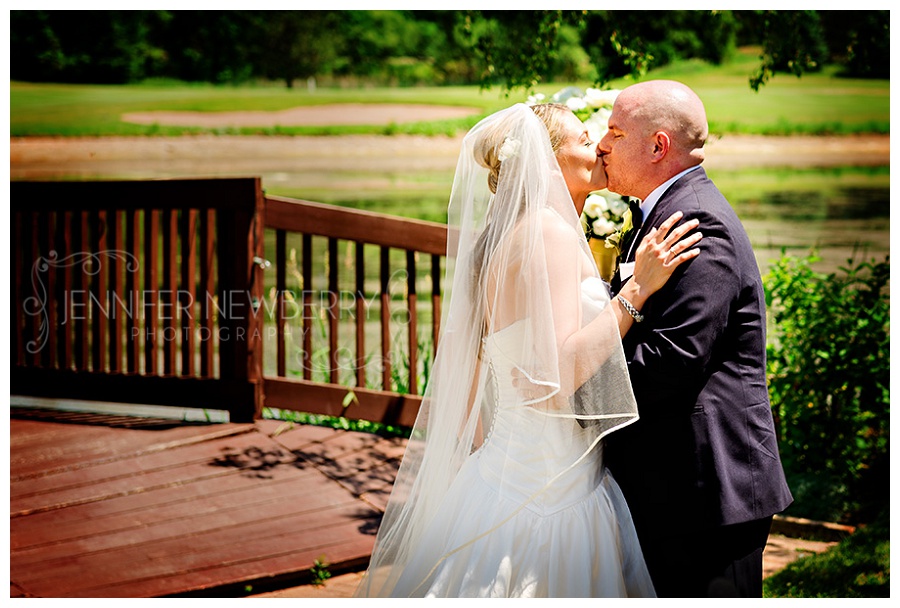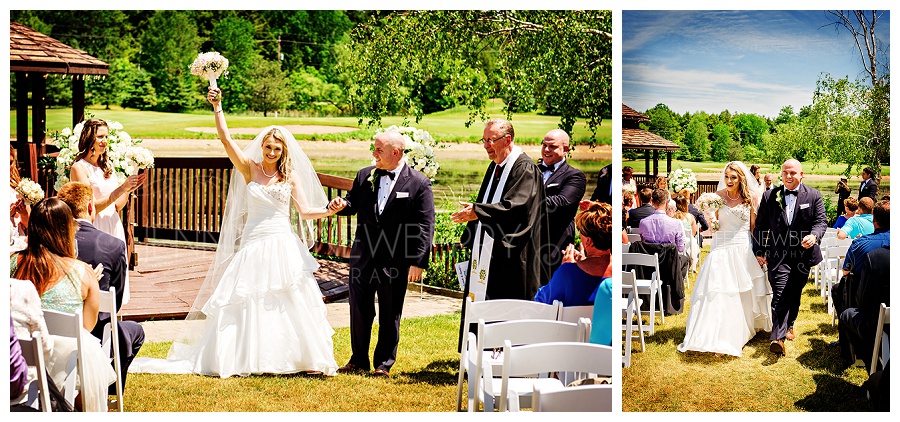 The awesome wedding party! (No, you aren't seeing double, Kenny and his Best Man are identical twins! I found that out on the day of the wedding. That was a fun surprise. Ha. Actually I vaguely remember Kenny telling me at our initial consultation that he had a twin, but I didn't think much of it.)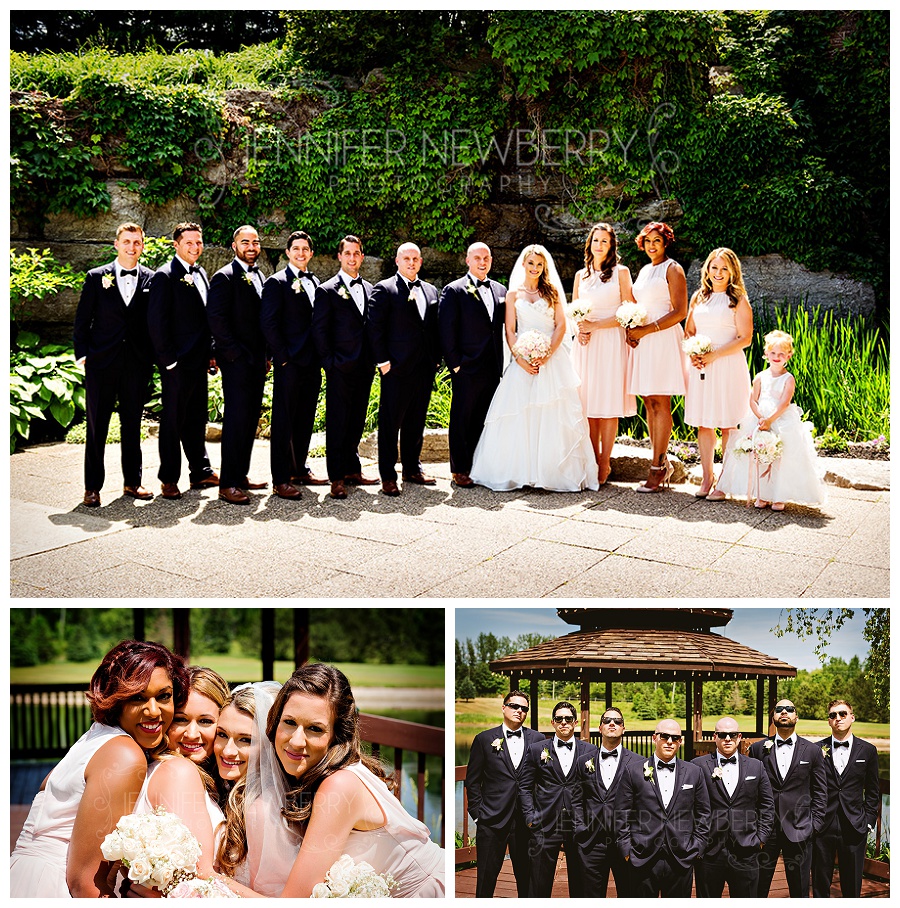 The gorgeous bridesmaids! Sarah (the blonde one), traveled all the way from Vancouver to be in Amanda's bridal party!

The handsome groomsmen!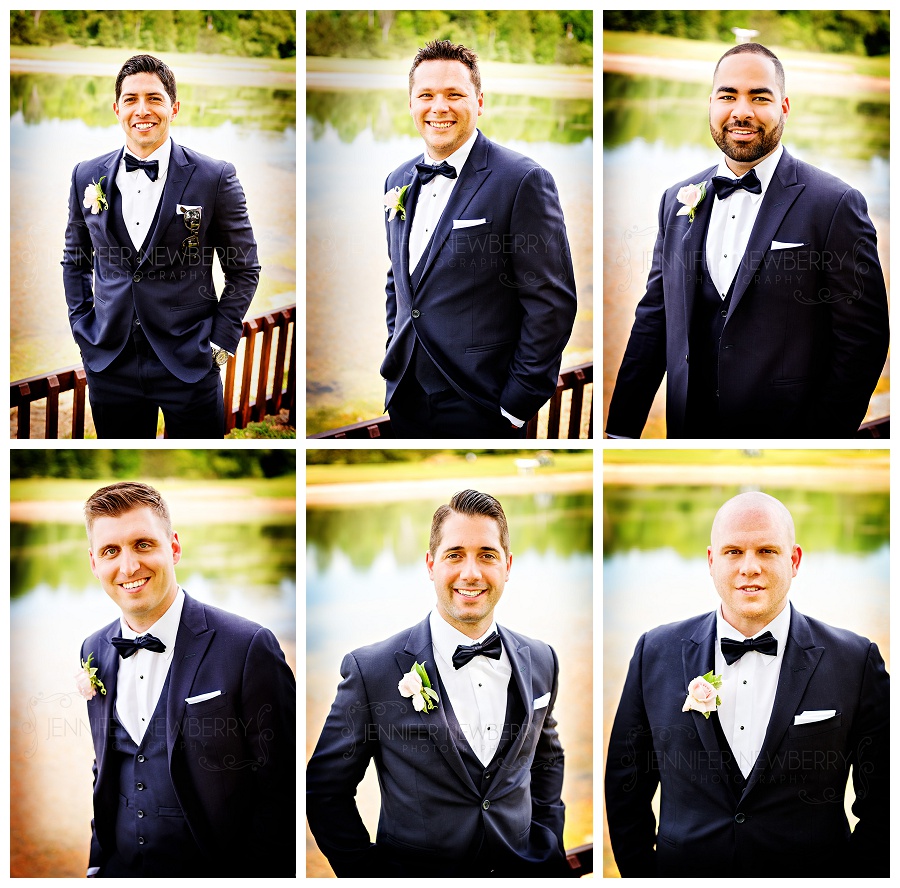 We had almost an hour for bride & groom photos, so the videographers and I made the most of it!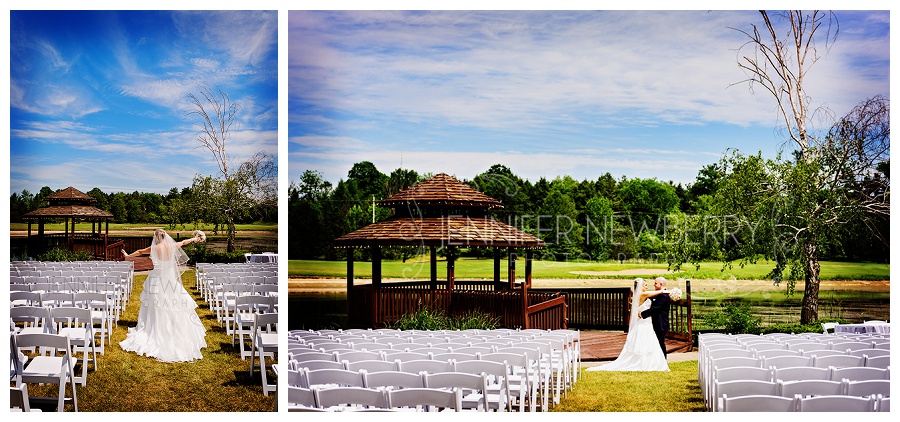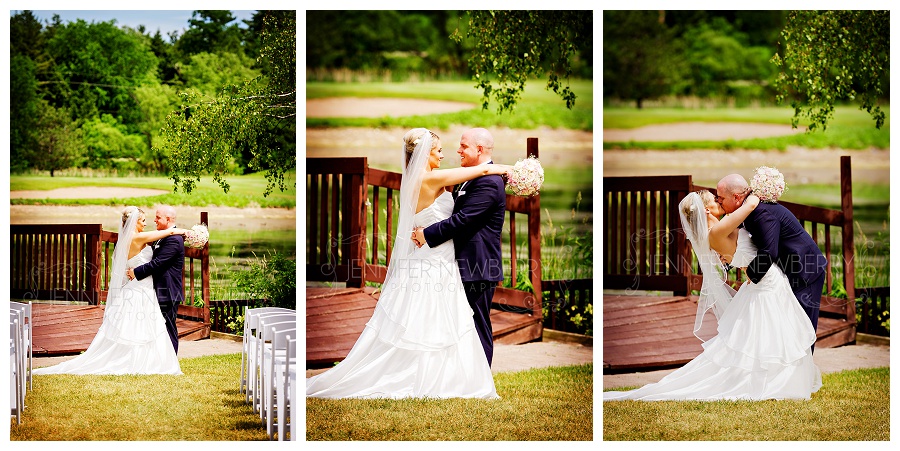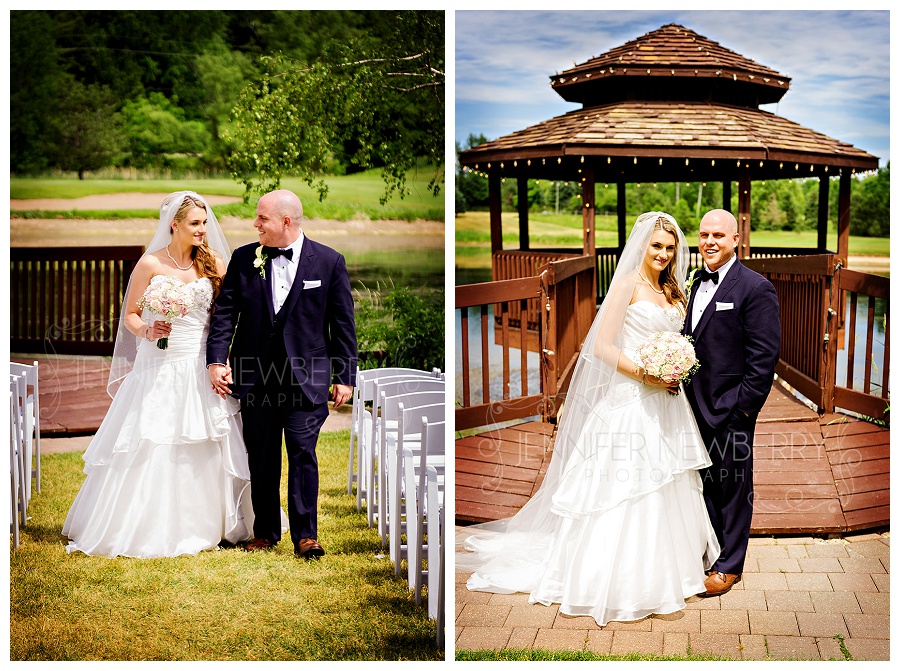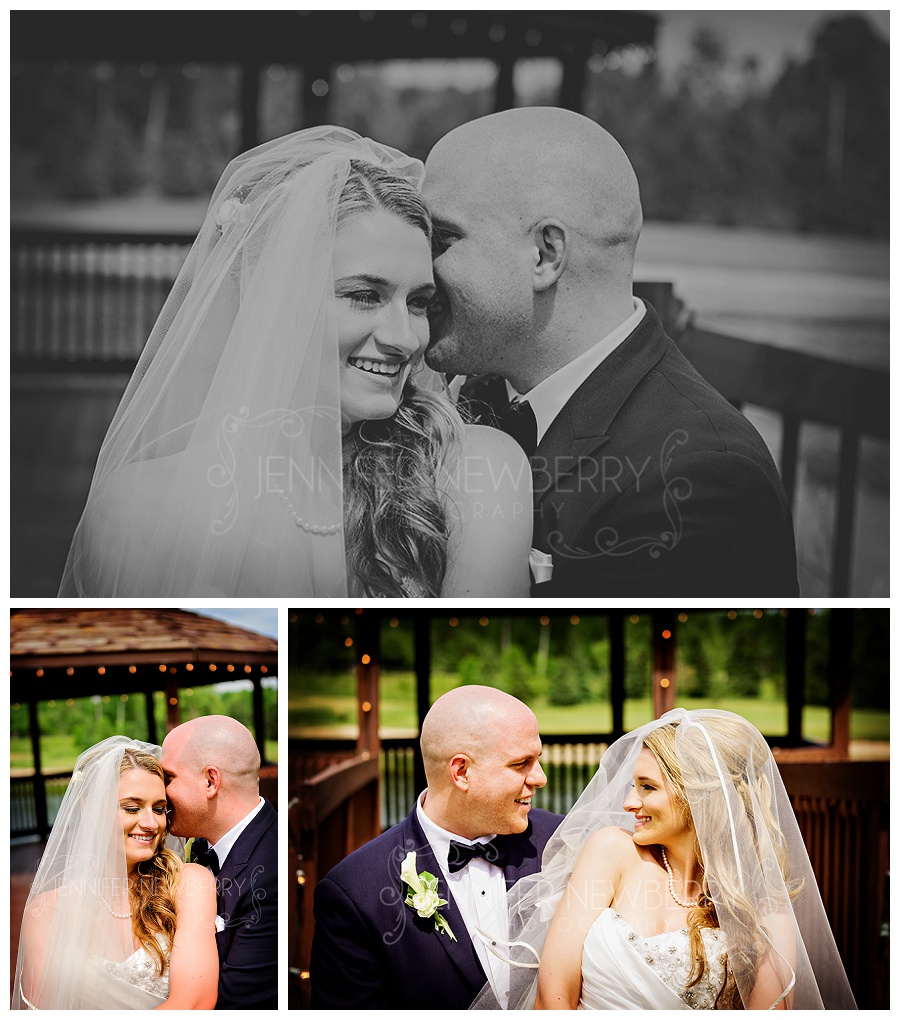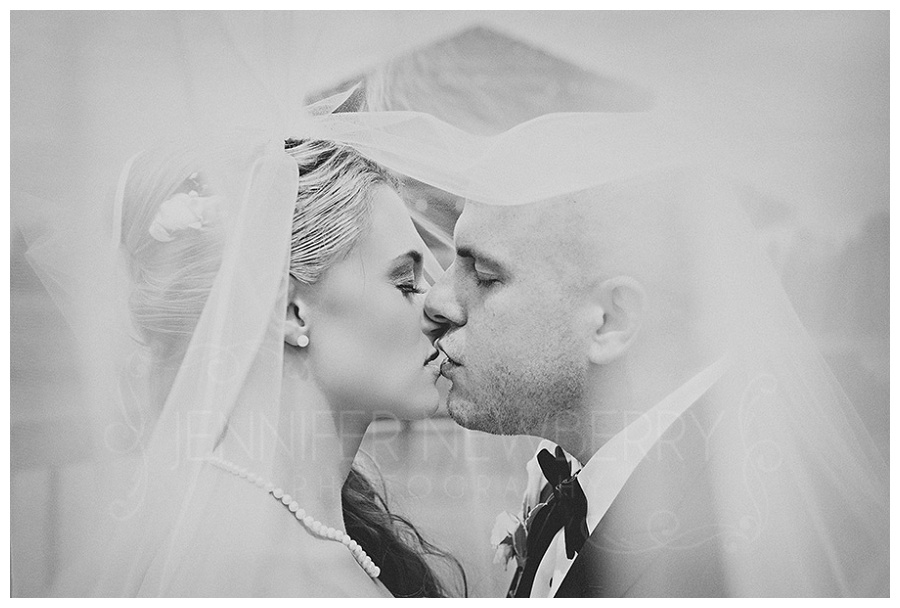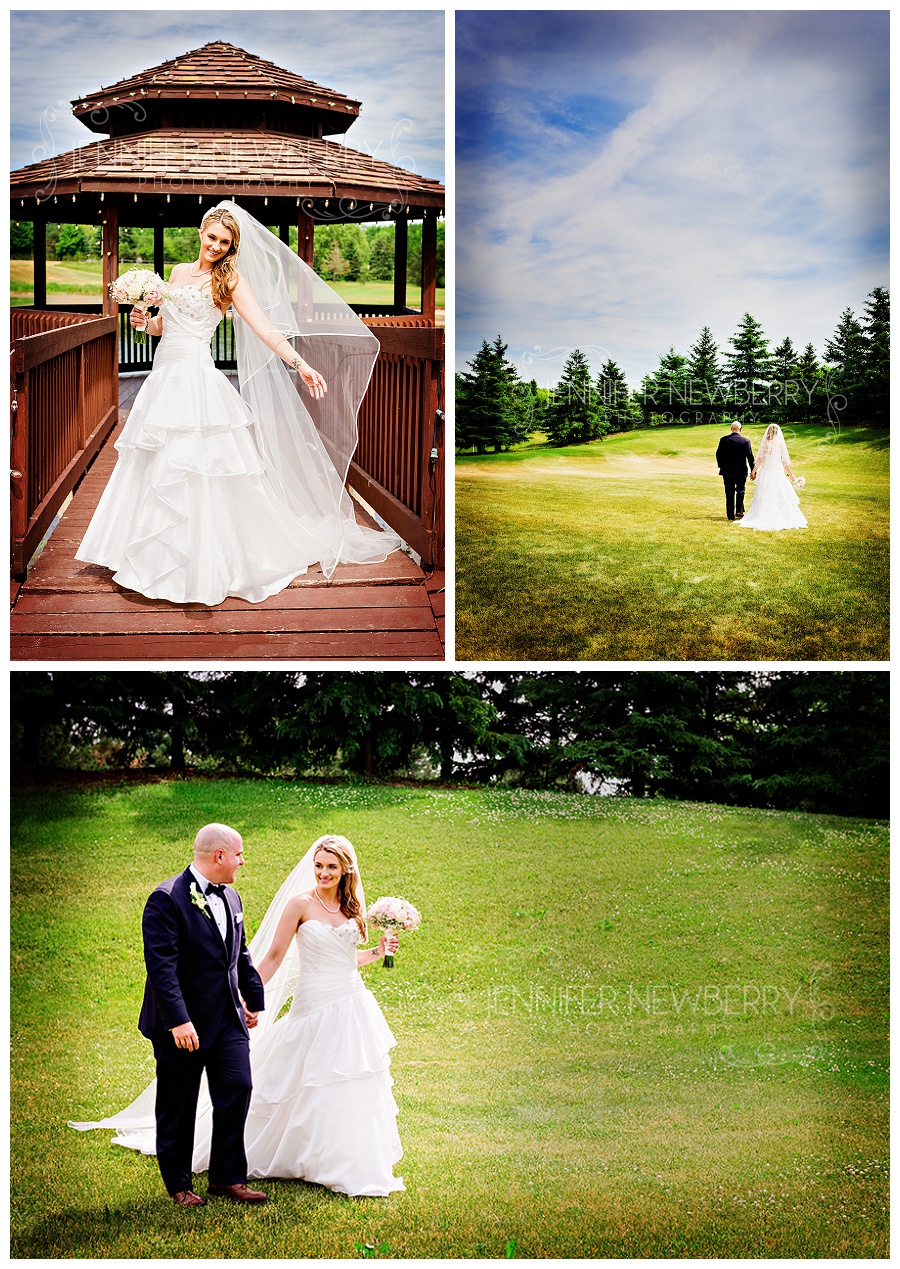 The photo below, on the left… I really want to Photoshop an explosion behind them, while they walk away from it all badass-like…. Michael Bay style!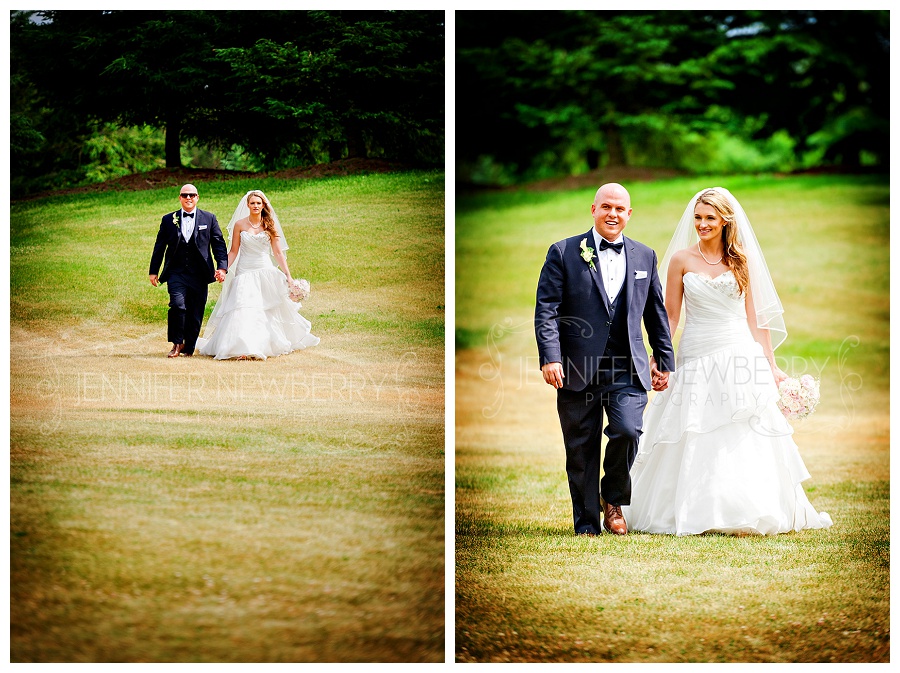 Kenny, the handsome groom!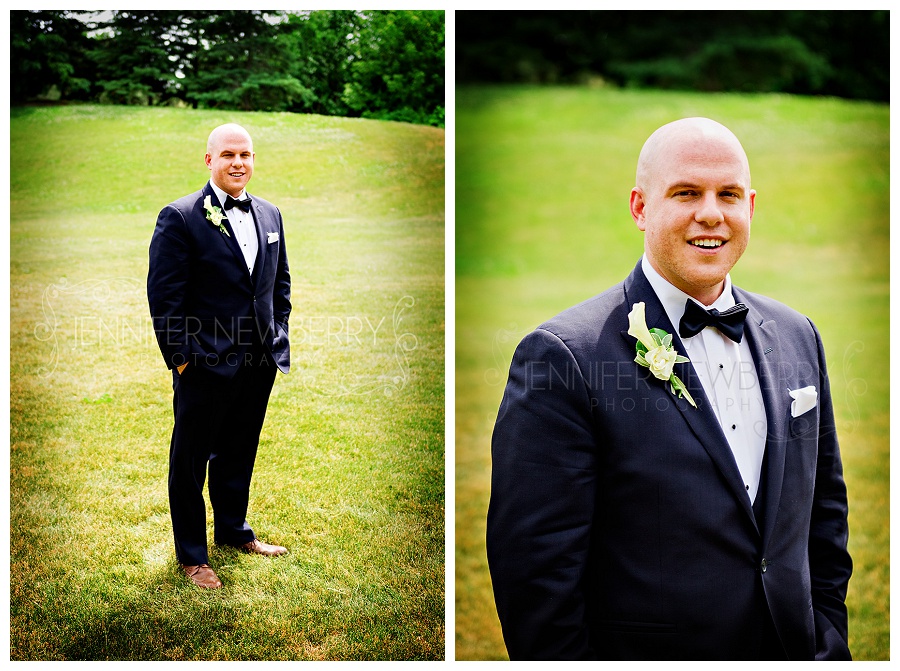 Amanda, the gorgeous bride!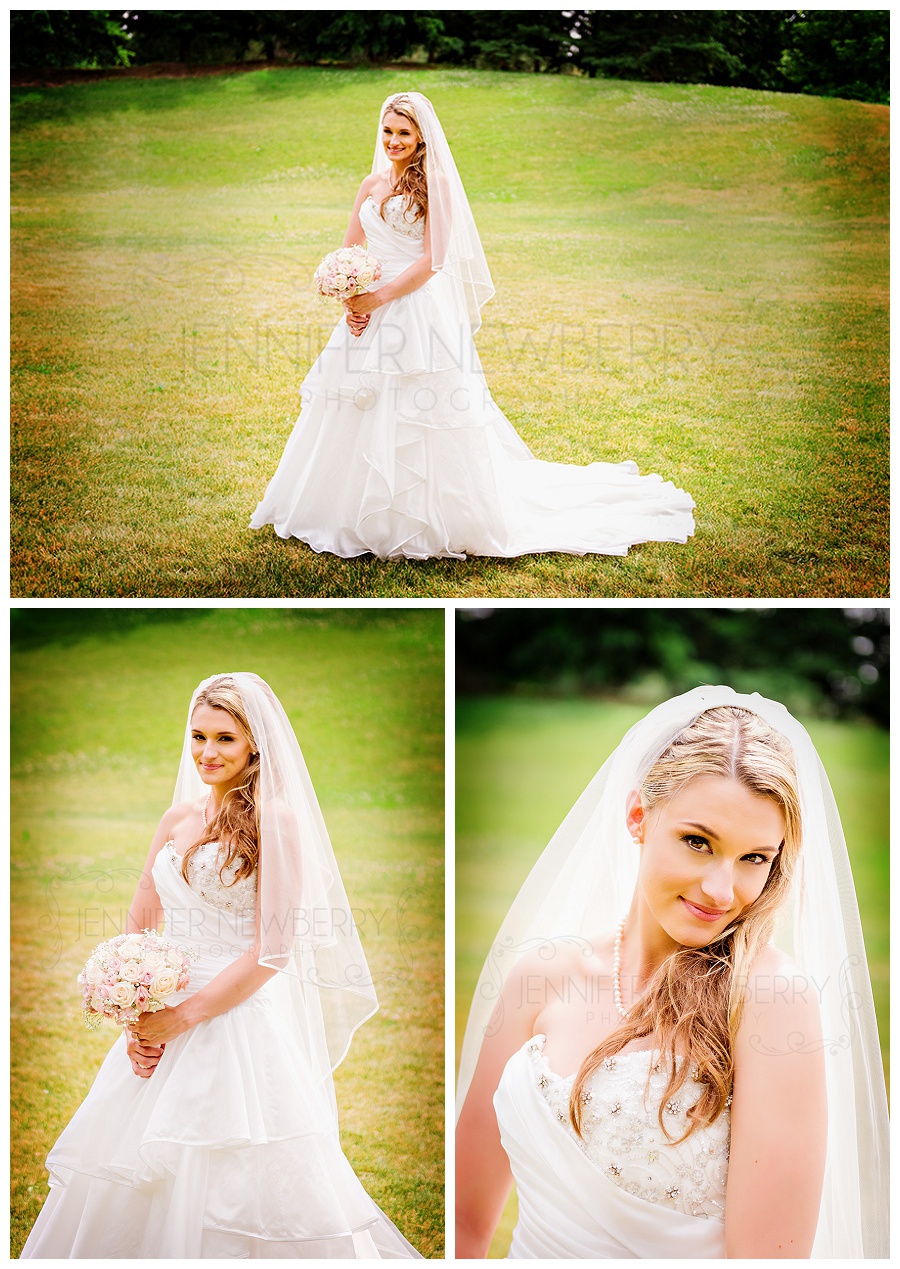 As I said earlier, one of my top 3 favourite wedding details is a nice long veil! They make for such awesome and dramatic wedding photos! 😀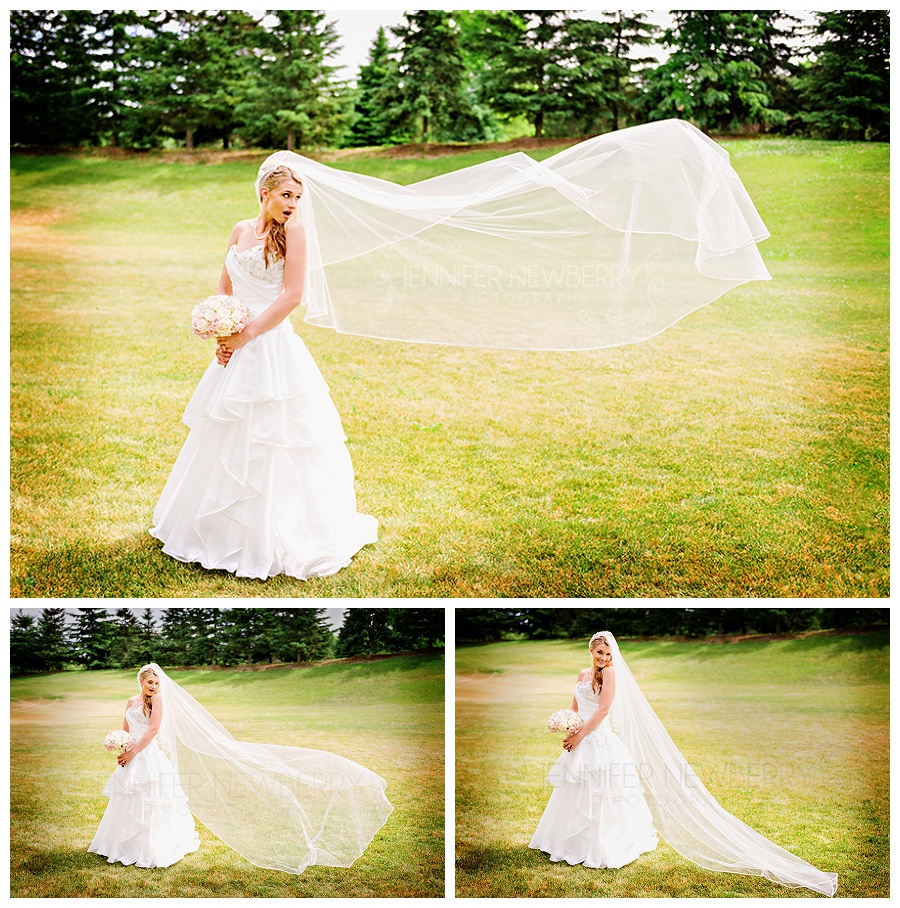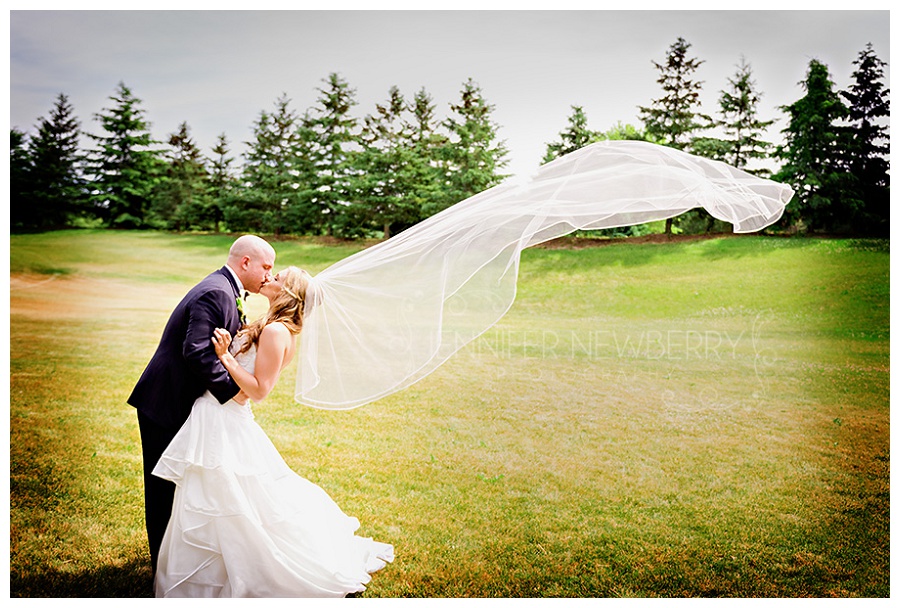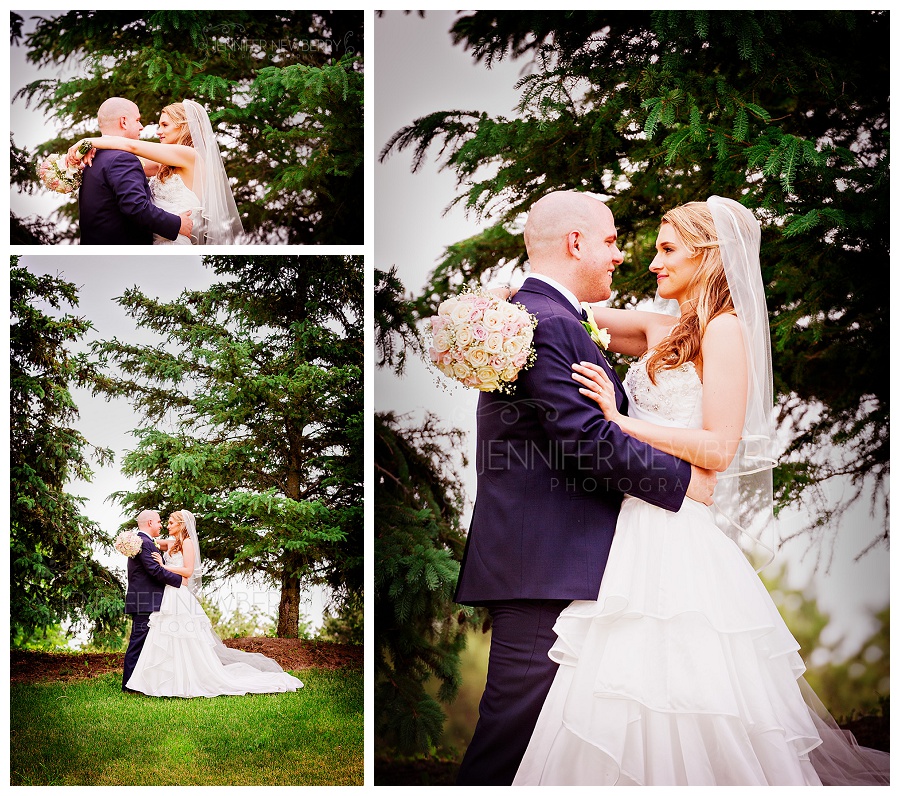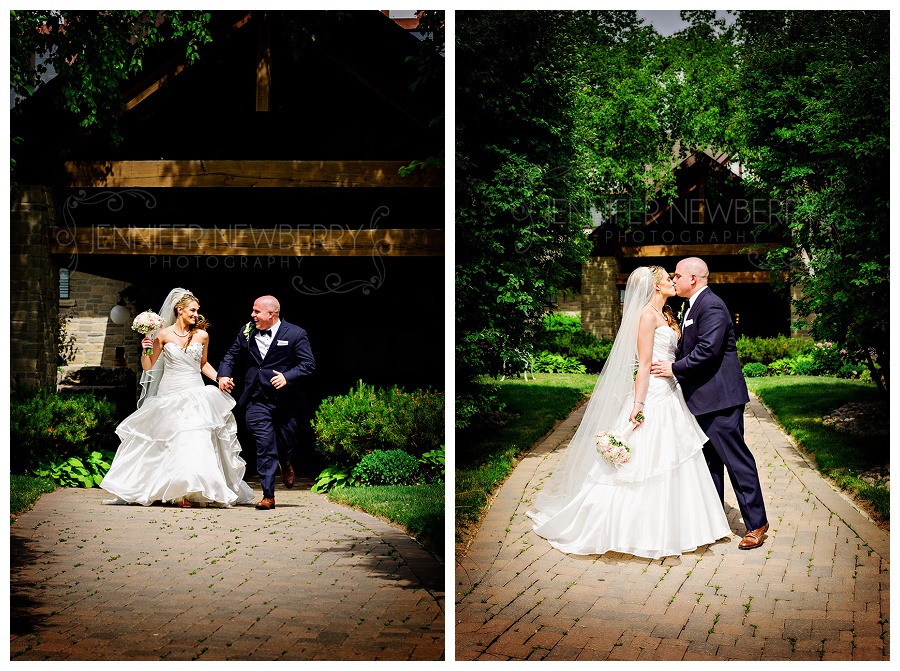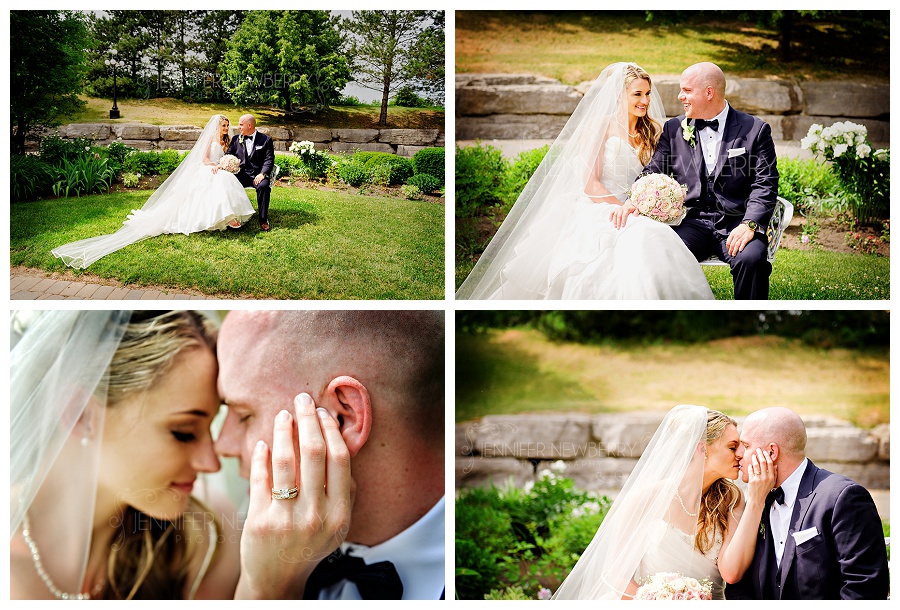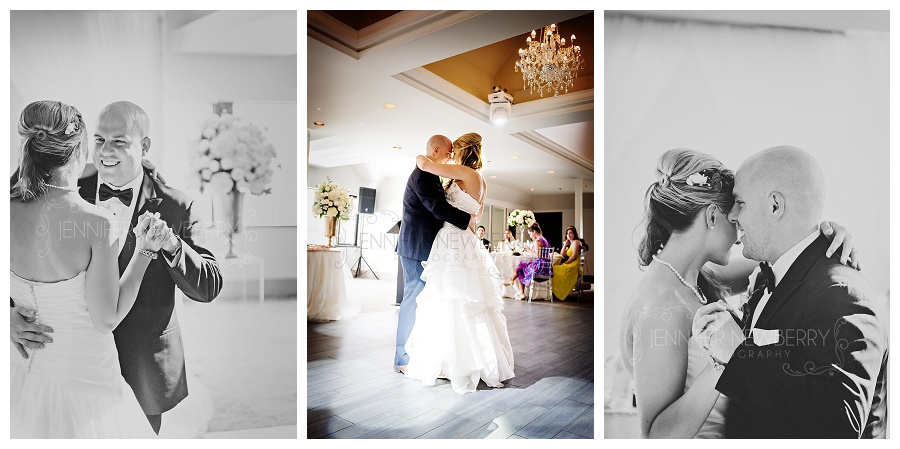 Fog during the First Dance – yep another one of my favourite wedding details! It somehow just makes it more magical – like dancing in the clouds.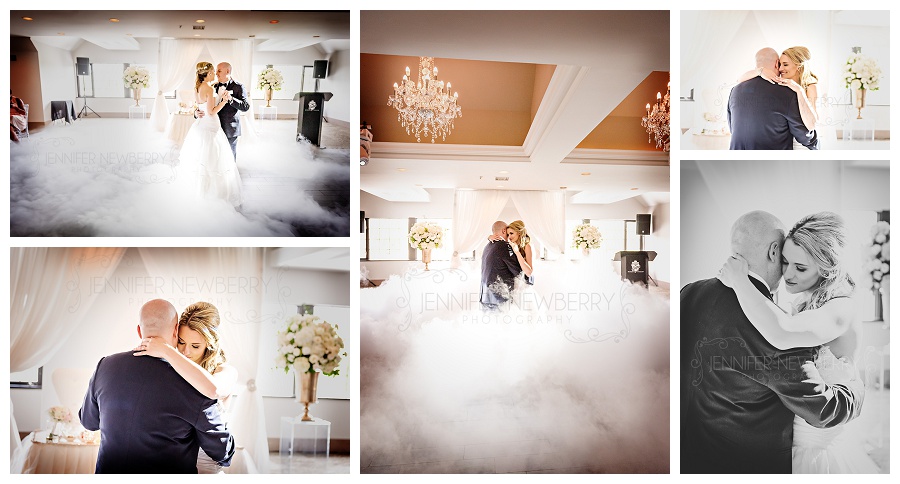 The newlyweds at their beautiful sweetheart table! Sweetheart tables are getting more and more popular, I've noticed! (They are the "head table" at the reception, except only the bride and groom sit there.)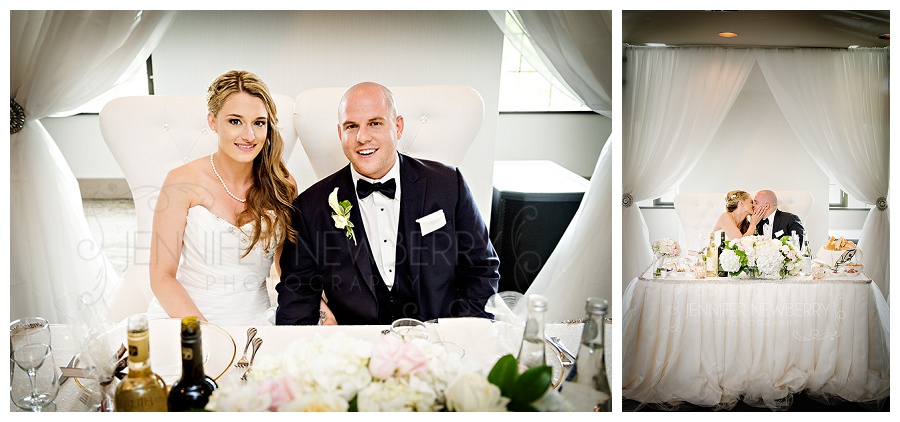 Amanda and her brother danced to "You Are Not Alone" by Michael Jackson, and the WHOLE room was in tears. It was beautiful.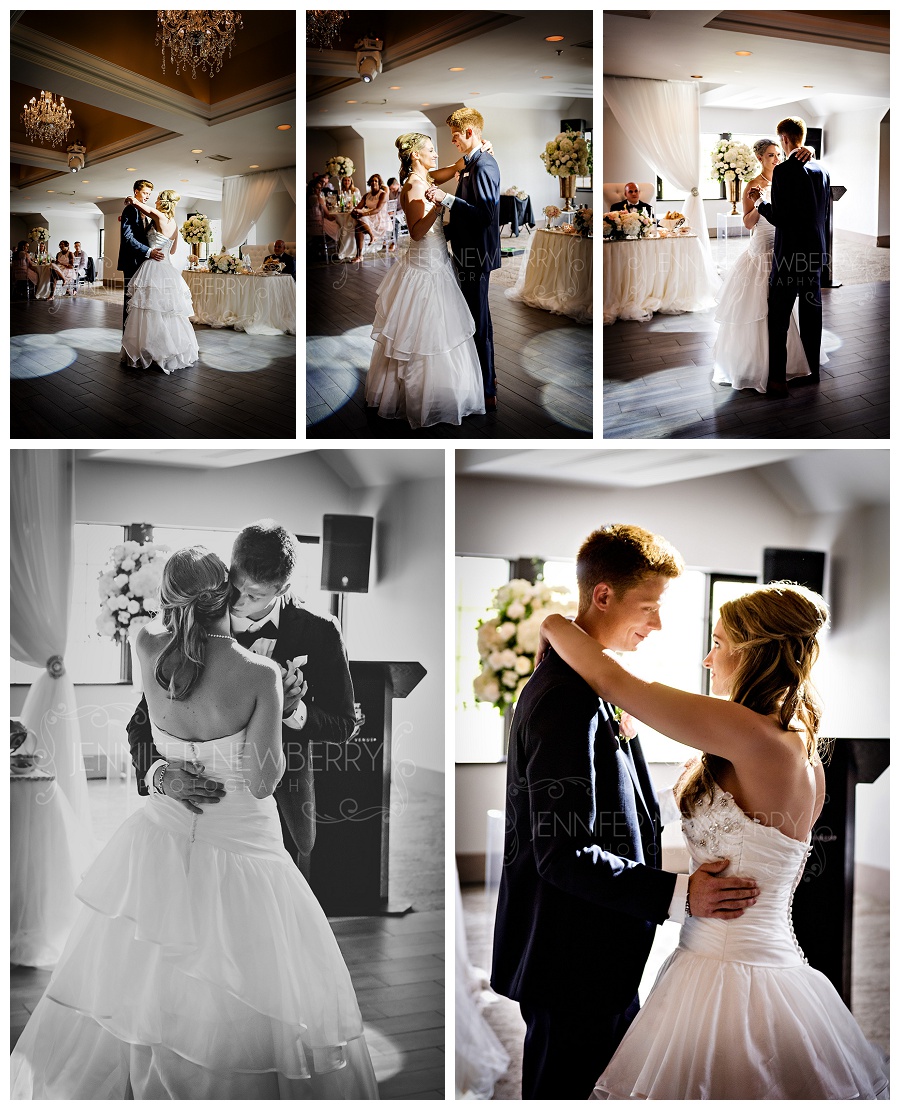 And of course, Kenny danced with his mother. His mom (who is so kind and wonderful!) seemed a bit emotional – but I know that when my sons get married, and I dance with them at their weddings, I'm going to be a blubbering mess, so I totally get it.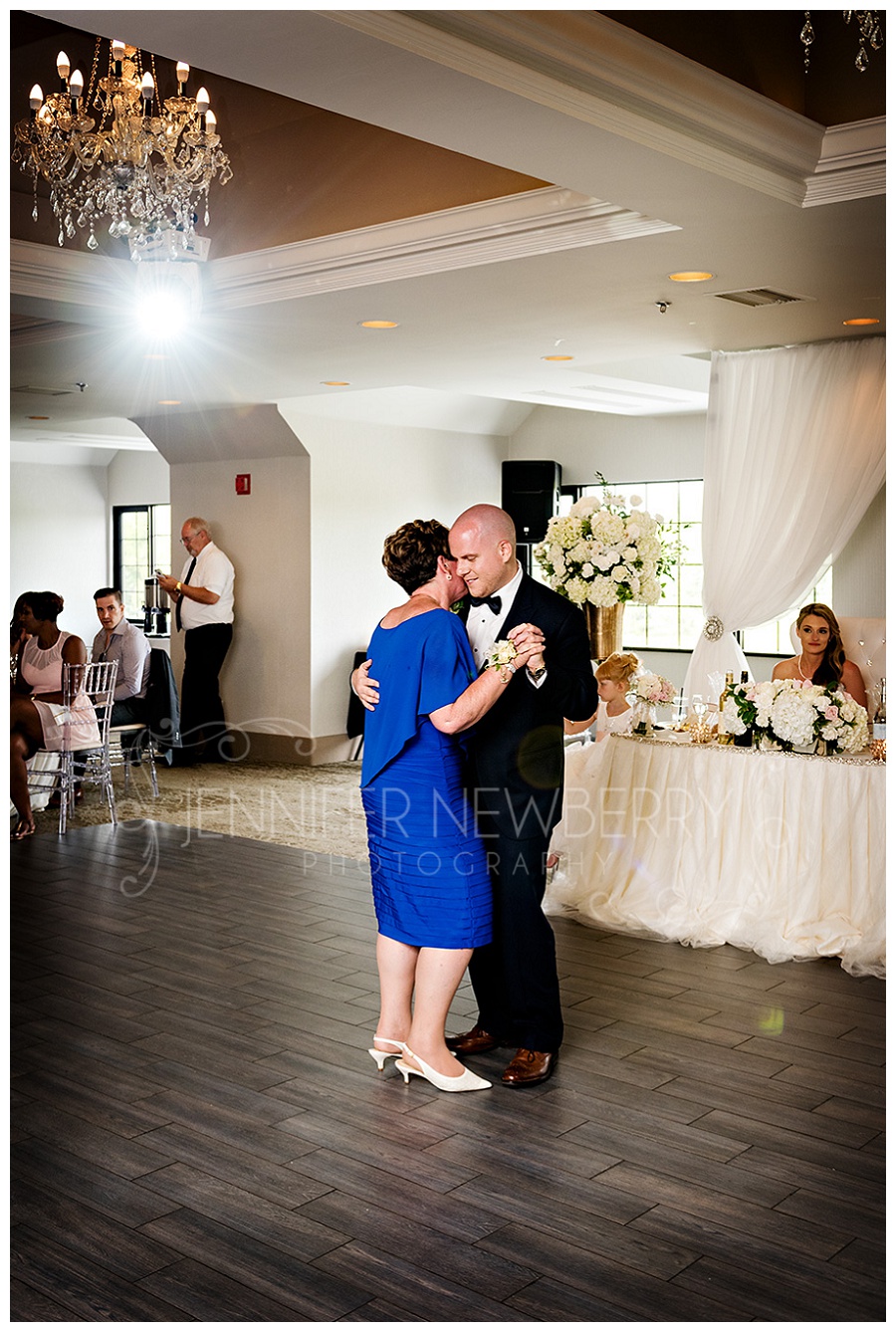 To Amanda and Kenny – your wedding day was absolutely perfect, and I'm SO thrilled I got to be a part of it! Congrats to both of you and your families!
---
To see more of Amanda and Kenny's Kettleby wedding photos, watch the slideshow by clicking here!

To see the highlights reel that the videographers, ArchAngel Production, put together, click here!

And I must credit all the other wedding vendors for Amanda and Kenny's Kettleby wedding at The Manor, who all came together to create such a wonderful day!
Venue & Caterer: The Manor
Florist & Decorator: Have a Seat
Videographer: ArchAngel Production
Cupcake Artist: Modern Girl Cupcakes
DJ: S4
Make-up & Hair Artist: Farishtey Panwar Makeup & Hair
Favours: Rocky Mountain Chocolate
Invitations: The Invitation Place
Wedding dress boutique & designer: Impression Bridal Mississauga
Bridesmaids dresses: Bridesmaids.com
Mens tuxes: Freeman Formal
Jeweler: Direct Diamonds and Gold
Officiant: Thomas Moore
Photo Booth: Snaparazzi
Head table chair rentals: Detailz
The Manor Kettleby wedding photographer: Jennifer Newberry Photography
---
Are you getting married? Looking for a Kettleby wedding photographer? Get in touch to have me, Jennifer Newberry Photography, capture your wedding, whether it's in Kettleby, Newmarket, Aurora, Richmond Hill, Toronto, Barrie, Waterloo, Hamilton, London, Muskoka, or beyond! I'd love to chat about your wedding plans!