#ruiterwedding2017

Caledon Wedding Photographer | Elegant Rustic, Circus Acrobat, Canada 150 Wedding
Danielle & Kyle's
Danielle and Kyle got married on Canada 150 this summer! They didn't actually know it was Canada's 150th birthday when they set their date, but it worked out – and it was certainly a big celebration! Spoiler alert: Danielle and Kyle's wedding was AWESOME. Even cooler than this Caledon wedding photographer could have imagined! They had an antique Ford Model T car, acrobats, aerial silk dancer, a contortionist, farm animals, hay bales, an old log cabin, not one but TWO barns (including a "bar barn"), an old english telephone booth, a vintage carriage (which we didn't end up using for photos, but it was still cool) and *drum roll*…. an ice cream truck!!!!
As easy as it would have been to have a "Canada 150 Wedding", they didn't go that route. Though Danielle did have her toes painted red with a Maple Leaf, and Kyle was wearing Canada-themed socks, that's about the extent of the Canada-specific celebrations went. Really I would have to say that the ceremony was an "elegant rustic" theme, while the reception was more of a "circus acrobat" theme
How They Met
Danielle and Kyle met at Wynn Fitness, where Danielle worked. She was working at the juice bar, and Kyle was working out in the gym. Danielle used to offer Kyle free samples of smoothies, which he always declined. One day, a friend of Danielle's offered to buy Kyle a Gatorade (this friend knew that Danielle had a huge crush on Kyle) and the three of them striked up a conversation. Kyle and Danielle eventually got to talking, and he said he had an old school Camaro, and Danielle asked to go for a ride. They went on their first official date to Tu Casa Restaurant, and were engaged 3.5 years later!
The Proposal
Danielle came home from work, opened the door, and Kyle was standing. He had candles, a bottle of wine and plant on the table beside him (all of which they already had). Kyle opened his laptop and there was a PowerPoint display, explaining how he loves Danielle and wants to spend the rest of his life with her. He then got down on one knee and asked her to marry him. Danielle, of course, said yes!
The Wedding
The entire wedding took place at Danielle's father's house. It was a great setup for a wedding! They had an outdoor ceremony in front of an old log cabin (which was a bit risky because it lightly rained on and off for a bit, but it stopped raining just in time!). The reception was held in the main barn on the property. The barn next to the main barn was the "Bar barn" where the drinks were served.
Getting Ready
The girls got ready in the house. Since it was raining on and off during this part of the day, I opted to do most of the detail photos indoors. (Well, except the shoe photos, I did those on the covered porch.)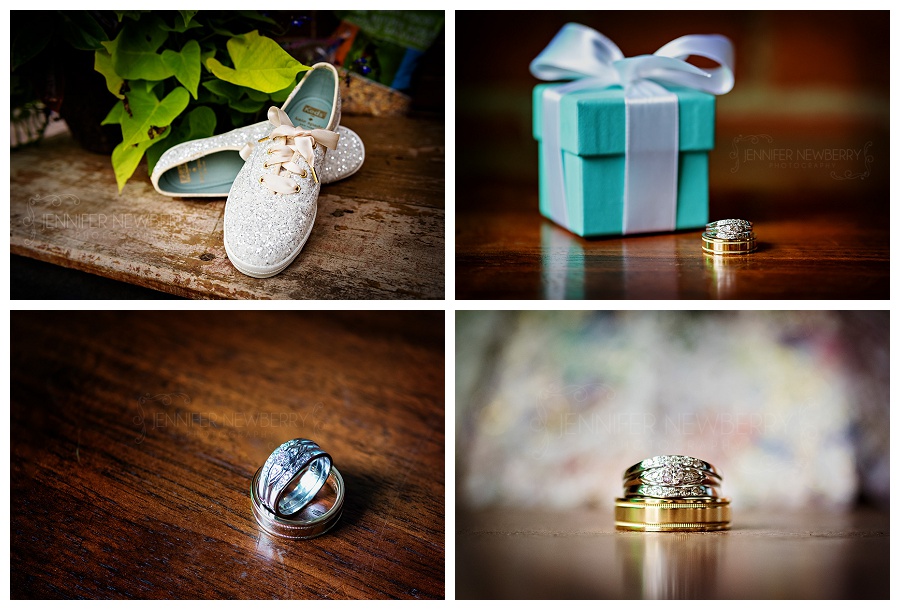 During a "rain break", I did get Danielle's dress hung up on the porch of the house for some photos – I just love how they turned out!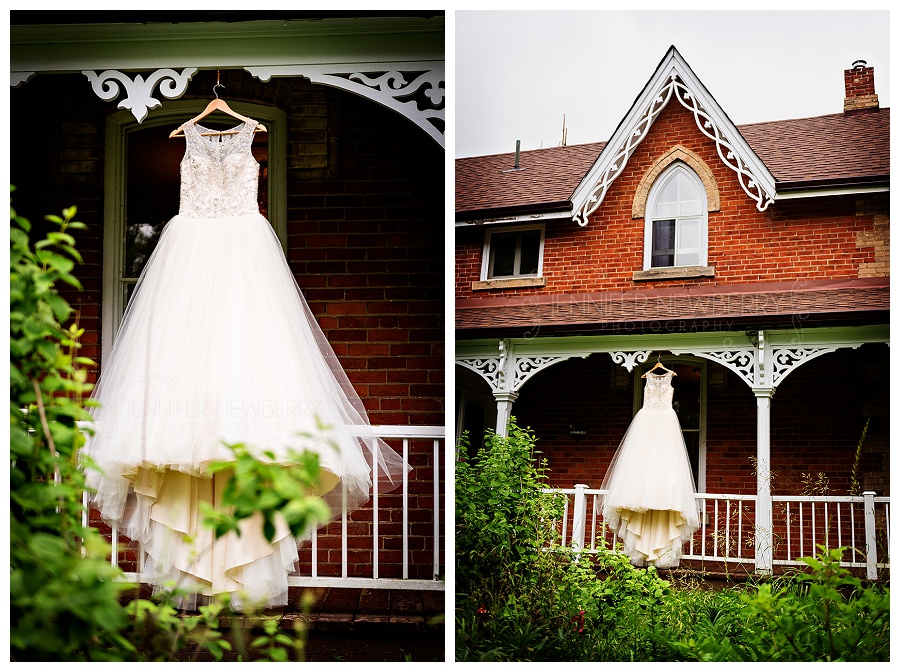 Danielle's bridesmaids helped her get ready, and it was impressive to me because I didn't have to pose or "stage" anything! They were just doing their thing (perfectly photogenically might I add!) naturally! It's rare and awesome for me as a Caledon wedding photographer when this happens.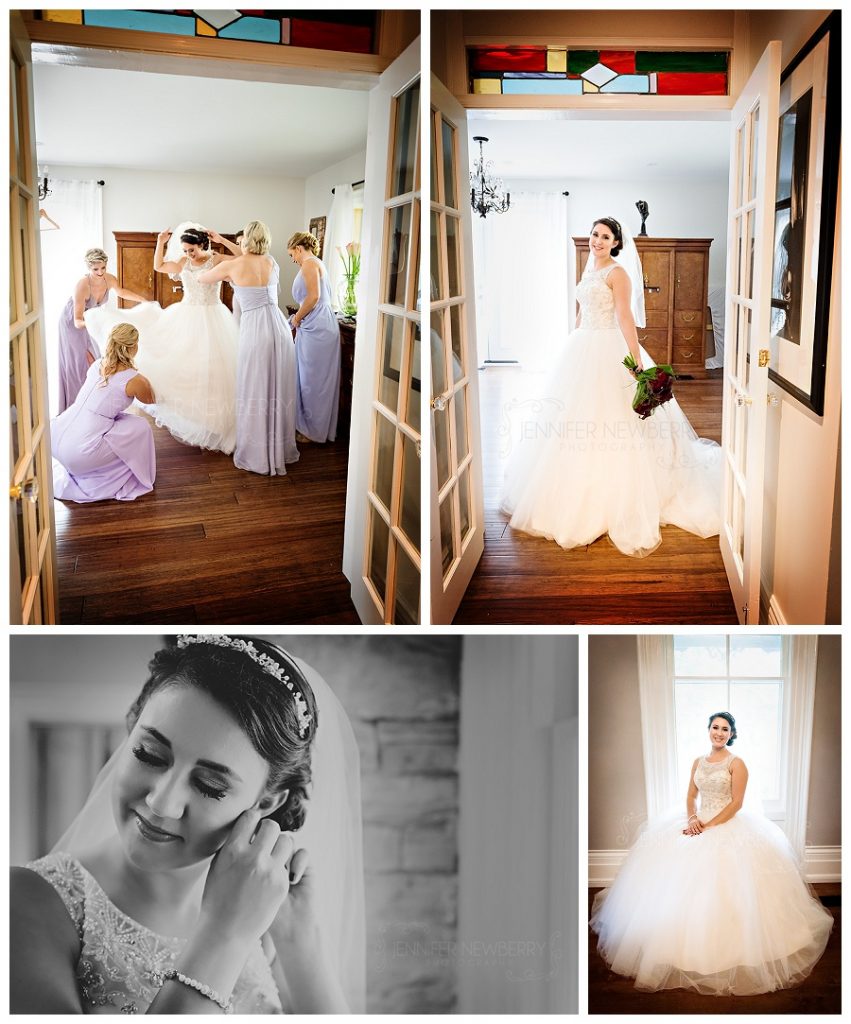 Look at these two! Ready to get hitched! Danielle had Kyle choose his own suit, and it was to be a surprise for her – so at this point she had no idea what he was going to show up in!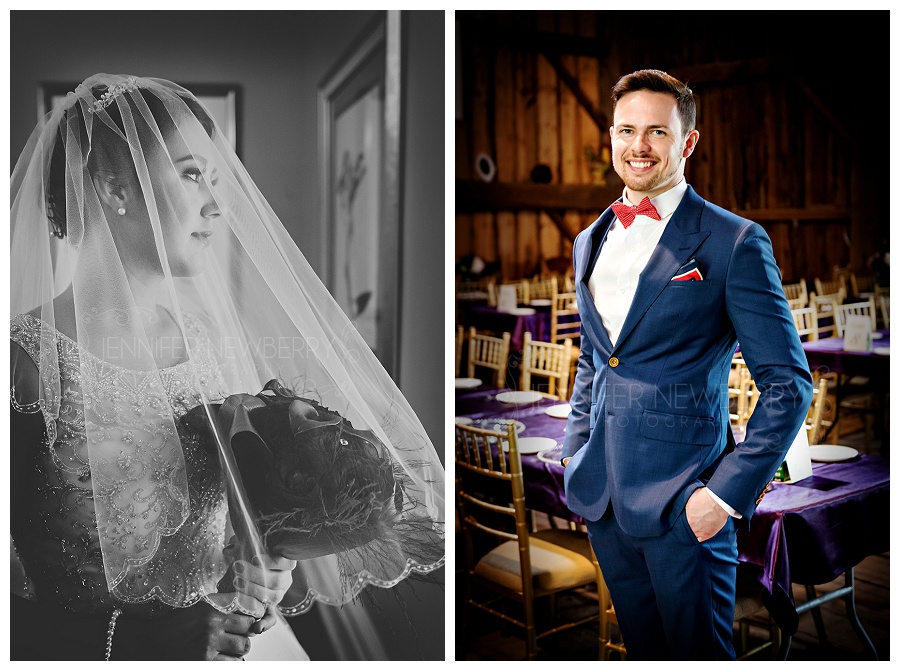 The Ceremony
Danielle was driven across the property by her father, in his old Ford Model T antique car. (It was quite the effort to stuff that huge wedding gown in there! lol).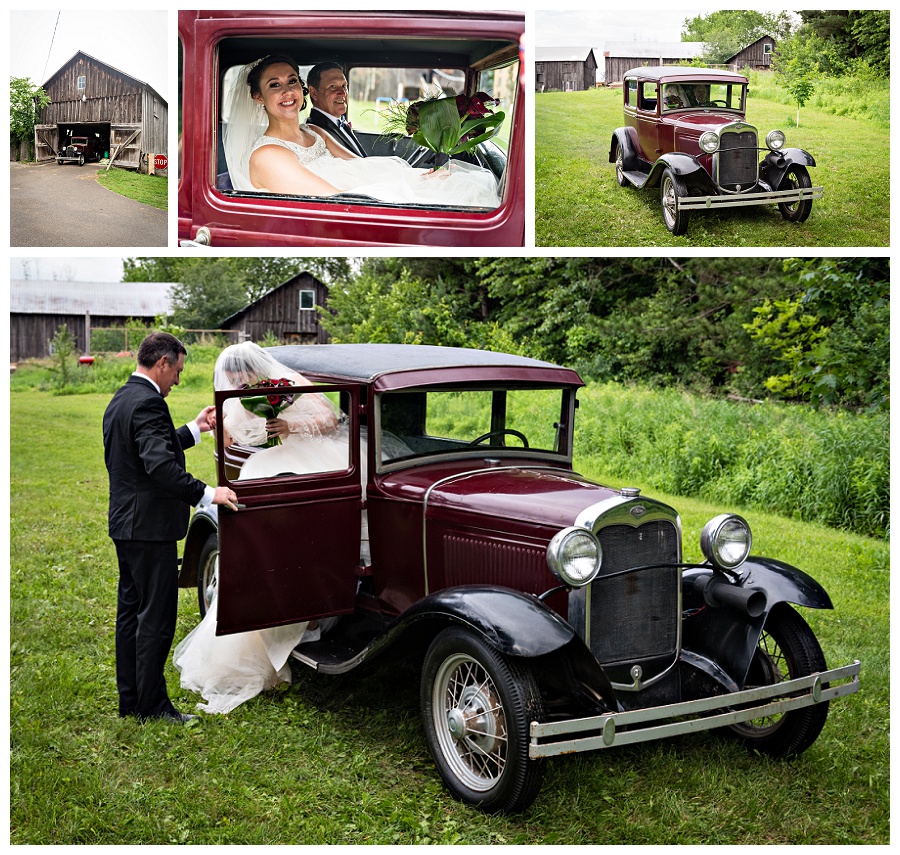 Often when I see dads escorting their brides down the aisle, they generally have a very stoic or serious look on their faces. I love how Danielle's dad was all smiles! (And any guy I've photographed, knows how happy I was with the "hand in pocket" lol!)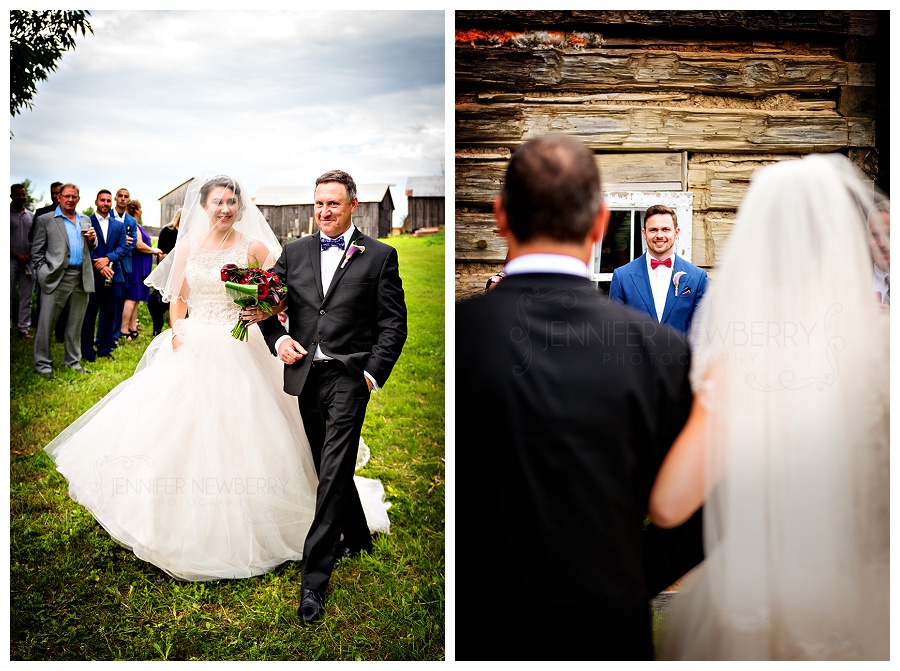 Since Danielle and Kyle didn't do a First Look, the first time Kyle saw his bride was when she walked down the aisle with her father. I always love to do the shot above (right), as it captures the groom's face as he watches his bride come down the aisle!

Wooden benches were set-up for the guests to watch the ceremony, and they (was it Kyle? I think so, but I might be wrong) built a platform for them and the officiant to stand on during the ceremony.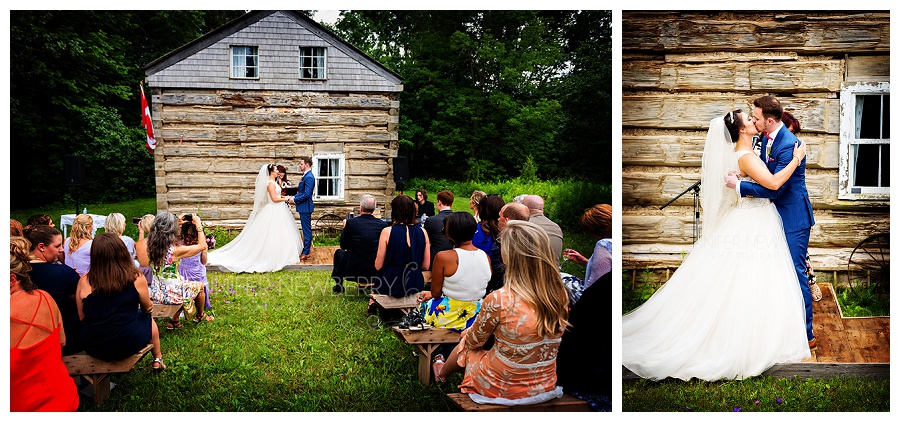 After the ceremony, the newlyweds went back to the antique car and got in the back, and Danielle's father escorted them back up to where the reception & cocktail hour was going to take place.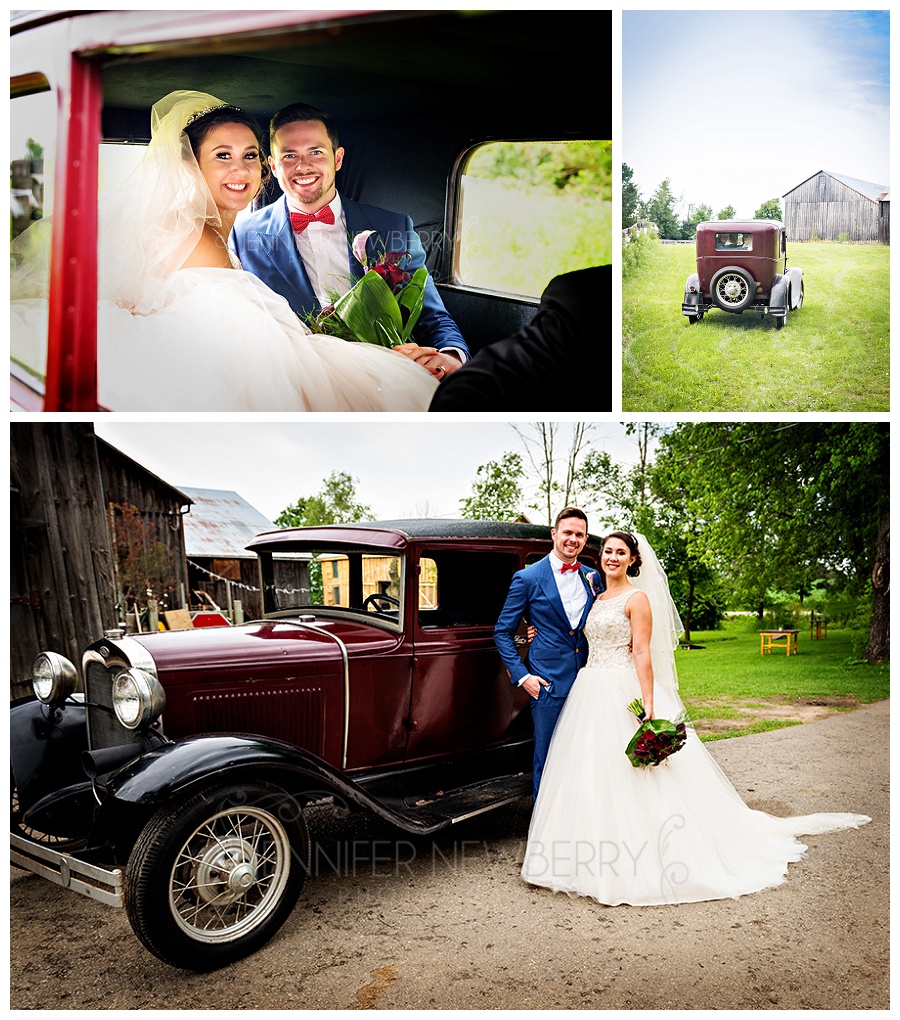 The Wedding Party
Although the wedding party didn't stand up with Danielle and Kyle during the ceremony (they were sitting in the front rows), they certainly were still a big part of their day!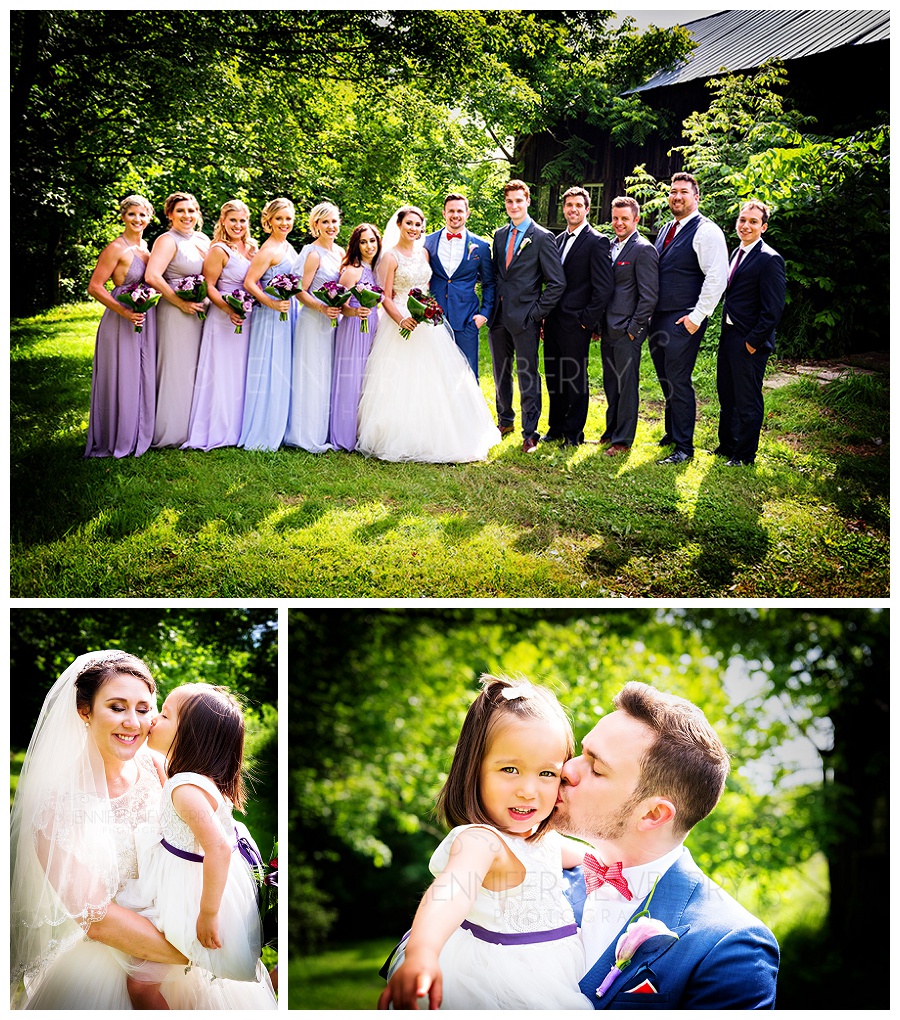 Little Clarke was a most adorable flower girl!
The Newlyweds!
I suppose now is a good time to mention that Danielle is a professional acrobat! When I asked what was the most important photo they wanted taken, she said "Me doing a handstand in my dress" – and so, that was the very first "Bride and groom" photo we did!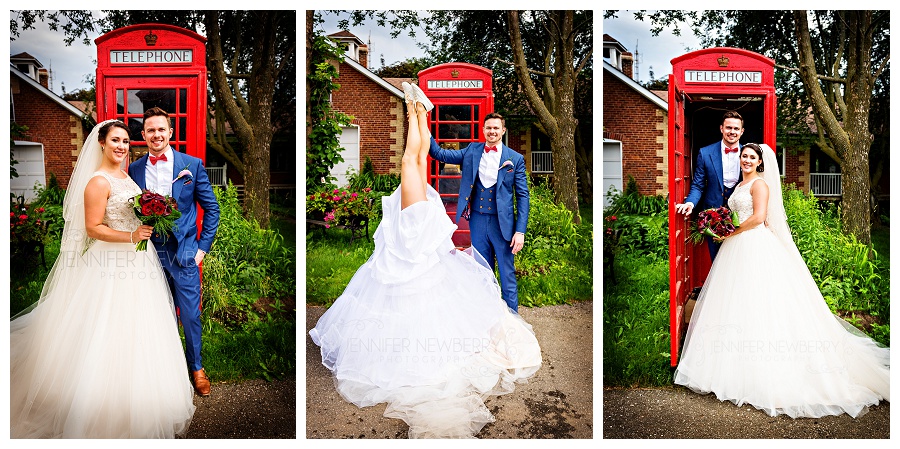 I'm going to pause here for a moment just to mention, that while Danielle, Kyle and I were doing their photos, the guests were enjoying drinks and appetizers at cocktail hour. But amongst the guests mingling around were two awesome acrobats (and friends of Danielle's) who were performing while walking around the crowd!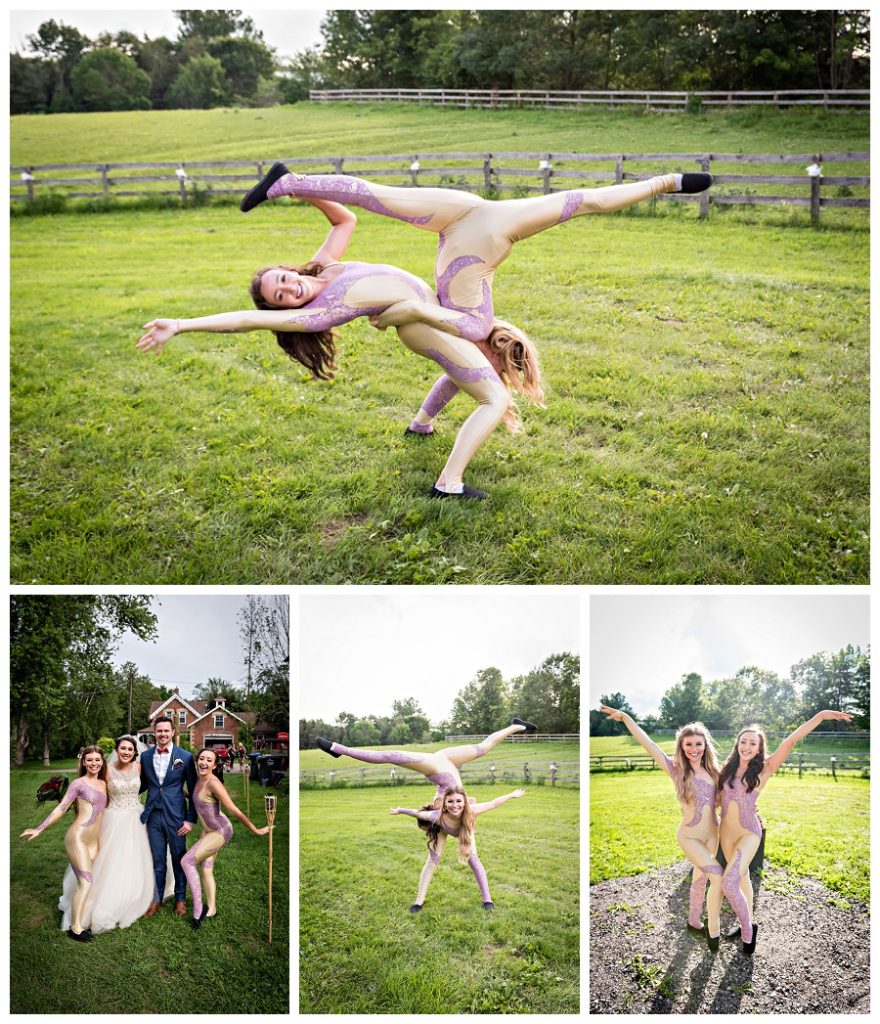 Anyway, back to the bride and groom photos, we did photos all around the property. Danielle and Kyle are so photogenic, they made my job easy! Though I suppose, with Danielle's job she's probably very used to having cameras around!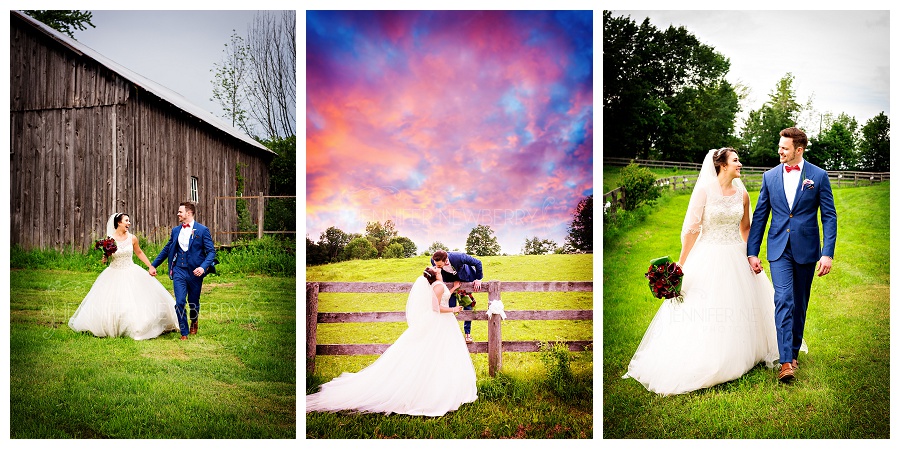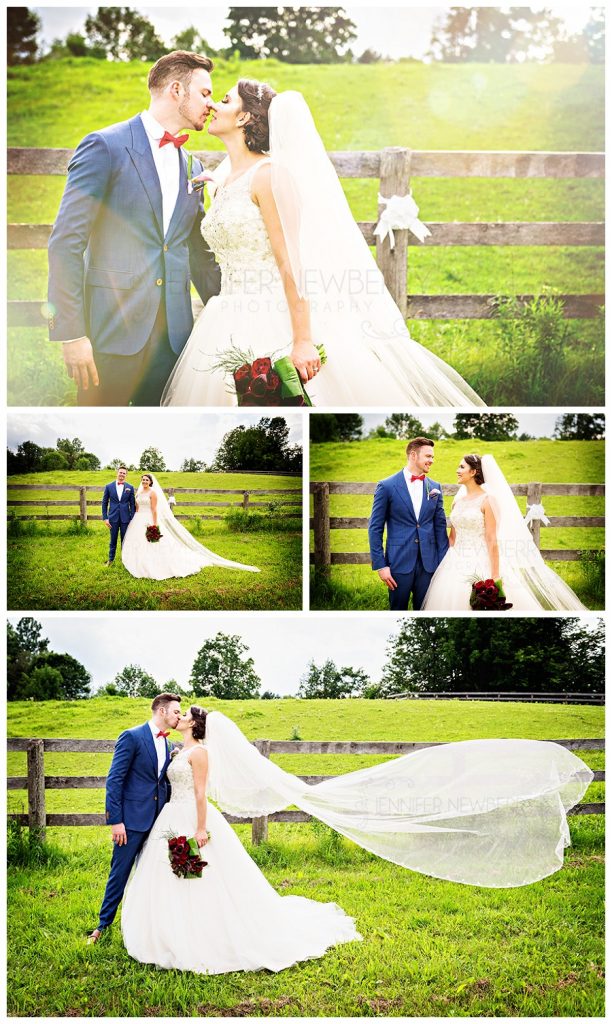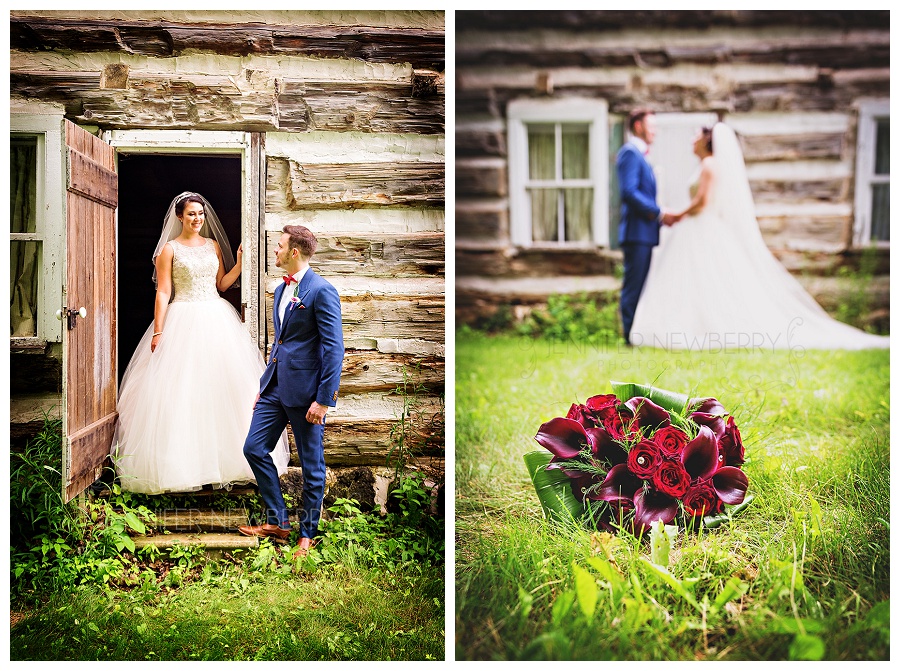 The Reception
As I mentioned earlier, the reception was held in the main barn on the property. Danielle and Kyle did a beautiful job of decorating it!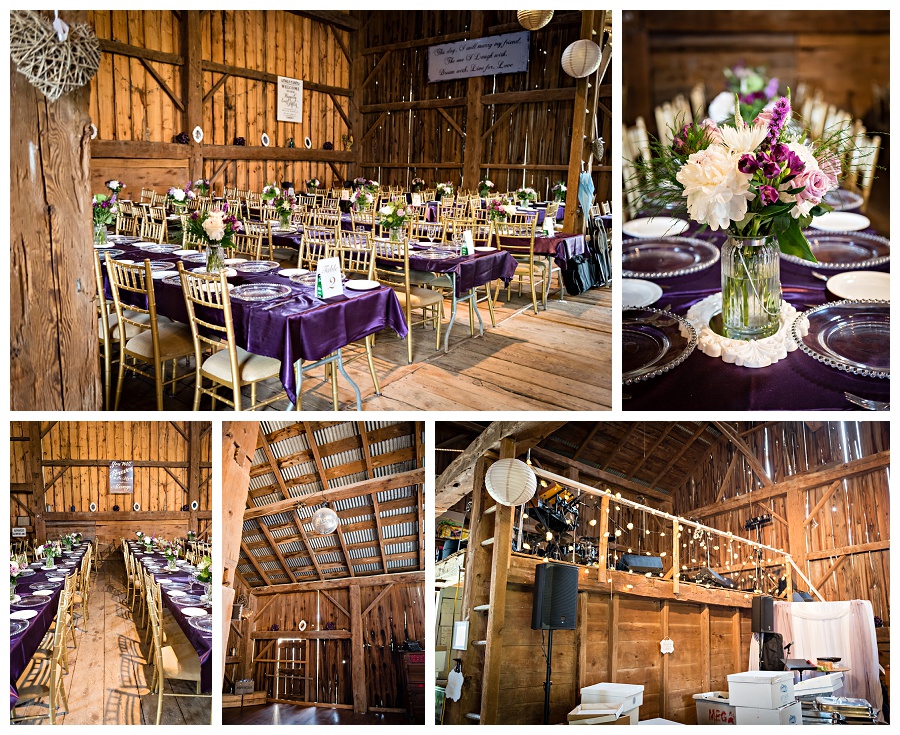 When guests first entered the barn, they greeted the newlyweds and some of the wedding party in a short receiving line, and then were greeted by the acrobats who were performing during cocktail hour. The acrobats did a "champagne pour", where one of them was sitting up in the silks dangling from the ceiling pouring the champagne into a glass the other acrobat was holding, and then handing out to guests. I'm told Danielle is usually the one up in the silks pouring the champagne when she does events!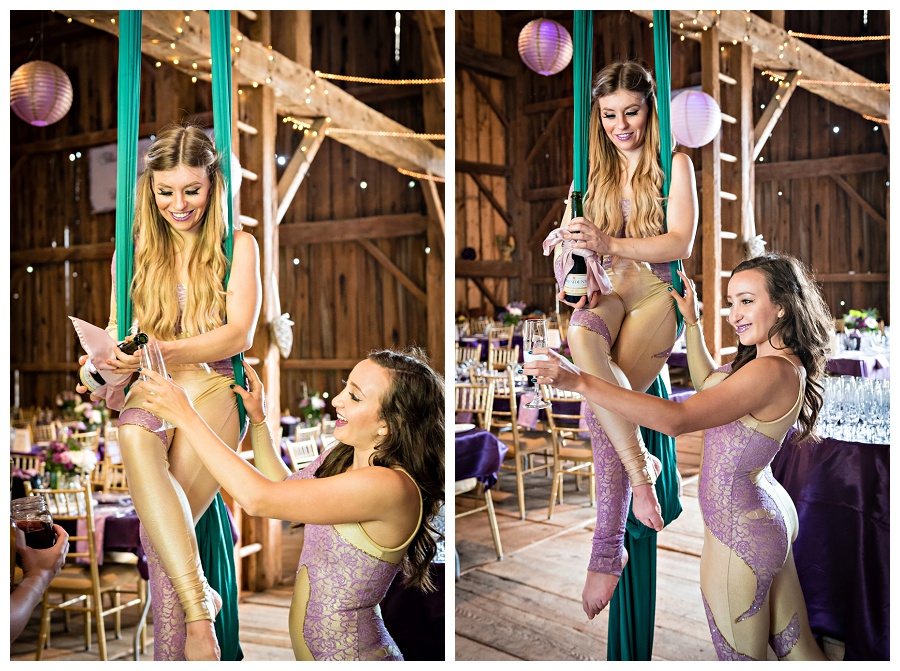 The MC was none other than Danielle's friend and contortionist, Gabriella! Two bridesmaids carried a purple suitcase into the middle of the barn, which Gabriella came out of and did a short performance before announcing the entrance of the bride and groom.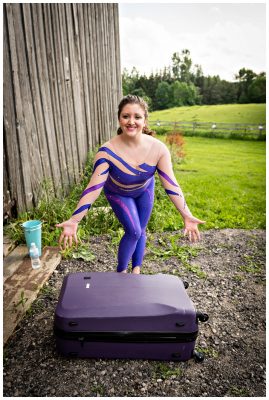 During the reception, the main event was the incredible aerial silks performance by Danielle's friend and bridesmaid, and one of Kyle's best friends, Jennifer Roy! Honestly, I took so many awesome photos during her 8-minute performance, that I couldn't just choose one or two for the blog. So have a scroll, here are all my favourites 😉



As you can see (above right), Danielle was moved to tears by Jen's awesome performance! Danielle herself can also perform the aerial silks. Sidenote for Danielle: My daughter really wants to see you perform sometime 😉

As if all of the above wasn't exciting enough – an ice cream truck showed up!


Even though it wasn't quite dark enough, we went ahead and did a sparkler exit anyway before I was done for the night. Fun times!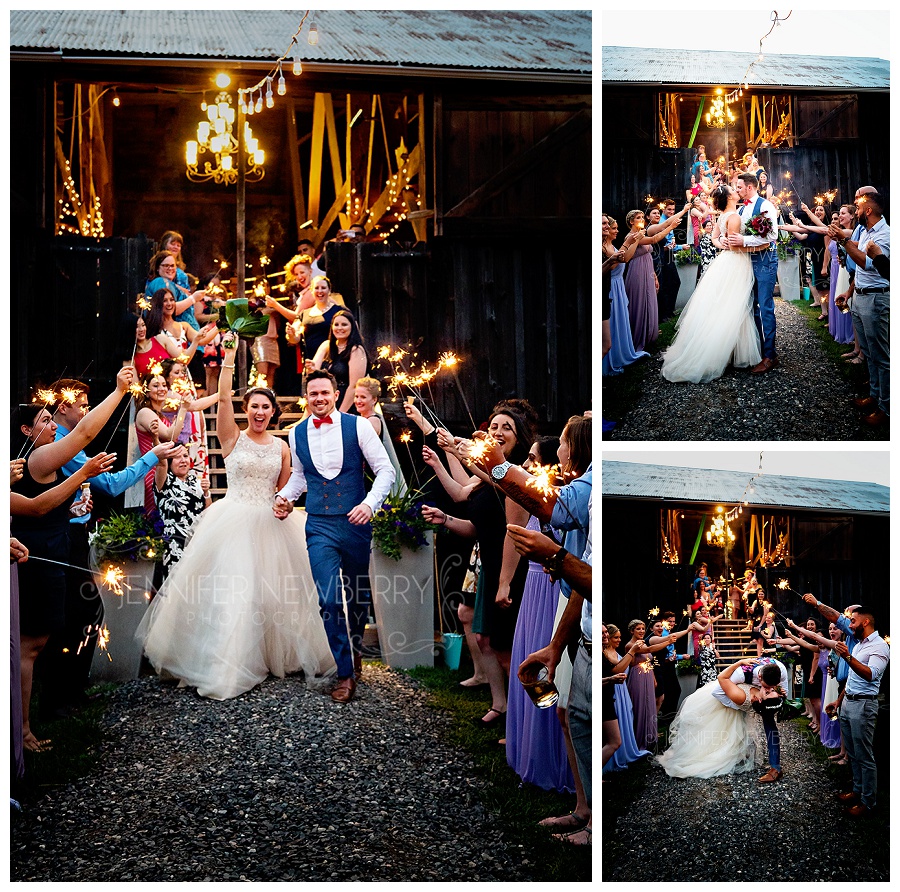 Congrats Danielle and Kyle! I thoroughly enjoyed being a part of your AMAZING and unique wedding day!!!
Here are some of the incredible vendors that helped make Danielle and Kyle's fantastic Caledon elegant rustic circus acrobat Canada 150 wedding happen! (Whew, that's a mouthful!):
Wedding planner: Margarite from Mystical Weddings & Event Planning
Cake Artist: Artsy Tartsy
Band: BPM Krew
Makeup: Maddox Lou (Danielle's friend)
Hair: Teresa Cascioli
Favours: Niagara Winery
Invitations: VistaPrint
Wedding dress boutique: David's Bridal
Bride's shoes: Kate Spade
Bridesmaids dresses: David's Bridal
Bride's wedding band: Humbertown Jewellers
Groom's wedding band: Tiffany's
Toronto Contortionist: Gabriella De Bartolo
Aerial Silk Dancer: Jennifer Roy
Caledon wedding photographer: Jennifer Newberry Photography

---
Are you getting married? Looking for a Caledon wedding photographer? Get in touch to have me, Jennifer Newberry Photography, capture your wedding, whether it's in Newmarket, Aurora, Richmond Hill, Toronto, Barrie, Waterloo, Hamilton, London, Muskoka, or beyond! I'd love to chat about your wedding plans!