#laurenandgregsaddleup

Bradford Wedding Photographer | The Bradford Barn
Lauren & Greg
Today I'm sharing some photos from Lauren and Greg's Bradford Barn wedding!
How They Met
Lauren and Greg's story is beautifully written on their wedding website (which I will keep private unless asked to publish the link), so rather than re-write it, I will be lazy efficient, and just copy it here 😉
In September 2008, Lauren and Greg's story began like so many that had come before:

1. Boy meets girl
2. Boy likes girl
3. Boy does nice things to get noticed but girl doesn't realize the boy likes her
4. Girl even complains to boy about terrible luck with other boys

Ironically, Greg thought he was simply meeting a new co-worker in the newsroom of The Waterloo Region Record, but as it turns out he was about to meet the greatest person in his life. Needless to say, based on the story to this point, nothing had gone quite like Greg expected (or hoped).

Bad taste in music (Nickelback), mix tapes, hot chocolate and a shared love of sports brought them closer together. Their friendship grew, but timing never gave them a chance for anything more. Weeks in the newsroom turned to years, and eventually both moved on from Wilfrid Laurier and the city of Waterloo.

A couple chance encounters down the road made it clear to others that there was a clear attraction and connection between the two.

Sports has always been at the forefront of their friendship – take a Monday Night Football game in September 2012 for example. Greg (two weeks into his new life in Toronto) and his friend Josh happened to walk into the bar where Lauren worked. Their obvious "friendliness" was rekindled instantaneously, but alas, timing again wasn't on their side.

Fast forward three years to Friday, October 23, 2015 – both were disappointed that the Toronto Blue Jays had been eliminated in a crushing game six defeat at the hands of the evil Kansas City Royals. Frustrated that the Jays late-season run didn't have a magical finish, Lauren and Greg went on Facebook unknowingly beginning the journey to their own incredible ending.

After Greg left a note on Lauren's "farewell to the Jays" post, a few comments were exchanged, innocent enough between friends, but admittedly Greg was the first to remember those old feelings from the bullpen. After days of texting and enough flirting that even a blind squirrel could read into, Lauren finally asked Greg to meet for a drink. Seven years after originally meeting they finally had an actual date … talk about anticipation.

From that night on Lauren and Greg fell in love, finding in each other their best friend and confidant. If anyone ever needs to know how much they care about each other just tell them this: Greg now watches football (soccer) on his own and Lauren won't complain when a regular season Leafs' game is on their TV. Weeknights are spent cooking, making football picks and geeking out over Star Wars or comic books. Weekends usually involve some horseplay – quite literally, as Greg volunteers at the farm where Lauren trains retired racehorses.

They've traveled to Bucs and Broncos games in Florida, the beaches of Jamaica, even hiked a volcano in Nicaragua and are excited for the new adventure each passing month and year will bring.
The Proposal
October 28, 2017 began like any normal Saturday. Little did Lauren know, the events that would transpire that day would make it the greatest day of her life thus far.

They took their first steps toward their future journey when Greg used a few groups of friends to set up an unexpected date. It will come as no surprise that Greg had planned for nearly every possible outcome – recruiting multiple future-groomsmen and friends to aid in this charade.

The day began with a skeet shooting lesson, at a gun range designed to get the Lauren into a specific region without raising any questions. Following the range, Greg made sure to mention a friend's birthday pub crawl, after all they hadn't seen this friend since his wedding, so Lauren brought up the pub's "location" on the phone's GPS. It didn't seem that far (thanks to Greg changing the location label in his phone). So off they went to a very real pub at it's very fake address. Luckily, Lauren was too happy during the drive to pay much attention to all the signs they passed on the way to "Brimstone Brewery" that advertised the trail riding farm that they'd actually driven to, in Port Colborne.

Grey skies and a threat of rain couldn't damper Lauren's excitement as she saw Greg ride his first horse, taking a trail out to the beach at Reebs Bay. Then just before sunset, with waves crashing behind them, and of course as per Lauren's dream scenario – a couple horses nearby, it happened. As Greg looked at Lauren with grin on his face, he was at a loss for words for the first time in his life. He managed to explain to Lauren that she was everything he had ever dreamt for in life. She was the best thing about his present and the brightest spot in his future. Wearing Lauren's favourite plaid shirt and ring in hand, Greg got down on one knee and proposed.

On their own they've had important life experiences, learned a hard lesson or two, and took unexpected detours – but Lauren and Greg have finally made their two halves whole.

Their wedding day will be just a few days short of a decade since Greg and Lauren first met. So much of their story has been written already, and they can't wait to start on the next chapter. They've found their someone to share an adventure with.

The Wedding
A quick shoutout here: If you are looking for a rustic venue, or a barn venue, The Bradford Barn is THE best barn-wedding venue I've seen! The barn is two stories, the property is beautiful, and the staff are fantastic (and so helpful!!).


Getting Ready
The Bradford Barn has a 3-car garage that's been renovated and converted into a bridal suite on one side, and a groom's suite on the other – it's pretty neat!

Even being in close-proximity, Lauren and Greg never saw each other before Lauren walked down the aisle, it worked very well!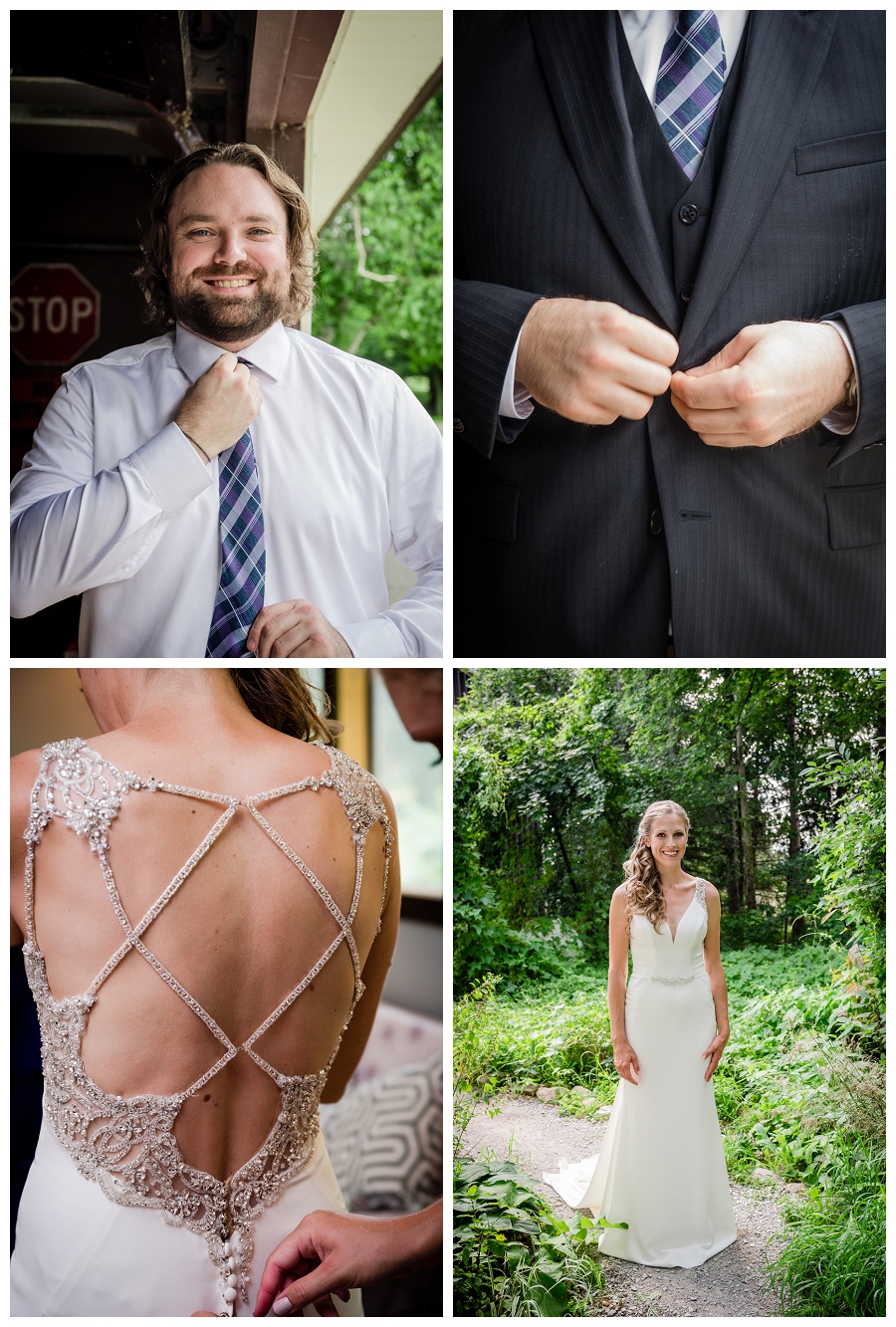 The Ceremony
Lauren and Greg had their Bradford Barn wedding ceremony at the outdoor wooden arbour, with a large field in the background. It was quite emotional for both of them! Greg teared up when he saw his bride for the first time, and they both were a bit teary-eyed during the vows.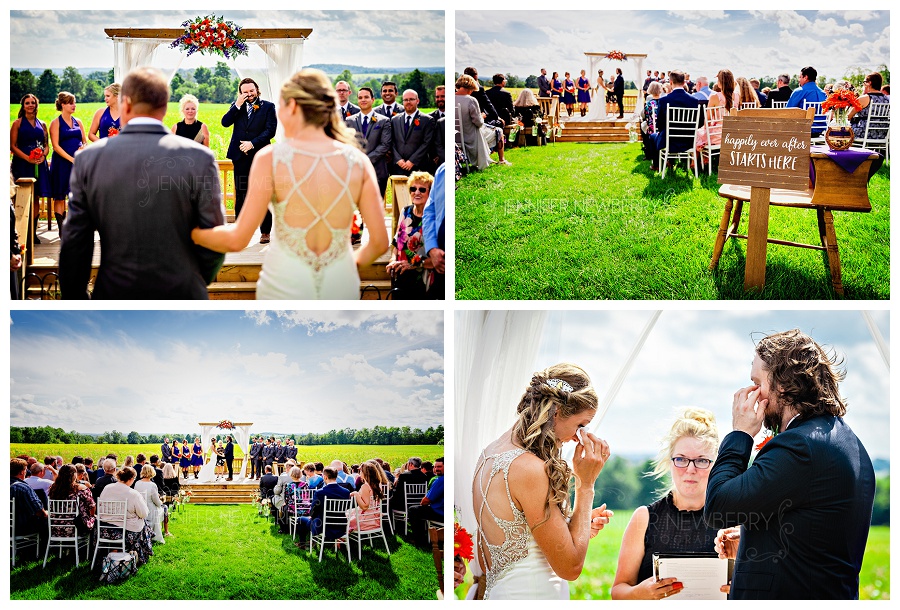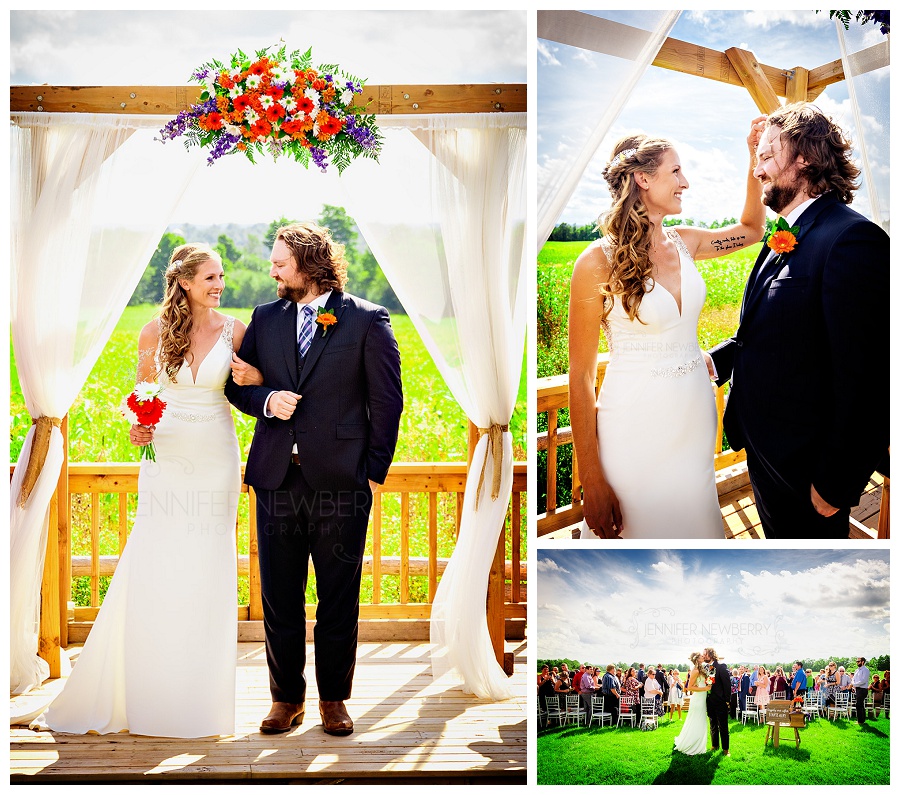 The Wedding Party
The wedding party consisted of seven groomsmen, three bridesmaids, and one bridesman. They are a super fun bunch, and we had a lot of fun not only doing the "standard" photos, but also a lot of silly ones. (Lauren and Greg have quite the sizeable "Outtakes" folder. haha.)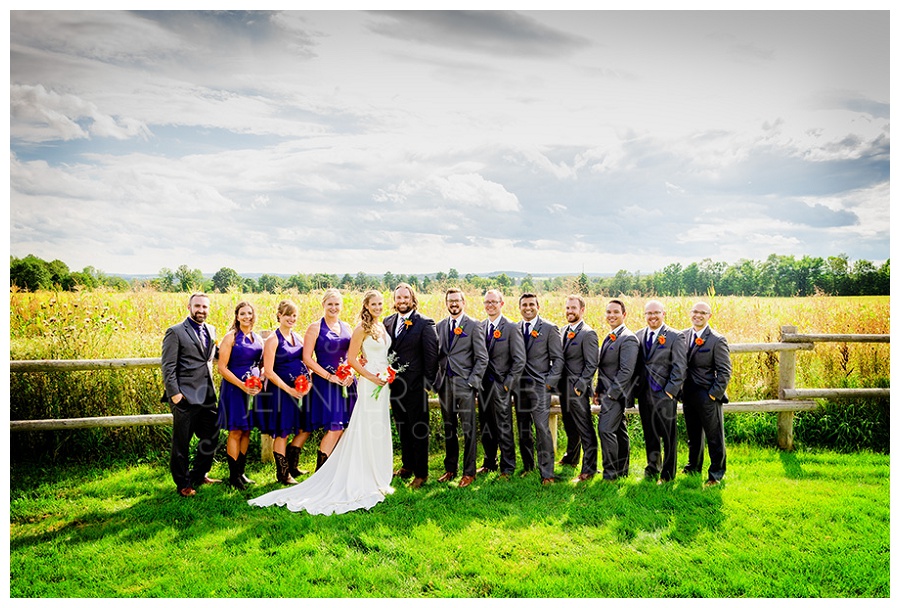 The Newlyweds!
After the family and wedding party photos, it was time for the newlyweds to take their bride & groom portraits! The Bradford Barn has a lot of great photo spots, so we kind of just wandered around and did our thing!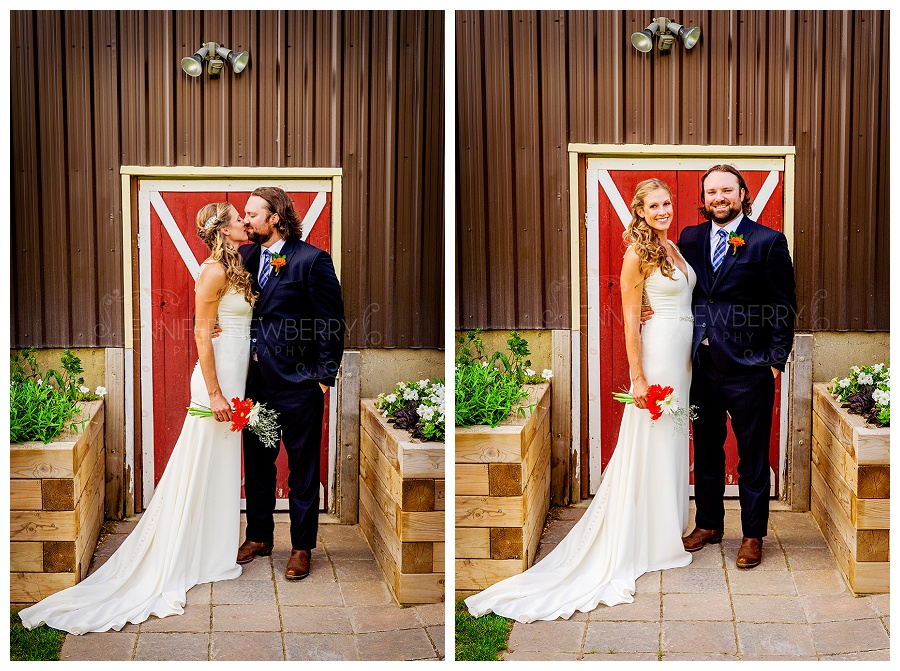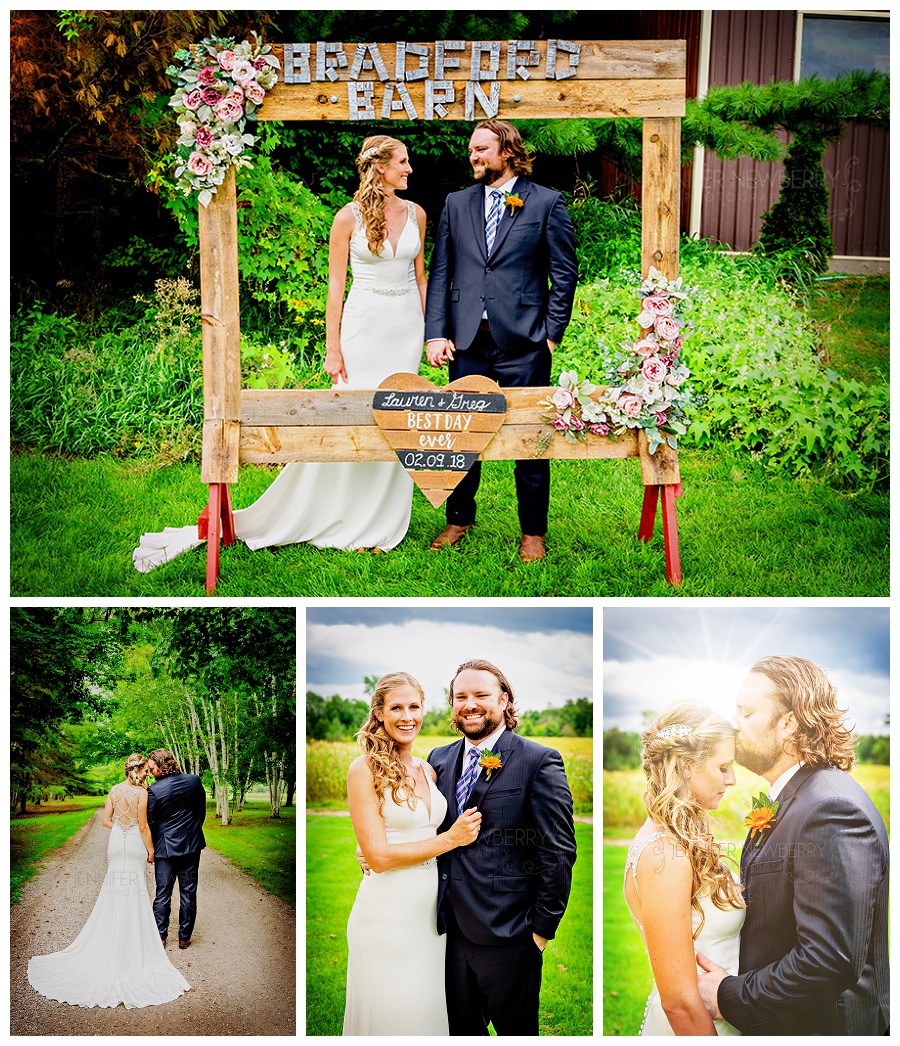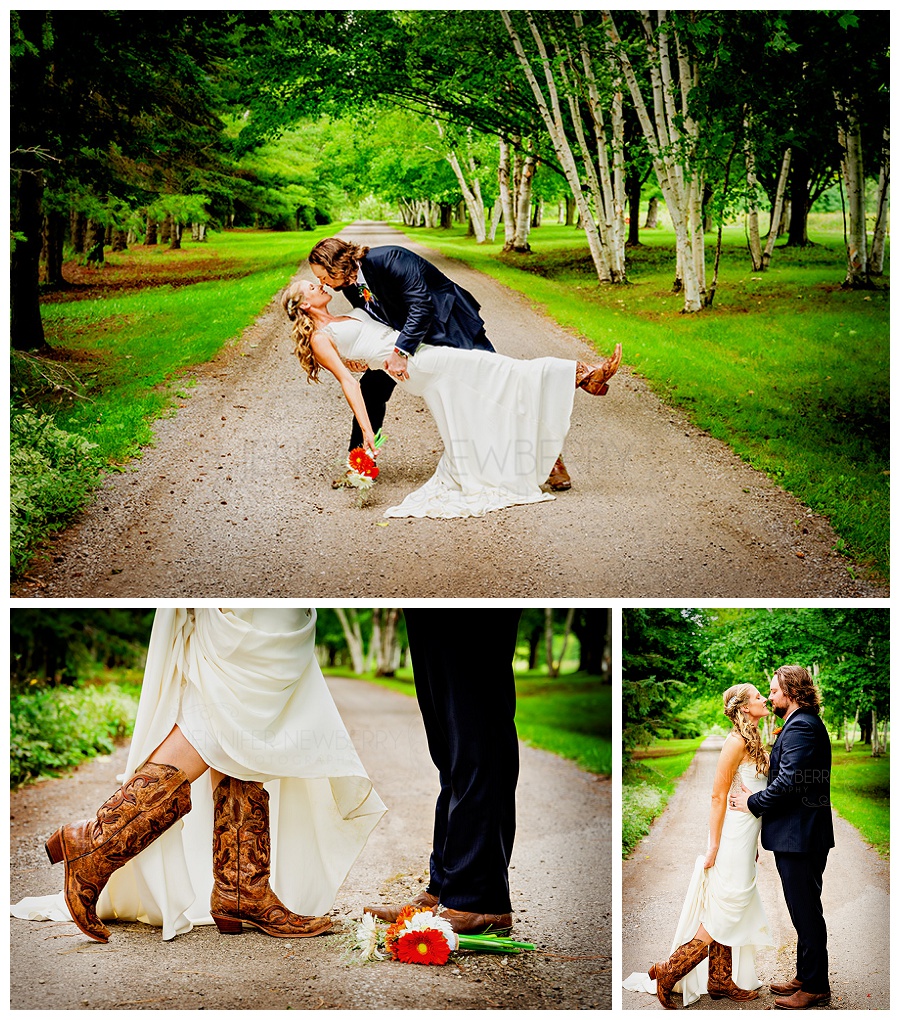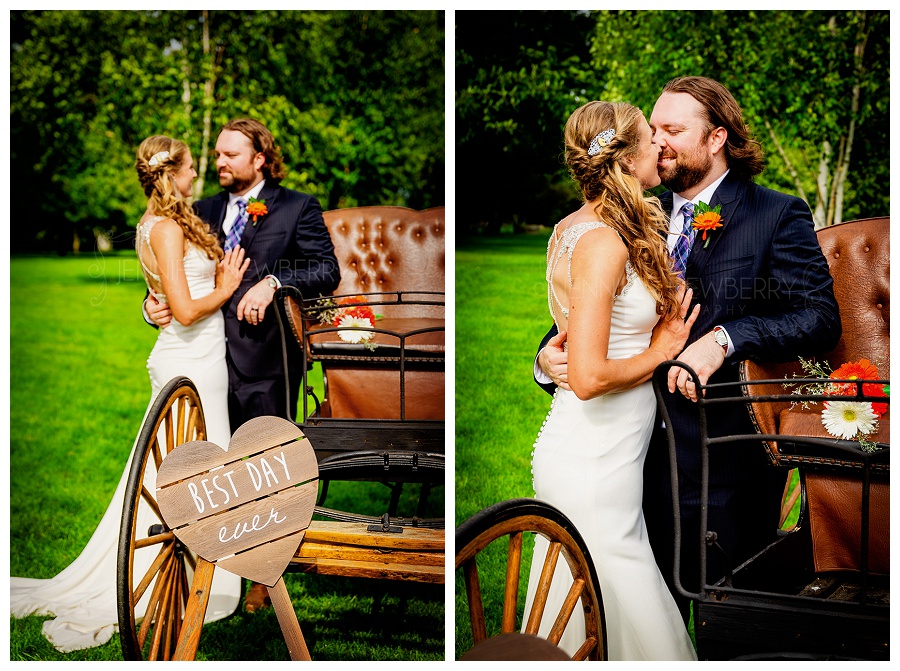 The Reception

Lauren and Greg surprised their guests with a choreographed first dance, that was very impressive!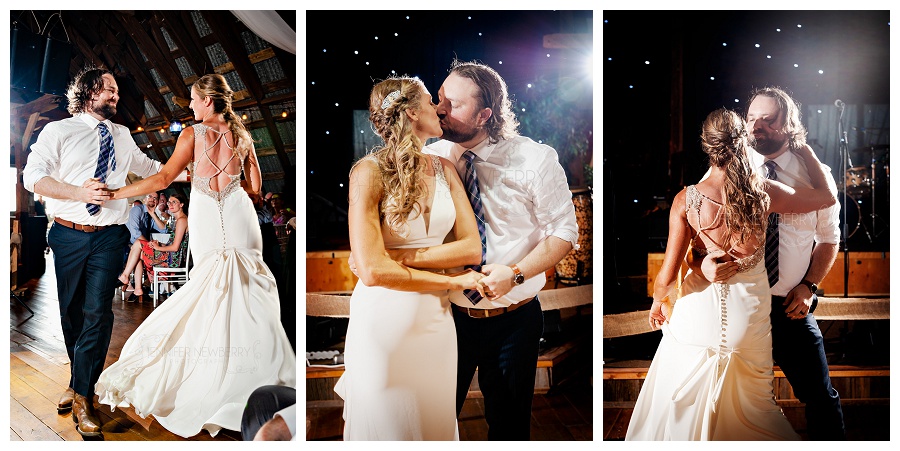 Congrats Lauren & Greg!

Wedding vendors:
Venue: The Bradford Barn
Wedding Planner/Day-of Coordinator: Weddings by Miranda
Cupcakes: DIY by Lauren's dad, the "Master Baker"
Cupcake icing & decorations: Lauren's sister and one of the bridesmaids
Cupcake boxes: Kelly's Bake Shoppe
Band: Darrin Painter and the Bradford Barn Band
Makeup & Hair: Frosting Mobile Beauty Services
Caterer: Custom Catering
Favours: Donations to the Chantal Millet Memorial Fund at Niagara College
Invitations: Zazzle
Wedding dress shop: Sophie's Gown Shoppe
Wedding dress designer: Martina Liana
Bridesmaid dresses: Colors Bridesmaid
Mens Tuxes: Moore's
Bride's wedding band: Spence Diamonds
Groom's wedding band: Amazon
Officiant: Elizabeth Moore
Transportation: Switzer-Carty Transportation
Rentals (linens, plateware, glasswear, etc.): Totally Covered
Guitarist: Josh (Best Man)
Bradford wedding photographer: Jennifer Newberry Photography
---
Are you getting married? Looking for a Bradford wedding photographer? Get in touch to have me, Jennifer Newberry Photography, capture your wedding, whether it's in Bradford, Newmarket, Aurora, Richmond Hill, Toronto, Barrie, Waterloo, Hamilton, London, Muskoka, or beyond! I'd love to chat about your wedding plans!