Newmarket Baby Photographer | Newborn Hudson, 11 Days New
I have a few days until my next wedding, so I thought I would catch-up on some blogging from last summer!

It always amazes me how fast babies grow in the first year of their life. That's why it's important to have your newborn photos done within 14 days of their birth – because usually they're still in that very sleepy stage. BUT! This was not the case with 11-day-old little Hudson! He was WIDE awake! He certainly kept this Newmarket baby photographer on her toes!

Hudson's dad actually emailed me WHILE his wife was in labour, so that was pretty cool! When little Hudson was welcomed into the world, we planned a good time to do the photo shoot with Hudson, his parents, and his new big sister Farrah!

I must say, Farrah was one of the BEST behaved 2-year-olds I have ever photographed! 2-year-olds are famous for not wanting their photo taken, not wanting to participate in any kind of photoshoot, etc – but not Farrah, she was fantastic! (And adorable, obviously!!)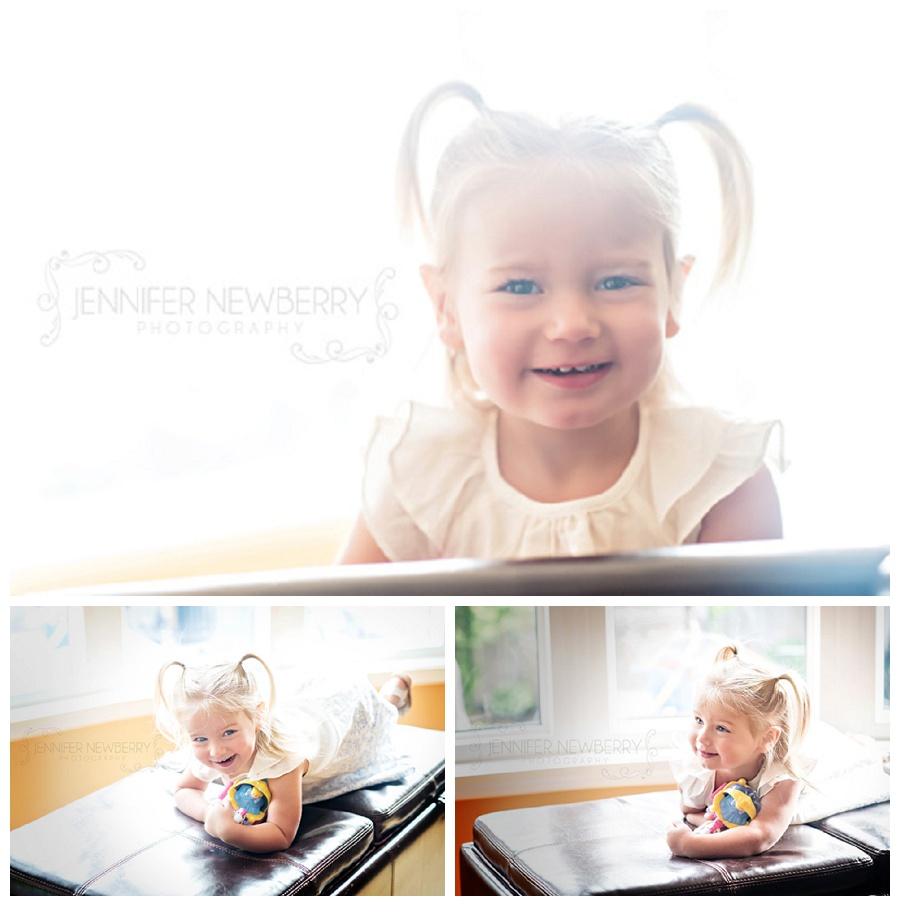 Little Hudson was bright-eyed and very curious about the world around him!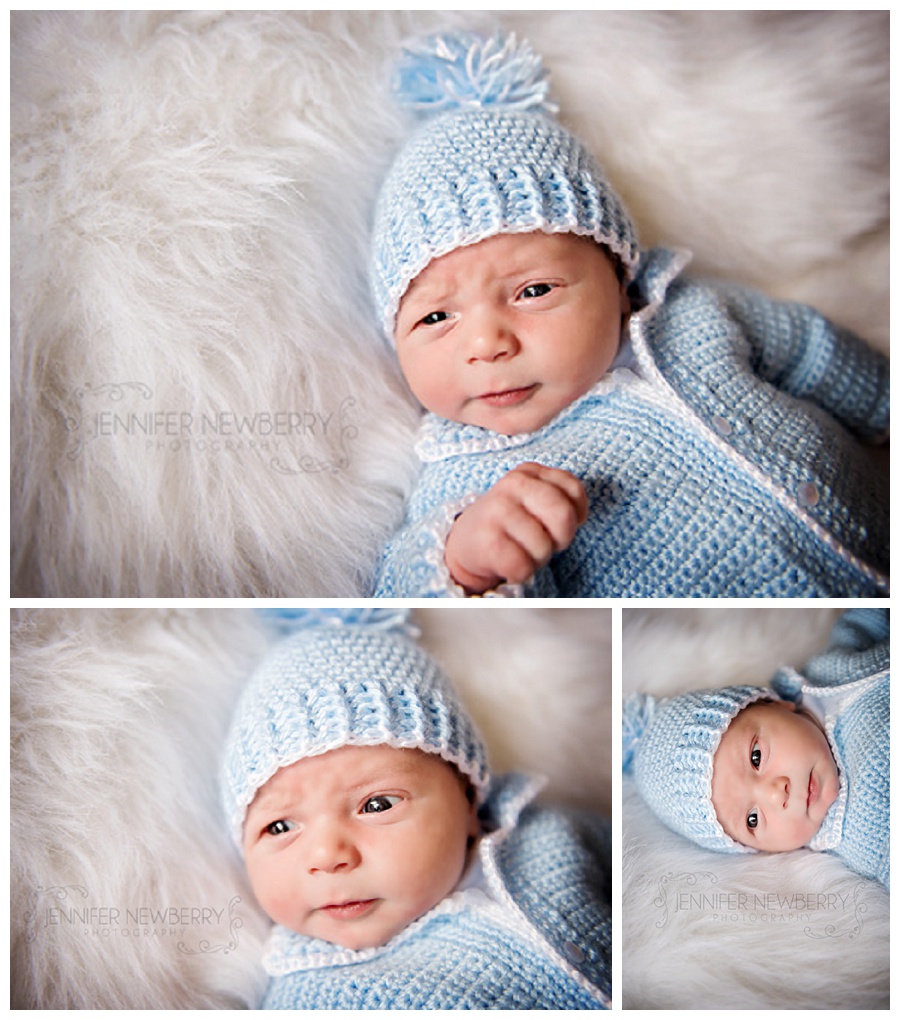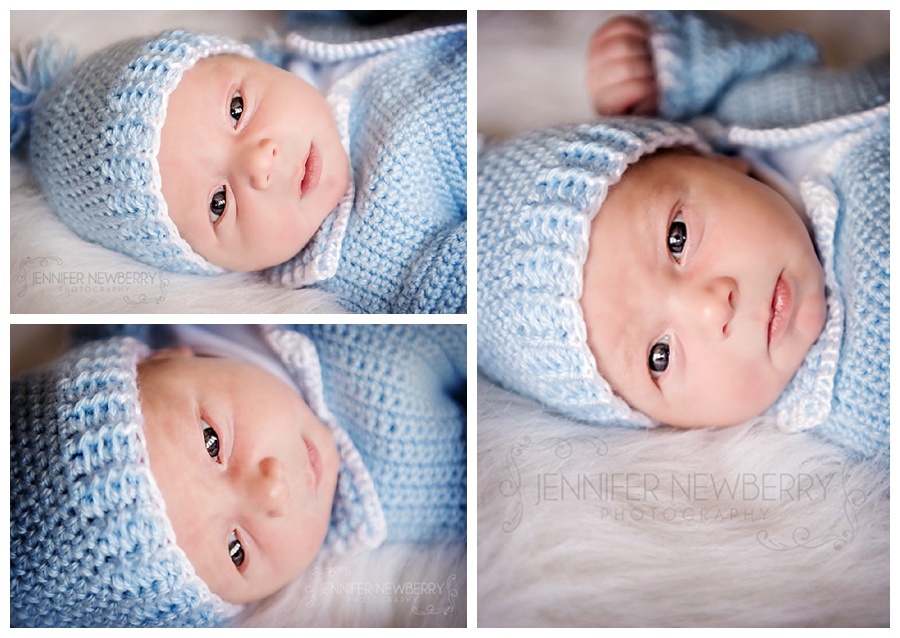 I just love the two photos below. Hudson is mesmerized by his own hand, and Farrah is just her happy, fun-loving self!


We wanted to get a shot of Farrah giving her new baby brother a kiss, but I actually ended up liking the shot of her looking down at him the best! Super cute 🙂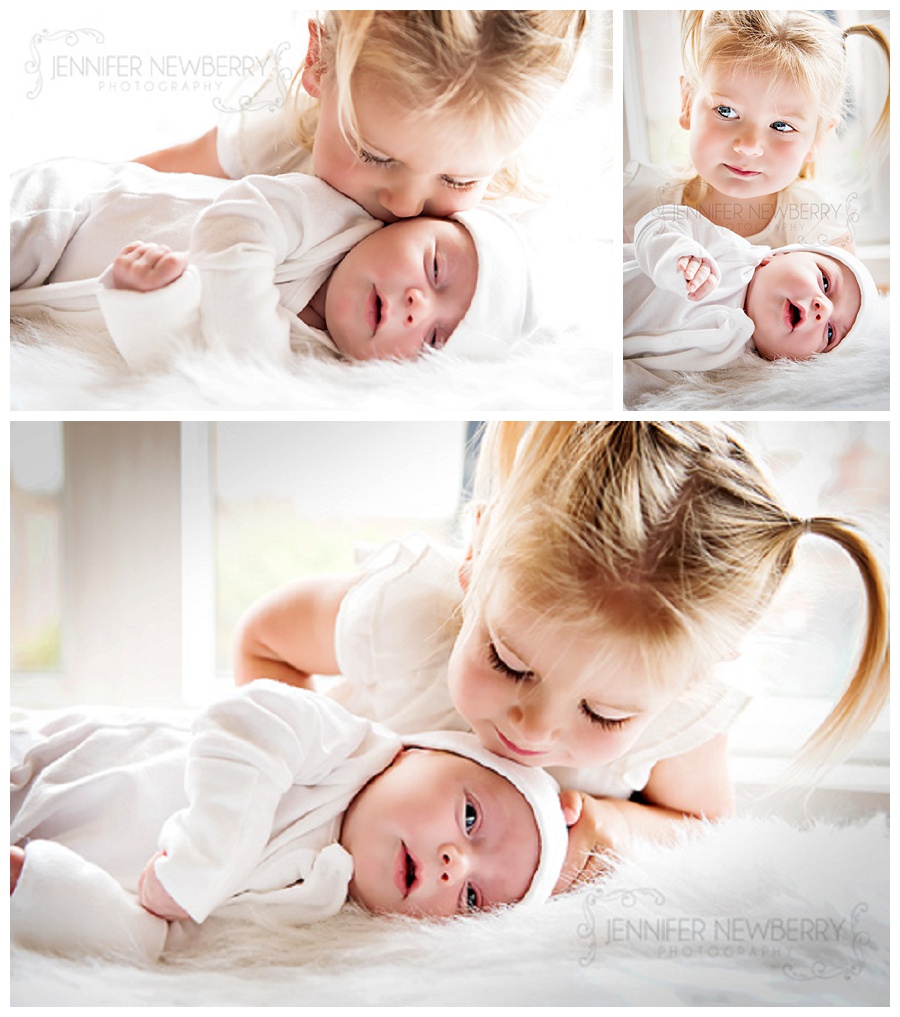 The family dog was also there! I can't for the life of me remember the dog's name… I want to say it was Scotia? Anyway, I'm a big fan of getting pets involved in the family photos, and this dog, although big, was very gentle!


Just for fun we thought it would be cute if we put Hudson in his big sister's doll stroller. He was just tiny enough to fit!


Such a gorgeous dog!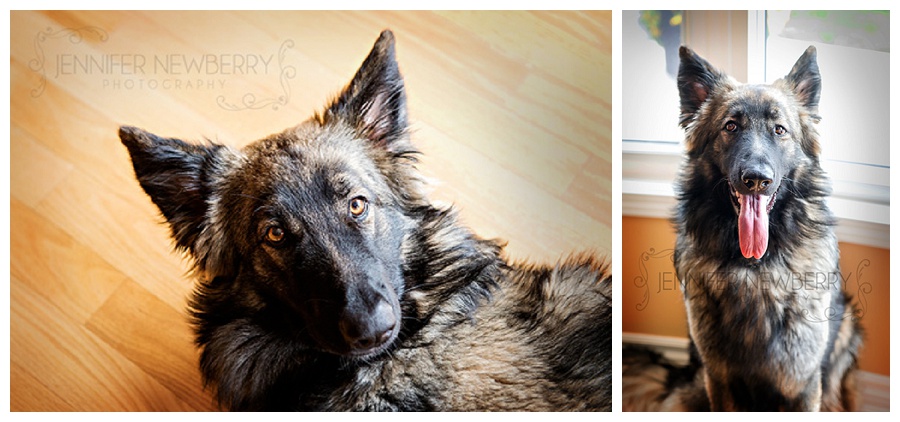 Hudson was a strong little guy! At only 11 days old he decided to lift up his head for the first time!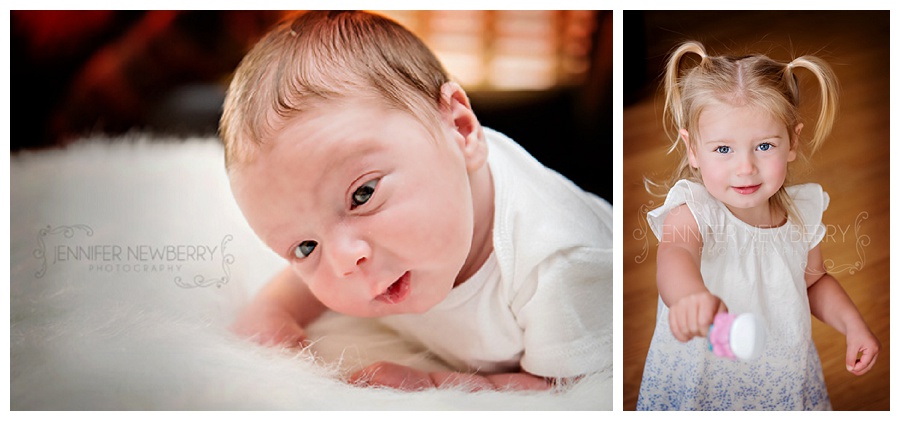 Congrats to the new family of 4!


I actually ran into this wonderful family at the mall a little while ago! Hudson has gotten SO big! It's really incredible how fast these tiny little people grow!
---
Are you having a baby? Looking for a Newmarket family photographer or a Newmarket baby photographer? Get in touch to have me, Jennifer Newberry Photography, capture your memories, whether it's in Newmarket, Toronto, Barrie, Waterloo, Hamilton, London, Muskoka, or beyond!
---
Newmarket Baby Photography by Newmarket Wedding Photographer, Jennifer Newberry
Jennifer Newberry Photography is anything but your average Newmarket family photographer. Each wedding is treated with care and creativity not found with other Newmarket photography studios. Your session is carefully crafted to offer one of a kind unique photography in the Newmarket, York Region and Toronto areas.
This is Newmarket children's photography at its best. Jennifer Newberry Photography is an award winning photographer based in the Newmarket area. Offering wedding coverage in Newmarket, Aurora, Richmond Hill, Markham, Vaughan, Toronto and all of Southern Ontario, this wedding photography studio is one of the top studios in the area and is located right here in Newmarket.
Creative. Stylish. Award-winning. These are the words typically used to describe this Newmarket wedding photographer. With clients based all over the world, Newmarket is home to this Newmarket baby photographer.
I take pride in offering our clients the type of Newmarket baby photography they are looking for. It's one thing to take pictures, it's another to create art for my clients.
Our Newmarket clients are typically looking for artwork for their home vs. snapshots, and that is what draws them into our Newmarket family photography studio.
Serving Newmarket, Aurora, Richmond Hill, Markham, Vaughan, Toronto and Beyond
Jennifer Newberry Photography offers Newmarket family and baby photography coverage in the GTA, including but not limited to, Newmarket ON, Toronto ON, Barrie ON, Waterloo ON, London ON, Hamilton ON, Muskoka ON, and the surrounding areas.
Not looking for a Newmarket baby photographer? Please be sure to consider me for your engagement and wedding photography needs!