#HappilyEverScarlett

Madsen's Newmarket Wedding Photographer | Madsen's Greenhouse
Stephanie & Jordan
How They Met
Stephanie and Jordan met at a summer camp-out (pig roast party), through mutual friends. When Jordan saw Stephanie, his first thought was "I wonder if she's single." Stephanie's first thought was "He's cute, and confident!" They went on their first date in Orangeville – canoeing and dinner! They dated for 3.5 years before Jordan popped the question!
The Proposal
It was late morning, on Christmas 2015. After spending the morning with Jordan's parents, Steph had asked to stop somewhere to exchange gifts before going to her parents' place. Jordan chose Ingles Falls (near Owen Sound) on the way to Steph's parents', because they had talked about wanting to go there before. Stephanie didn't expect that a proposal was coming. They found a spot to look at the falls, and Jordan said he wrote a song for Stephanie's Christmas present. Jordan sang the song, then said nice things, and got down on one knee. There was much happiness and tears of joy!
The Wedding
I don't normally post invitation pictures (I blurred out Stephanie and Jordan's last names for privacy), but I was so excited when I saw that their wedding invitation matched the forget-me-nots in my backyard!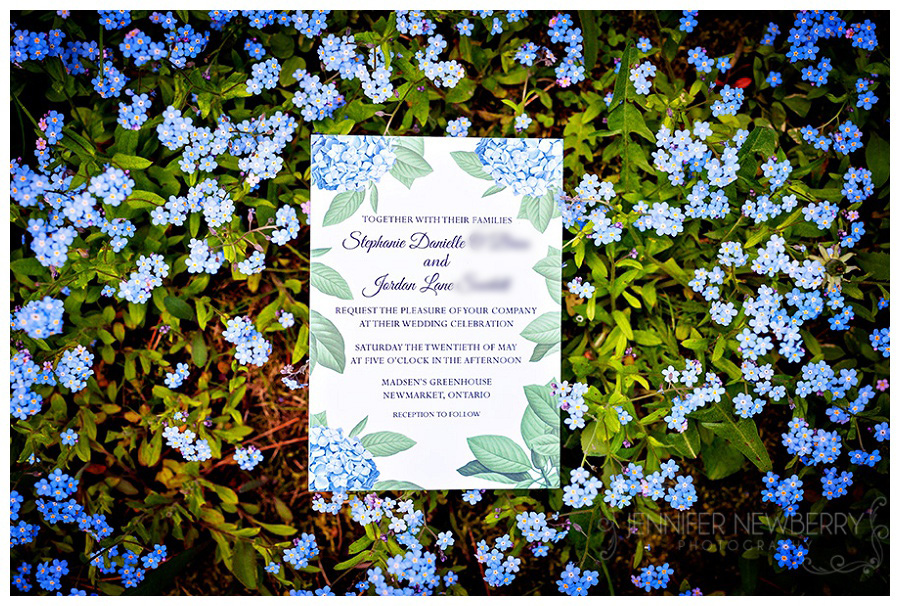 Getting Ready
The handsome groom – getting ready, and looking sharp!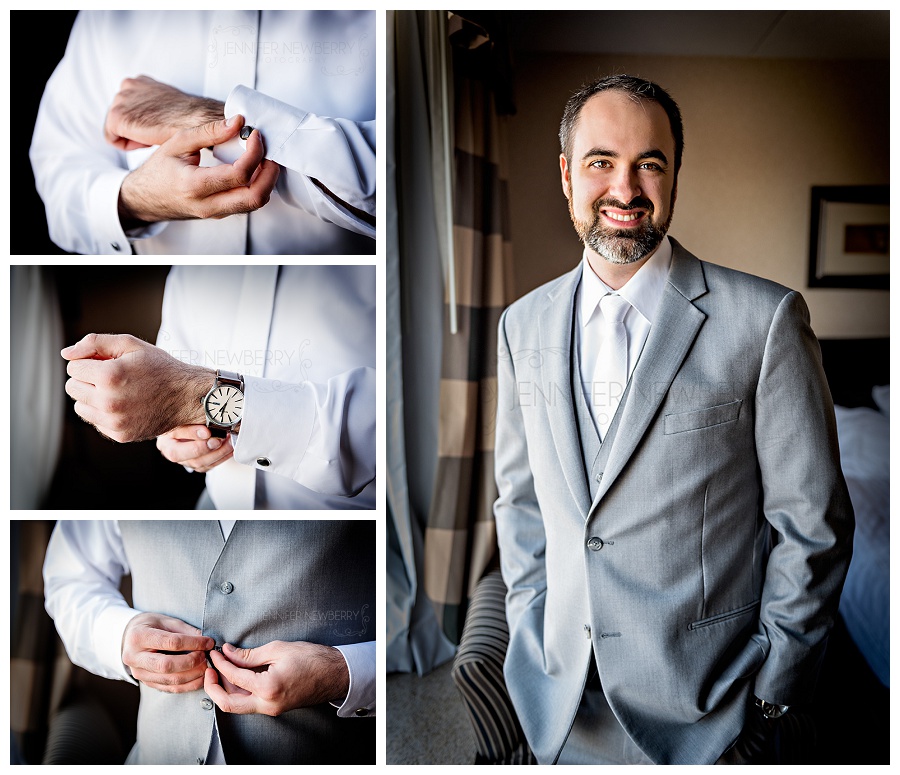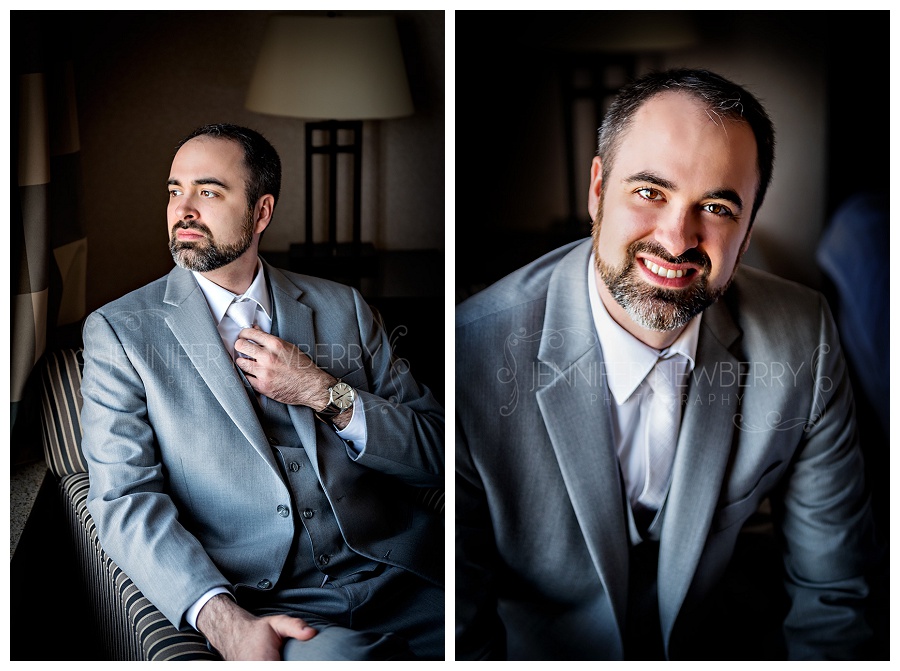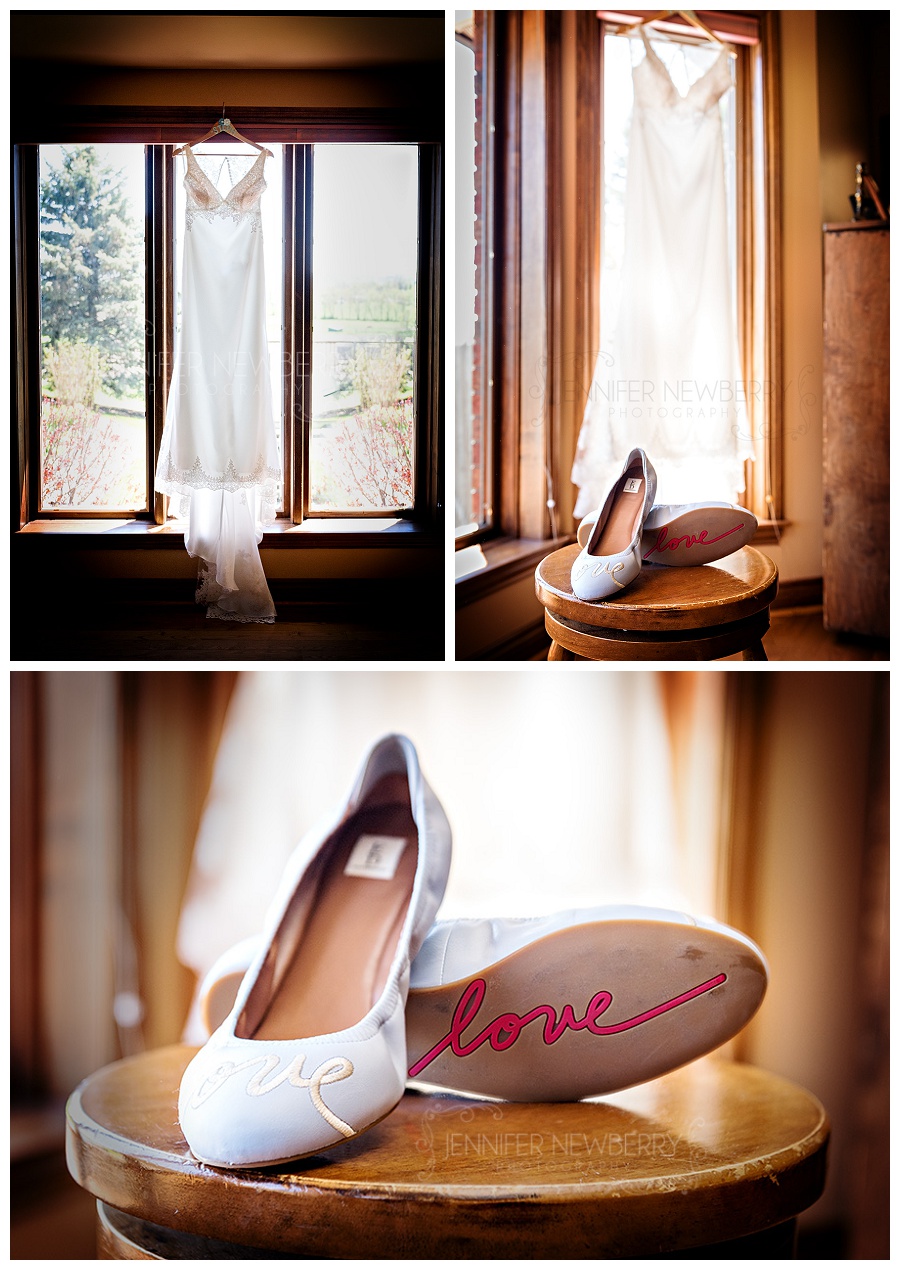 How adorable are these "love" shoes?! They are by Ellen DeGeneres! (I didn't even know Ellen had her own fashion line!)

In between the decorative heart cut-out on Stephanie's bouquet, was a piece of fabric from her grandmother's wedding dress. I love it, pretty AND sentimental! And notice the blue thread? I think that covers the "something old", "something borrowed" AND "something blue"!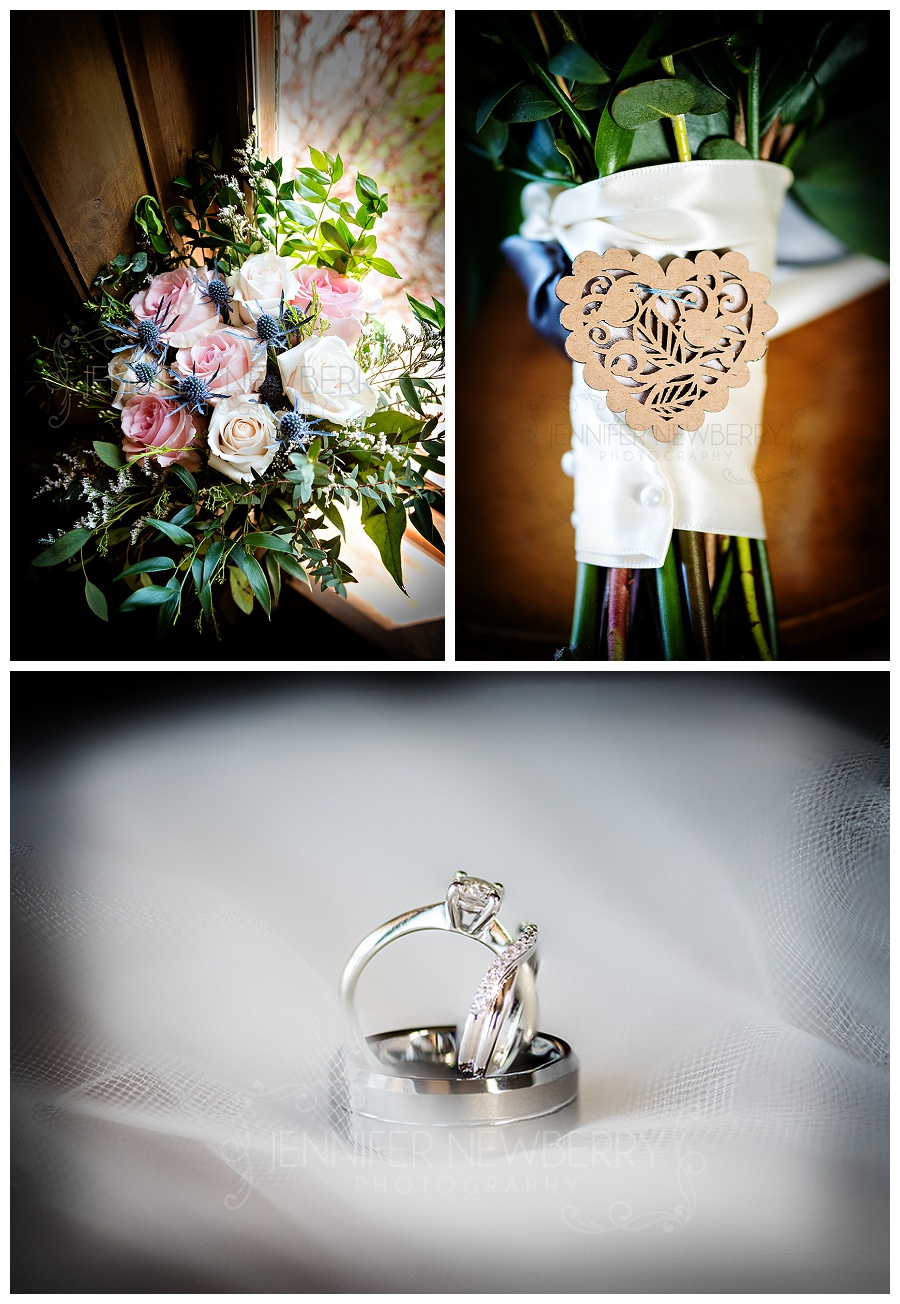 Stephanie got ready at her parents' house, with her family and all her bridesmaids.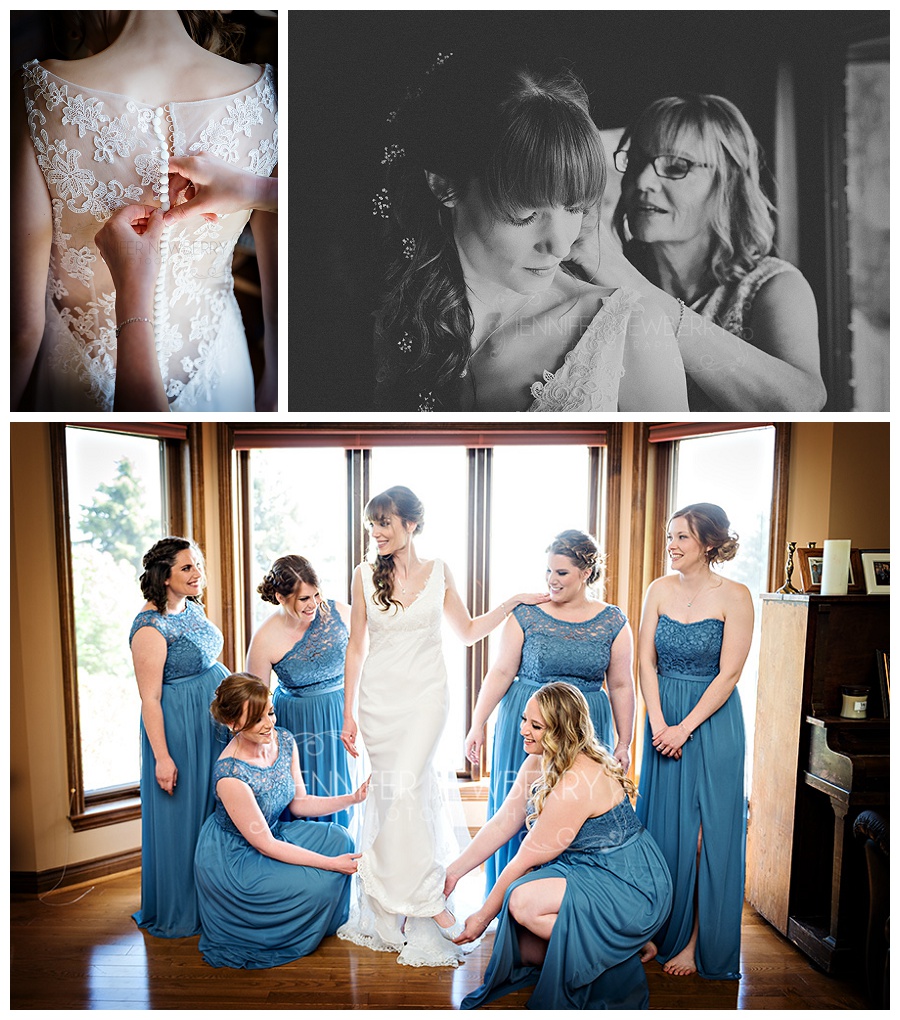 Anyone who follows my work knows that I LOVE long veils! I certainly made good use of Stephanie's veil, using it in many photos 🙂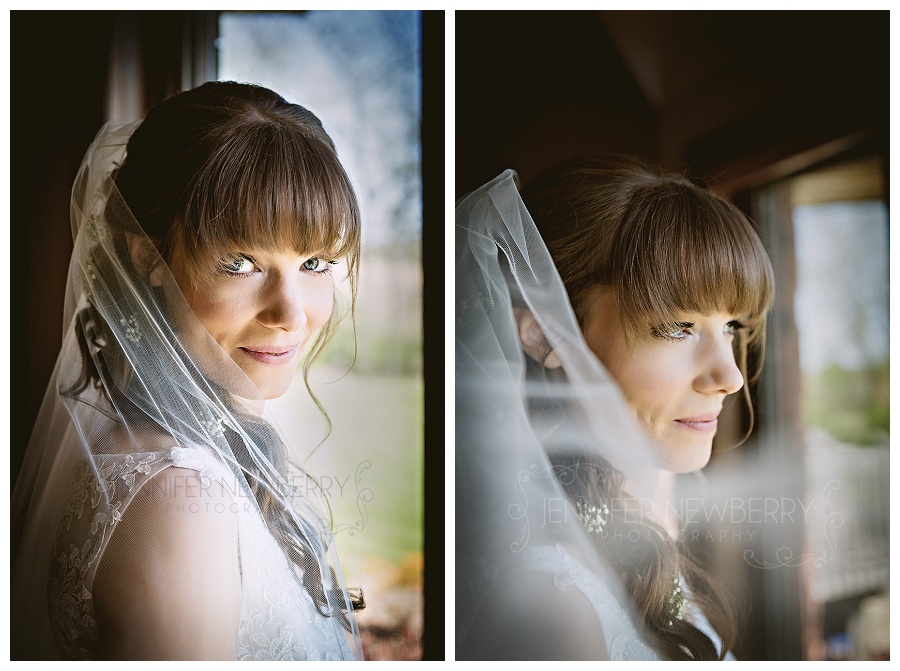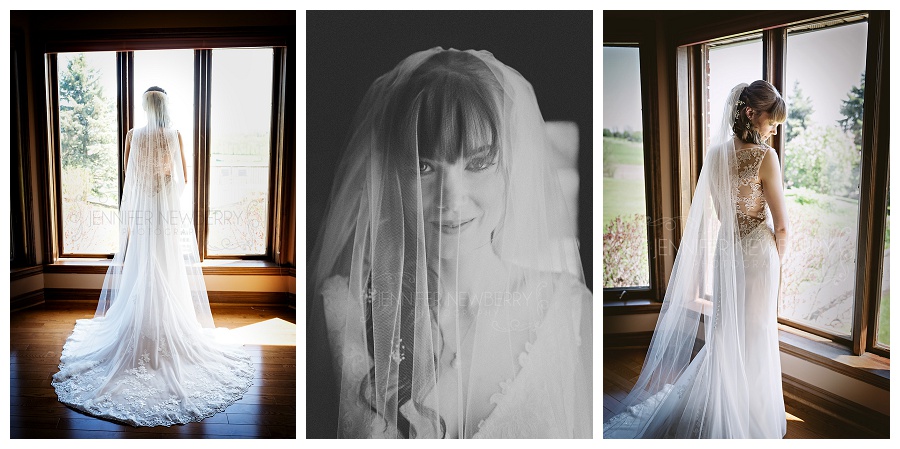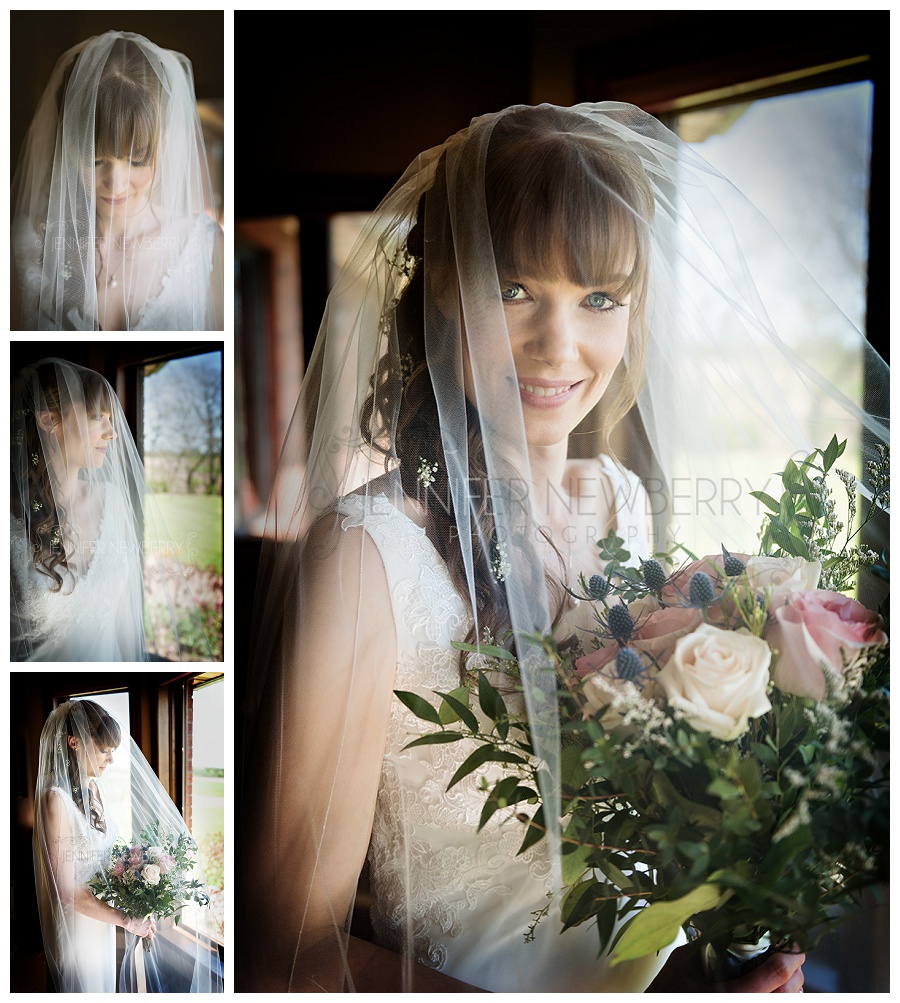 When I was with Jordan, doing his "getting ready" photos, he mentioned that Stephanie had "the most beautiful blue eyes in the world." I'm pretty sure the photo below shows off those blue eyes he was referring to!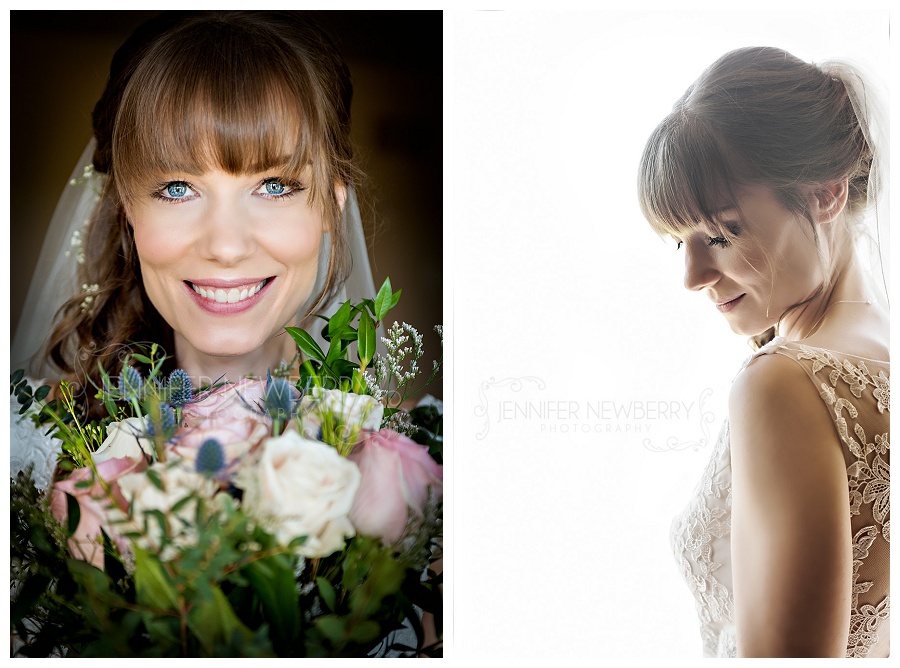 We did a few outdoor portraits of Stephanie, but it was SUPER windy and really sunny as well. The wind did make for some fun flowing-veil shots though! And really, who doesn't love a flowing long-veil photo?!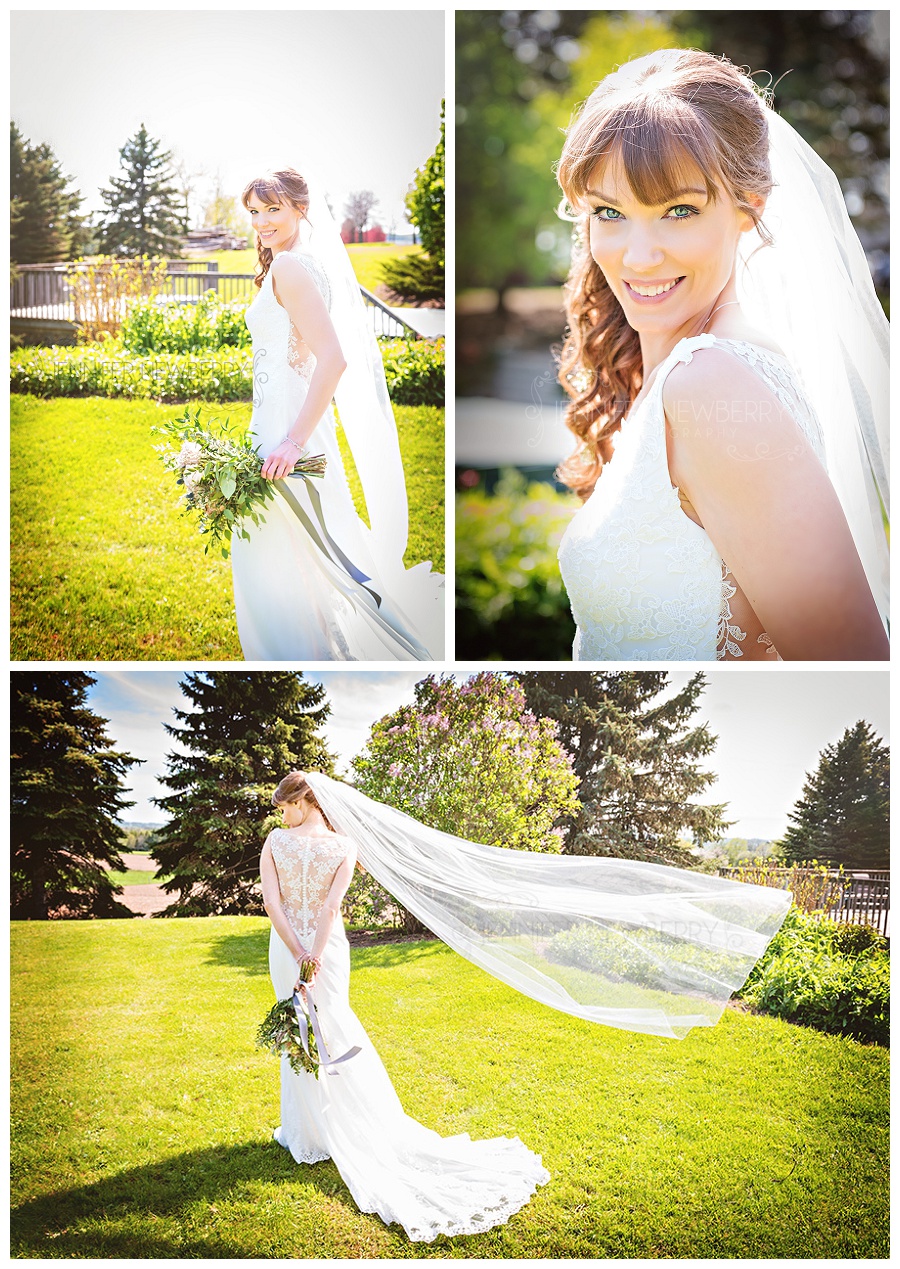 The Ceremony
The wedding ceremony was held outdoors at Madsen's Greenhouse in Newmarket. I'm a Madsen's Newmarket wedding photographer quite a bit, because I literally live 6 minutes away from the venue. This works out well for some couples because I can offer non-consecutive coverage at this venue!

Stephanie and Jordan performed a rose ceremony at their wedding. There are a few different ways that rose ceremonies can be done, but essentially the couple exchanges roses – which is actually their first gift to each other as a married couple! A single red rose has always meant "I love you", so I'd say it bodes well for the occasion of a wedding 😉 However in Stephanie and Jordan's case, before they exchanged roses, they had each of their family members place a white rose in a vase, and then after they did their exchange, they added their two red roses to the vase as well.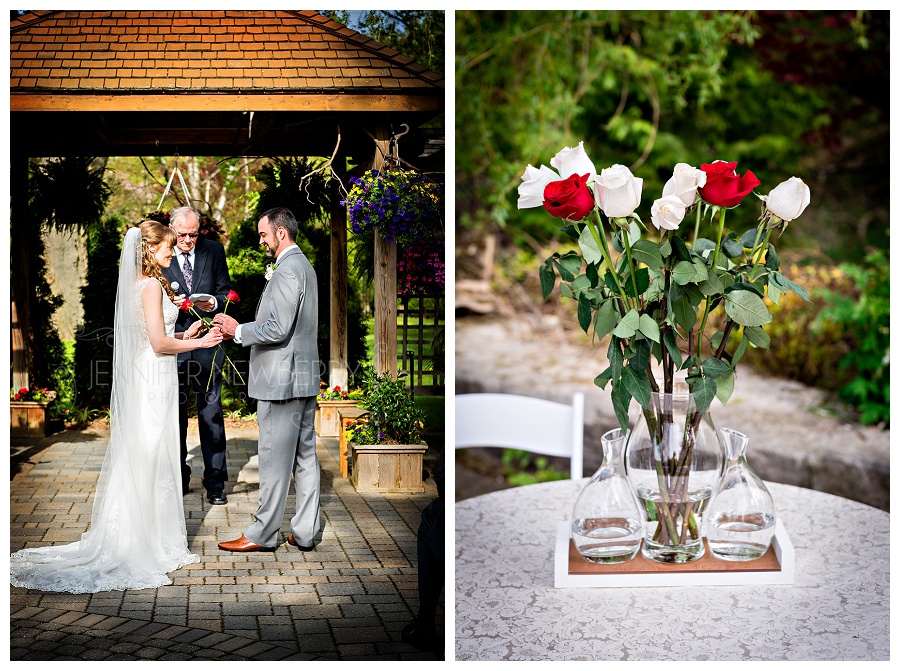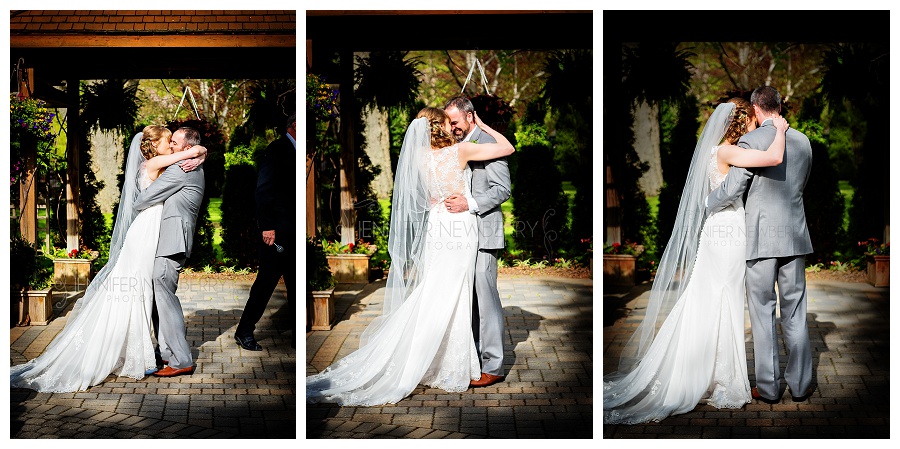 The Wedding Party
The fantastic wedding party! Stephanie had 6 bridesmaids (2 of them were pregnant, and 2 others had just had babies!), and Jordan had 5 groomsmen and 1 groomsmaid! They were all a super fun bunch! The little guy was shy as ever, but Colton made an excellent ring bearer!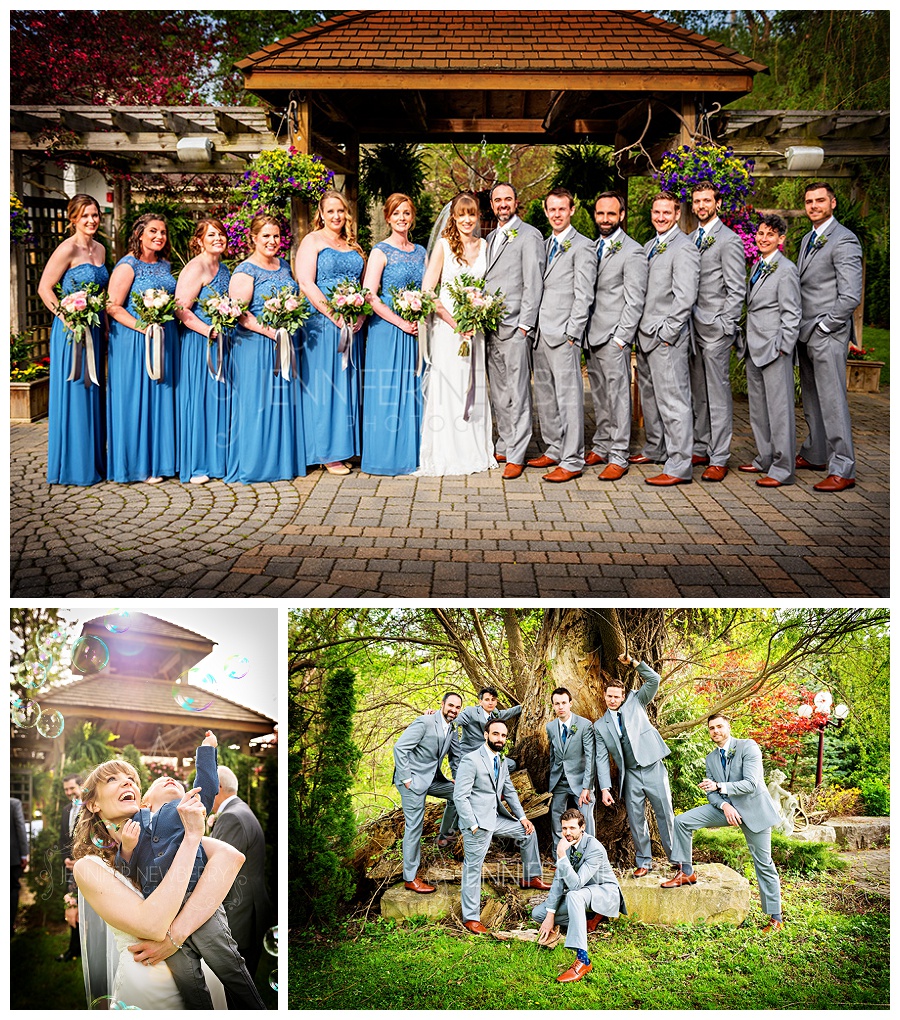 The Newlyweds!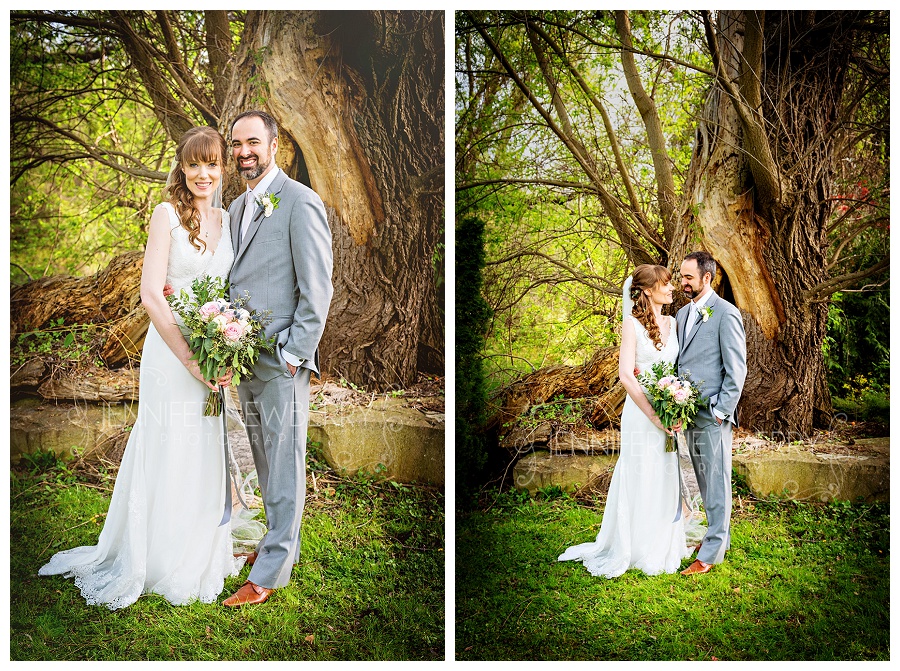 I thought Stephanie's hair was so cute! All going down one side in curls, with flowers in there, reminded me of Princess Rapunzel (not the length, but the style)!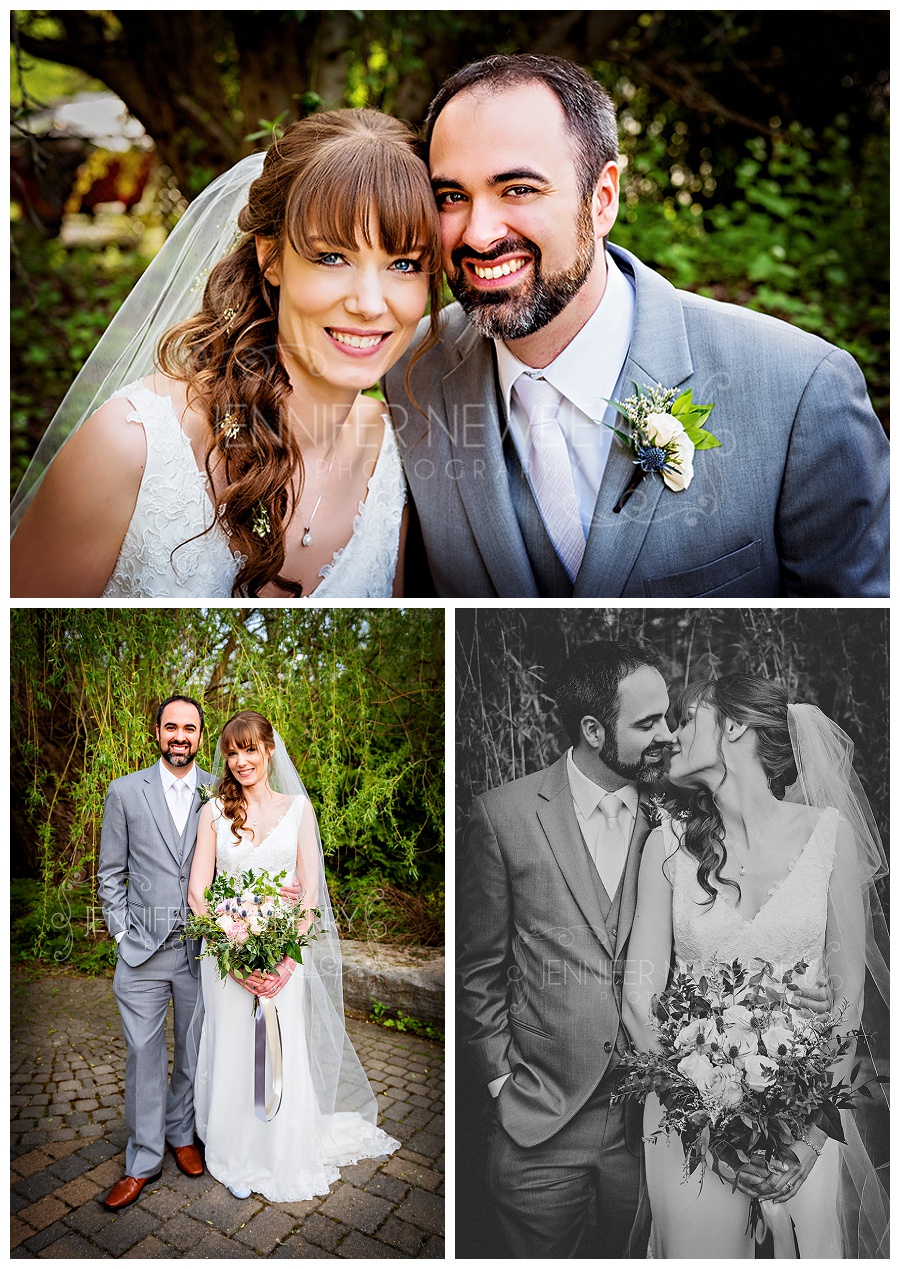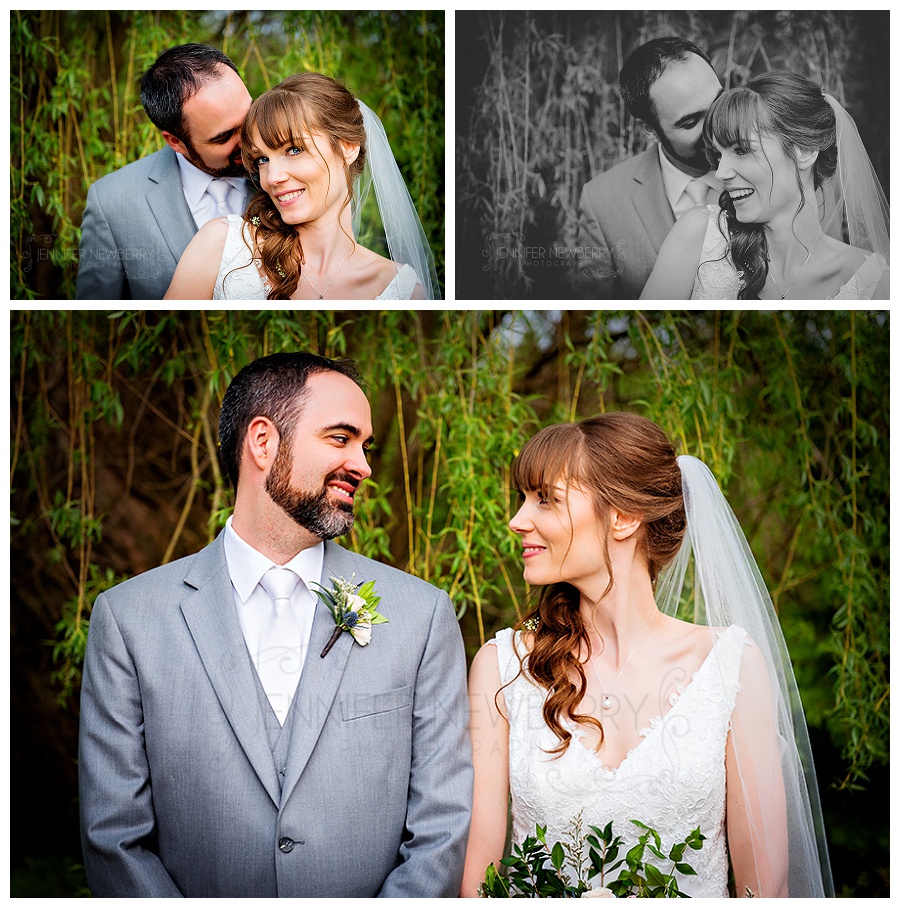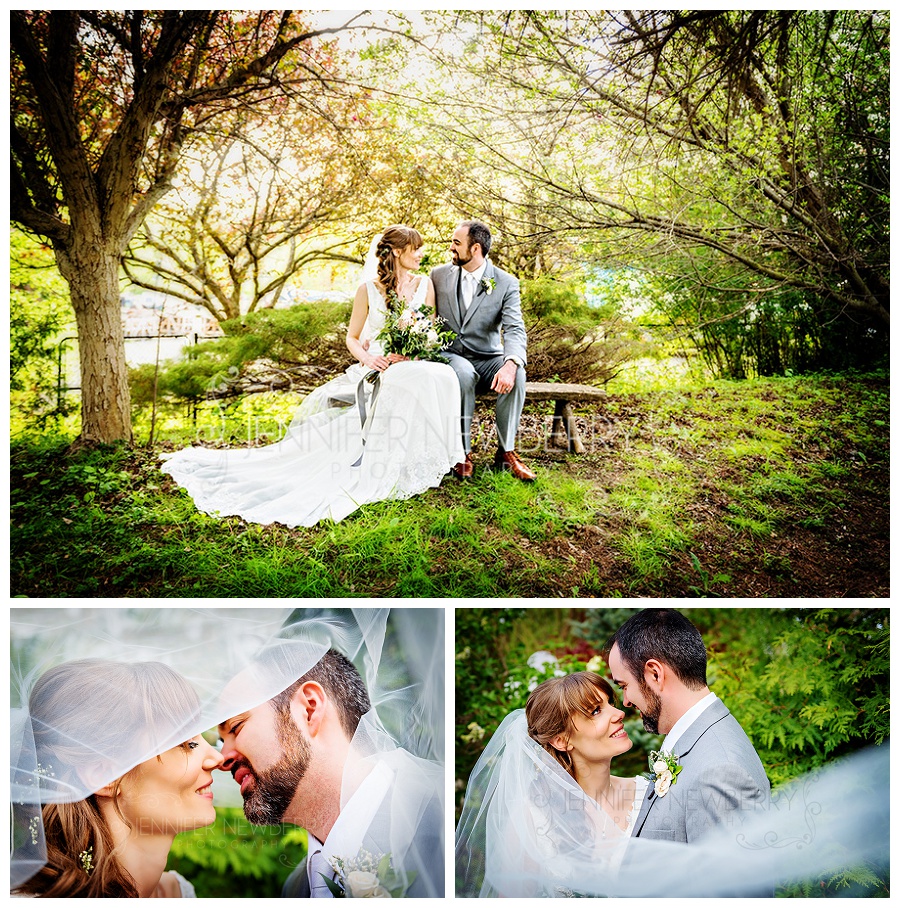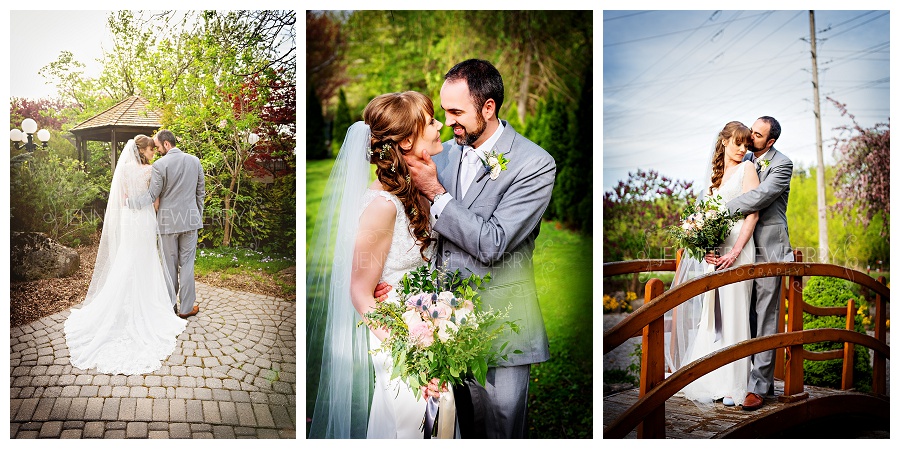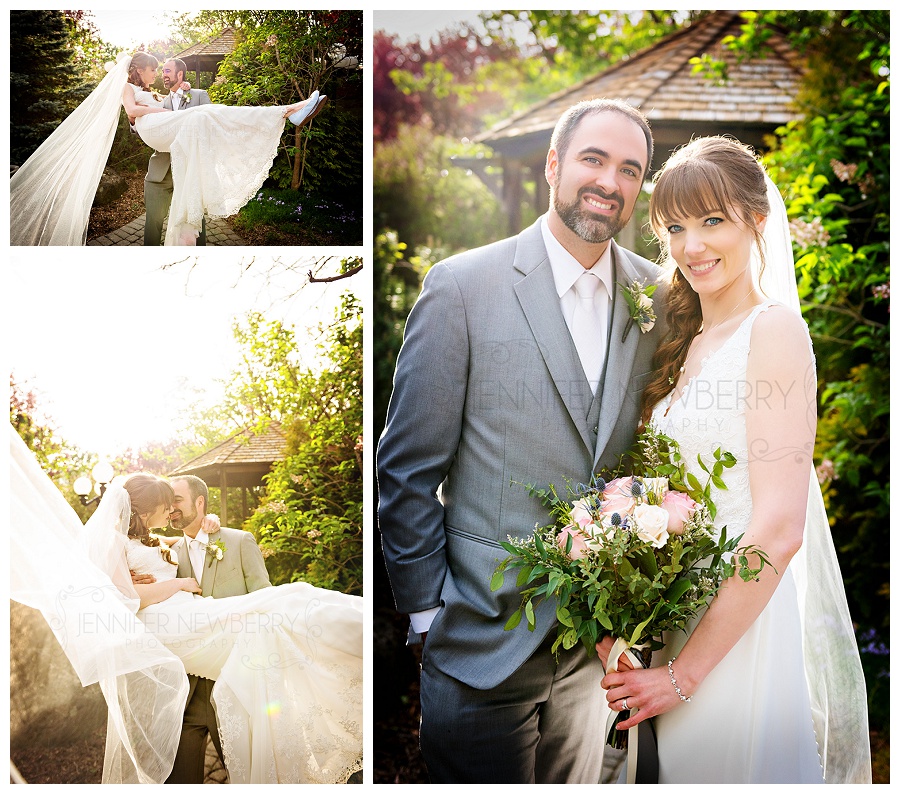 The Reception
Stephanie and Jordan's first dance as husband and wife!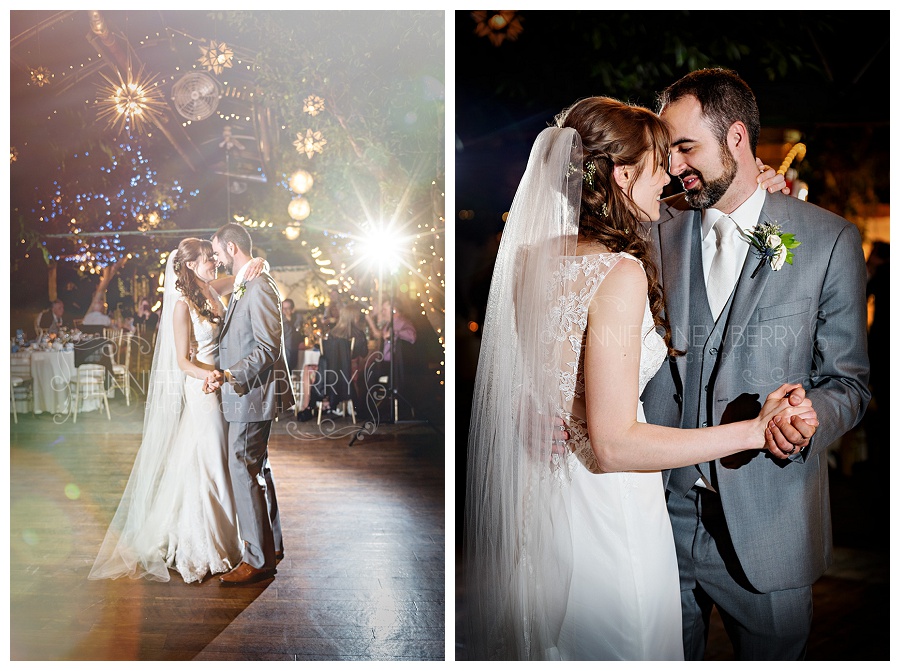 The reception area at Madsen's always looks beautiful, and it was no exception for this wedding! I was pleasantly surprised when I saw that instead of a wedding cake, Steph and Jordan went with a giant cookie! There was a whole cookie table with different types of cookies, but what a great idea! (Plus, chocolate chip cookies are pretty much my most favourite food EVER, so you know I'm not biased at all!)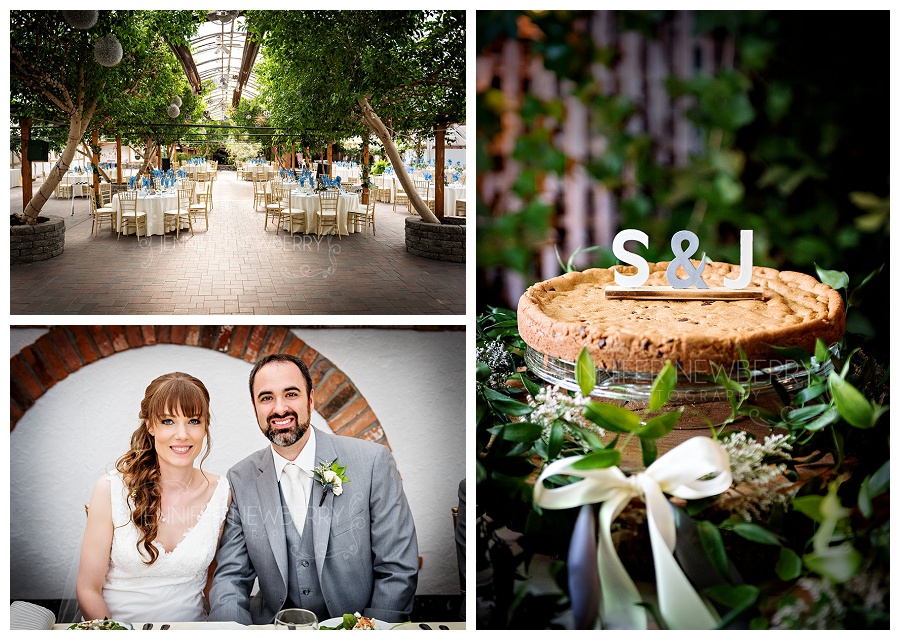 To see more of Stephanie and Jordan's Newmarket wedding photos, watch the slideshow below! (If you can't see the slideshow below, click here. You may have to watch from a computer rather than a mobile device.)



Venue: Madsen's Greenhouse
Florist: Bundle of Blooms
DJ: Dynamic Music Solutions
Makeup & Hair: Victoria Bourque Beauty Boutique
Caterer: O'Malley's Catering and Rentals
Favours: Botanical Paperworks
Invitations: Wonderland Paper Co.
Wedding Dress Boutique: The Gown
Wedding Dress Designer: Casablanca
Bride's shoes: ED by Ellen
Bridesmaids Dresses: David's Bridal
Mens Tuxes: Moores
Rings: Peoples Jewellers
Officiant: John McKibbon
Newmarket Wedding Photographer: Jennifer Newberry Photography
---
Are you getting married? Looking for a Newmarket wedding photographer? Get in touch to have me, Jennifer Newberry Photography, capture your wedding, whether it's in Newmarket, Aurora, Richmond Hill, Toronto, Barrie, Waterloo, Hamilton, London, Muskoka, or beyond! I'd love to chat about your wedding plans!