Kawartha Lakes Wedding Photographer | Coboconk
Megan & Jonathan's Sunflower Wedding
How They Met
Megan and Jonathan actually met at a job interview! Jonathan thought "She seems nice", while Megan thought to herself "He's so handsome". They went on their first date to Boston Pizza, and they must have hit it off because a year-and-a-half later they were engaged!

The Proposal
Megan and Jonathan were walking along the beach, looking for shells, when suddenly Jonathan had discovered a very exciting shell, and he brought it to Megan to show her what he'd found – it was an oyster shell with the ring inside!

The Wedding
Megan and Jonathan's wedding has to be one of the cheeriest-yet-relaxed weddings I've ever been to. No one was rushing around, everyone was just enjoying the day. It was a great change of pace! The ceremony took place at Megan's family cottage, in Coboconk Ontario. It was a bright sunny day with great weather, which matched the sunflower-theme perfectly! I also thought a sunflower wedding in October was pretty unique – it was awesome!
Getting Ready
Megan and the girls got ready inside the cottage, while the boys got ready in the boathouse. Megan didn't actually put her dress on until 5-minutes before the ceremony was to start, and even then she was laid back and relaxed, and just as happy as I've ever seen a bride be! She had her two bridesmaids with her, as well as her soon-to-be 6-year-old step-daughter, Eloise. It was easy to see how much Megan and Eloise care about each other, anyone could tell that Megan was just as much in love with Eloise as with Jonathan!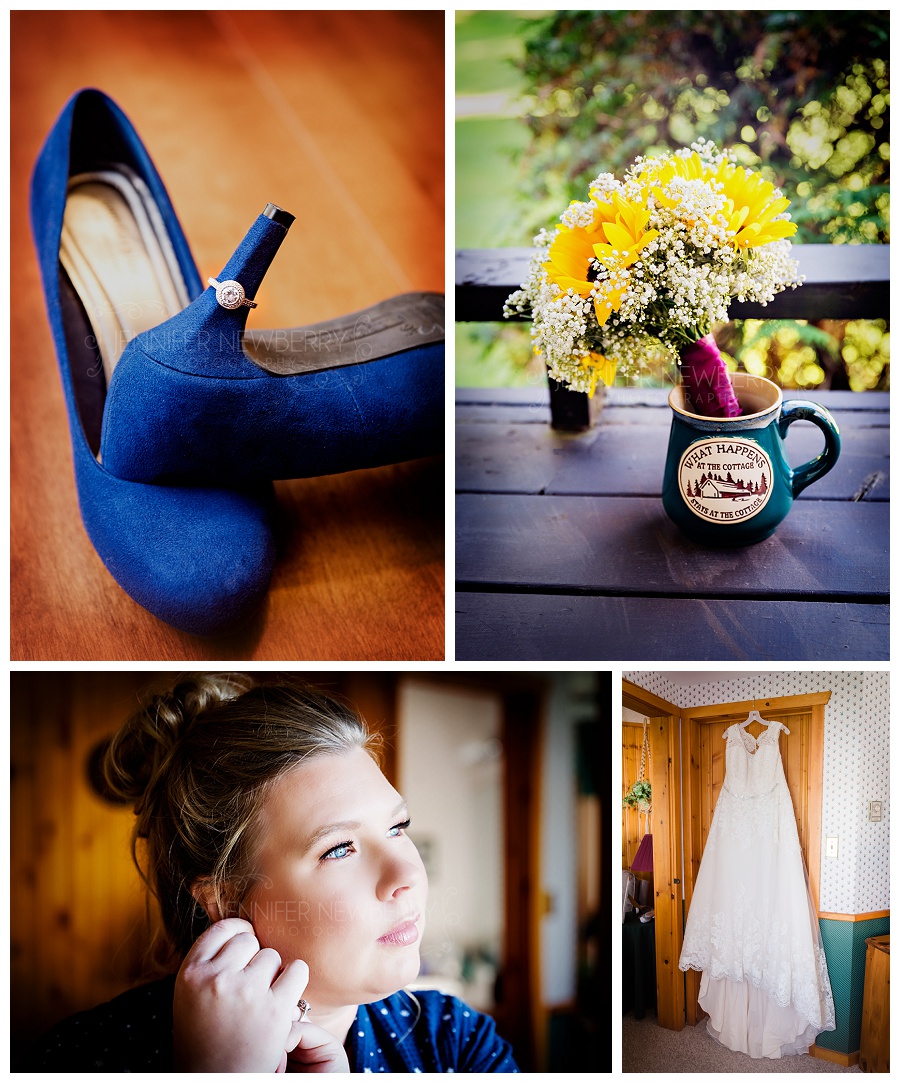 The Ceremony
The ceremony was held outdoors, in the cottage's backyard right by the lake. There was a large white tent set-up in case of bad weather – but happily it wasn't even needed as it was a bright sunny day! Megan and Jonathan were married underneath the white tent, in front of about 50 of their closest family and friends.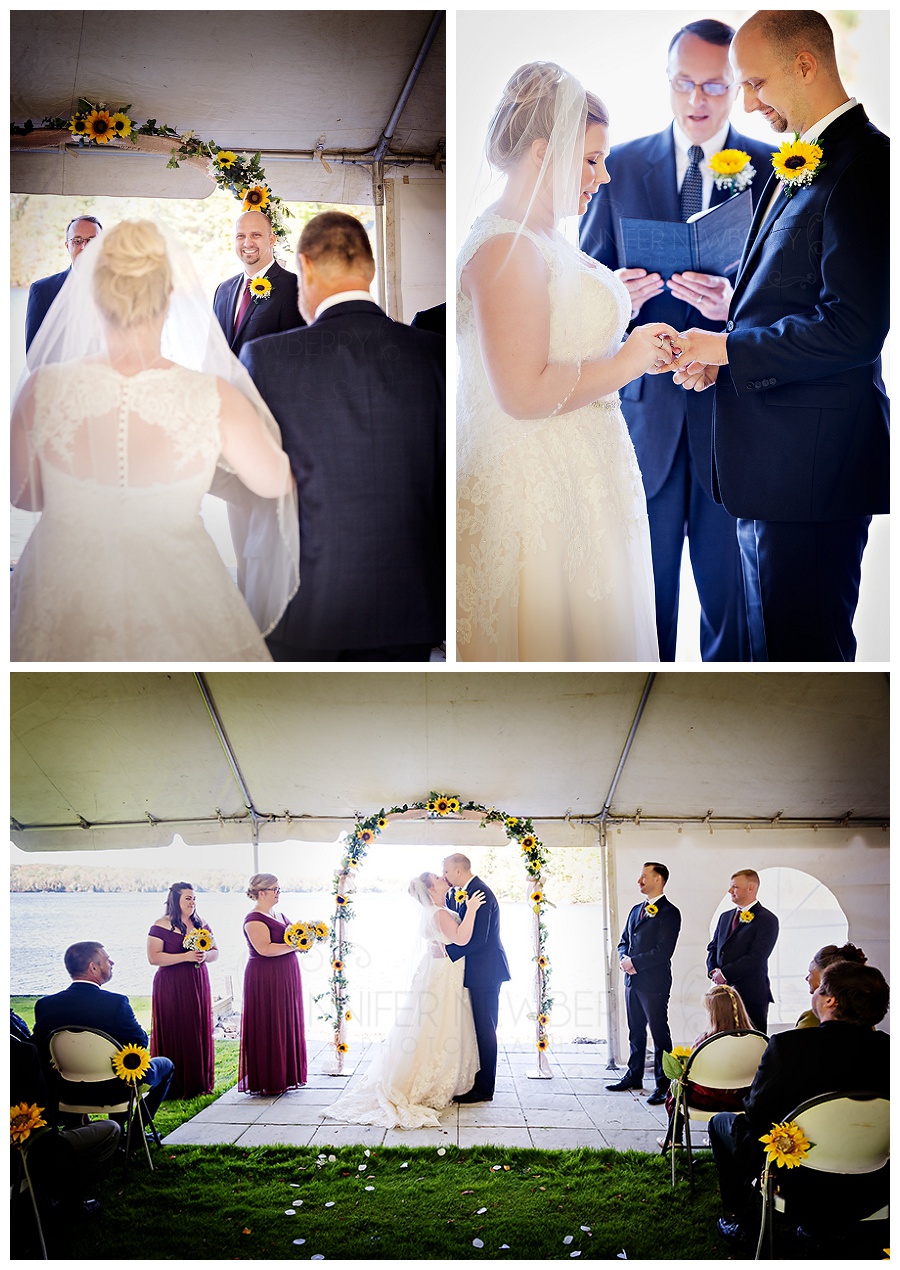 The Wedding Party
The wedding party consisted of two bridesmaids, and two groomsmen, as well as Jonathan's 6-year-old daughter Eloise. What a great group!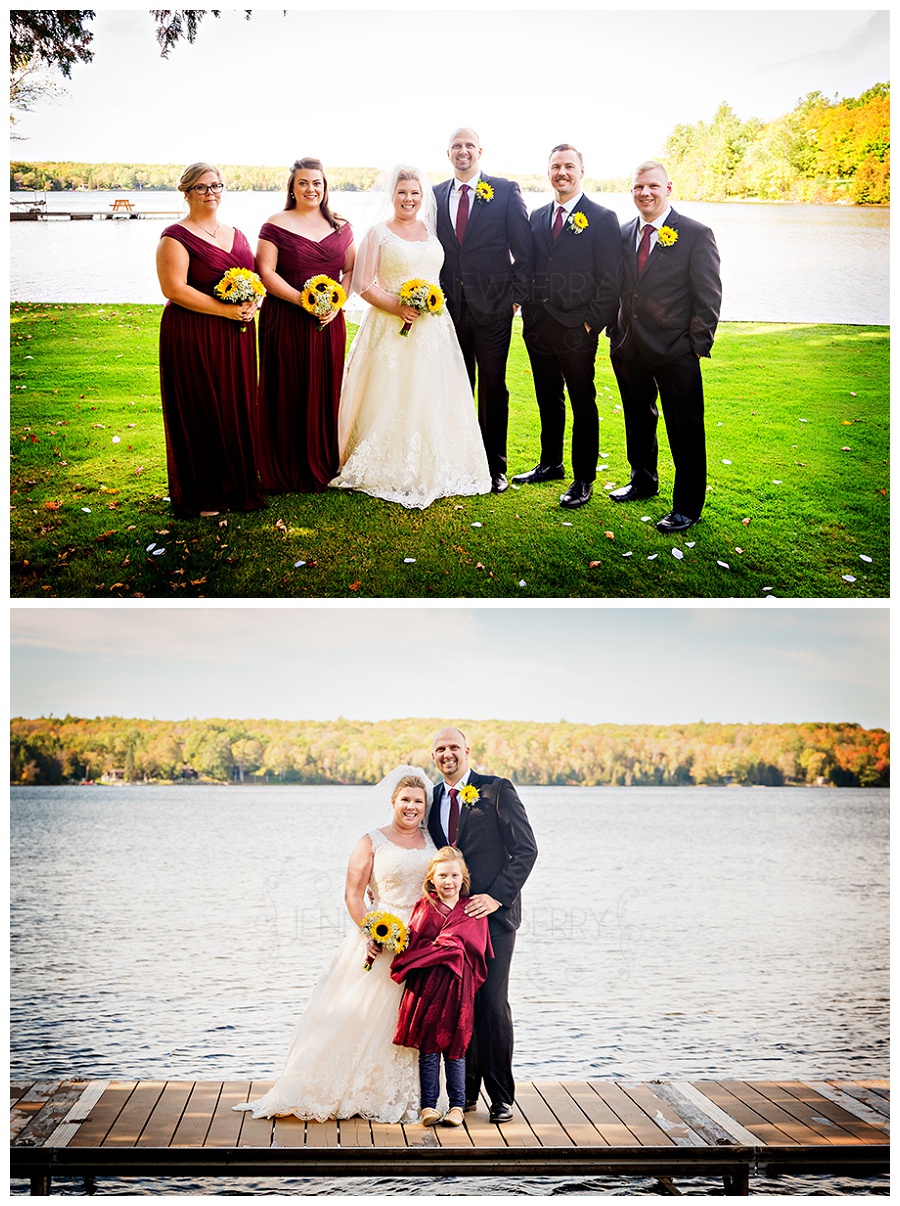 The Newlyweds!
The bride and groom (and lots with Eloise as well, of course!) photos were also done at the cottage, which I was thrilled about because there were lots of great photo locations!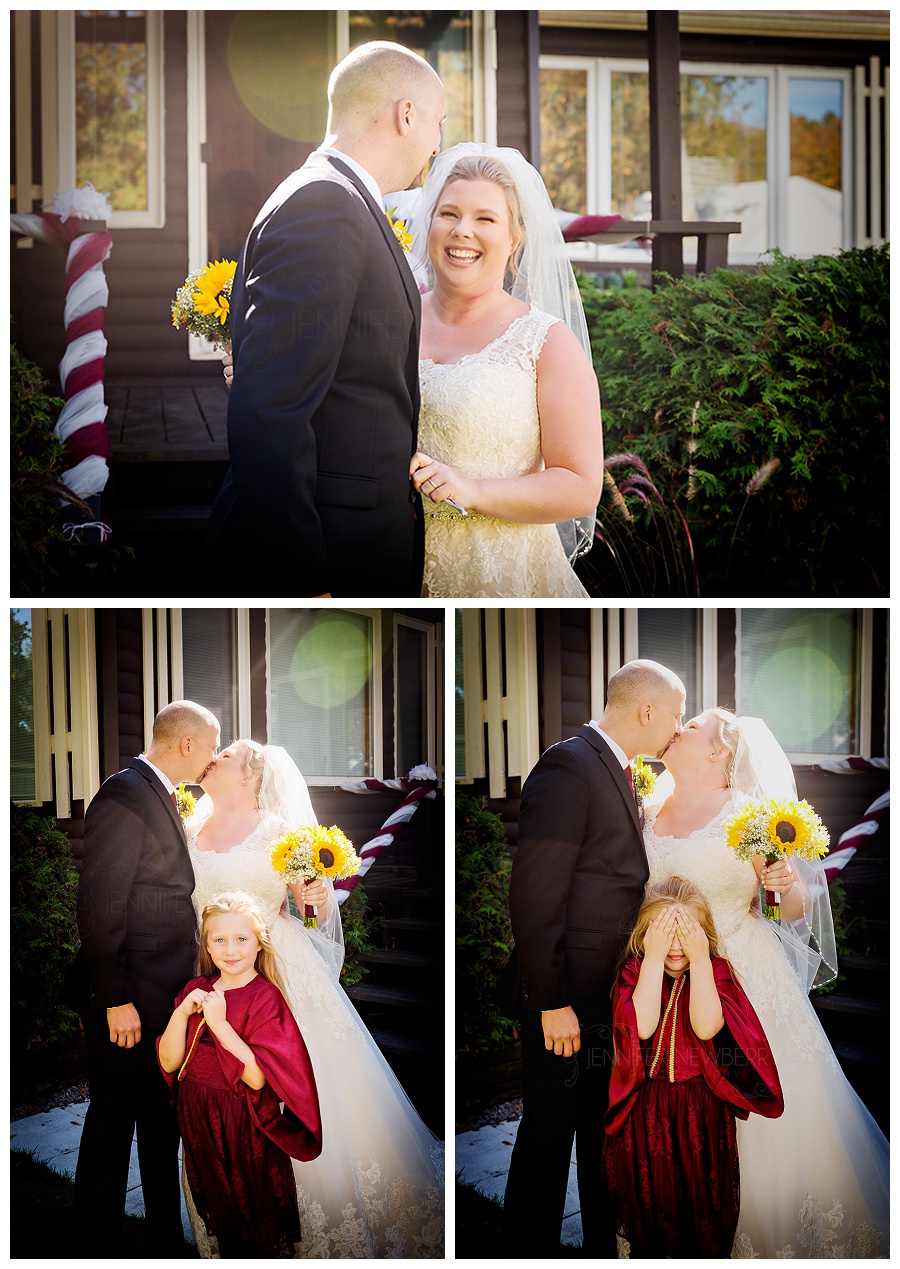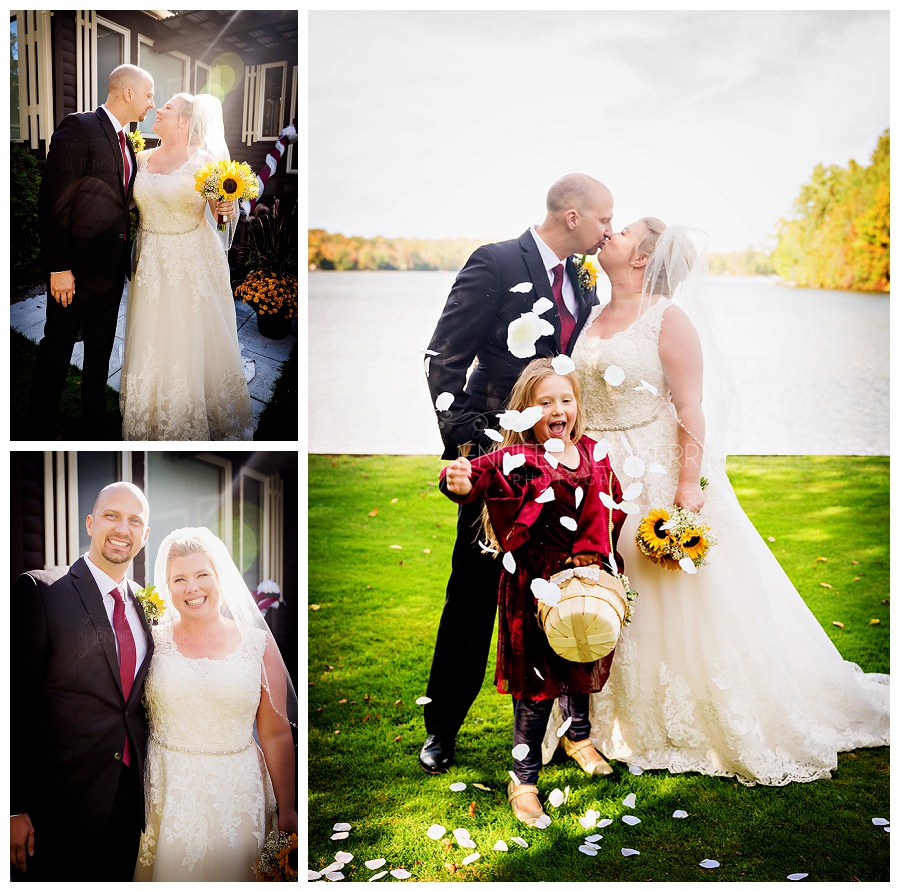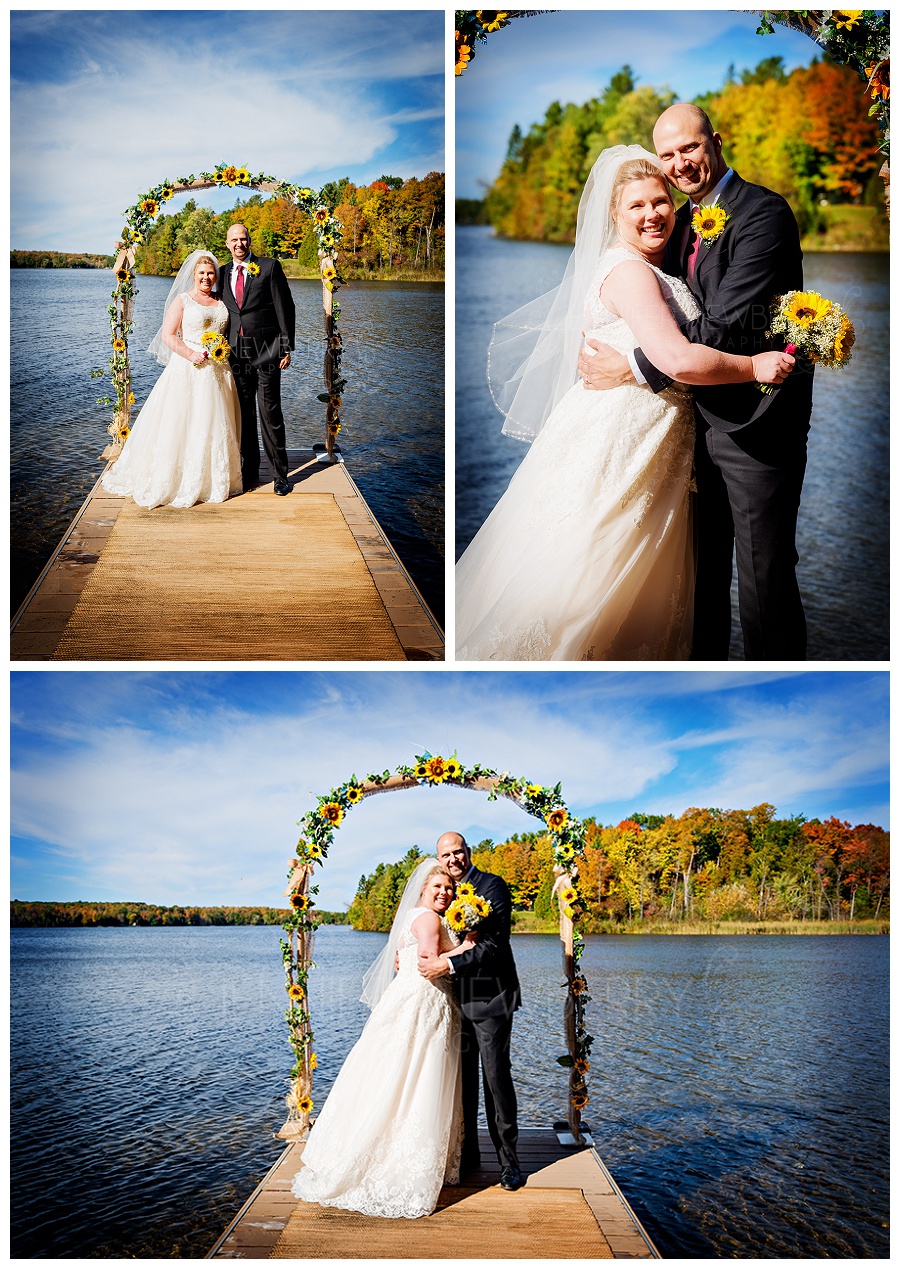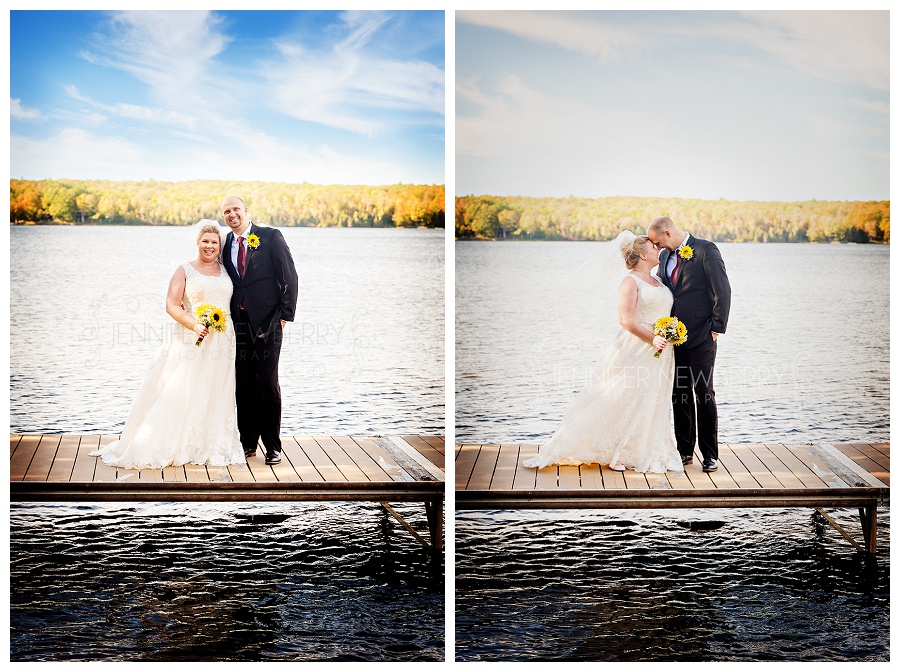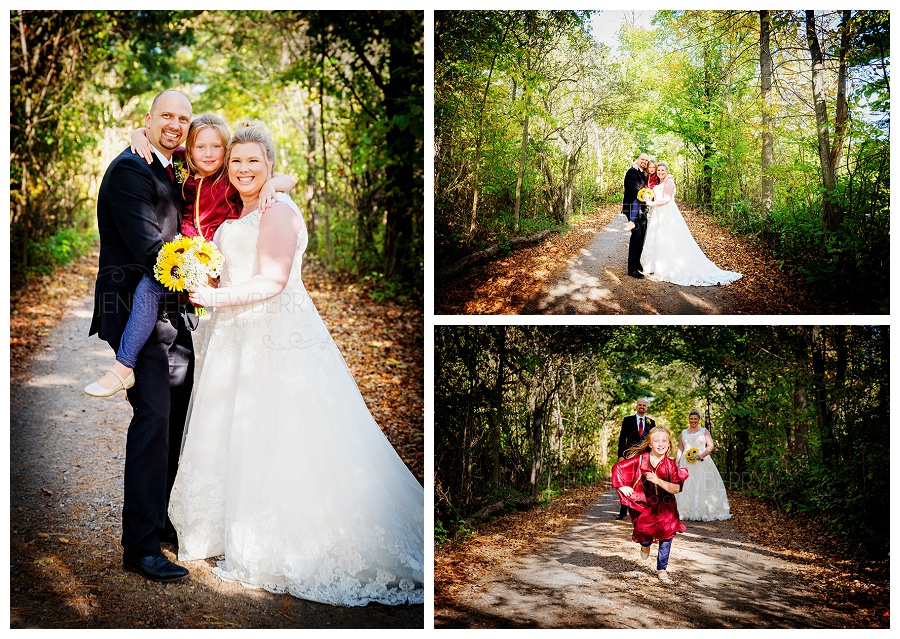 The Reception
After the photos were completed, we all traveled about 1-minute down the road to the Coboconk Legion building. The hall was decorated with sunflowers as well, and everyone was happily chatting and having a great time!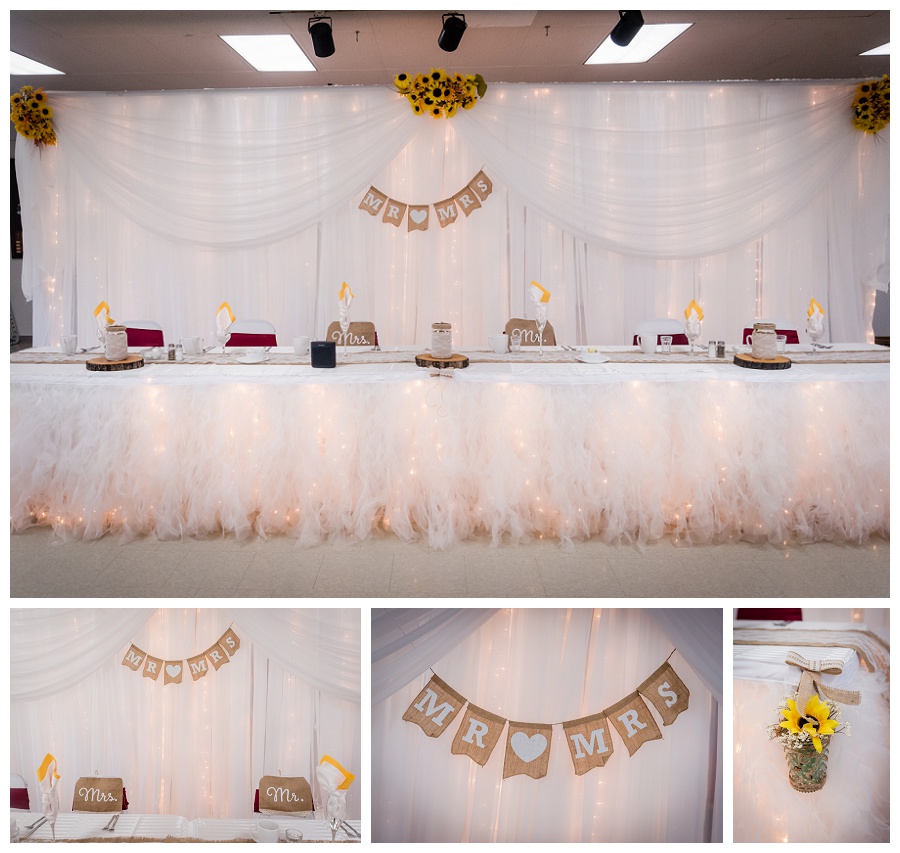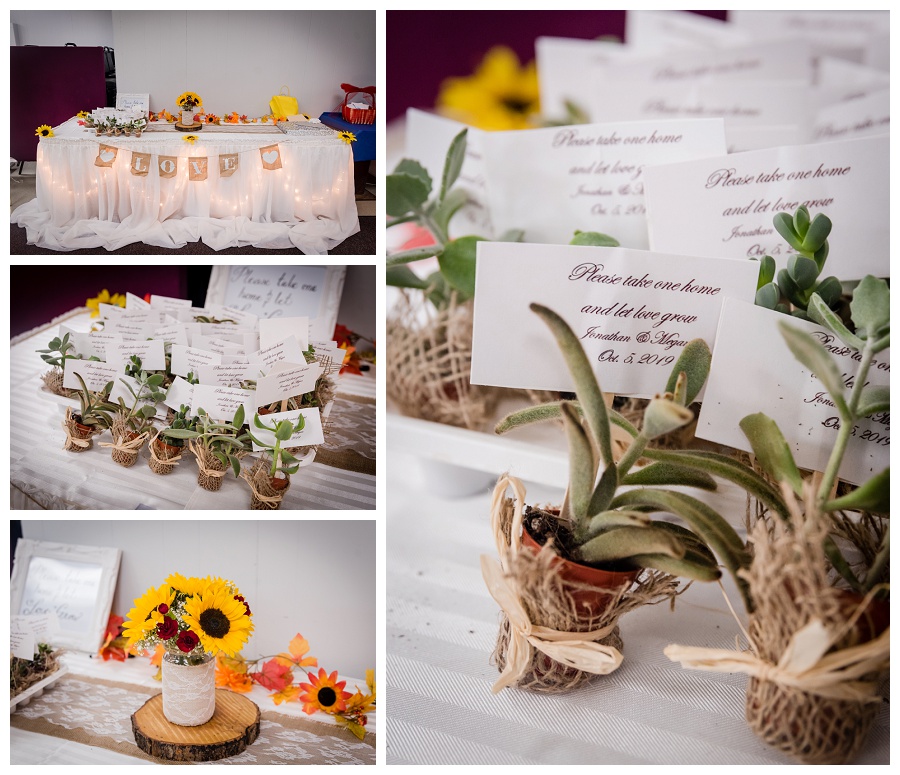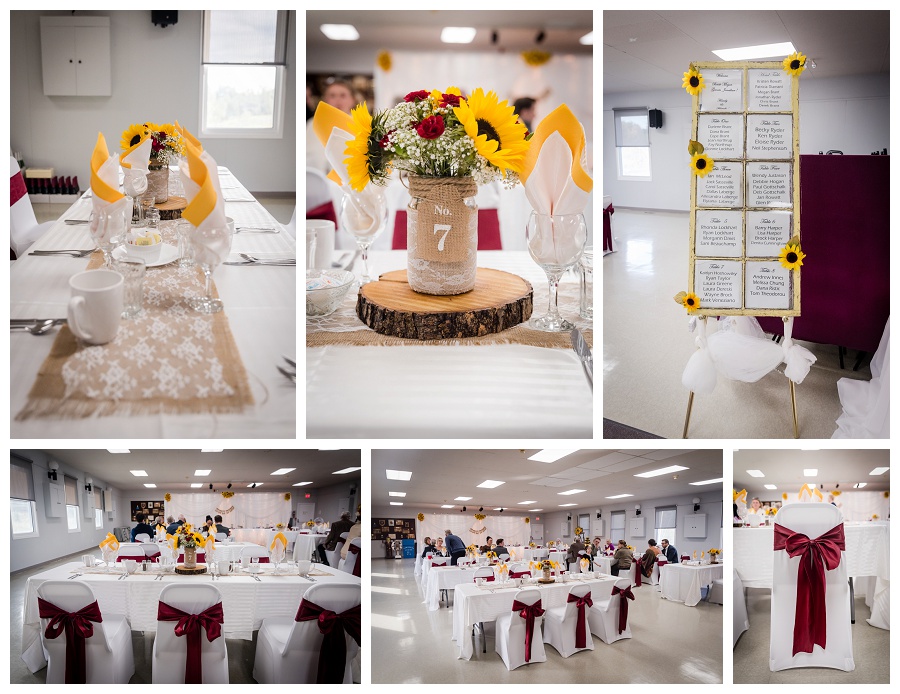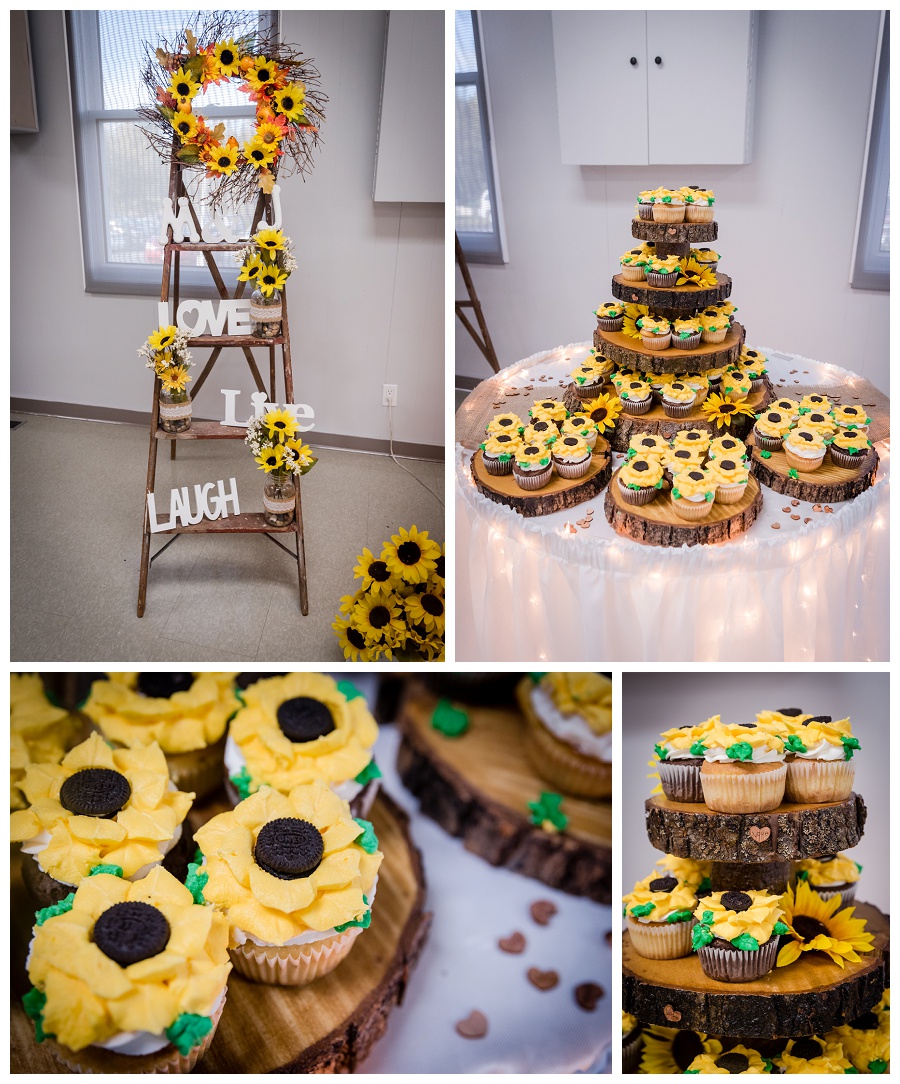 Right after Megan and Jonathan were announced in, Eloise ran up to them and they gave her a hug, then they proceeded to the front of the room, just in front of the head table, to do their first dance as husband and wife.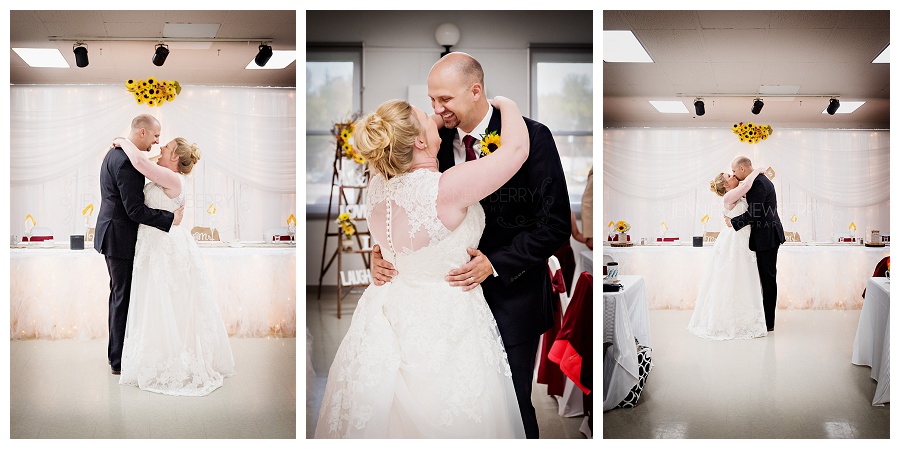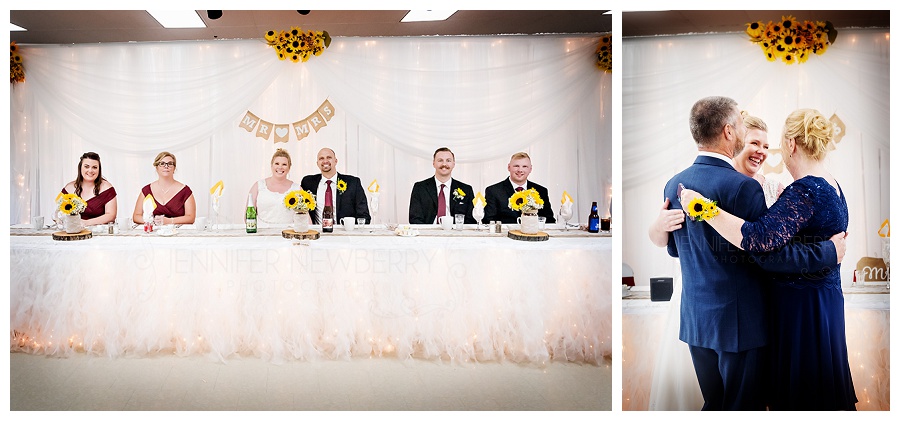 Congrats Megan & Jonathan! I am so thrilled I got to be a part of your wonderful sunflower wedding, and capture all your Kawartha Lakes wedding photos for you! 🙂

Wedding vendors:
Ceremony Venue: Megan's family cottage
Reception Venue & Caterer: Coboconk Royal Canadian Legion
Wedding Coordinator & Florist: Your Dream Wedding
Cake Artist: Dolce
Music: DIY – speakers & an iPod
Dress store: David's Bridal
Officiant: Jonathan's father
Kawartha Lakes wedding photographer: Jennifer Newberry Photography
---
Are you getting married? Looking for a Kawartha Lakes wedding photographer to capture your sunflower wedding photos? Get in touch to have me, Jennifer Newberry Photography, capture your wedding, whether it's in Kawartha Lakes, Coboconk, Newmarket, Aurora, Richmond Hill, Toronto, Barrie, Waterloo, Hamilton, London, Muskoka, or beyond! I'd love to chat about your wedding plans!