King's Riding Wedding Photos | Newmarket & King City
St. John Chrysostom | King's Riding Golf Club
Sharon & Ryan
How They Met
Sharon and Ryan originally met by working together, in Thompson, Manitoba. Their cubicles were right next to each other in the office. When they first met and became friends, Sharon was wearing a hard hat and was angry about something and was walking angrily past the cubicles – but because she was shorter than the cubicle wall, all Ryan could see was this angry hard hat storming past. Of course he cracked up laughing.

Ryan used to stand up and talk to Sharon over their shared cubicle wall. At first Sharon thought Ryan seemed very nice, and he was very tall and had cute dimples. But she quickly realized that she couldn't just lean over and talk to Ryan whenever she wanted, she had to walk all the way around the cubicles to talk to him!

They were friends for many years, but then one night they were at Ryan's place – Ryan had just bought a brand new 3D TV and they ordered takeout sushi and watched a Blockbuster-rented (yes this was awhile ago!) Planet Earth in 3D to test out the new TV. Seven years later, they were engaged!

The Proposal
Ryan made Sharon a very nice dinner for her birthday (it was actually a couple days before her birthday, as on her actual birthday they were busy that whole weekend.) Along with dinner, Ryan hand-made fortune cookies (whoa!), and put personalized fortunes inside for dessert. He hid the ring inside Sharon's fortune cookie, which Sharon almost didn't open or eat, because she was too full. Ryan had to trick Sharon into opening the fortune cookie with the ring in it, by telling her "Oh, at least read the fortune!", because apparently there was no plan B if Sharon refused to open another fortune cookie!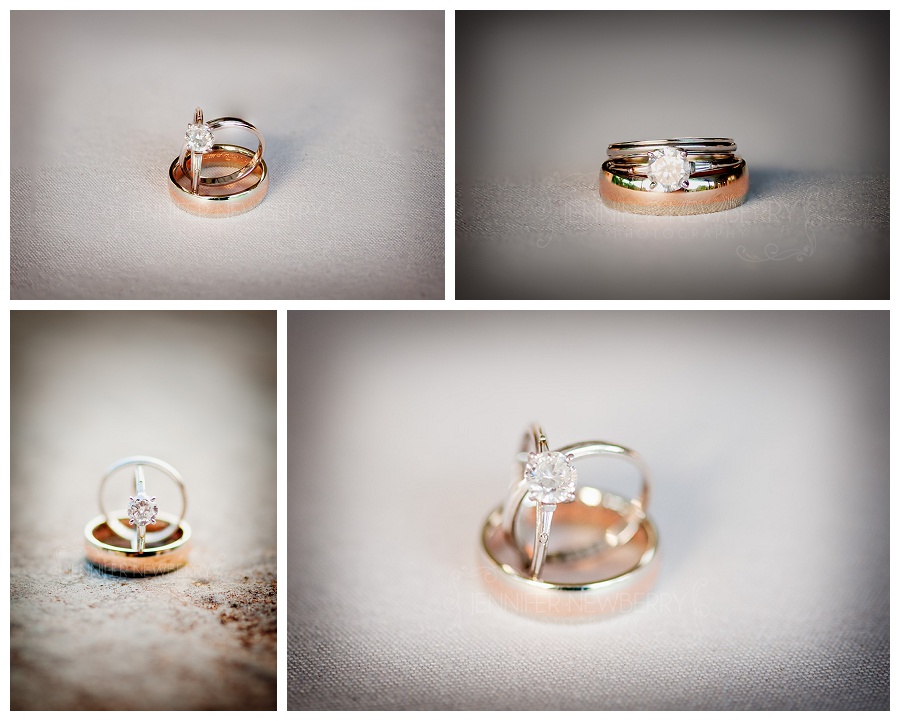 The Wedding
Sharon got ready in Newmarket, with some immediate family and a couple of close girlfriends. They had a very tight and busy schedule in the morning, including an incense offering and tea ceremony, so I met them at the St. John Chrysostom parish, also in Newmarket, just before the ceremony.
The Ceremony
Sharon and Ryan had an indoor Newmarket wedding ceremony, at the St. John Chrysostom Parish, in Newmarket. It was a HOT summer July day, but the light inside the parish was fantastic, and they had lots of fans running.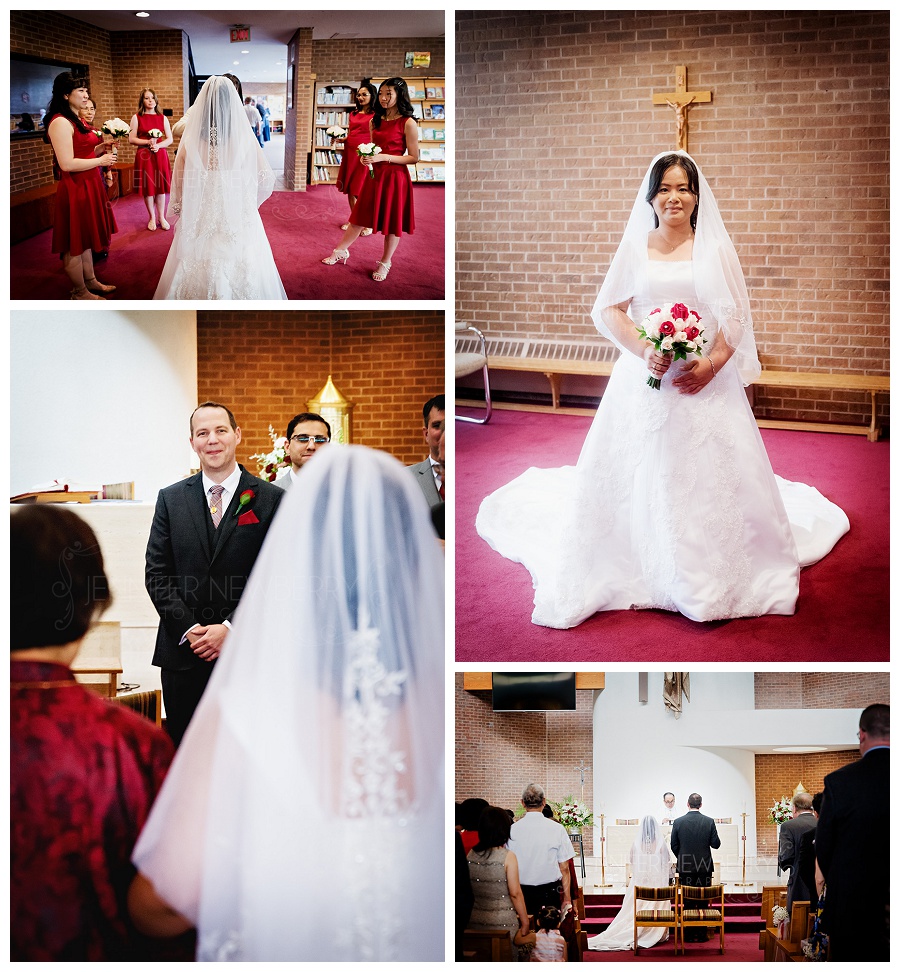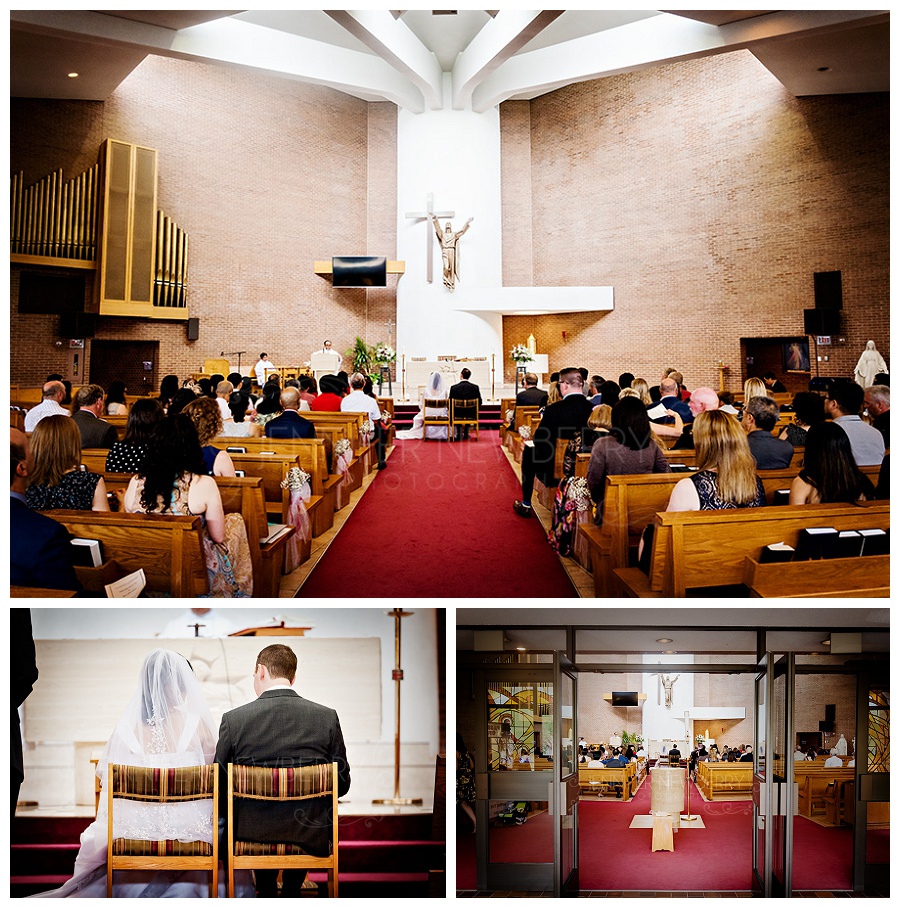 It was a catholic ceremony, lasting about an hour. Catholic ceremonies always give me plenty of time for photos! 😉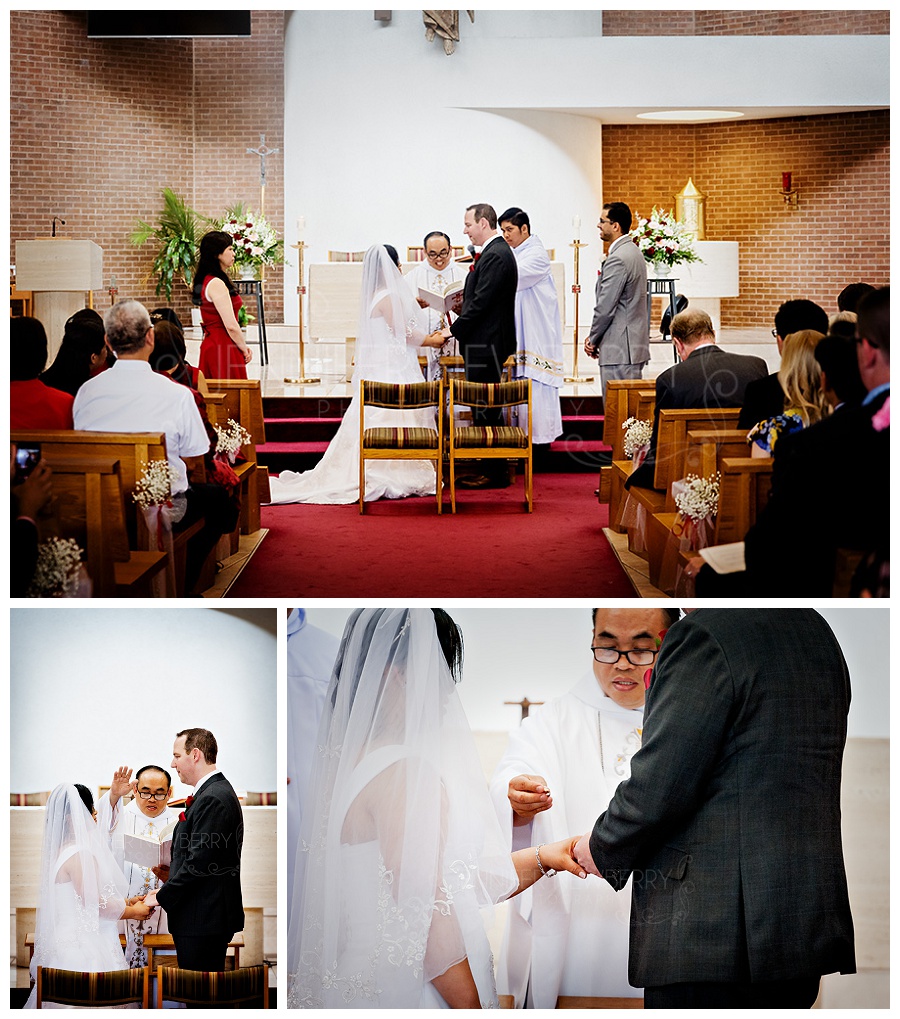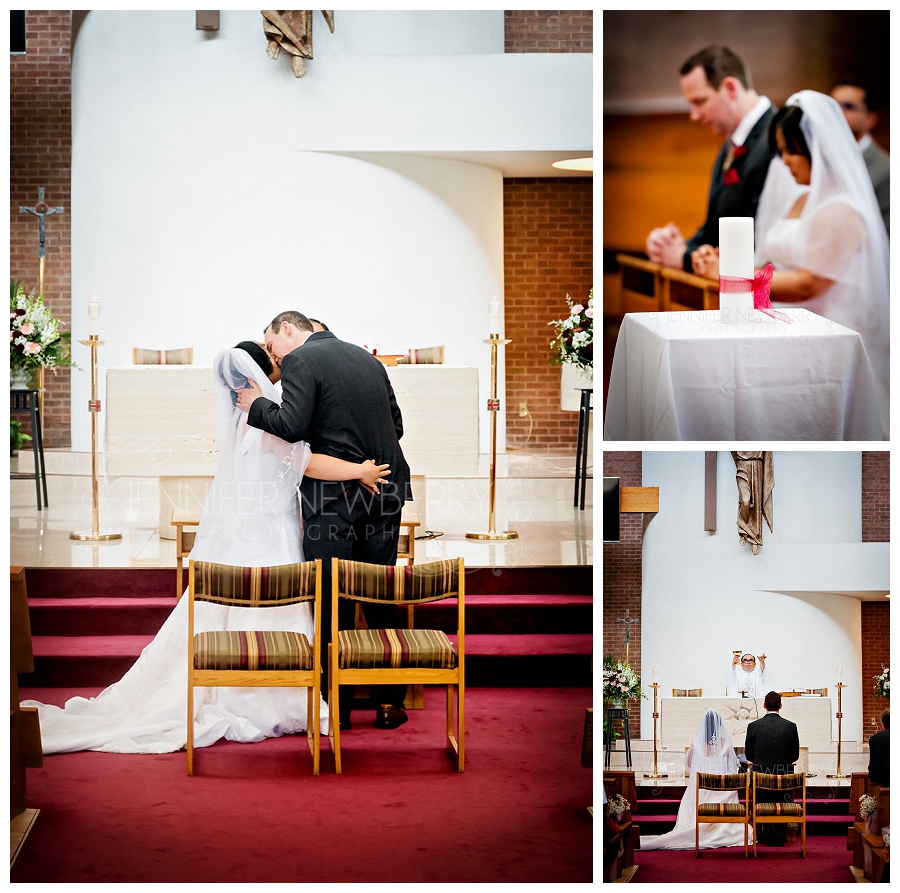 The Wedding Party
After the ceremony, I had a bit of a break while everyone went to lunch. We all then met at King's Riding Golf Club in King City where the reception was going to be held. It was there that we did all of the photos.

The wedding party consisted of two bridesmaids (yes two, hang on…), two junior bridesmaids (see, I didn't miss anyone!), and two groomsmen. They are a great group, and Jean had a great time driving a golf cart for the first time when she came to help us with the bride and groom photos (thanks Jean!)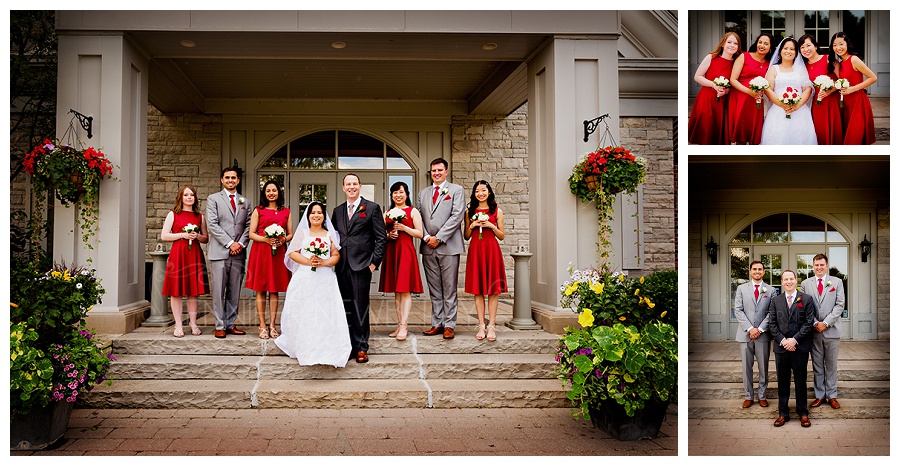 The Newlyweds!
I always love shooting King's Riding wedding photos – they have some spectacular views!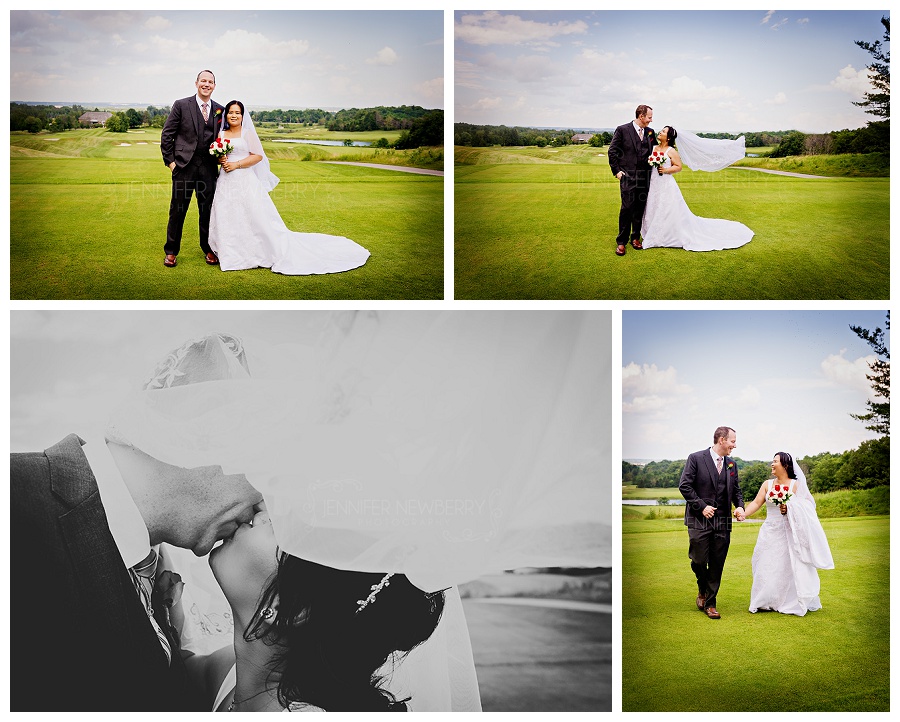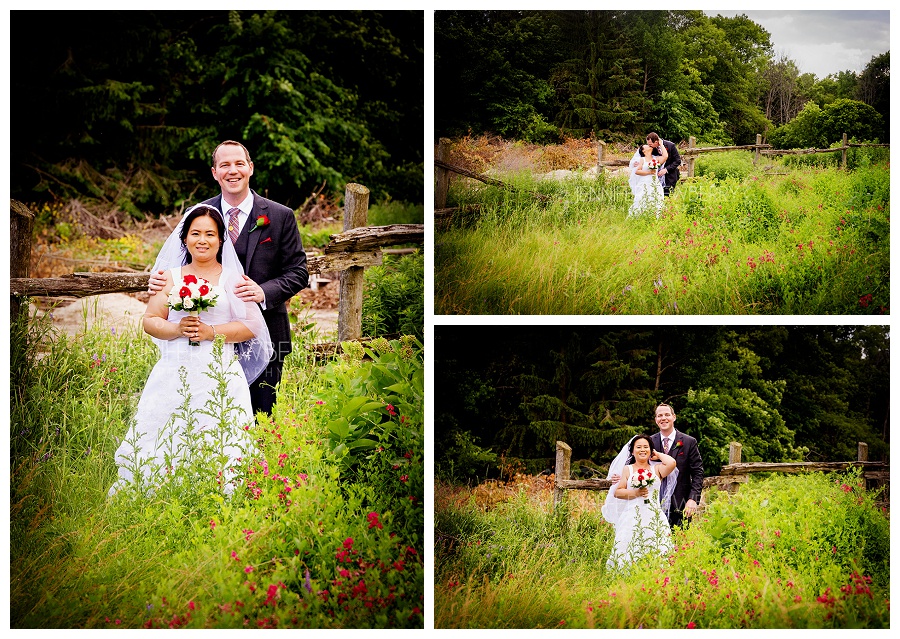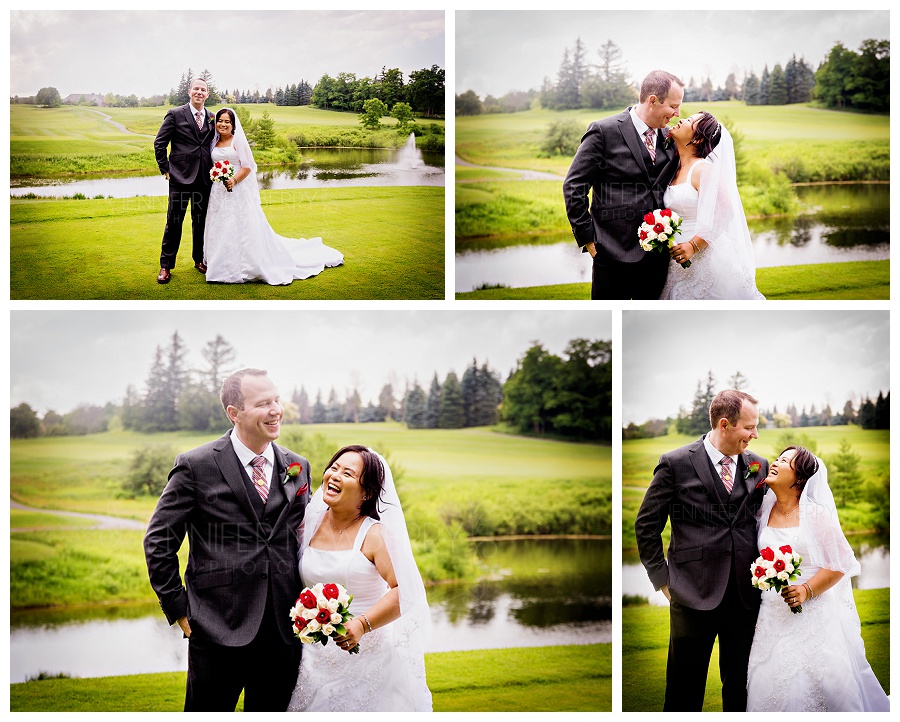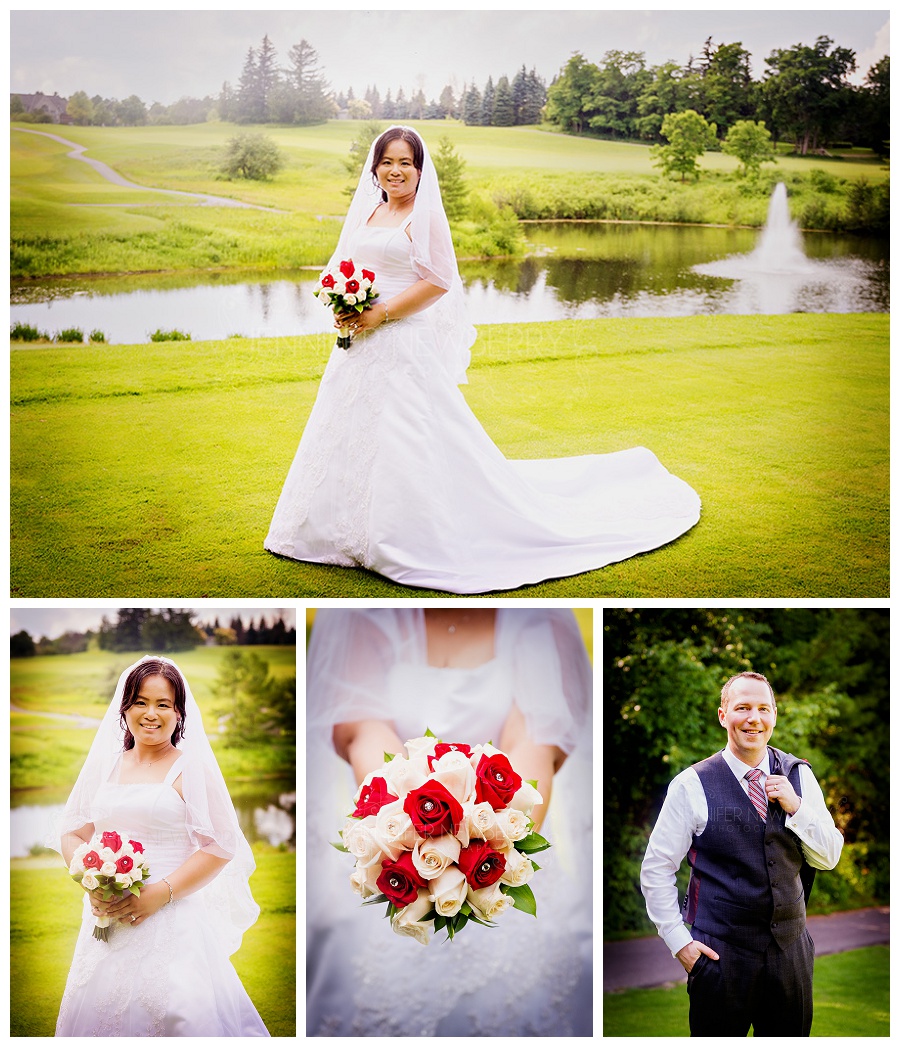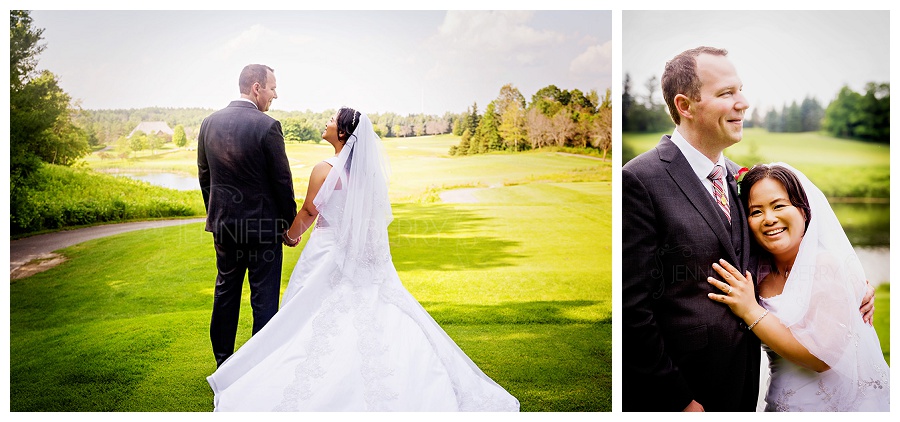 The Reception
King's Riding's reception room has windows on three sides, so it's nice and bright!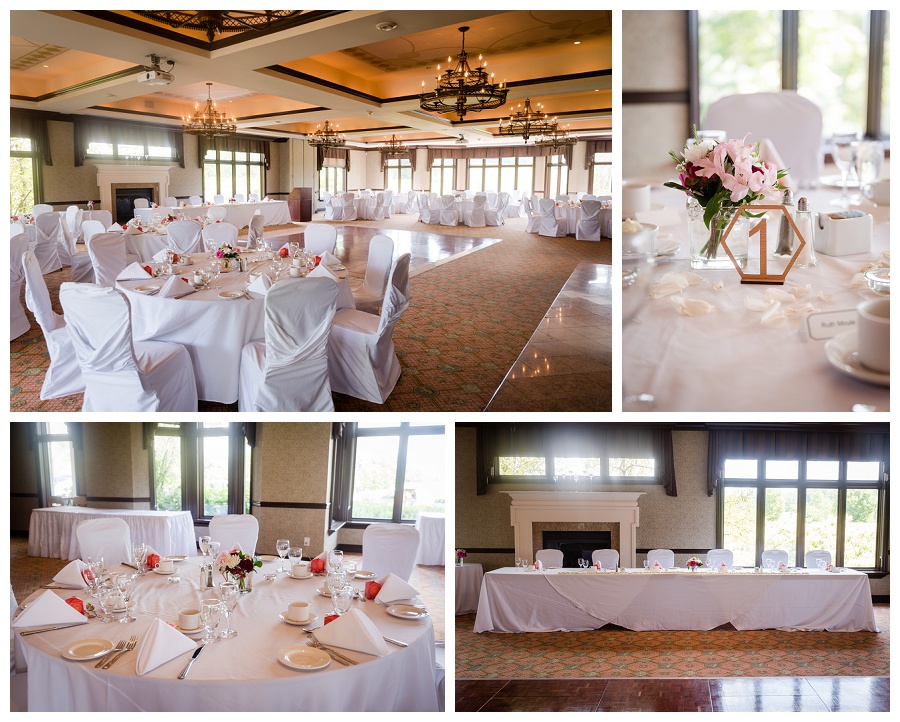 Isn't the cake topper absolutely PERFECT? haha, I love it!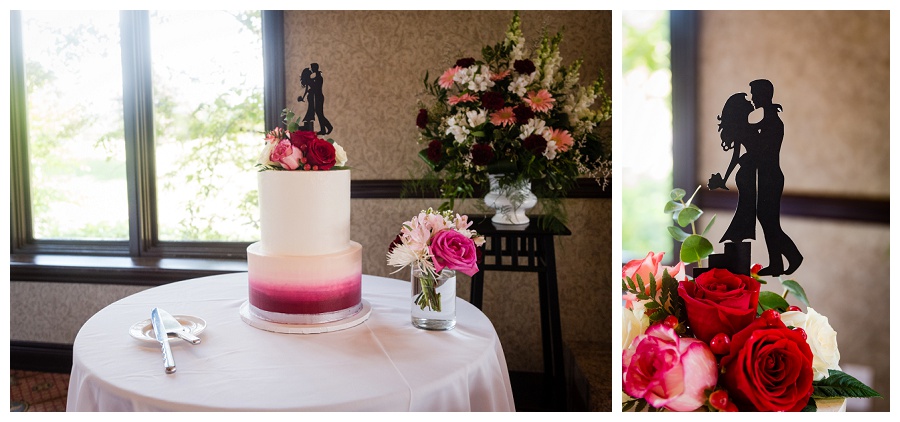 They did their first dance to James Arthur's "Say You Won't Let Go".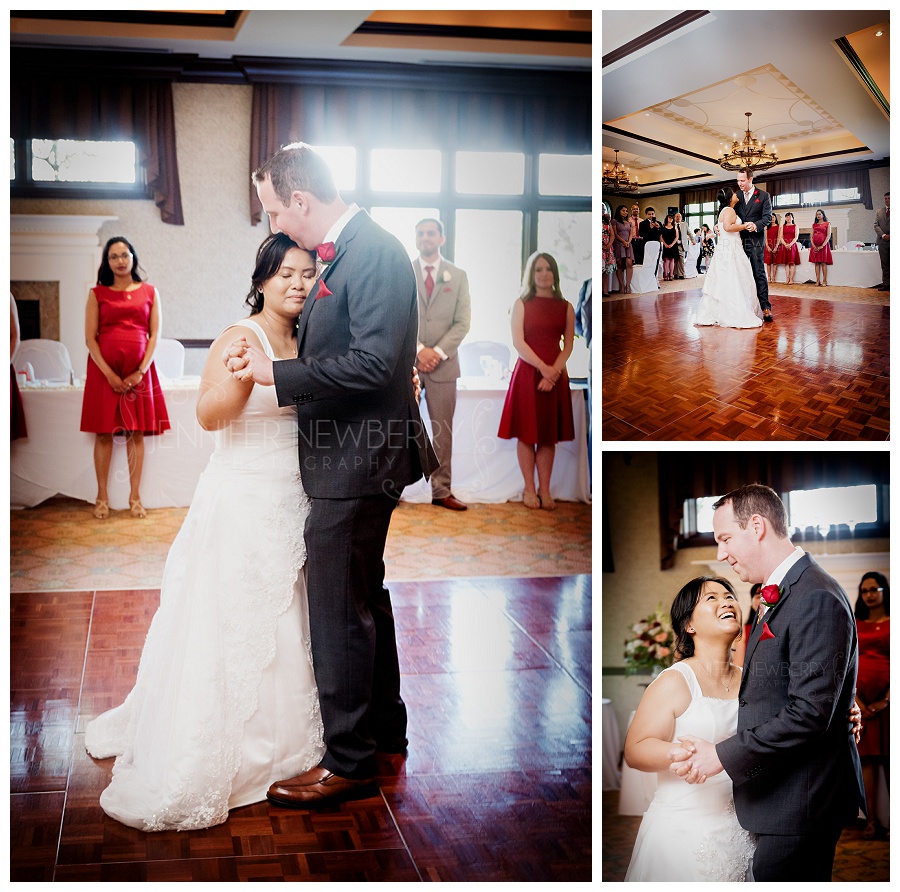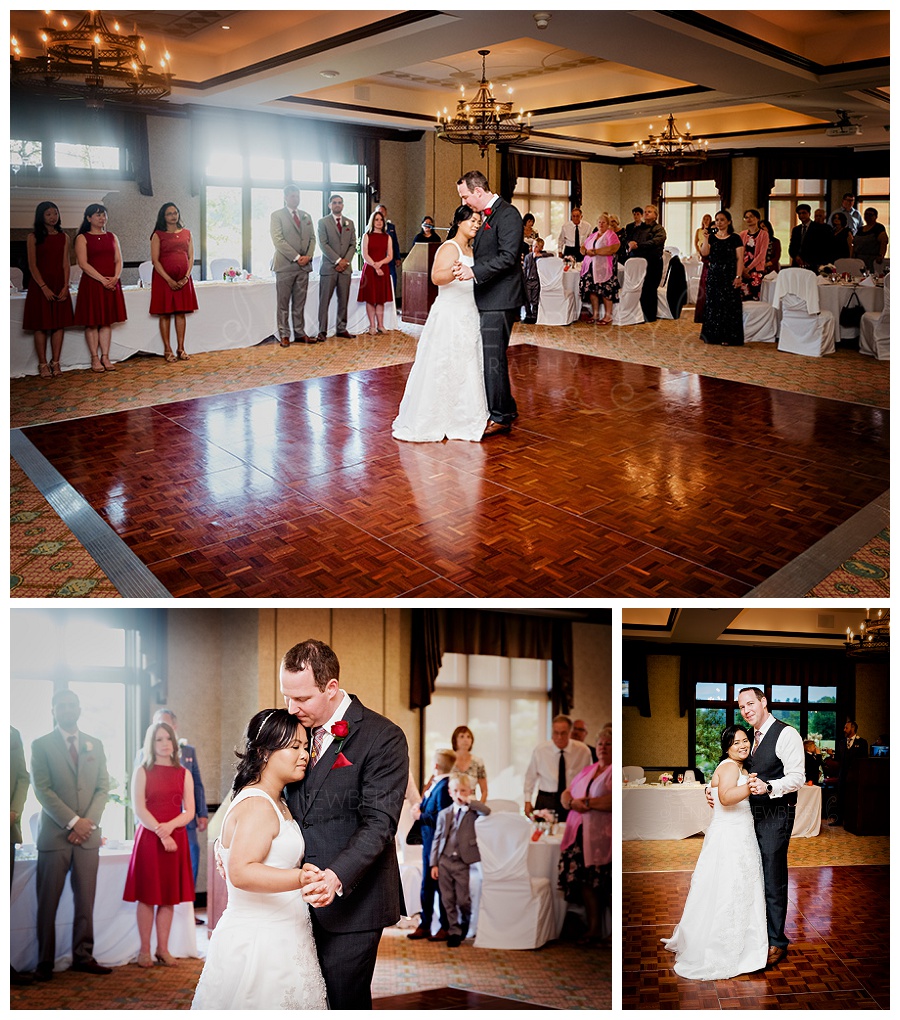 Congrats Sharon & Ryan! I had the BEST time at your wedding – you two are so much fun!

Wedding vendors:
Ceremony Venue: St. John Chrysostom Parish
Reception Venue & Caterer: King's Riding Golf Club
Florist (general): Costco
Florist (altar pieces): Caruso & Company
Cake artist: Sallie Stevenson
DJ: Bob Hawkins DJ Service
Makeup & Hair: Hina Zain
Favour boxes: Amazon
Favours: Candies from Taiwan
Favours (backup): Ferrero Rocher chocolate from Dollarama
Invitations: Vistaprint
Wedding dress store: Cambrian Theatre
Seamstress: Susie's Bridal and Sewing
Bridesmaid dresses: Amazon
Mens Tuxes: Moores
Wedding rings: Ambrosia Jewellery
Bride's Engagement ring: Heirloom – Originally, it was the groom's maternal grandmother's ring
Officiant: Norberto Eyule
King City & Newmarket wedding photographer: Jennifer Newberry Photography
---
Are you getting married? Looking for a York Region wedding photographer? Get in touch to have me, Jennifer Newberry Photography, capture your wedding, whether it's in King City, Newmarket, Aurora, Richmond Hill, Toronto, Barrie, Waterloo, Hamilton, London, Muskoka, or beyond! I'd love to chat about your wedding plans!