#billiamandemilywed

Georgina Wedding Photographer | Georgina ROC Chalet Wedding Photos
Golden Dinosaurs | The Simpsons
Emily & Bill
"Dinosaurs are the best, so just calm down."
Emily and Bill's Georgina ROC Chalet wedding had very elegant decor with a "light sprinkling" of golden dinosaurs (yes, golden dinosaurs), and was accented with elements from The Simpsons. Most of the guests were wondering "What's up with the golden dinosaurs?" and they all had to wait for the bride and groom's speech to find out the answer – the answer was the quote above 😉
How They Met
Originally, Emily and Bill met on the internet. When they met in-person, they actually met outside a subway station in Toronto (because Emily was running late. ha). On their first date, they went to a pub, and they talked for hours. Bill got tipsy and was a super gentleman and insisted on escorting Emily home on the subway, bus, then subway, then to her car. Then, Emily drove him home because she was sober. They dated for 18 months before getting engaged!

The Proposal
Bill woke Emily up before my night-shift with coffee and a ring, and asked "So… you wanna get hitched?" Apparently this was a great way to wake up, because Emily said yes!

The Wedding

As I mentioned earlier, there were elements of The Simpsons TV show here and there. (The golden dinosaurs I'll get into more when I get to the Reception part of the blog.) One of those was Bill's cufflinks – which are replicas of the cufflinks from the Simpsons episode of Lisa's wedding!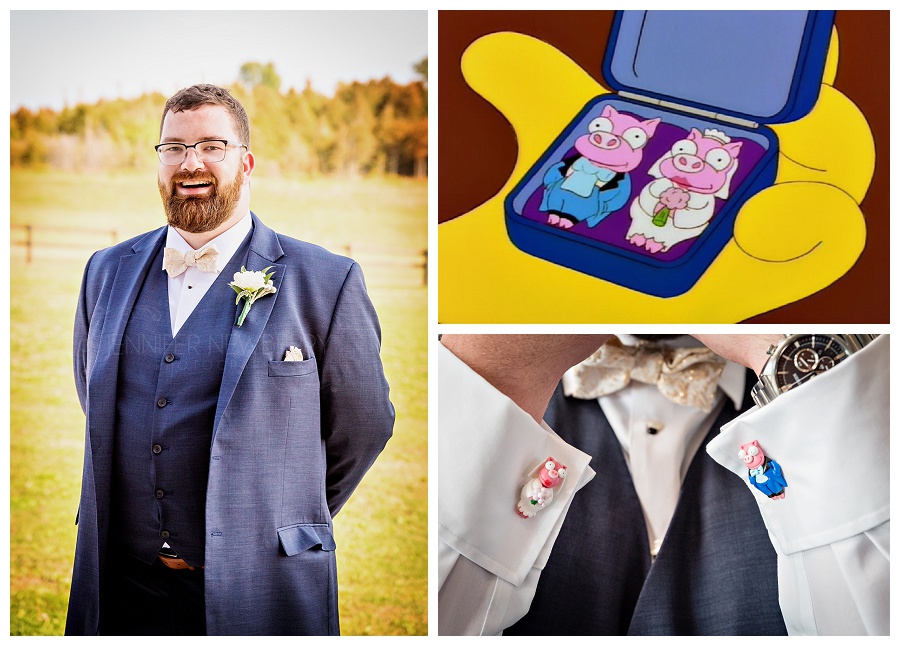 The Newlyweds!

Emily and Bill did a First Look (most people will tap the groom on the shoulder or poke them or something, Emily went with the always popular, ass-grab.), and all their bride & groom photos before the ceremony, so they could mingle with guests right after the ceremony.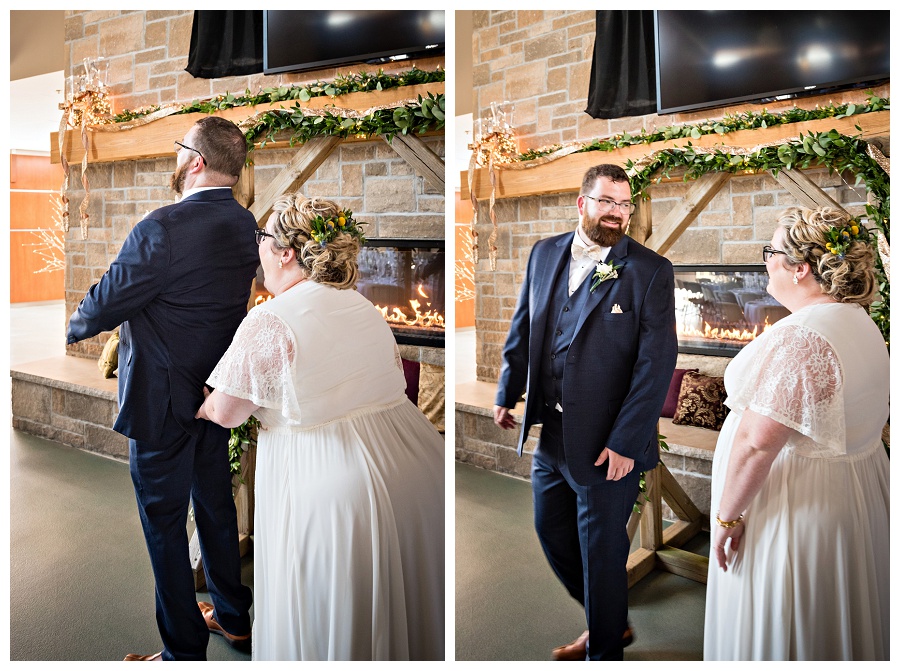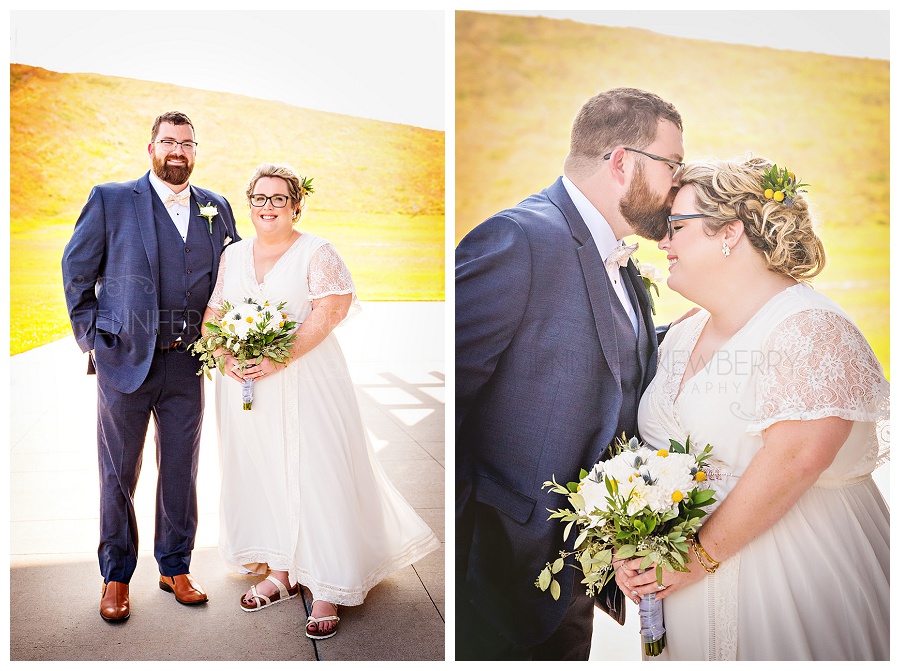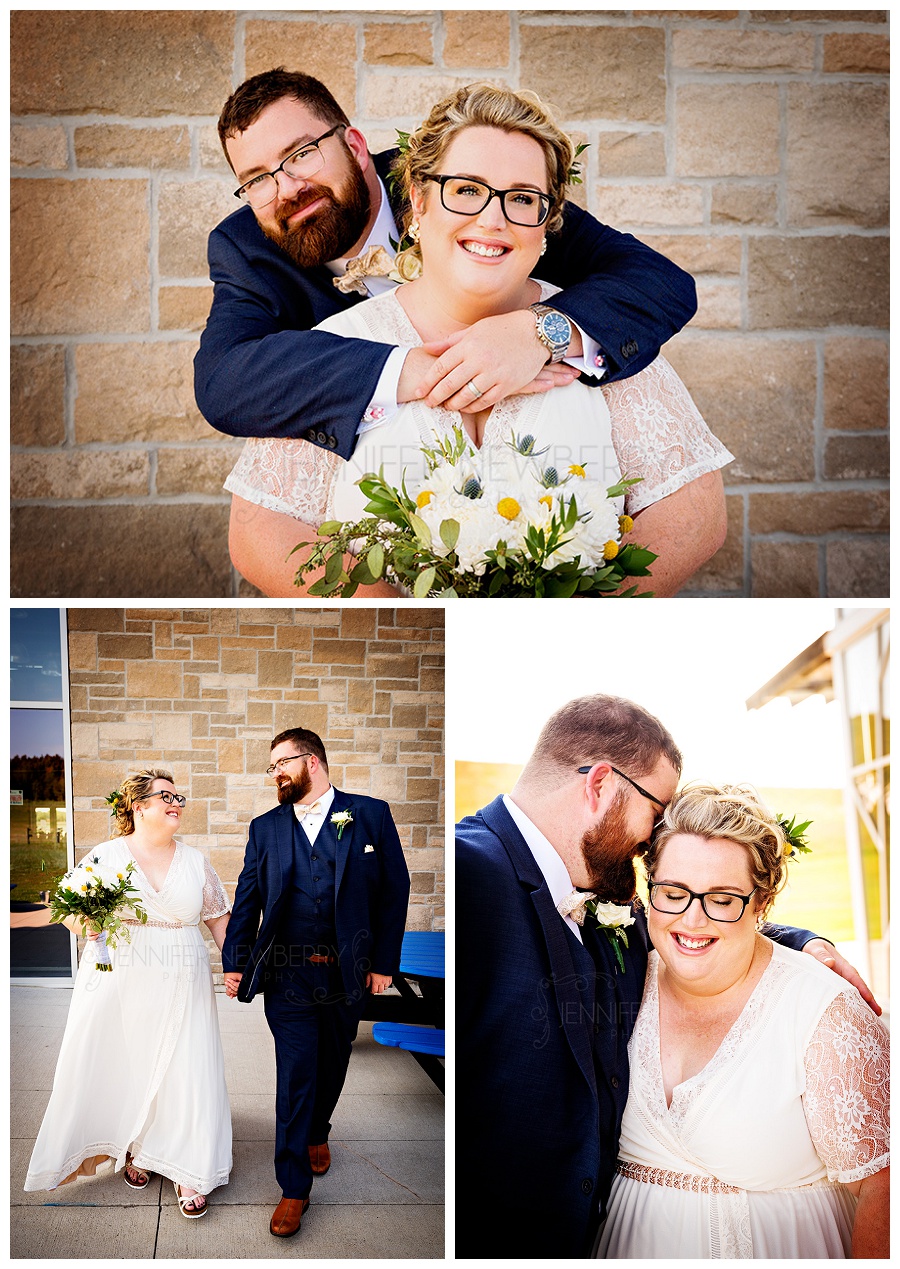 The Ceremony

The ceremony was held indoors, because despite it being September, it was crazy hot outside! (It was something like 32*C)

The Reception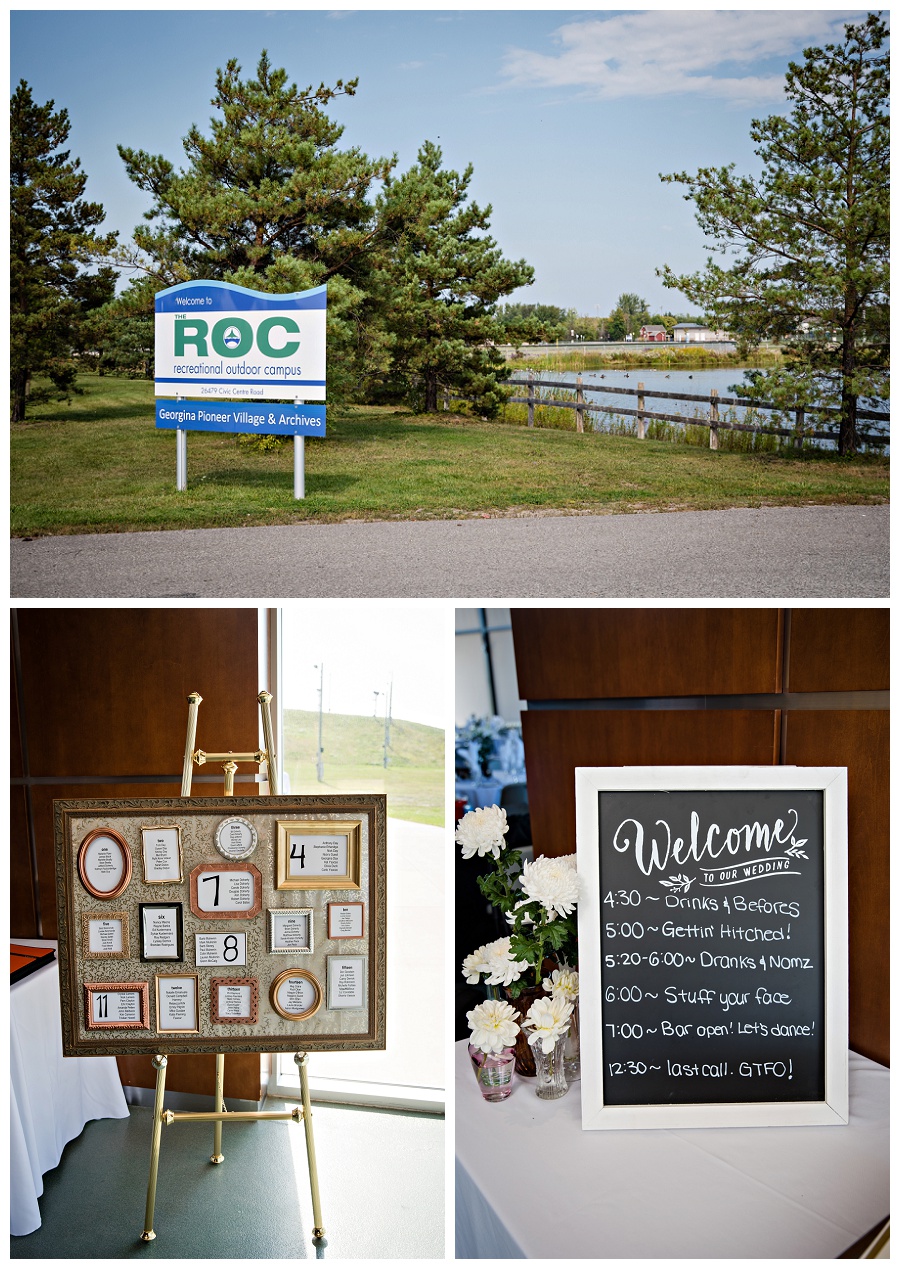 Here's where the golden dinosaurs come in!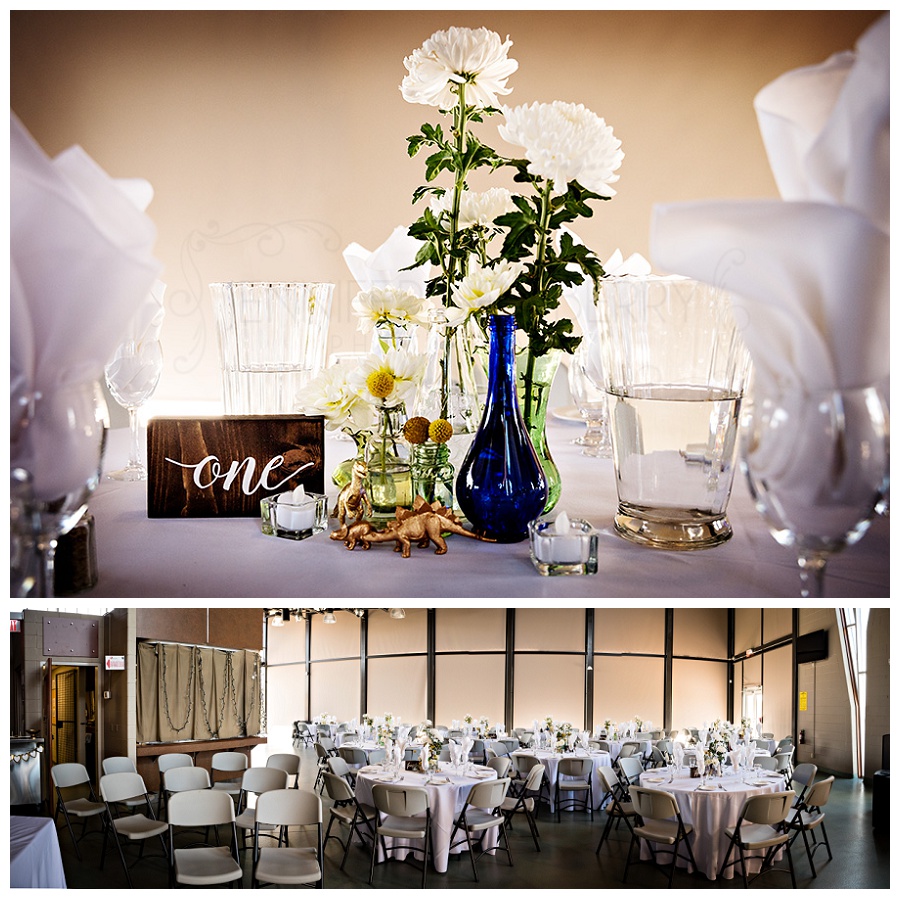 Someone (not Emily), added to the golden dinosaur cake toppers, by dressing them with a tiny bouquet, and floral bow-tie!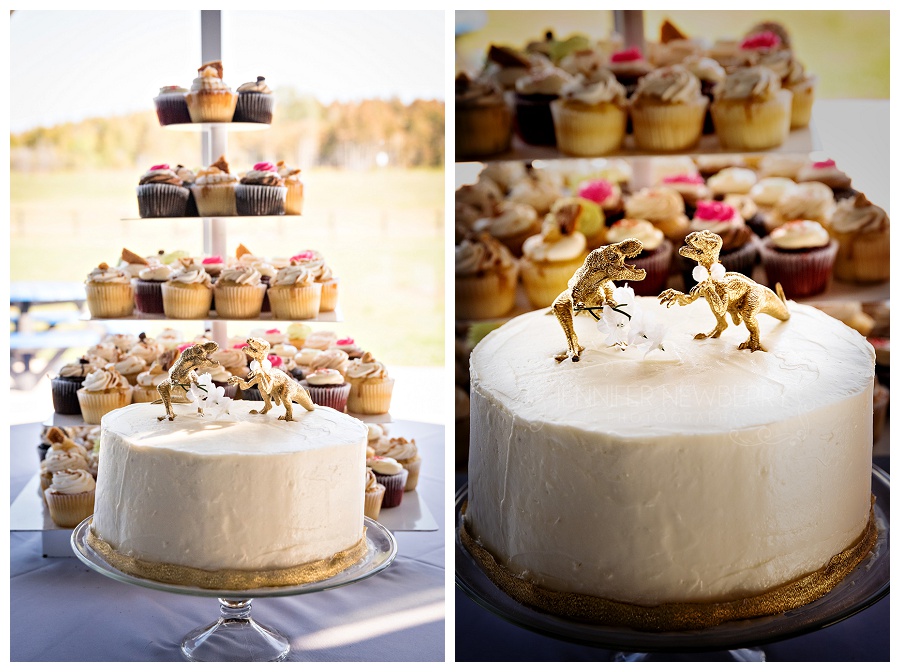 The first dance was done in the same area as the ceremony, but the arch was moved away.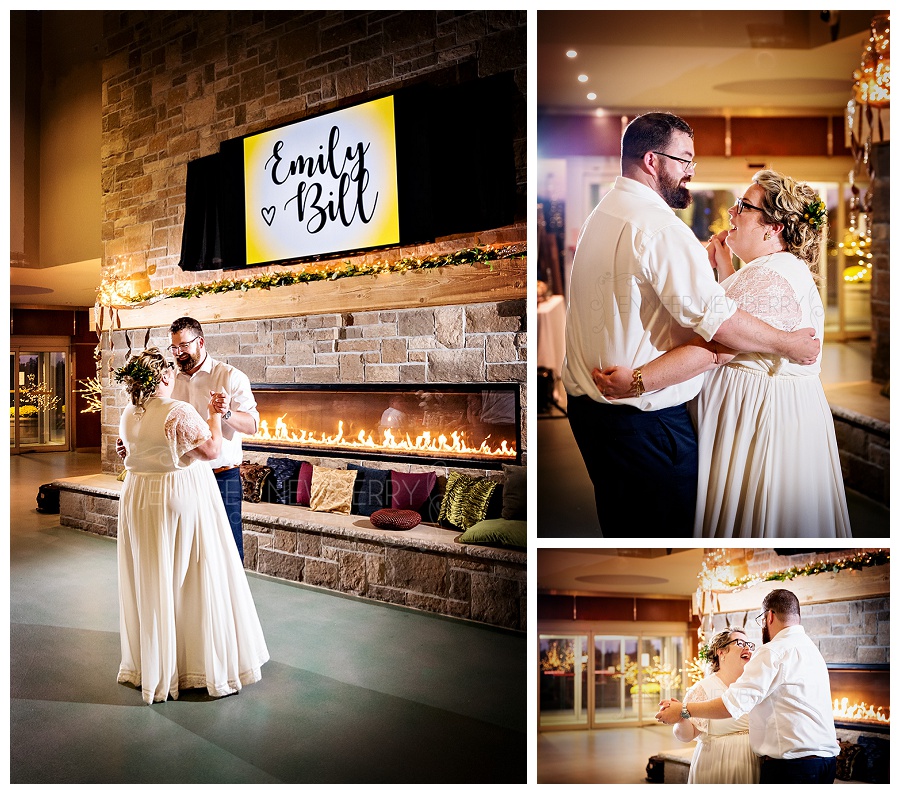 Congrats Emily & Bill!! I never thought about it until afterwards, but I left before you guys brought out the pinatas! D'oh!


Wedding vendors:
Venue: The ROC Chalet
Wedding coordinator: Carey D. (friend)
Florist: Mid-Valley Gardens
Caterer: O'Malley's Catering
Cake: Maggie O. (friend)
Cupcakes: Sugar City Cupcakes
DJ: Carlo Y. (friend)
Makeup Artist: Jenni Lin Studios
Hair: Crystal Lamers Hair Salon
Wedding dress store: Torrid
Bridesmaids' dresses: RW & Co.
Groom's suit: Moores
Groomsmens' pants: Old Navy
Groomsmens' accessories: Etsy & Winners
Bride's rings: Spence Diamonds
Groom's ring: Costco
Officiant: Richard Moore
Invitations: Splash of Silver
Golden dinosaurs: DIY by Emily
Georgina wedding photographer: Jennifer Newberry Photography
---
Are you getting married? Looking for a Georgina wedding photographer? Get in touch to have me, Jennifer Newberry Photography, capture your wedding, whether it's in Georgina, Sutton, Keswick, Bradford, Newmarket, Aurora, Richmond Hill, Toronto, Barrie, Waterloo, Hamilton, London, Muskoka, or beyond! I'd love to chat about your wedding plans!