Toronto Wedding Photographer | Miller Lash House Wedding Photos
Secret Garden Themed Wedding
Kelly & Steven
Today I'm sharing with you photos from Kelly and Steven's Miller Lash House wedding (with a secret garden theme!) Their Miller Lash House wedding took place on a gorgeous sunny Toronto day. (Well, Scarborough, technically.). The ceremony was outdoors in a unique circular 360* setting, while the reception was held in what felt like a tented garden. I just love all the decor that Kelly chose! But we will get to that in a moment!
How They Met
Kelly and Steven met at the Filly and Firkin Bar. (I believe that bar is closed now.) Kelly was at the bar with her friend Nancy, and Steve was at the bar with his friend Neil. Kelly had been hanging out with a guy all night, and after chatting with Steve at the bar, Steve could tell that Kelly didn't really like the guy – so he pretended to be Kelly's boyfriend! The guy knew Steve was lying, and clearly didn't like that. Apparently, this guy had bothered other guys that Steve knew at the bar that night, and the poor guy ended up getting punched. When that happened, Kelly and Steven ran from the bar. The next day, Steve asked Kelly to go out for coffee, and they found out that they were both normal human beings…. haha! After the coffee, they drove around for a couple hours just talking. Steven got hungry and ended up eating McDonald's.

They dated for just over 6 years before Steven completely surprised Kelly by proposing!

The Proposal
In the summer of 2016, Kelly and Steven were at a City and Colour Concert at the Molson Amphitheatre in Toronto. They were at the very back of the venue, and when "their song" was being performed, Steven completely shocked Kelly with a proposal!

The Wedding
The Miller Lash House is located at the Scarborough campus of the University of Toronto. It's a tucked-away little gem of a venue, and it really suited the Secret Garden Theme perfectly!

The Ceremony
The Miller Lash House wedding ceremony was held outdoors, in a unique setting where the guests sat on ALL sides of the bride and groom during the ceremony! The circular setting was certainly interesting from a photography point of view! Kelly's parents walked her up the long aisle (as seen in the first photo above), and Steven saw his bride for the first time as she approached the altar, which was beautifully decorated with gorgeous floral arrangements and greenery!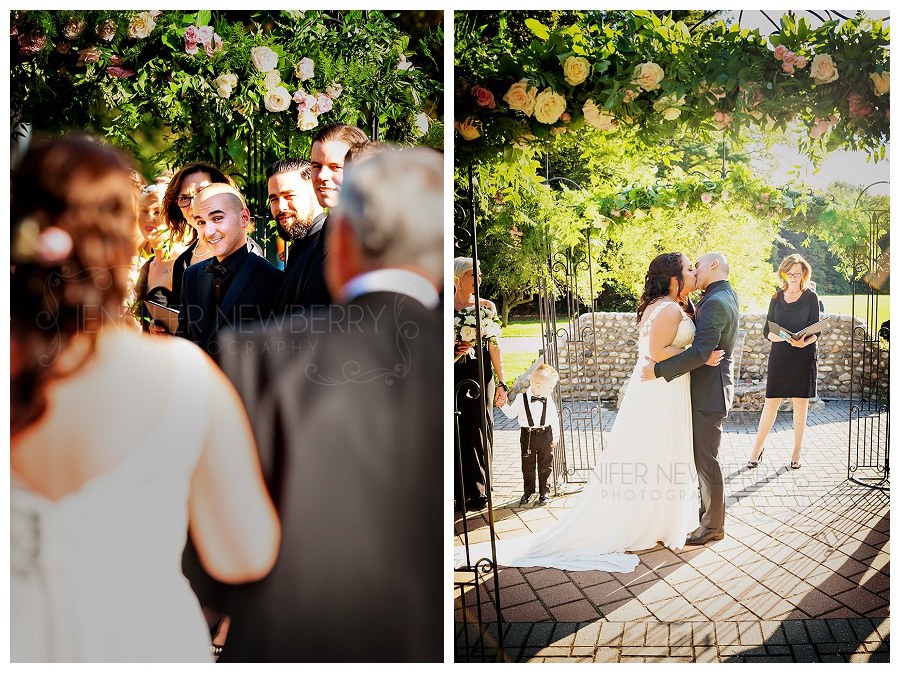 The Wedding Party
I don't even know where to start with this wedding party. They were quite possibly the wildest, funniest, most entertaining wedding party I have ever encountered. I'm fairly certain that because of them, Kelly and Steven have the largest "outtakes folder" that I have ever created – haha! They clean-up pretty nice though, and I'm not just saying that because I've photographed 3 of the members of the wedding party previously 😉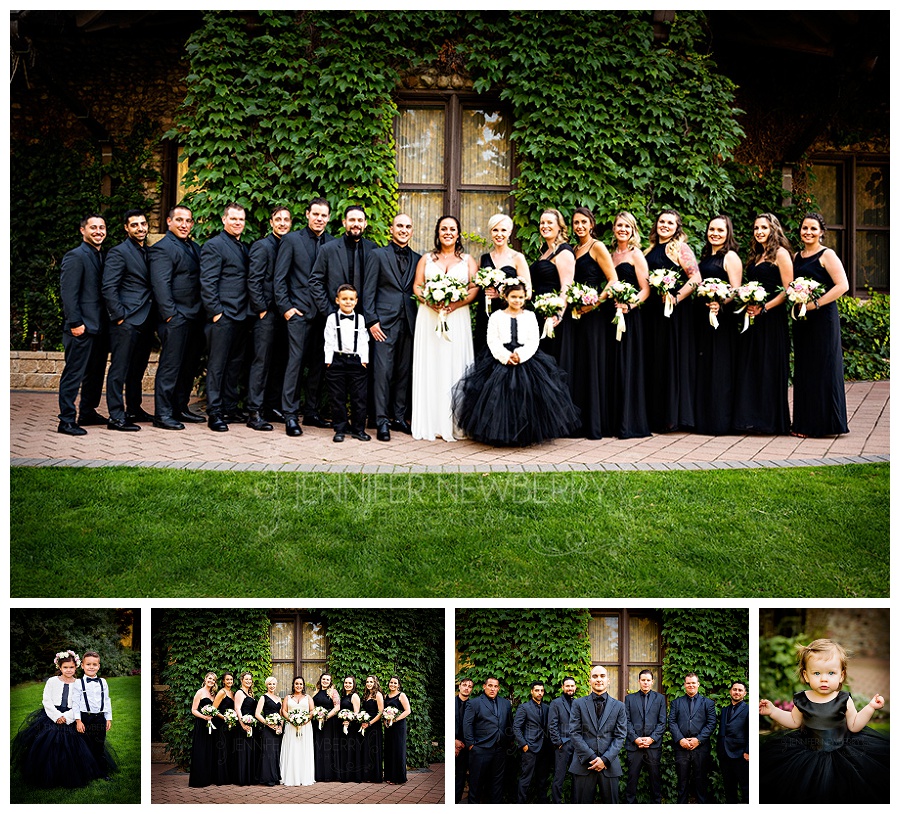 The Newlyweds!
We actually didn't have as much time as I usually like to do the bride and groom photos, but we made good use of the time we did have! Kelly and Steven are naturals in front of the camera!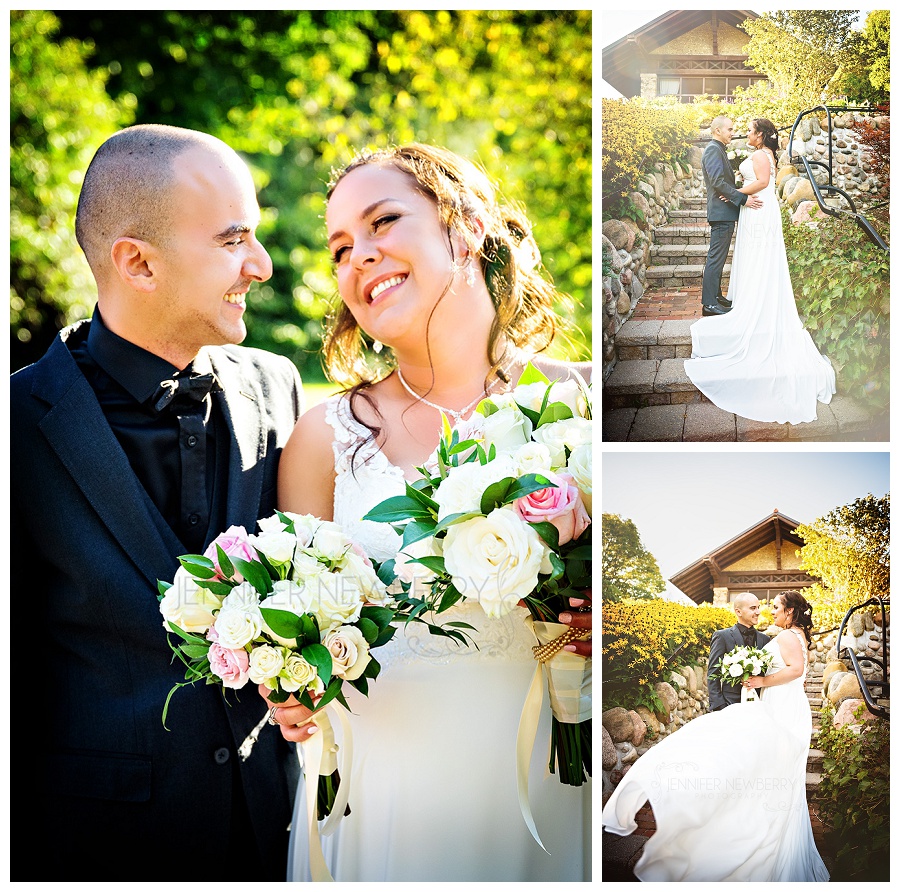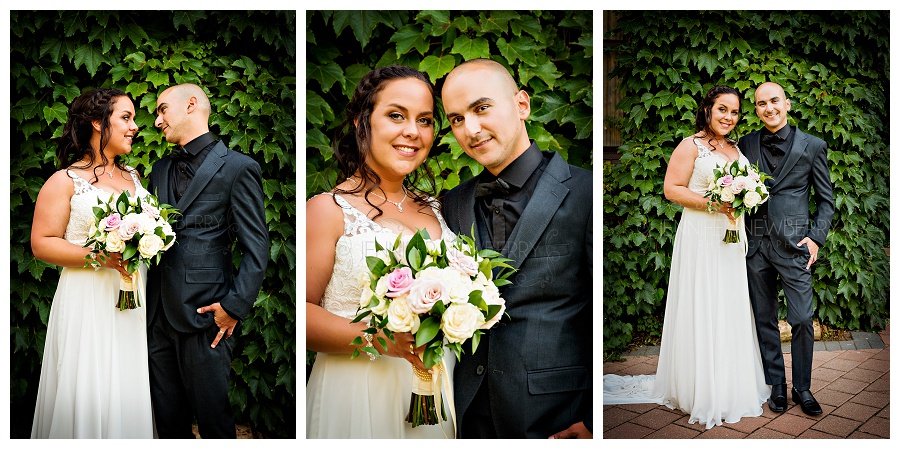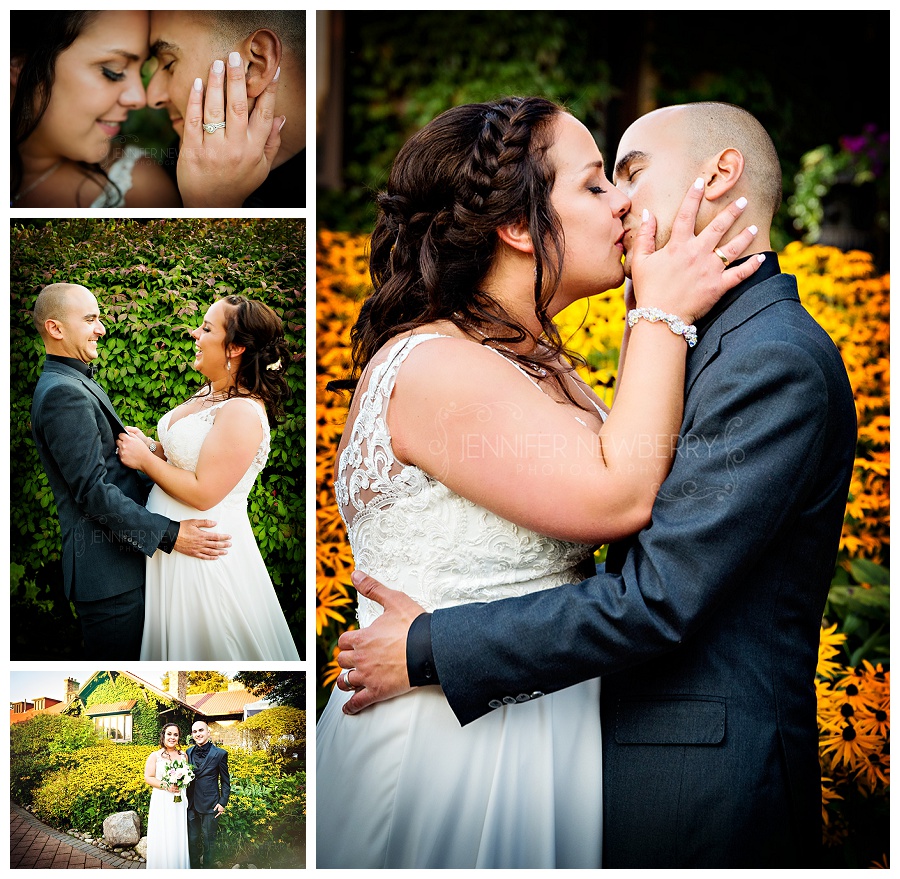 The Reception
Below you can see some of the Secret Garden Themed decor that I mentioned earlier. I just love it – so elegant! The doorknob table-numbers are brilliant!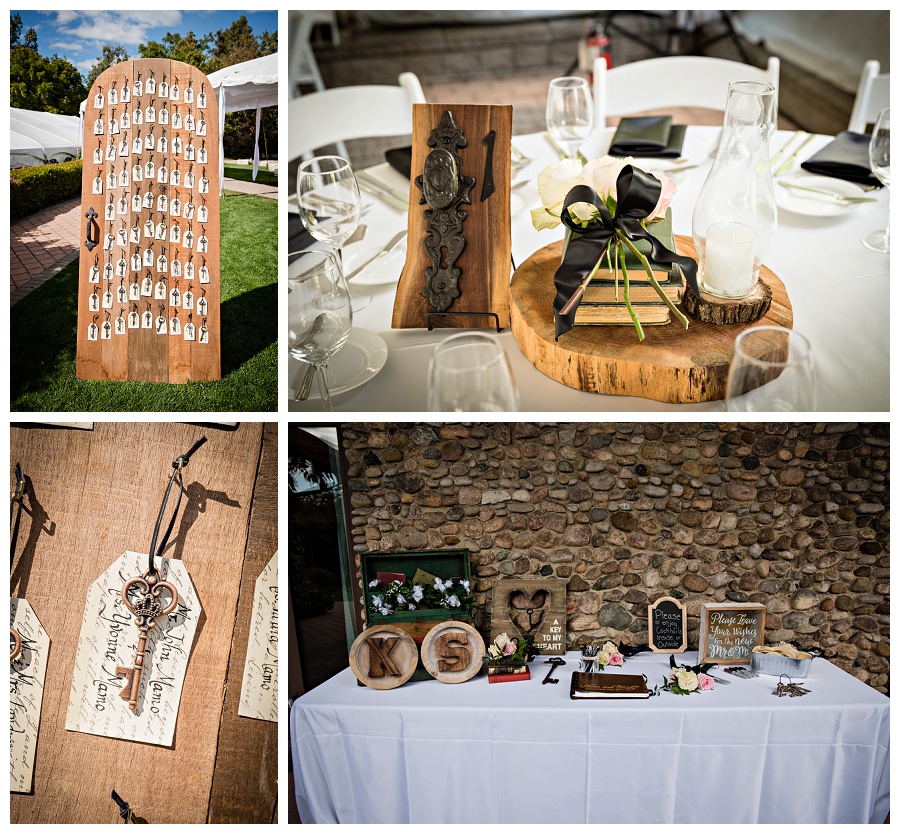 The reception area was tented, but with open sides so you literally felt like you were inside a hidden garden!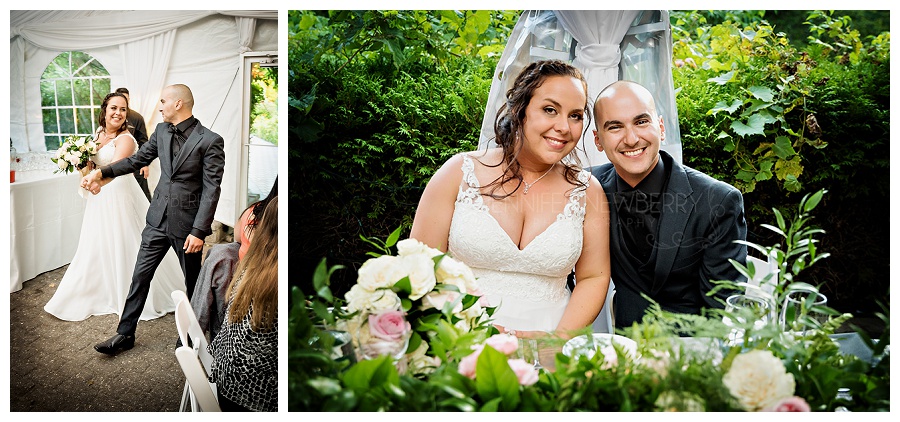 The newlyweds danced to "their song", which of course was the same song that was playing at the concert when Steven proposed – "We Found Each Other in the Dark" by City and Colour.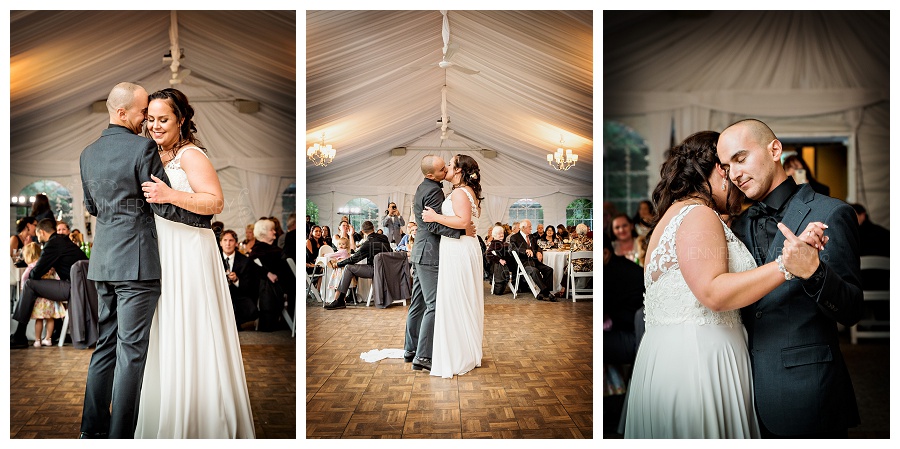 Congrats Kelly & Steven!
---

Venue: The Miller Lash House
Florist: Terrain Flowers
DJ: DJ Borhan
Makeup: Alana Y. (a friend)
Hair: Tiia (Maid of Honour & bride's cousin)
Caterer: Enville Catering
Favours: DIY
Invitations: Wedding Paper Divas (they have now merged with Shutterfly)
Wedding dress store: The Gown
Wedding dress designer: Stella York
Bridesmaids' dress store: Jealous Bridesmaids
Rings: Michael Hill
Officiant: Debbie Grant (family friend)
Transportation: School Bus Rentals
Girls' Jewelry: Paula (Steven's mom)
Door that table cards and keys were hung on: Rick (Kelly's dad)
Toronto wedding photographer: Jennifer Newberry Photography
---
Are you getting married? Looking for a Toronto wedding photographer? Get in touch to have me, Jennifer Newberry Photography, capture your wedding, whether it's in Newmarket, Aurora, Richmond Hill, Toronto, Barrie, Waterloo, Hamilton, London, Muskoka, or beyond! I'd love to chat about your wedding plans!