Barrie Wedding Photographer | Tiffin Centre for Conservation




Nicole & Tyler
If someone asked me to describe Nicole and Tyler's Barrie wedding (well, Utopia technically – yes they actually got married in Utopia! How many people can say that!), I would probably say it was a rustic autumn wedding, with a bit of a Hollywood theme. They chose the beautiful Tiffin Centre for Conservation as their wedding venue. The Tiffin Centre is located just outside of Barrie, Ontario, in the mythically-named town of Utopia. Fall is my favourite season, so I was beyond thrilled that Nicole and Tyler were having their wedding, basically in a cabin in the middle of a forest, with the forest floor completely covered in the fallen autumn leaves! (Imagine me squealing in excitement, here.)
Originally, the ceremony was planned to take place on a trail not far from the reception building, but unfortunately it started to rain. (I think *I* was the most disappointed about that!). Luckily, Nicole thought of EVERYTHING (seriously, everything!! She even had the bathrooms stocked with any toiletries her guests might need.), and when the ceremony location changed at the last minute to the covered chapel/gazebo area, she had the groomsmen string up lights inside to spruce it up a bit.
Anyway, if you're considering having Tiffin Centre wedding photography done, I highly recommend it! It's such a beautiful venue!

Now, onto Nicole and Tyler's wedding day! I started off by photographing Tyler and the guys. Nicole ever-so-kindly left her engagement ring with Tyler, so that I could photograph the rings all together before everything started happening.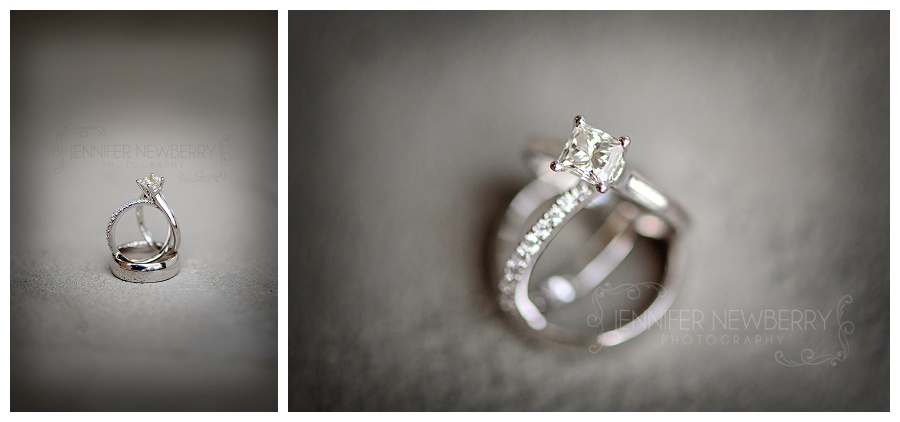 Once all my many ring shots were done, it was time for Tyler to get ready!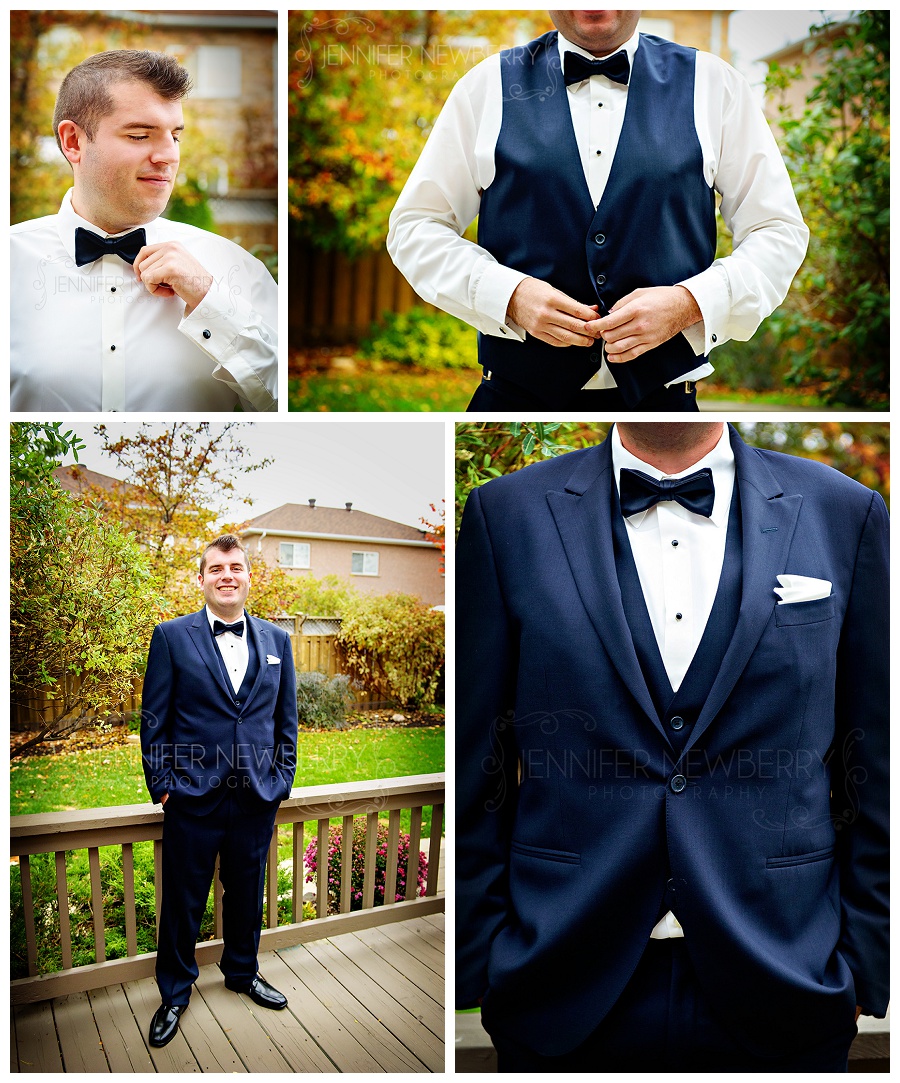 Once Tyler was dressed and ready to go, and I did a few photos of him with his mother as well as him with his groomsmen, I was off to see what the girls were up to. As always, I like to start off by photographing all the wedding day details.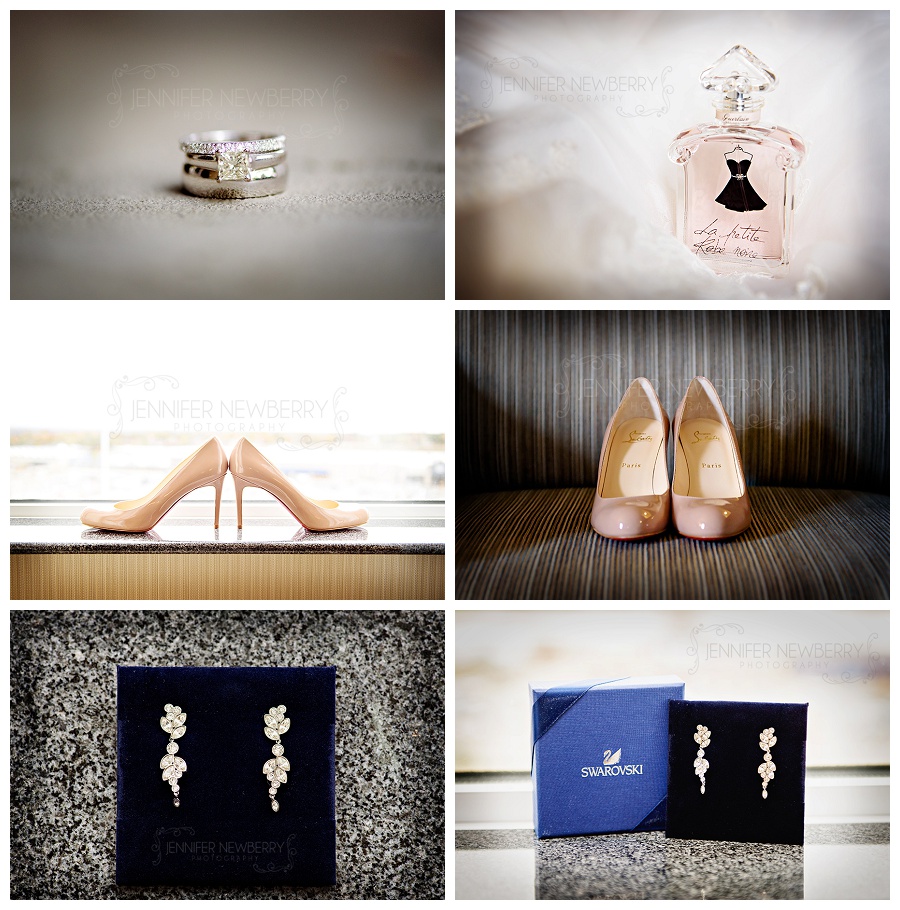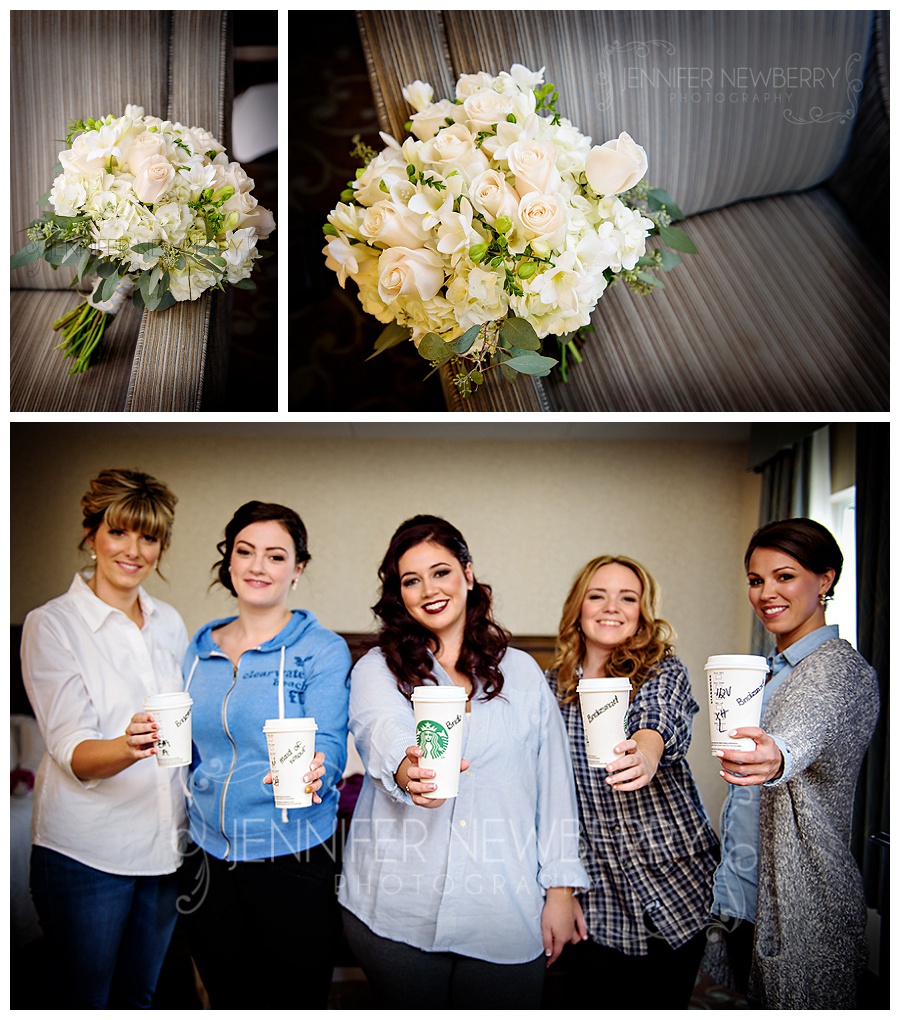 The girls had all gone to Starbucks and had their "titles" written on their cups – I love it! The other snack of choice, which was delivered later by one of the girls' mothers, was McDonald's french fries 😉

The bridesmaids and the adorable flower girl, Veronica, got ready first – then it was Nicole's turn!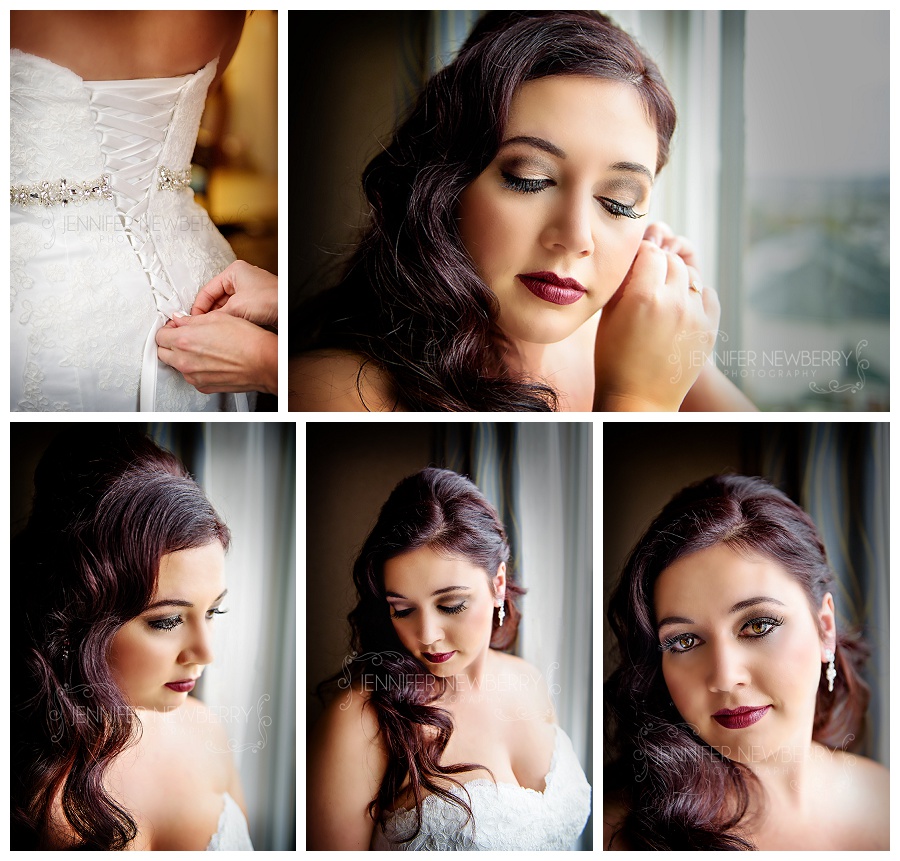 When the boys arrived in the limo, Tyler waited outside the hotel for his bride. It was a bit rainy so there weren't many dry spots for their First Look, but under the hotel's overhang worked out quite nicely!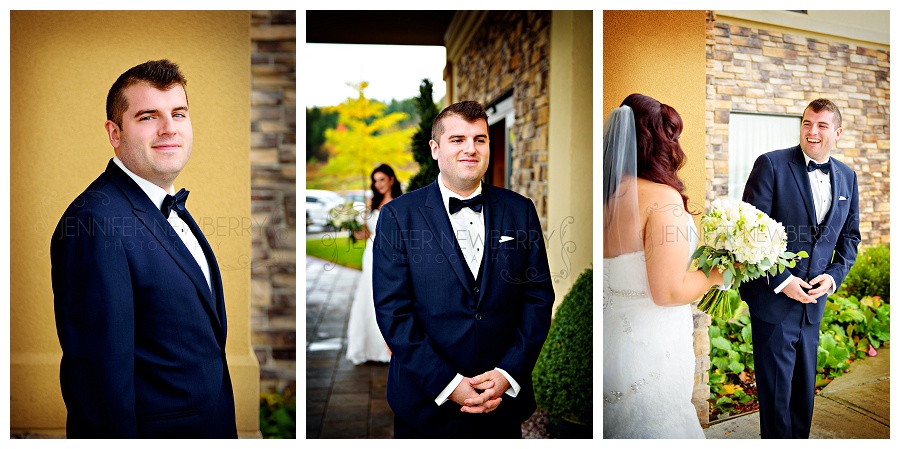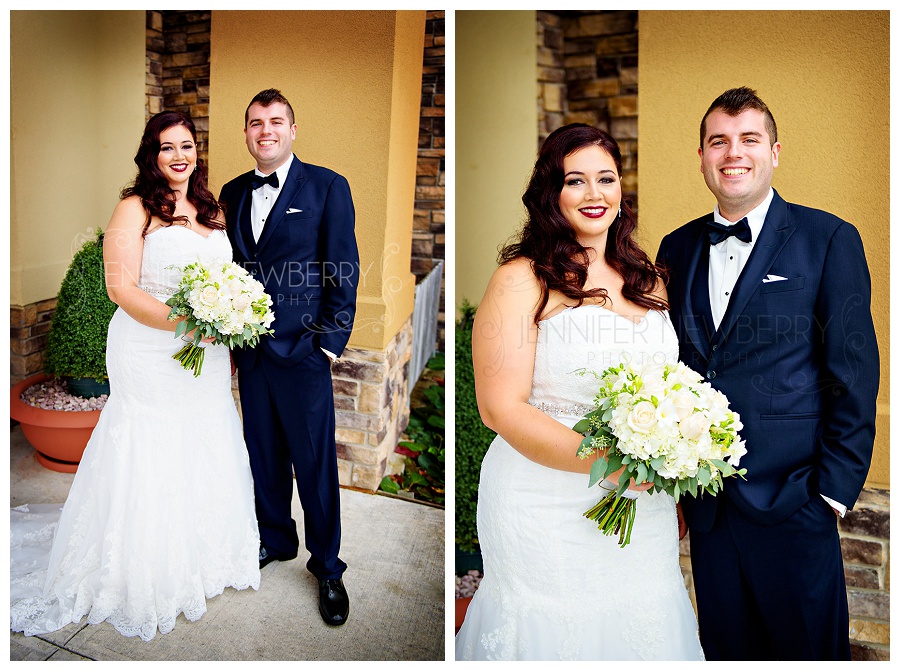 Right after the first look, the girls joined the guys in the limo, and everyone headed to the Tiffin Centre. We had a lot of time before the guests started arriving to do all the photos (a great benefit to doing a First Look!), so we started off with Nicole and Tyler's portraits. A few of the photos I played with, and I added falling leaves. It's a bit dramatic but I think it gives the photo a neat effect. (I also had the song "Fallen Leaves" by Billy Talent stuck in my head the entire time I was editing. ♪♪ Fallen leaves, fallen leaves, fallen leaves… on the grounddd ♪♪)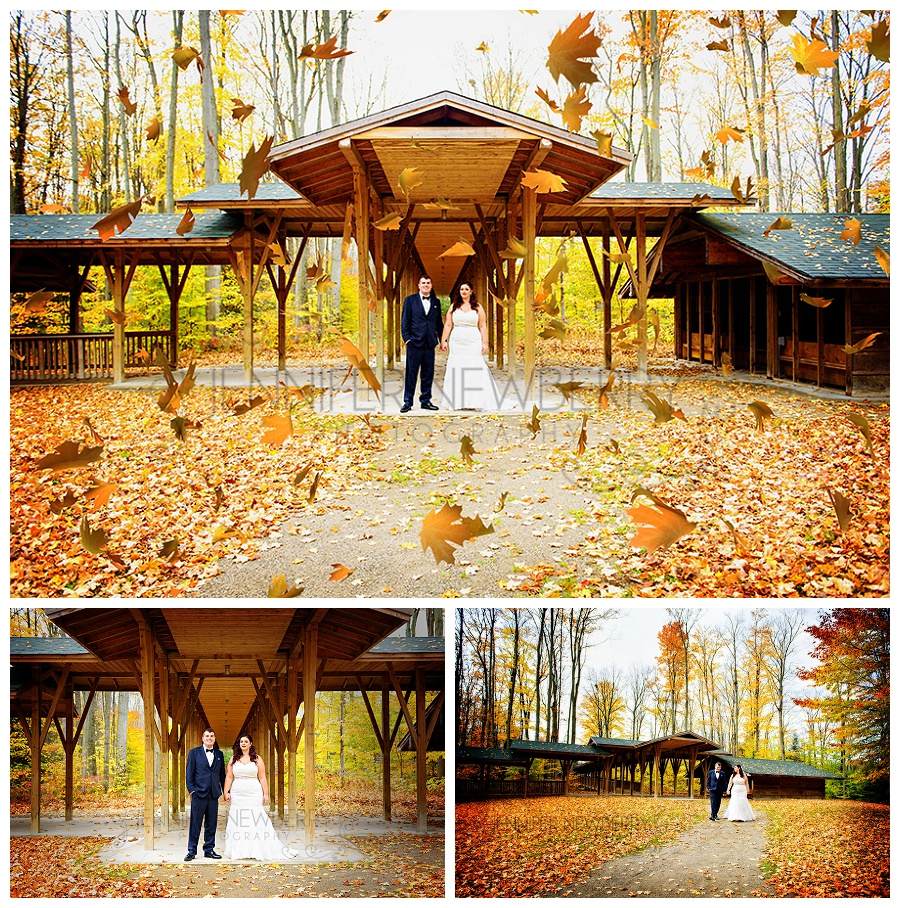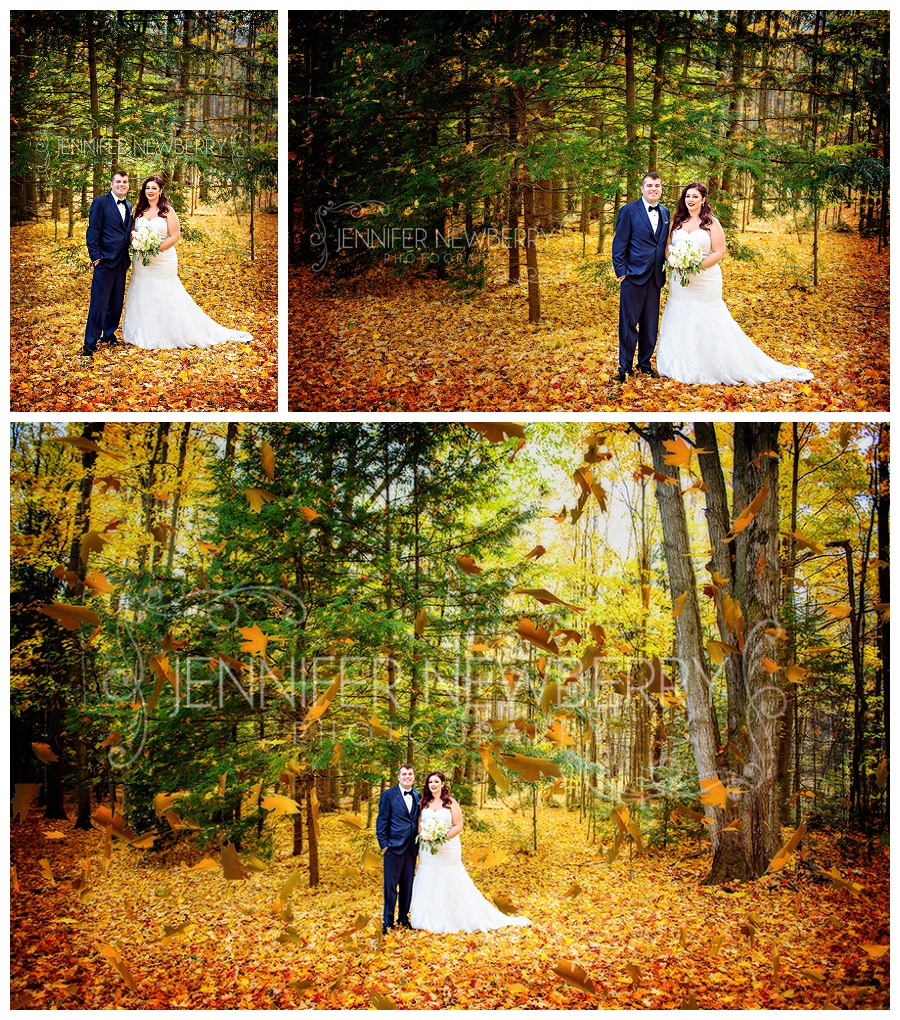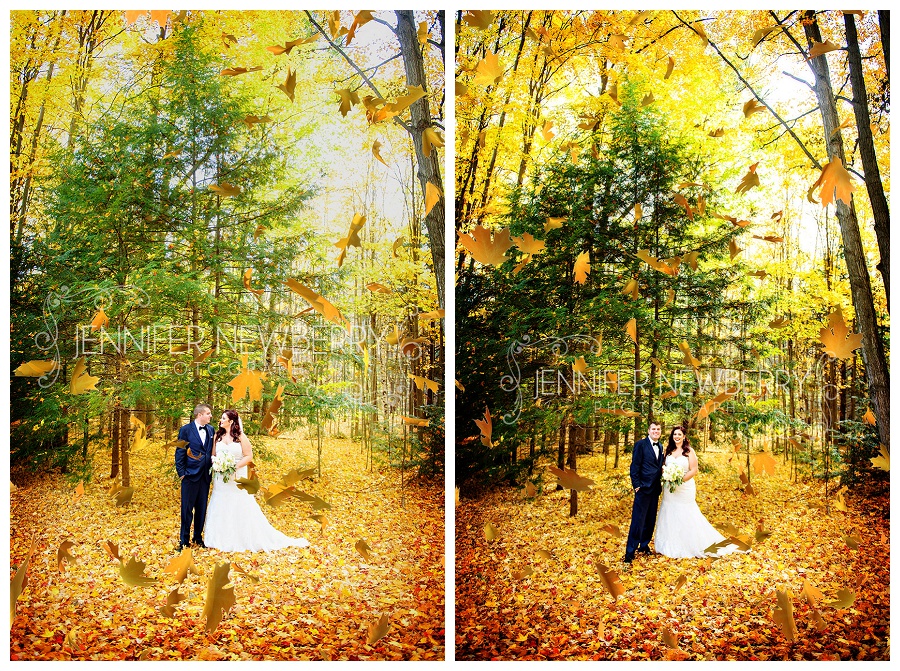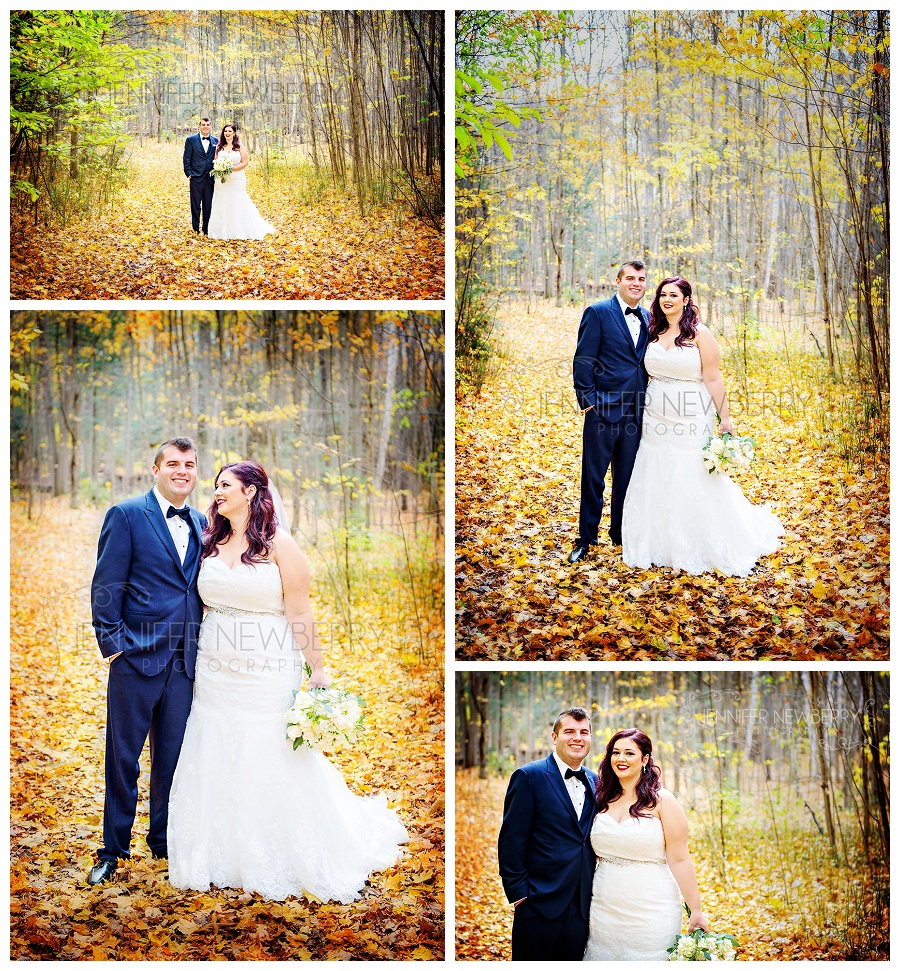 The forest floor completely covered in leaves was so awesome, and so pretty!

There were also longgggg raised boardwalks! This place is seriously a photographer's dream!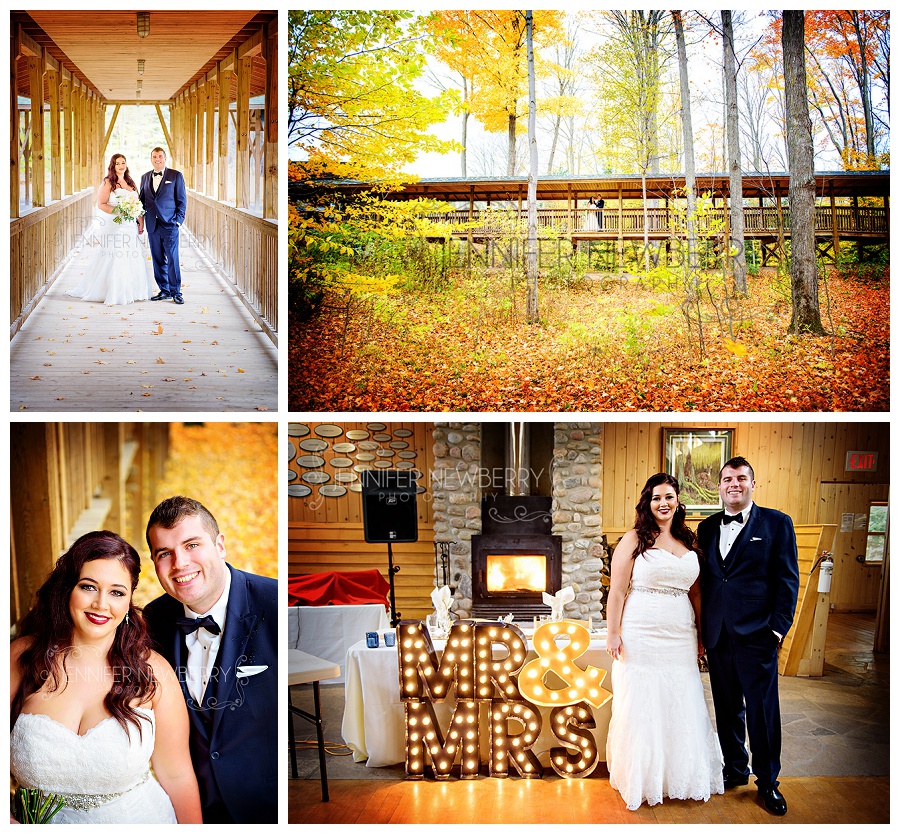 That "Mr. & Mrs." sign above that I know you're oogling, I'll talk about that in just a little bit 😉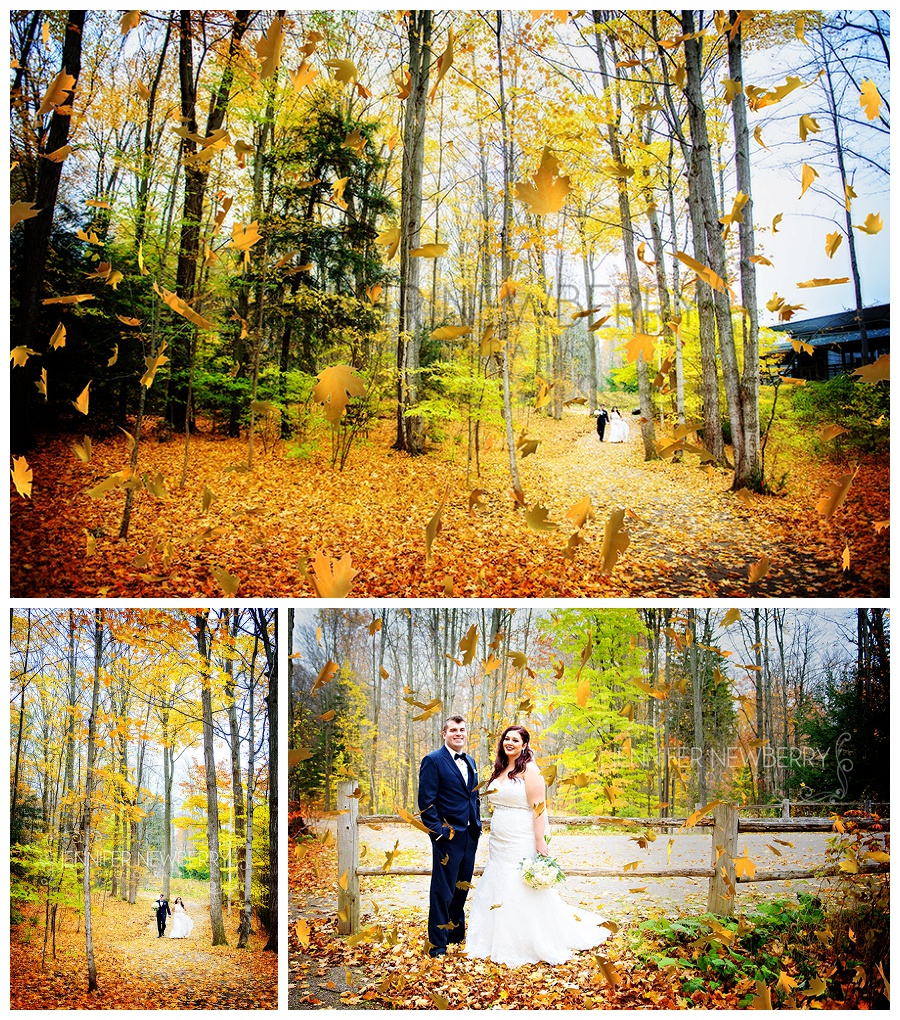 The gorgeous and wonderful wedding party! The girls even tried not to look too cold for me 😉 It was the end of October after all!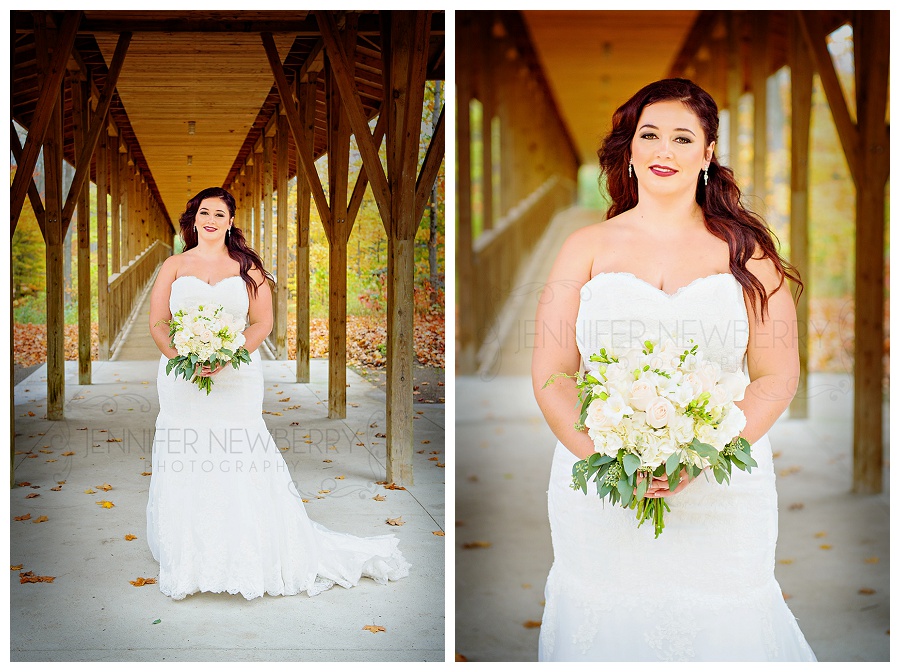 This is where the ceremony ended up being due to the rain. It was this awesome rustic little… cabin? Gazebo? I'm not sure what I would call it, so I'm going to call it a "structure". It was cozy and quaint (and dry!), and a perfect back-up ceremony location!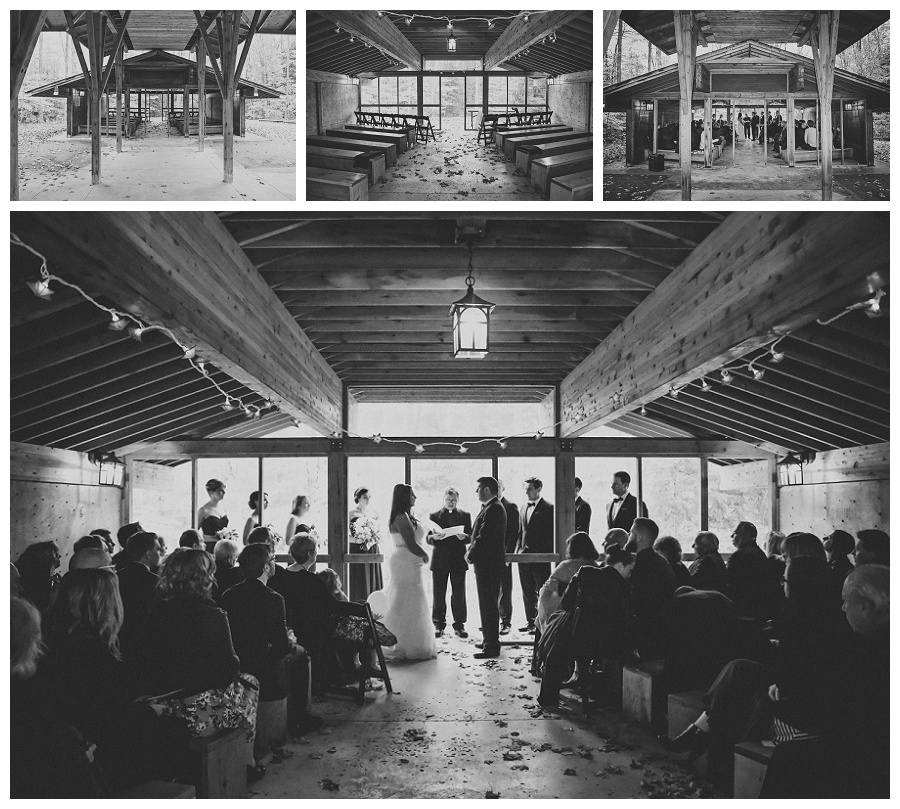 I was so delighted to see that as their cake topper, Nicole and Tyler had a sign that featured a phrase from one of my all-time favourite movies!!! The Princess Bride! Woo hoo!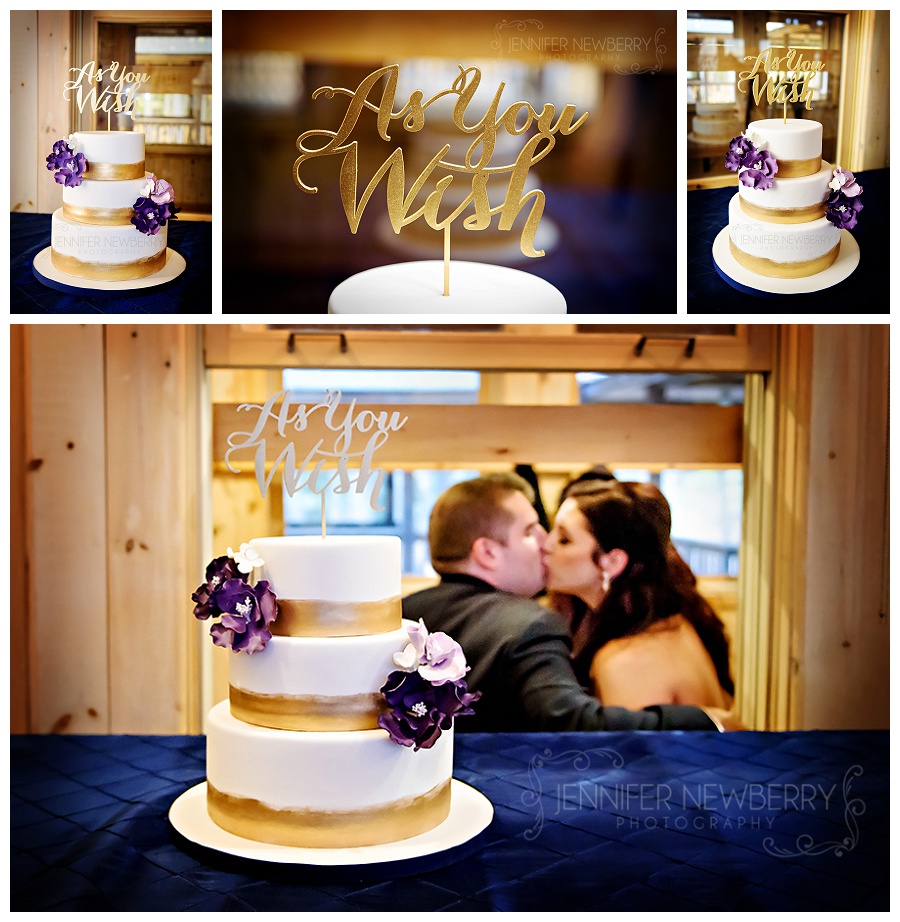 Earlier I said, that as Nicole and Tyler's Barrie wedding photographer, I would describe their Tiffin Centre wedding as a rustic autumn wedding with a bit of a Hollywood flare. And now I will explain why. First, you have the cake topper, of course. But all over the place they had framed quotes and phrases from famous celebrities and authors. It was such a fantastic little detail – I loved it!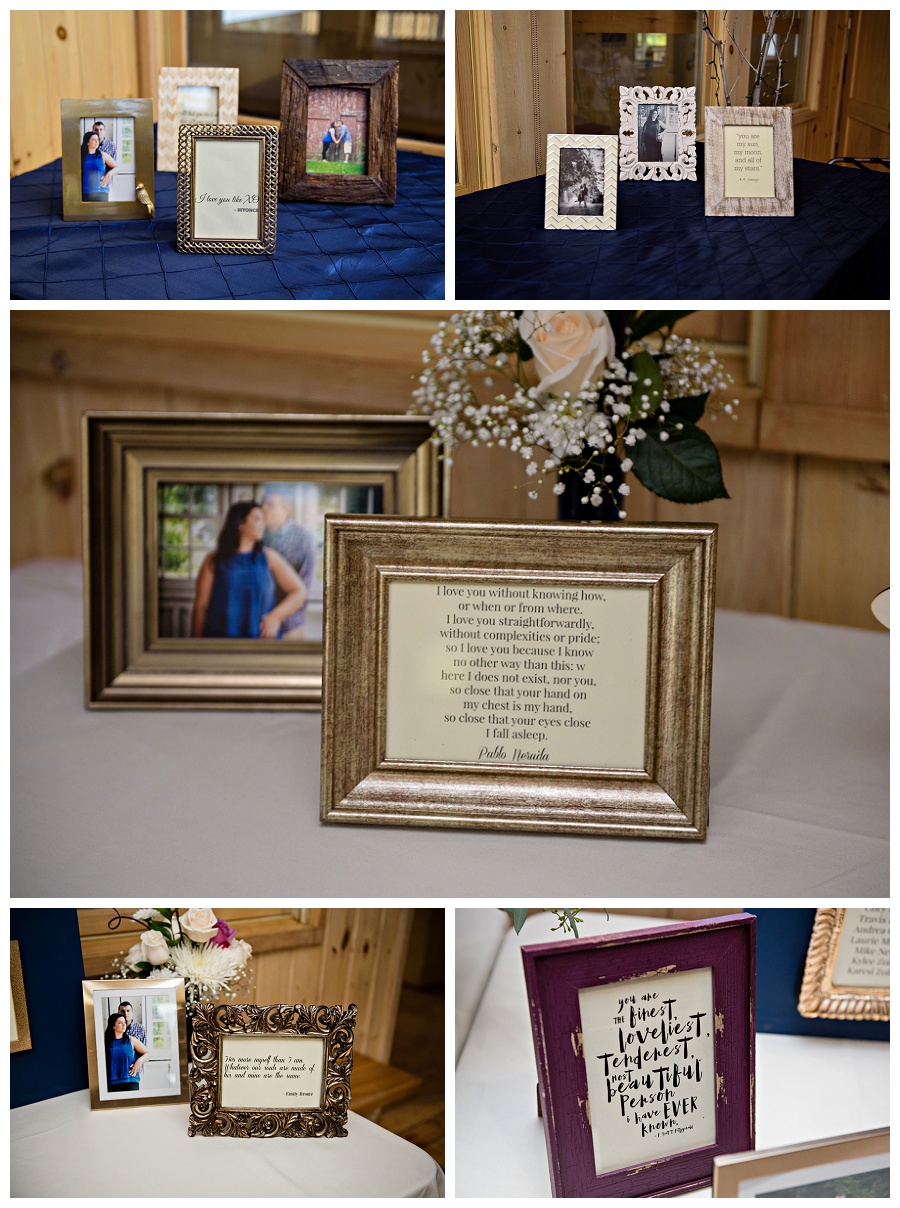 And of course "Mr & Mrs" was up in lights. More about that below!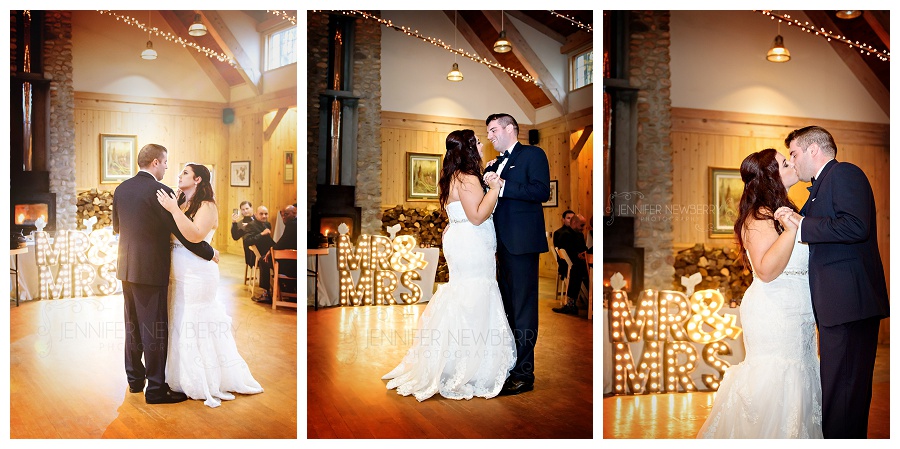 Turns out, Nicole is quite crafty! She did quite a number of DIY (do it yourself) crafts and things for her wedding. First, she took the flower girl's plain black shoes, and glittered them up with purple sparkles. She also made a "Flower Girl" tote for her niece, to carry around some books and other entertainment. She of course put up all those frames with photos of her and Tyler, and the famous quotes. But the MOST impressive of all, was Nicole MADE this Mr & Mrs sign! Yes, she MADE it. I couldn't believe it – it looked AMAZING! She saw these lit-up letters at a craft store, but they were $80 PER letter – pretty pricey! So, she took it upon herself to make them, using styrofoam, bristol board, and a string (or two) of lights. Pretty incredible if I do say so myself!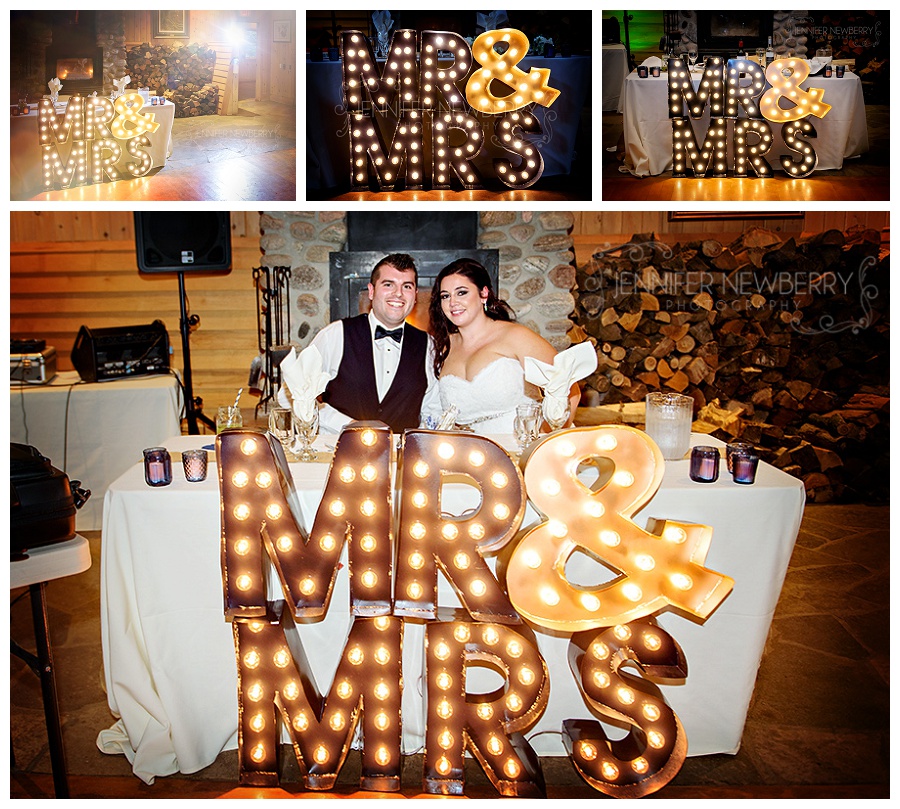 Congrats Nicole and Tyler!

To see more of Nicole and Tyler's Tiffin Centre wedding photos, watch the slideshow below! (If you can't see the slideshow below, click here.)


Ceremony & Reception venue: Tiffin Centre for Conservation
Caterer: Casal Catering
Florist: Elizabeth Hachey
Cake Artist: Melissa L'Abbe Cakes
Cake Topper: Better Off Wed
DJ: Coldoll Productions
Make-Up Artist: 3 Small Rooms
Hair Artist: 3 Small Rooms
Favours: The Sweet Oven
Invitations: Minted.com
Wedding dress boutique: David's Bridal
Bride's shoes: Christian Louboutin Paris
Bridesmaids dresses: Sophie's Gown Shoppe
Mens Attire: Freeman Formalwear
Officiant: Rev. Norm Munroe
Jeweler (wedding rings): Spence Diamonds
Bride's earrings: Swarovski
Photo Booth: Snapz Photo Booth
Limo: Barrie Executive Limousine
Bus for out-of-town guests: First Student Canada
Napkins & cups: Molly Hatch
Mr & Mrs lighted sign: DIY
Barrie wedding photographer: Jennifer Newberry Photography
---
Are you getting married? Looking for a Barrie wedding photographer? Get in touch to have me, Jennifer Newberry Photography, capture your wedding, whether it's in Barrie, Newmarket, Toronto, Waterloo, Hamilton, London, Muskoka, or beyond! I'd love to chat about your wedding plans!