People will often say to me "You must have so many beautiful photos of your kids!". – and yes, I do. But I have even MORE silly/bad pictures of my kids than nice ones.
As any photographer with kids knows, their own children are often the most difficult subjects for them to photograph. They have a camera shoved in their general direction SO often, that they're tired of smiling nicely and posing – that's boring! So, they goof off – frustrating photographer parents everywhere. If they DO happen to look in the general direction of the camera (which they love not doing), they will usually make a weird face. This is what photographer's call "Photographer's Child Syndrome".
To demonstrate what I mean, I did an experiment with my son. He will be 6 years old in a couple weeks. I started my photography business a couple years before he was born – and started learning about photography a few years before that. So he has been my involuntary photography subject since BIRTH.
I had him stand in front of a plain white background, and all I said was "Okay, smile!", and these were the results I got.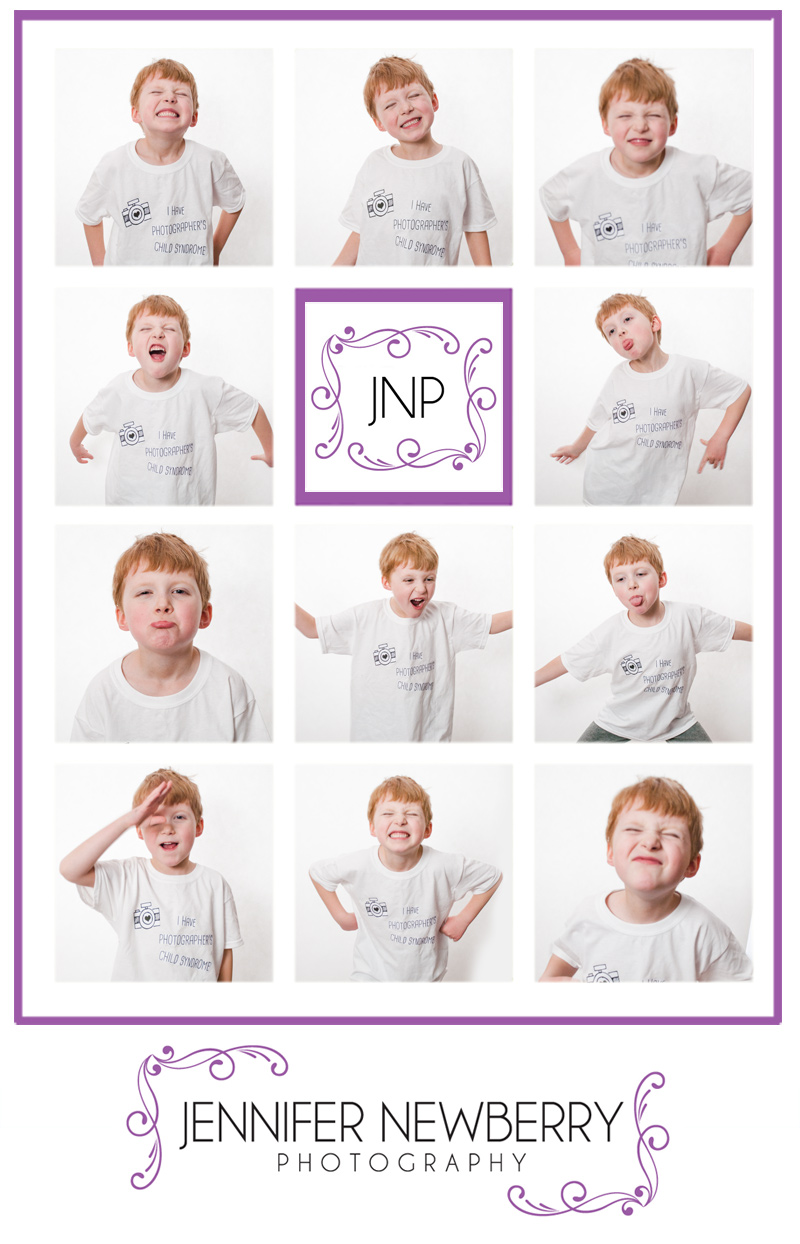 But I've found, if I wait long enough, eventually I'll get a decent shot.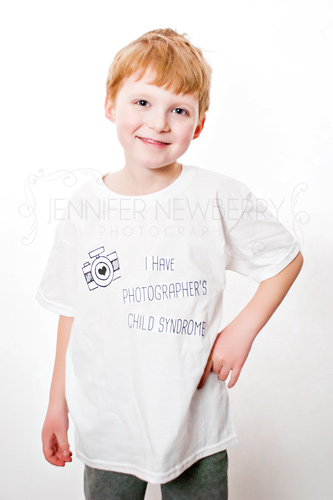 Here are my tips for photographing children who don't necessarily want to be photographed:
Don't have kids say "Cheese" for photos. Ever. Their automatic response is their phony smile, and you'll often get awkward photos like this.
Play with them! Play ball, play tag, have them purposely make silly faces (because right afterwards, they will laugh about it), and if all else fails: Fart noises.
Giving them something to do, distracts them from posing for photos, and the focus is more on having fun, and you'll get lots of natural smiles, laughs, and happy faces.
For example, my daughter is 4 years old, and she loves to dance, twirl, and run around for my camera. She loves when I capture her in motion, and I love how happy she is when she's doing it – so everybody wins!
If you want a specific background, the average toddler will NOT under any circumstances stand in front of it – but if they do, they won't face the camera. When working with toddlers it's much easier to take them outside, or let them play in a more natural environment. Let them roam and explore, and focus on what they're doing, what they're exploring, what they're playing with, their facial expressions, rather than the background.
Relax! If you are stressed out about trying to get a certain shot, the kids can feel that stress and they will not cooperate. Instead relax, have fun, and just let the images happen. It might not be the image you were imagining in your mind, but it will be an authentic capture of the child(ren) at that age.
Get down on their level. It can be intimidating for kids to have an adult, who is much taller than tham, point a camera in their face and expect them to perform. Get down on the floor, and play!
Sometimes, you just have to try again later. Maybe the kids are tired, busy, hungry, thirsty, distracted, feeling sick, or all of the above – trying to push doing photos never works out well in that situation. Just put the camera down, spend some time with them, and try again later when they seem to be in a better mood.
---
Looking for a Newmarket children's photographer? Get in touch to have me, Jennifer Newberry Photography, capture your family's moments, whether it's in Aurora, Newmarket, Toronto, Barrie, Waterloo, Hamilton, London, Muskoka, or beyond!
---
Newmarket Children's Photography by Newmarket Wedding Photographer, Jennifer Newberry
Jennifer Newberry Photography is anything but your average Newmarket children's photographer. Each wedding is treated with care and creativity not found with other Newmarket childrens photography studios. Your session is carefully crafted to offer one of a kind unique photography in the Newmarket, York Region and Toronto areas.
This is Newmarket wedding photography at its best. Jennifer Newberry Photography is an award winning photographer based in the Newmarket area. Offering wedding and event coverage in Newmarket, Aurora, Richmond Hill, Markham, Vaughan, Toronto and all of Southern Ontario, this wedding photography studio is one of the top studios in the area and is located right here in Newmarket.
Creative. Stylish. Award-winning. These are the words typically used to describe this Newmarket children's photographer. With clients based all over the world, Newmarket is home to this Newmarket children's photographer.
I take pride in offering my clients the type of Newmarket photography they are looking for. It's one thing to take pictures, it's another to create art for my clients.
My Newmarket clients are typically looking for artwork for their home vs. snapshots, and that is what draws them into my Newmarket photography studio.
Serving Newmarket, Aurora, Richmond Hill, Markham, Vaughan, Toronto and Beyond
Jennifer Newberry Photography offers Newmarket wedding photography coverage in the GTA, including but not limited to, Newmarket ON, Toronto ON, Barrie ON, Waterloo ON, London ON, Hamilton ON, Muskoka ON, and the surrounding areas.
Not looking for a Newmarket children's photographer? Please be sure to consider me for your event needs. I travel all over Southern Ontario!