Newmarket Family Photographer | Christmas Photos
Olive is My New BFF!
As most photographers know, kids the age of 2 are the hardest to photograph. Toddlers, for some reason incomprehensible to me, think that playing or having a snack or running away is much more fun then having their photo taken. I know, it's crazy talk, because I'm SUPER fun!
Well, as it turns out, Olive, who is my newest 2-year-old BFF, was INCREDIBLE during our photo session! She posed! She smiled! She looked at the camera! She… wait for it…. posed AND smiled AND looked at the camera, all at the same time!! It was pure magic. MAGIC I tell you!
Now, I can't take credit for the setup. I merely suggested that we do Louise & Jeff's family Christmas photos wearing their pajamas (Louise had bought them all matching PJs already), while sitting on their bed. All comfy-cozy, right? Well, Louise did an amazing job finding a Christmassy blanket to put on the bed, she had cookies and milk ready for props (and bribery, which we didn't even need!), she put lights up on the wall with some big bows and a star… that was all Louise! I must say she did an amazing job!
We started the photos off with just Olive, because she was very excited and ready to have her photo taken!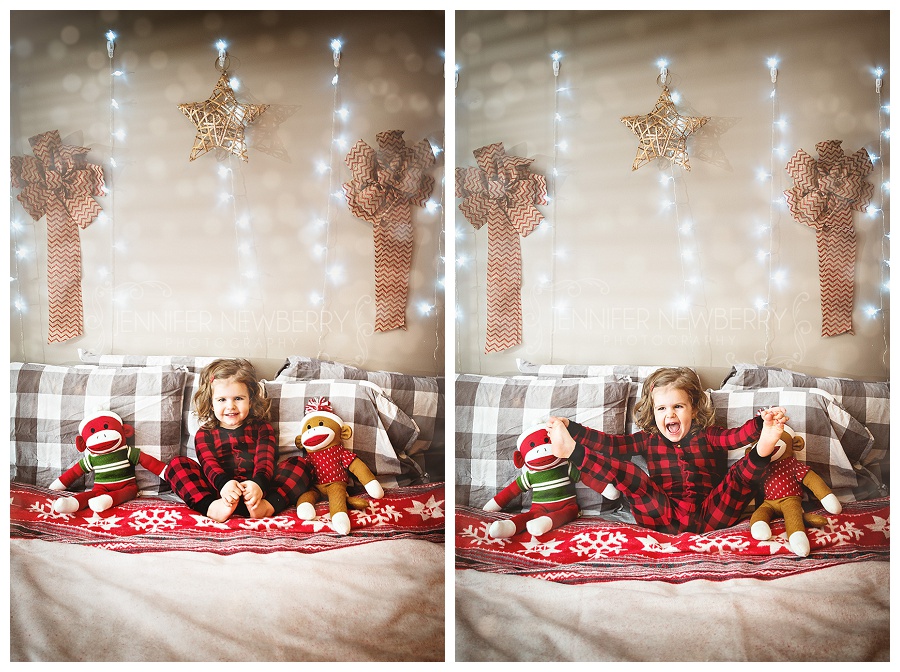 We then added Olive's new baby brother River (only 2 months old!). Olive is such an adorable big sister, she kept her arm around him to make sure he didn't fall, she kissed him, she hugged him, she pretended to read him a story for me, she did it all!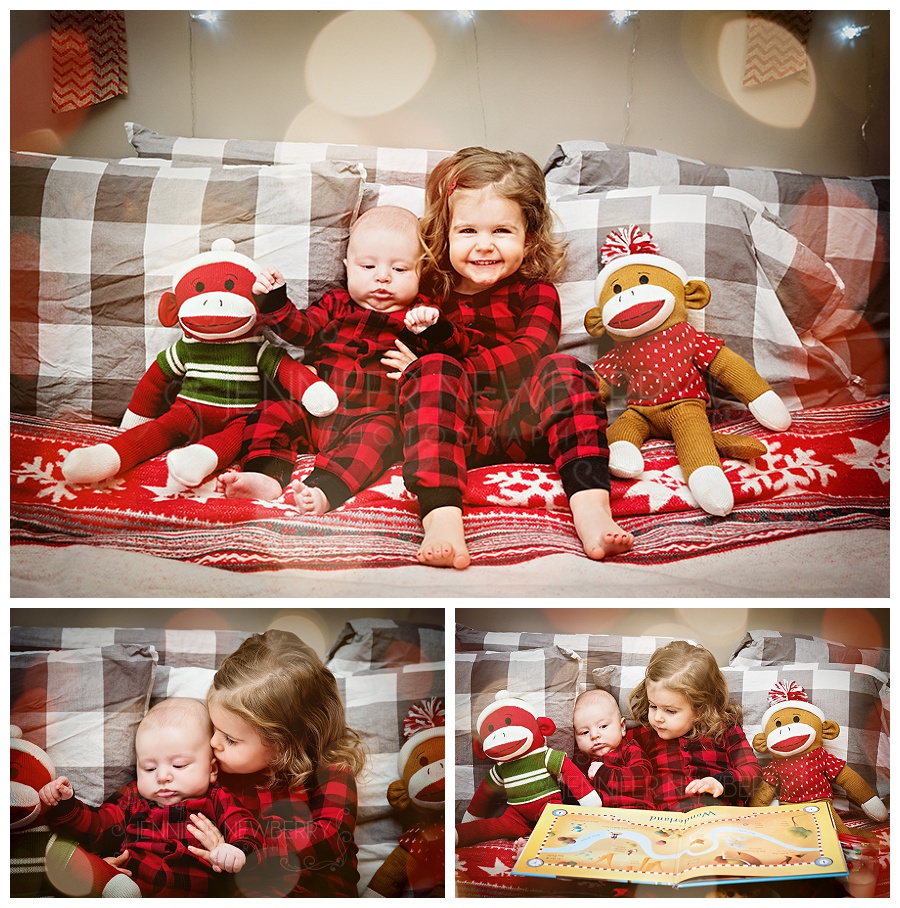 At this point, River got a little bit fussy, so Louise went to take care of him and I did some photos of Olive with her dad, Jeff. I'll be honest, when I saw the photos of Olive and Jeff, I thought to myself "Oh my, these are adorable. Uh oh, how can I get pictures as cute as this with Louise and Olive?! Every mom should have cute photos with her kids!!"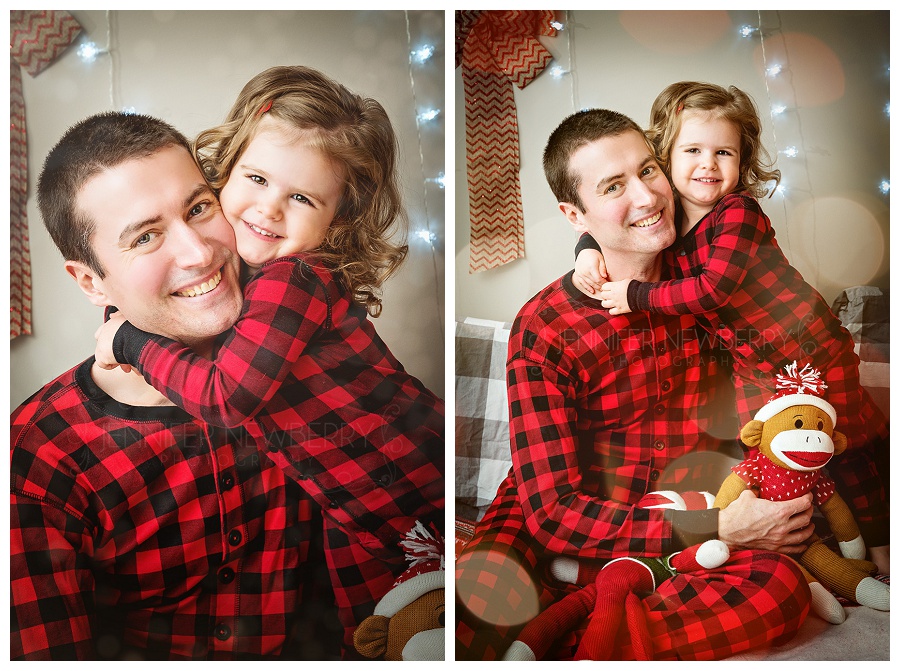 As I said earlier – MAGIC!! I WISH I had photos as adorable as these with my kids when they were 2!!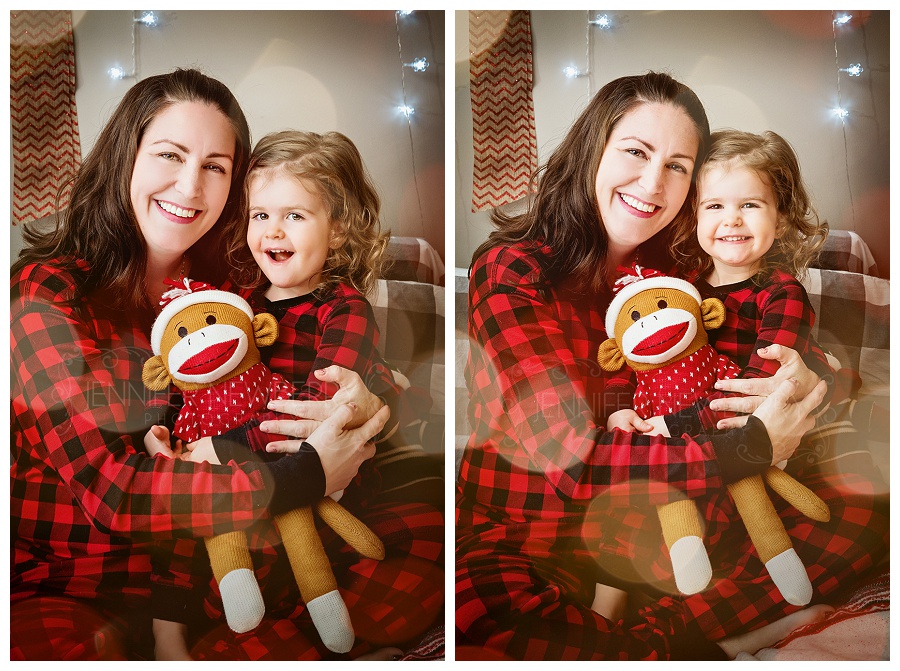 Last but not least, their lovely family photo. River wasn't really sure what was going on, but he was looking at the camera and not screaming so I call it a win. Besides, Olive was SO amazing I couldn't get over it!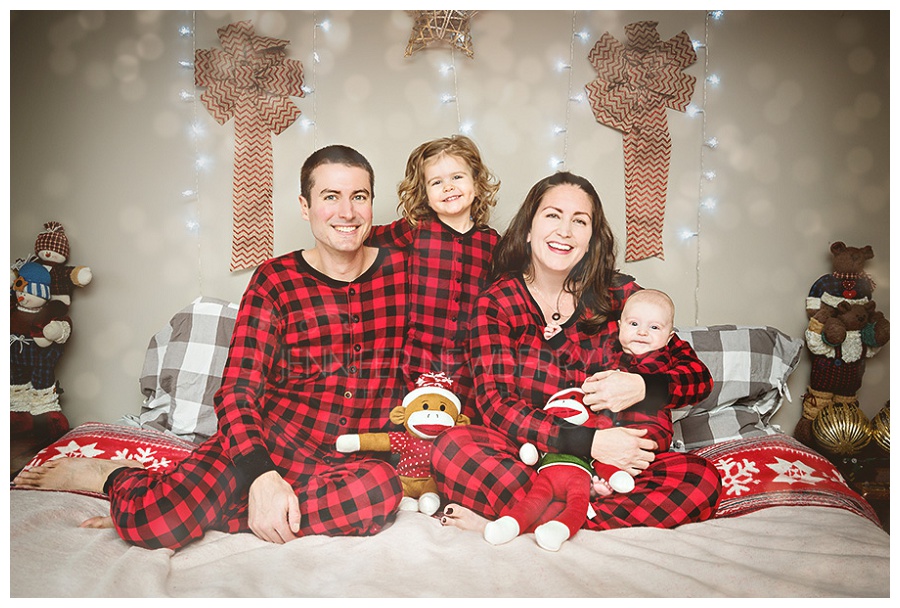 Louise and Jeff, it was SO awesome photographing your beautiful family again! Until next time! 🙂
---
Are you getting married? Looking for a Newmarket wedding photographer? Get in touch to have me, Jennifer Newberry Photography, capture your wedding, whether it's in Aurora, Newmarket, Toronto, Barrie, Waterloo, Hamilton, London, Muskoka, or beyond! I'd love to chat about your wedding plans!
---
Newmarket Family Christmas Photography by Newmarket Family Photographer, Jennifer Newberry
Jennifer Newberry Photography is anything but your average Newmarket family photographer. Each wedding is treated with care and creativity not found with other Newmarket family photography studios. Your wedding day is carefully crafted to offer one of a kind unique photography in the Newmarket, York Region and Toronto areas.
This is Newmarket family photography at its best. Jennifer Newberry Photography is an award winning photographer based in the Newmarket area. Offering photographic coverage in Newmarket, Aurora, Richmond Hill, Markham, Vaughan, Toronto and all of Southern Ontario, this wedding photography studio is one of the top studios in the area and is located right here in Newmarket.
Creative. Stylish. Award-winning. These are the words typically used to describe this Newmarket family photographer. With clients based all over the world, Newmarket is home to this Newmarket family photographer.
I take pride in offering our clients the type of Newmarket wedding photography they are looking for. It's one thing to take pictures, it's another to create art for my clients.
Our Newmarket clients are typically looking for artwork for their home vs. snapshots, and that is what draws them into our Newmarket family photography studio.
Serving Newmarket, Aurora, Richmond Hill, Markham, Vaughan, Toronto and Beyond
Jennifer Newberry Photography also offers Newmarket wedding photography coverage in the GTA, including but not limited to, Newmarket ON, Toronto ON, Barrie ON, Waterloo ON, London ON, Hamilton ON, Muskoka ON, and the surrounding areas.
Not looking for a Newmarket family photographer? Please be sure to consider me for your event's photographic needs, I travel all over Southern Ontario!