Newmarket Cake Smash Photographer
Louise's 40th Birthday Cake Smash
During Louise's 40th birthday cake smash photo session, she asked me how long it's been since we've known each other – since I did her very first photoshoot with her dogs, for my first Dog Day fundraiser. So, I decided to look it up! Turns out Louise, the day we met was January 29th, 2012 – over 8 years ago! (We have an anniversary! Awwww). I was actually surprised we haven't made it to 10 years yet, I feel like I've known Louise (and now, her family) forever!

In the 8 years that I've known Louise, we've done (and I just went through all my backup files and counted) 15 photo sessions together. It feels like so much more though because I also edit a lot of photos Louise herself takes (yes, I offer photo editing services as well! *toothpaste smile*). But yes 15 photo sessions is about right, as most years we do bi-annual photoshoots… and we've only done one this year… SO FAR…. 😉

Two or three years ago, Louise mentioned that she wanted to do a cake smash for her 40th birthday. I told her sure, but I didn't know if I would be doing photography still in 10 years, that's a long way away to be planning. Turns out, Louise looks SUPER young, and to this day my daughter still thinks she's in her 20's 😉

Part of her birthday photoshoot was done at her home, with her family, her cats (who did NOT wear party hats! 🙁 ), and her gorgeous, hilarious children. The other part was done at Crossfit Newmarket – those photos may appear in a separate blog post, if Louise lets me post them 🙂

And so, to my dear friend, my long-time client, the mother of my little photo BFFs, and just all around wonderful human being, I say to you…
HAPPY BIRTHDAY LOUISE!!!!!!!!!!
I'm so glad I could bring your vision to life! We always have so much fun during our photoshoots, and always laugh pretty hard too. Good times! Fun sidenote: This is our 4th cake smash we've done together, after Olive, River, and of course, Dryfuss! 😉 (I didn't actually shoot Dryfuss' cake smash, Louise did, and then I did all the editing, but I'm still counting it. 😀 )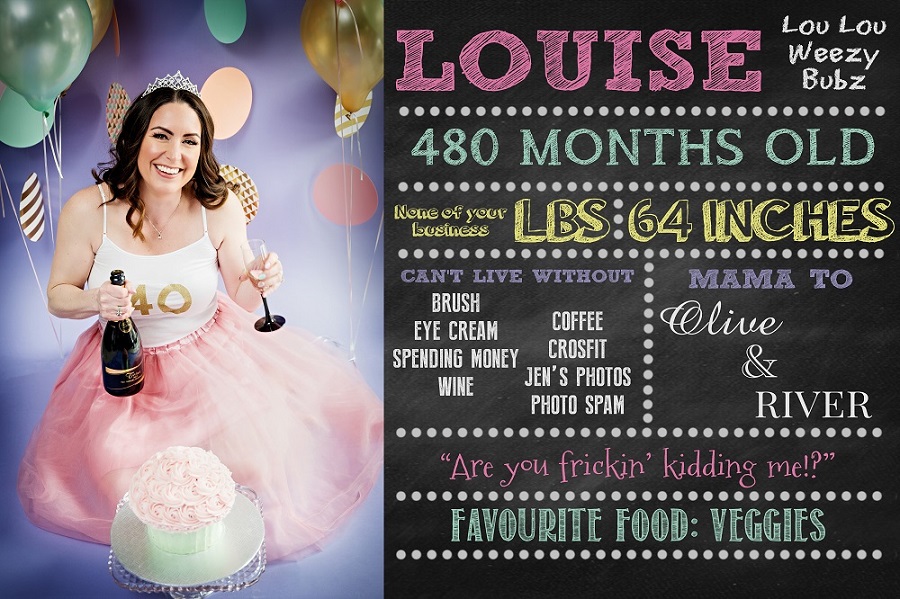 ---
Having a birthday celebration? Looking for a Newmarket cake smash photographer? Get in touch to have me, Jennifer Newberry Photography, capture your wedding, whether it's in Newmarket, Aurora, Richmond Hill, Toronto, Barrie, Waterloo, Hamilton, London, Muskoka, or beyond! I'd love to chat about your birthday plans!