Peyton's 1st Birthday Party
It was a beautiful sunny day outside for Peyton's first birthday party in Shelburne, Ontario. It was mostly an outdoor party, and Peyton's mother Heather planned a lot of fun activities for the kids! There was not only a princess bouncy castle, but also an inflatable jousting arena, a big inflatable waterslide/pool, and a little "fishing pond".

Peyton, in her adorable custom-made onesie and tutu, wandered around exploring all the activities and was greeted by her family and friends.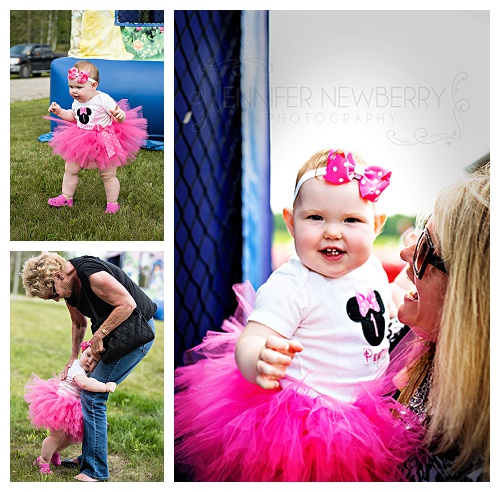 We did lots of family photos with Peyton's parents and grandparents. The one below is one of my favourites of Peyton with her parents!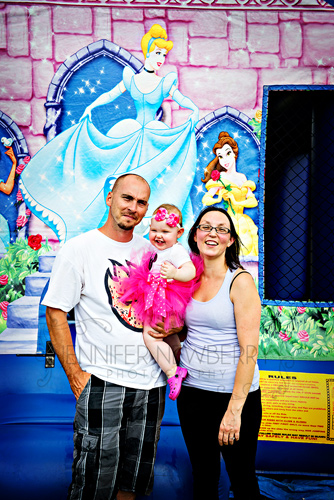 All the kids enjoyed the Fish Pond activity. Peyton thought that just reaching in and grabbing the fish was much easier than using the fishing pole!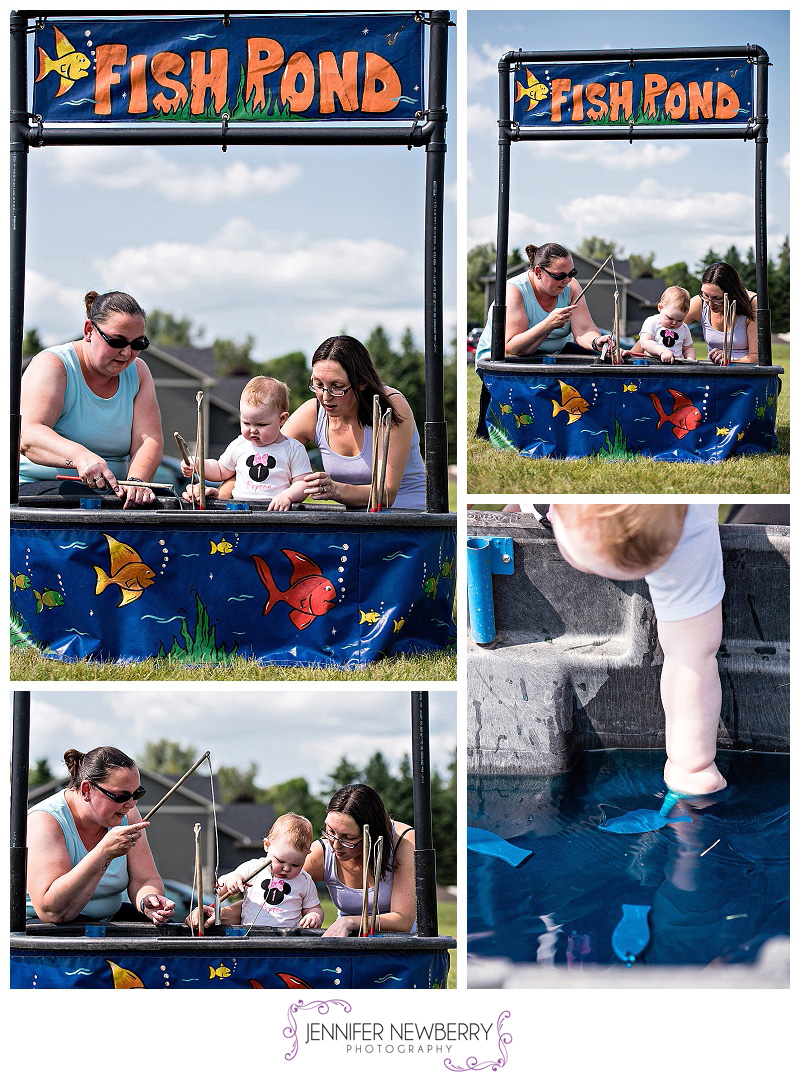 Kids and adults alike made use of the jousting arena! The boys used it as a watergun and jumping arena, while the adults used it for it's intended purpose – jousting! Peyton's dad went undefeated, making him the ultimate jousting champion of the day!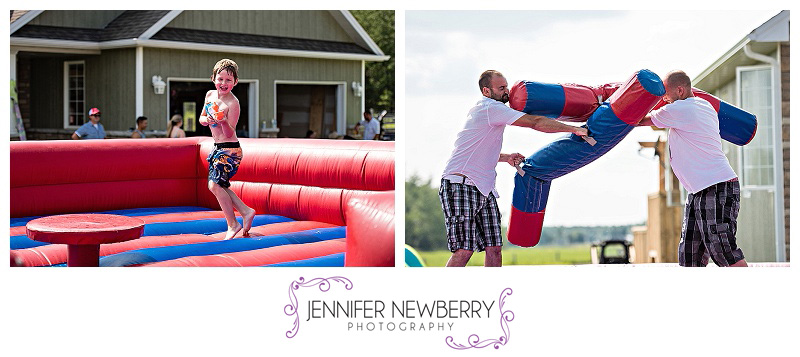 Peyton had a Minnie Mouse themed birthday party, so it was only fitting that she have Minnie Mouse cupcakes! They were SO cute, and very well-done!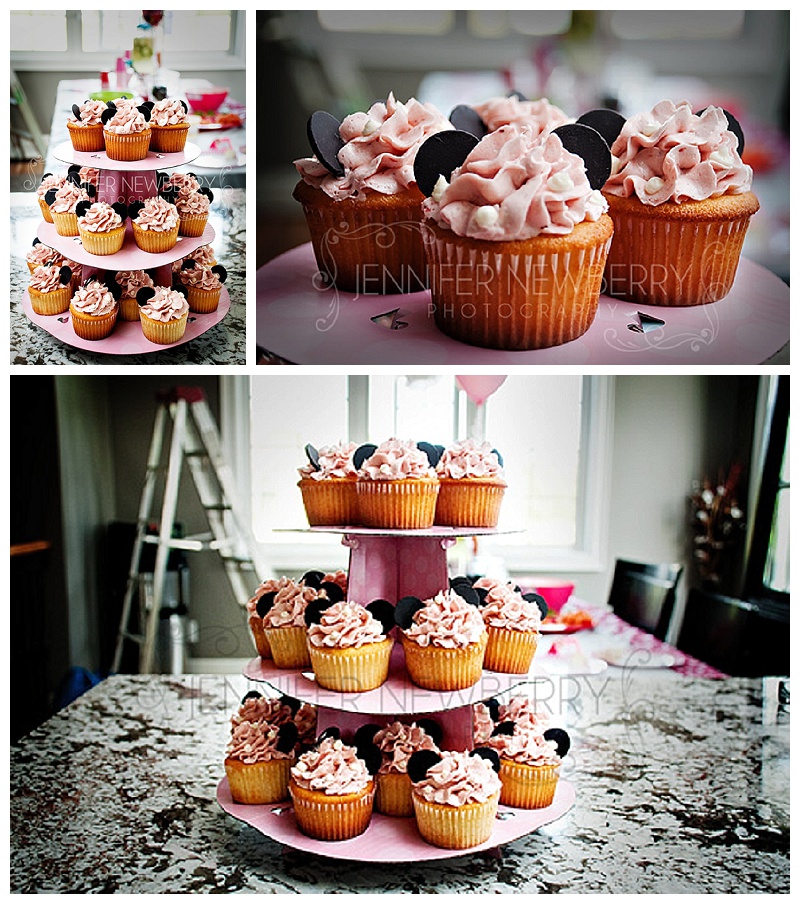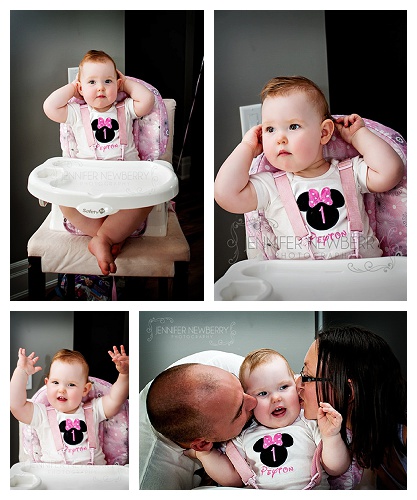 Peyton wasn't totally sure about the cupcakes, but I did find out that she just LOVES Taylor Swift's "Shake It Off" song and music video. (My 5-year-old daughter is a big Taylor Swift fan too!)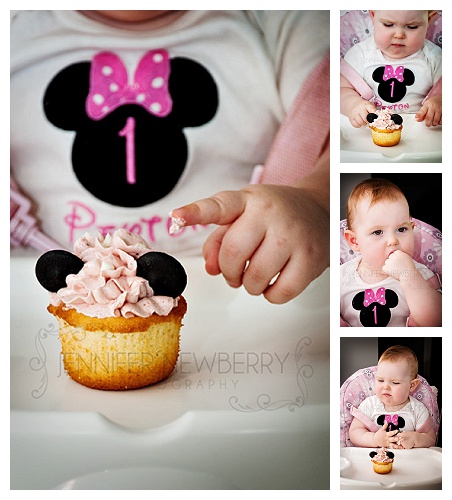 All in all, it was a great party and I think everyone had a lot of fun! See the slideshow below for more images from Peyton's 1st birthday party!
Happy 1st Birthday Peyton!
---
Are you having a party? Looking for a party photographer? Get in touch to have me, Jennifer Newberry Photography, capture your event, whether it's in Shelburne, Aurora, Newmarket, Toronto, Barrie, Waterloo, Hamilton, London, Muskoka, or beyond! I'd love to chat about your event plans!
---
Shelburne Event Photography by Newmarket Wedding Photographer, Jennifer Newberry
Jennifer Newberry Photography is anything but your average event photographer. Each event is treated with care and creativity not found with other Newmarket event photography studios. Your event is prepared for, to offer one of a kind unique photography in the Newmarket, York Region and Toronto areas.
This is Shelburne birthday party photography at its best. Jennifer Newberry Photography is an award winning photographer based in the Newmarket area. Offering wedding and event coverage in Shelburne, Newmarket, Aurora, Richmond Hill, Markham, Vaughan, Toronto and all of Southern Ontario, this wedding and event photography studio is one of the top studios in the area and is located right here in Newmarket.
Creative. Stylish. Award-winning. These are the words typically used to describe this Newmarket wedding and event photographer. With clients based all over the world, Newmarket is home to this Newmarket wedding and event photographer.
I take pride in offering our clients the type of Newmarket event photography they are looking for. It's one thing to take pictures, it's another to create art for my clients.
Our Newmarket clients are typically looking for artwork for their home vs. snapshots, and that is what draws them into our Newmarket wedding photography studio.
Serving Newmarket, Aurora, Richmond Hill, Markham, Vaughan, Toronto and Beyond
Jennifer Newberry Photography offers Newmarket wedding photography coverage in the GTA, including but not limited to, Shelburne ON, Newmarket ON, Toronto ON, Barrie ON, Waterloo ON, London ON, Hamilton ON, Muskoka ON, and the surrounding areas.
Not looking for a Shelburne event photographer? Please be sure to consider me for your family photography needs in the Newmarket area.