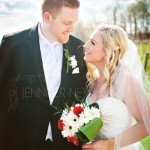 Jamie and Cory met in Thunder Bay at Lakehead University. Cory's roommate lived on Jamie's street growing up, and he introduced them at a dinner at Boston Pizza with a group of mutual friends. The whole time, Jamie couldn't stop staring at the good looking guy at the other end of the table. And Cory was just thrilled that Jamie wasn't crazy – and he was very intrigued by her. From there, they went on their first date at Starbucks, and less than 2 months ago they were married!
There was a standing statement that Cory would propose before he bought a new truck. Cory went out and rented a brand new truck, and told Jamie that he had bought it! Then, he took Jamie and their dog Bear to the Pinnery Walking Trail in Alliston. They walked to a clearing with a beach (except it was during the winter). As Cory proposed, Jamie dropped Bear's leash, and the dog took off onto the frozen river. Jamie then proceeded to ask "So… we don't get to keep the truck?" – but the answer to Cory's proposal was Yes!
Jamie and Cory's wedding was SO much fun, and it was filled with great friends, family and food. Everyone had a great time – including me! Here are a few of my favourite photos from their fantastic wedding day! (I have a lot of favourites, so it was hard to narrow these down!)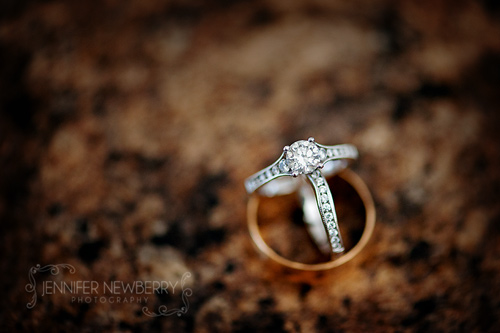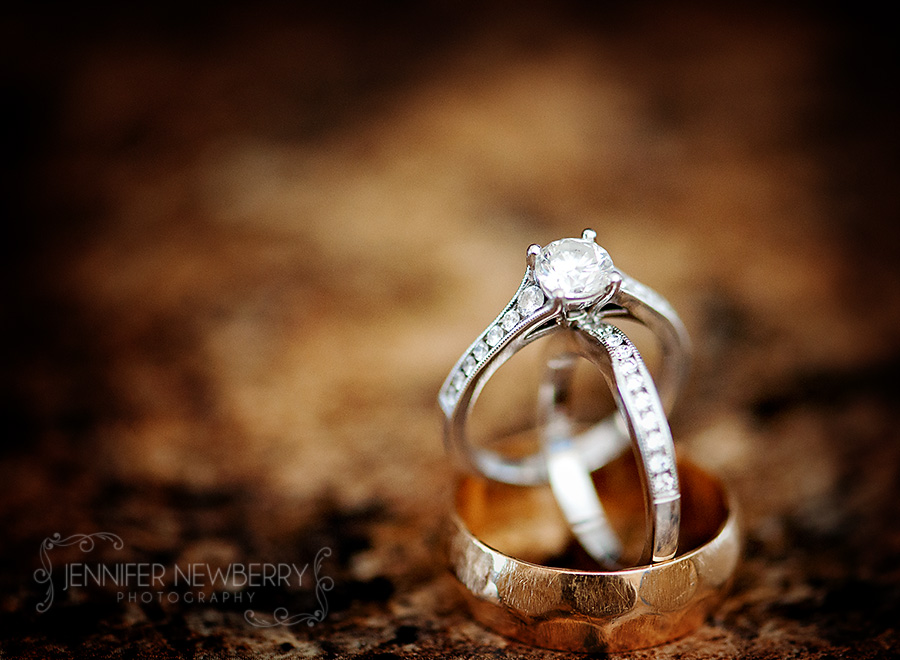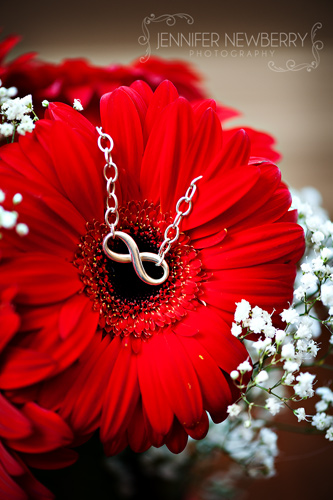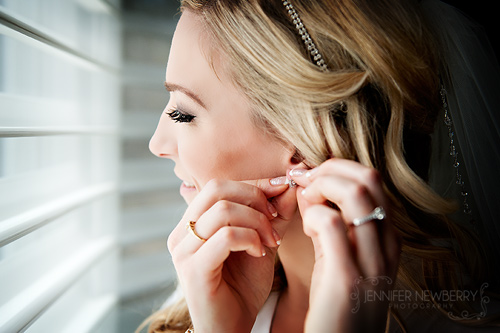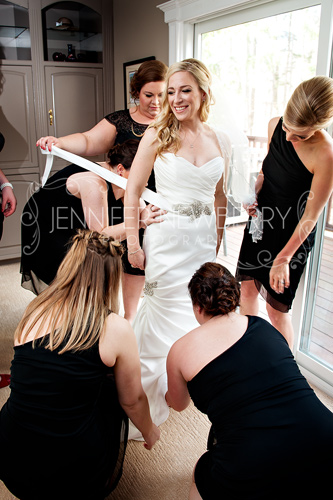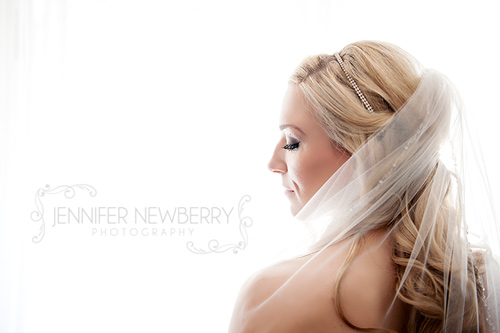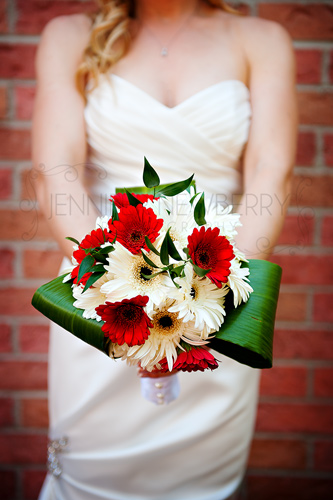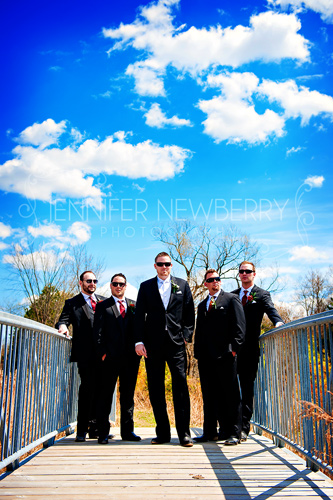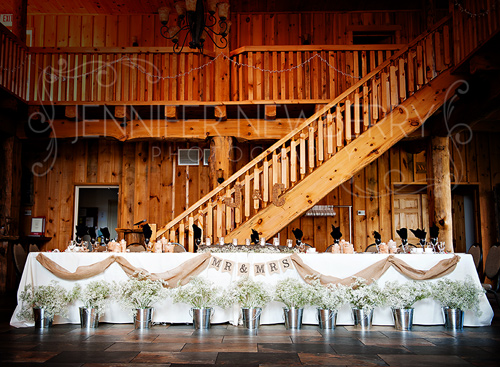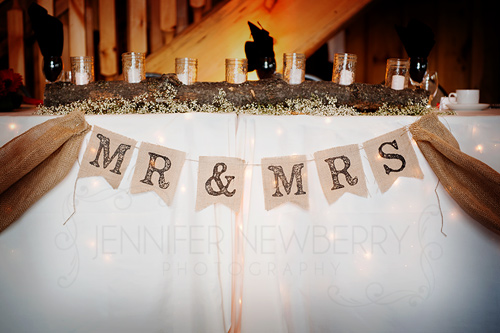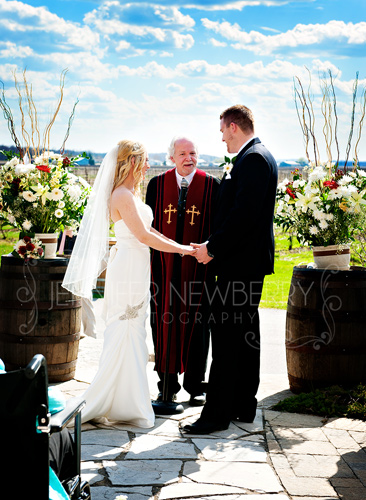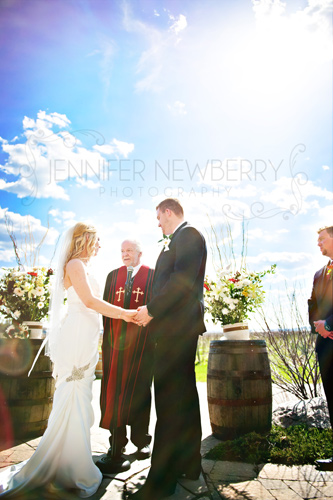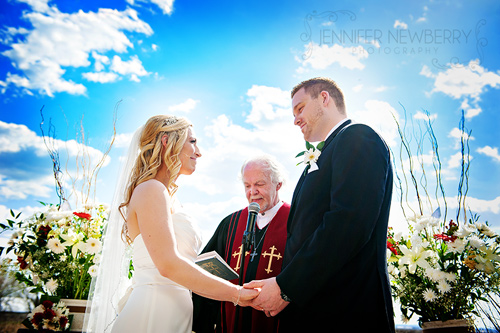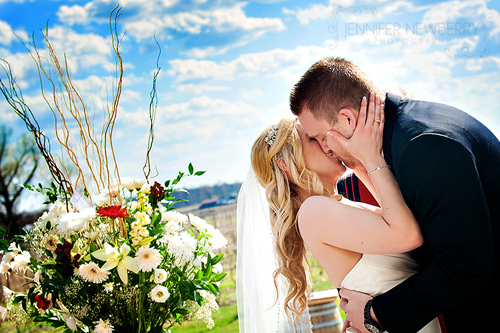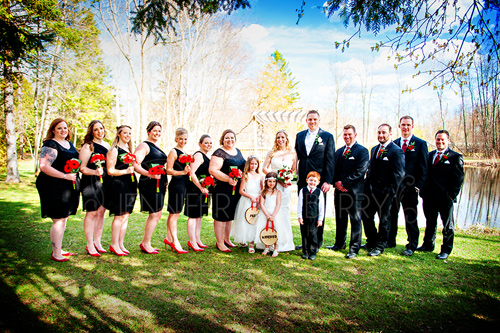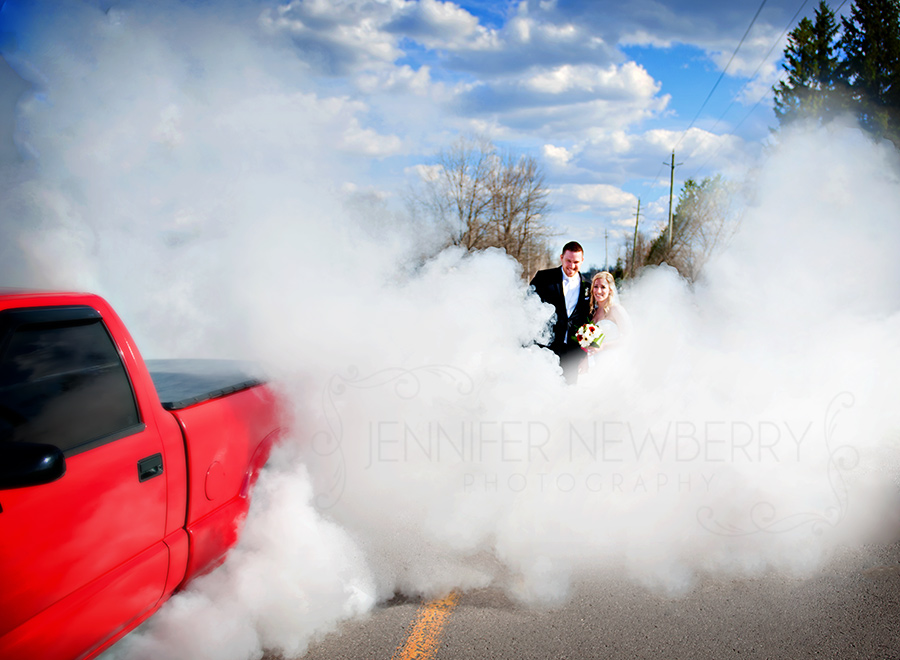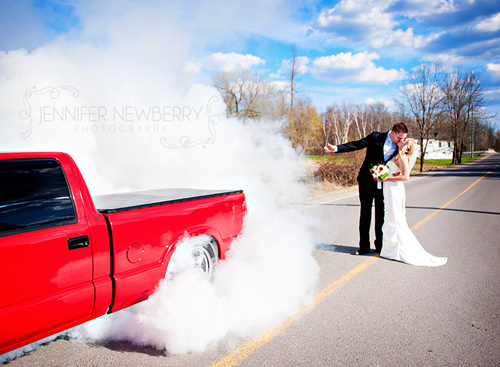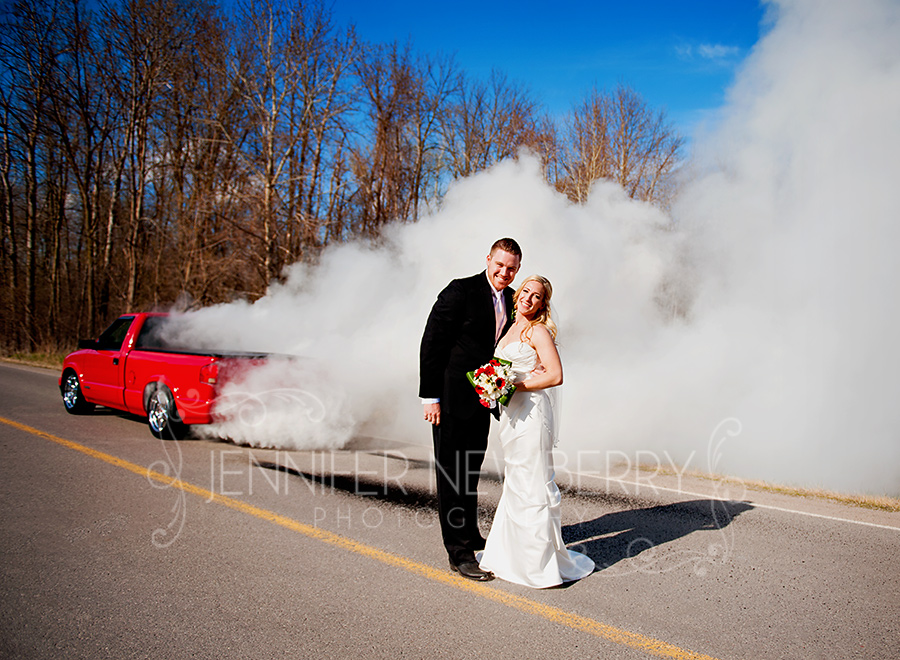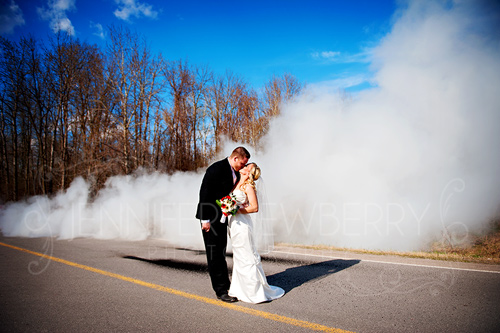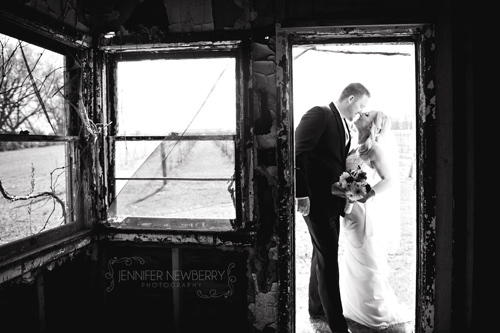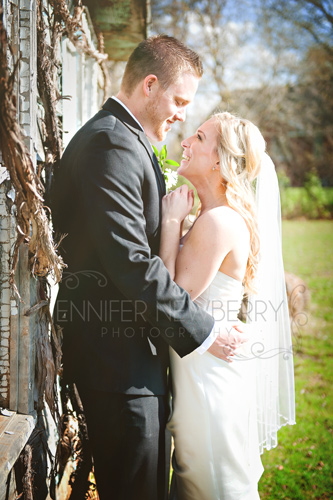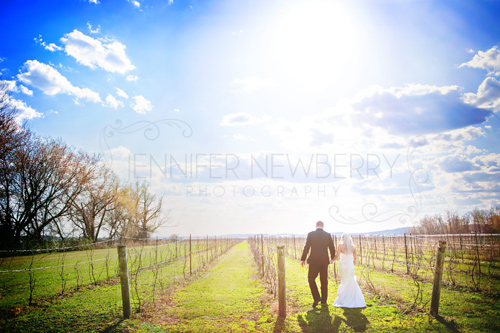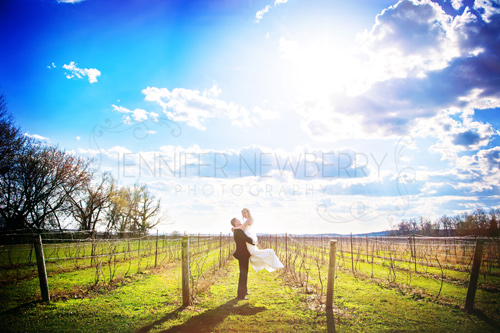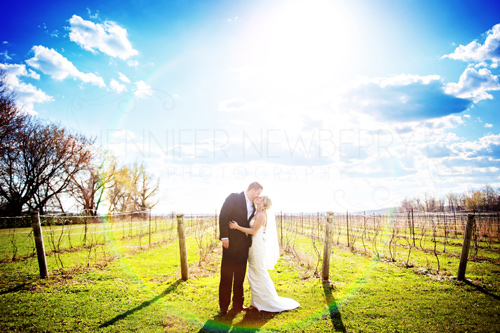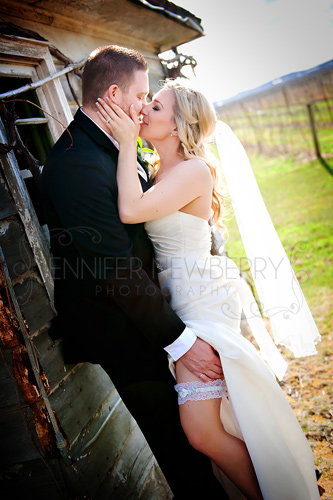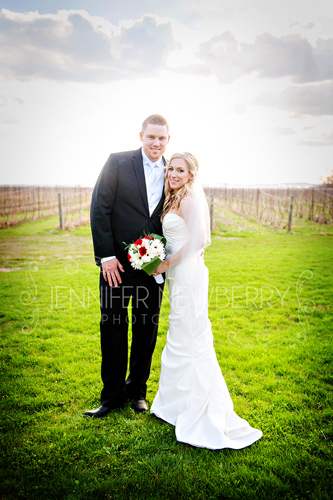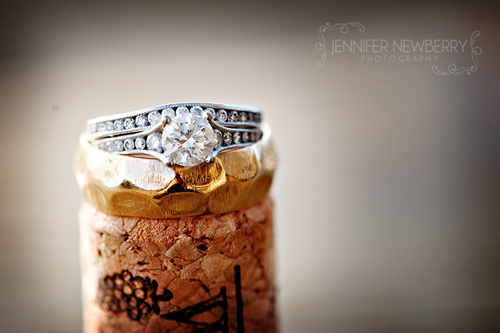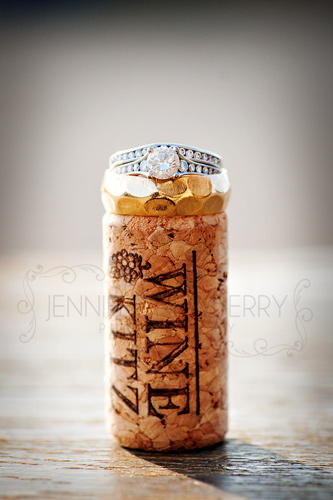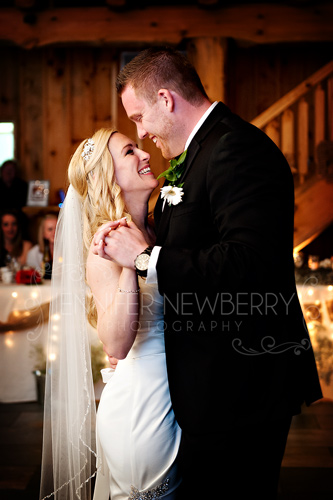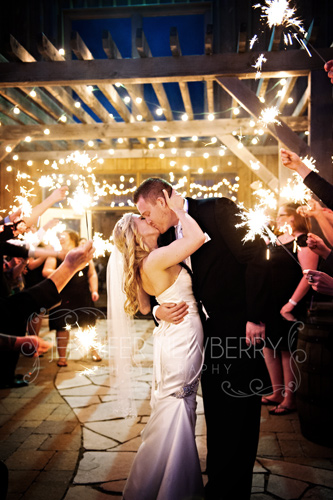 To view more images from Jamie and Cory's wedding, see the slideshow below! 🙂


Other vendors who made Jamie & Cory's day awesome!
Venue: Holland Marsh Wineries
Caterer: O'Malley's Catering
Videographer: Jeremy Burgess
Florist: Lindsay Whiting (Bride's sister)
Cake Artist: Treat Yourself Cakes
DJ: Almost Famouz
Makeup Artist: Maria Mohabir
Hair Artist: Becoming Hair Studio
Favours: The couple made a donation to the Canadian Cancer Society
Invitations: Write It Out Loud
Wedding dress: Elmwood Brides
Bridesmaids dresses: Le Chauteau & Laura Plus
Mens' tuxes: Moores
Limo: Aurora Stars Limousine
Officiant: Blair Corcoran (bride's uncle)
---
Are you getting married? Looking for a Newmarket wedding photographer? Get in touch to have me, Jennifer Newberry Photography, capture your wedding, whether it's in Newmarket, Toronto, Barrie, Waterloo, Hamilton, London, Muskoka, or beyond! I'd love to chat about your wedding plans!
---
Holland Marsh Wineries Wedding Photography by Newmarket Wedding Photographer, Jennifer Newberry
Jennifer Newberry Photography is anything but your average Newmarket wedding photographer. Each wedding is treated with care and creativity not found with other Newmarket wedding photography studios. Your wedding day is carefully crafted to offer one of a kind unique photography in the Newmarket, York Region and Toronto areas.
This is Newmarket wedding photography at its best. Jennifer Newberry Photography is an award winning photographer based in the Newmarket area. Offering wedding coverage in Newmarket, Aurora, Richmond Hill, Markham, Vaughan, Toronto and all of Southern Ontario, this wedding photography studio is one of the top studios in the area and is located right here in Newmarket.
Creative. Stylish. Award-winning. These are the words typically used to describe this Newmarket wedding photographer. With clients based all over the world, Newmarket is home to this Newmarket wedding photographer.
I take pride in offering our clients the type of Newmarket wedding photography they are looking for. It's one thing to take pictures, it's another to create art for my clients.
Our Newmarket clients are typically looking for artwork for their home vs. snapshots, and that is what draws them into our Newmarket wedding photography studio.
Serving Newmarket, Aurora, Richmond Hill, Markham, Vaughan, Toronto and Beyond
Jennifer Newberry Photography offers Newmarket wedding photography coverage in the GTA, including but not limited to, Newmarket ON, Toronto ON, Barrie ON, Waterloo ON, London ON, Hamilton ON, Muskoka ON, and the surrounding areas.
Not looking for a Newmarket wedding photographer? Please be sure to consider me for your family photography needs in the Newmarket area.