A Look at Carina and Jamie's Cardinal Golf Club Wedding
In my last post, I said I'd be going through some of my 2012 weddings, so here is another one!
I can't say enough good things about Carina and Jamie – I don't even know where to start! They are so loving, caring, and respectful towards not only one another, but towards their daughters, their friends, their dog, and probably most people they meet. They are friendly and genuinely care about others.
Their kids are about the same ages as mine (2 and 3), and Carina was not stressed out AT ALL about how they would behave at the wedding. No anxiety, nothing – at least not that anyone could tell. That just blew my mind! She was relaxed, happy and laid back! I can tell you right now, if it were me I would be SO stressed out about my kids misbehaving, and especially about them behaving and posing nicely for my wedding photos – but not Carina and Jamie. They just let kids be kids (and they can teach all us parents a lesson or two I think!), and there was NO tension or stress during their wedding day at all! (For those of you wondering, we did get some great family photos with their daughters – not shown here as requested by the couple.)
Their wedding was absolutely perfect! We had nice weather, a fantastic wedding party, great venues that were all very organized…. I said that I couldn't say enough good things right? Well, it's true!
I think I will just let you see their slideshow and let you see for yourselves how fantastic their wedding day was! I am so happy that I got to be a part of it!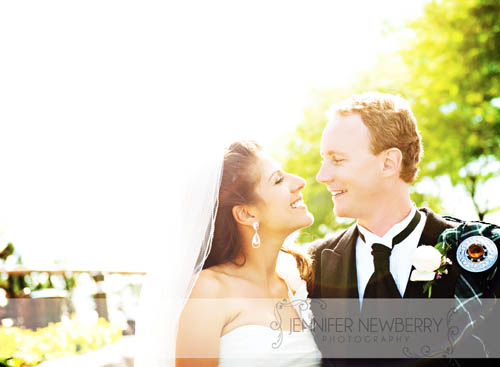 (For those of you who subscribe to my blog via email, I know sometimes the embedded videos don't come through, so if you can't see the slideshow below, click here.)
Ceremony venue: Trinity United Church, Newmarket
Reception venue: Cardinal Golf Club, King/Kettleby
Cake Artist: Cakes by Celia
Makeup Artist: Nichole B.
DJ: Stage One Sound
Caterer: Cardinal Golf Club
Wedding dress: "Style 1218" by Angelina Faccenda
Bridesmaids dresses: Sears

---
Newmarket Wedding Photography by Newmarket Wedding Photographer, Jennifer Newberry
Jennifer Newberry Photography is anything but your average Newmarket wedding photographer. Each wedding is treated with care and creativity not found with other Newmarket wedding photography studios. Your wedding day is carefully crafted to offer one of a kind unique photography in the Newmarket, York Region and Toronto areas.
This is Newmarket wedding photography at its best. Jennifer Newberry Photography is an award winning photographer based in the Newmarket area. Offering wedding coverage in Newmarket, Aurora, Richmond Hill, Markham, Vaughan, Toronto and all of Southern Ontario, this wedding photography studio is one of the top studios in the area and is located right here in Newmarket.
Creative. Stylish. Award-winning. These are the words typically used to describe this Newmarket wedding photographer. With clients based all over the world, Newmarket is home to this Newmarket wedding photographer.
I take pride in offering our clients the type of Newmarket wedding photography they are looking for. It's one thing to take pictures, it's another to create art for my clients.
Our Newmarket clients are typically looking for artwork for their home vs. snapshots, and that is what draws them into our Newmarket wedding photography studio.
Serving Newmarket, Aurora, Richmond Hill, Markham, Vaughan, Toronto and Beyond
Jennifer Newberry Photography offers Newmarket wedding photography coverage in the GTA, including but not limited to, Newmarket ON, Toronto ON, Waterloo ON, London ON, Hamilton ON, and the surrounding areas.
Not looking for a Newmarket wedding photographer? Please be sure to consider me for your family photography needs in the Newmarket area.