I don't like the term "retouching". It suggests the photo has been "touched" before, and is now being "re" touched. I don't know. Editing just seems like a better term, so that's what I'm using 😉
Today my kids and I were in the backyard, and one of our cats was out there too, and I took some random photos of various things while I was out there because it was a pretty nice day.
One of the photos I took was of the cat, while he was talking towards me. It came out pretty well (as cats tend not to "pose" so much 😉 ) and then I thought, I haven't shared a before/after comparison in awhile – or ever.
SOOC means "straight out of camera" – so no editing or colour correction or anything, just the straight image that the camera sees (and yes, I shoot in raw, which means there is no processing at all, not even by the camera – and since cameras likes to make everything gray and dull looking before processing, that's how the SOOC images come out.)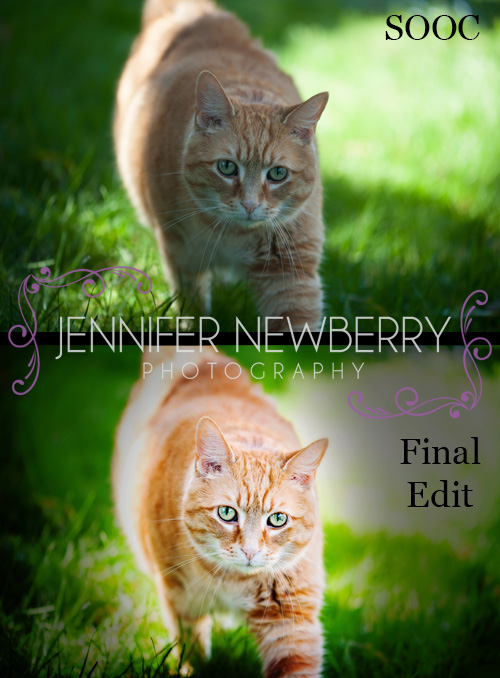 The bottom image is after I edited it. Much better!
Shameless self-promotion time!
In addition to photography coverage, I do also photo editing services! At this time, I do not edit photos in mass quantities for other photographers. (ie. a wedding or some other large event). However, I do work for people who say, took a great picture of their kid but there's an awful sunflare in the way, or they just want more contrast or brighter colours before they print the photo for their wall, things like that. Sometimes the editing isn't as drastic as the above.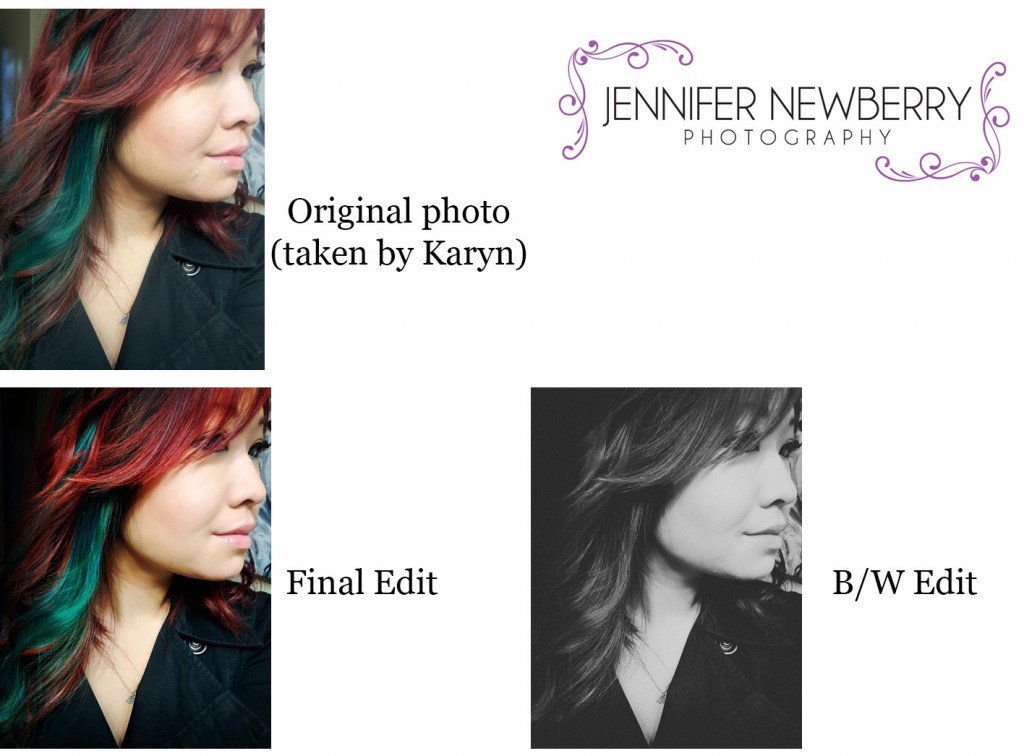 My good friend Karyn (whom I've known since the first day of Kindergarten! 😀 ), took this photo of herself to show off her new hair colouring (which looks super awesome, by the way!). The original photo is pretty good, but I really wanted to make her hair colour "pop", and also remove the distracting stuff in the background. This was just a quick edit, but small things can make a big difference in a photo.
Some of the photo editing services I offer are:
Full Edit (Custom colour toning & portrait enhancement (blemish removal, smooth skin, white teeth, etc.))
Digital Weight loss / slimming
Double chin removal
Digital make-Up
Background replacement
Photo composites (combining multiple photos, or adding people to a photo)
If you are interested in my photo editing services, feel free to send me your photo(s), and what you would like done do it, and I can send you a quote. Photo edits start at only $1!