Yesterday, we noticed the pear tree in our front yard was blooming these pretty little white flowers. I brought my kids over and told my 4-year-old son to take a picture of it, and handed him my camera. I was totally expecting a photo of the grass, or his feet or something. He just stared at me blankly, so I knelt in front of the tree and said "Take a picture of me in front of the tree!", and as I knelt down, my daughter ran up and stood in front of me. My son then pointed the camera at us, and pressed the shutter button – framing us perfectly!!!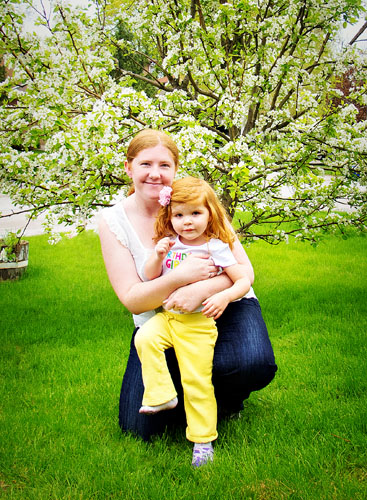 This photo is SO special to me, for a few reasons:
My son took this photo, and it has to best the best one he's ever taken to-date.
I don't look completely horrid in the photo (despite that I'm squinting)
My daughter is actually looking at the camera!
My daughter chose her own outfit yesterday morning. So yes, she was wearing her "birthday girl" shirt, even though it wasn't her birthday, and her favourite yellow pants.
My daughter's hair looks pretty decent considering she was just running around and the wind had probably gotten it all tangled up.
My daughter is only wearing one shoe. As she was running around, she kicked off one of her shoes, and just kept on going without it. Good old carefree childhood at it's best! But she is a GIRL so for the picture she lifted her foot up so her sock wouldn't be dirty. haha. (When she saw the photo on my computer screen she said "stomp your feet, stomp stomp stomp". lol!! Thank youuu Dora, for that song that got stuck in my head for awhile.)
It was a candid, spur-of-the-moment photo.
And a really big reason this photo is so special to me, is…

I don't have NEARLY enough nice photos of me with my children!!
It really is like an early Mother's Day present to me from both my kids. From my son, who took the photo, and my daughter who was in the photo with me. I have to encourage all your moms out there to step out from behind the camera, and get SOMEONE to take photos of you with your kids!! (It doesn't matter if you need to lose a few pounds, or your hair isn't great that day, or whatever!) It's the best gift you can give yourself, and when you look back on it years from now, you'll be so happy you did!
I hope all the moms out there have a great Mother's Day this weekend!