Tiffani and Jonathan's Backyard Wedding in Mount Albert
Tiffani and Jonathan got married in Mount Albert (well, technically Zephyr) on the HOTTEST day of the year – it was 38*C – and it was an outdoor wedding! Oddly enough, you would never know how hot it was just by looking at the photos. Despite the heat, it was a fantastic wedding, with fantastic people, and everyone had lots of fun – especially the kids, since Tiffani made sure their wedding was super child-friendly by having a bouncy castle! (If it wasn't so crazy hot, I bet I could have gotten Tiffani and Jonathan in the bouncy castle too 😉 )
The day started in Mount Albert, with Jonathan's "getting ready" photos, and a few quick portraits.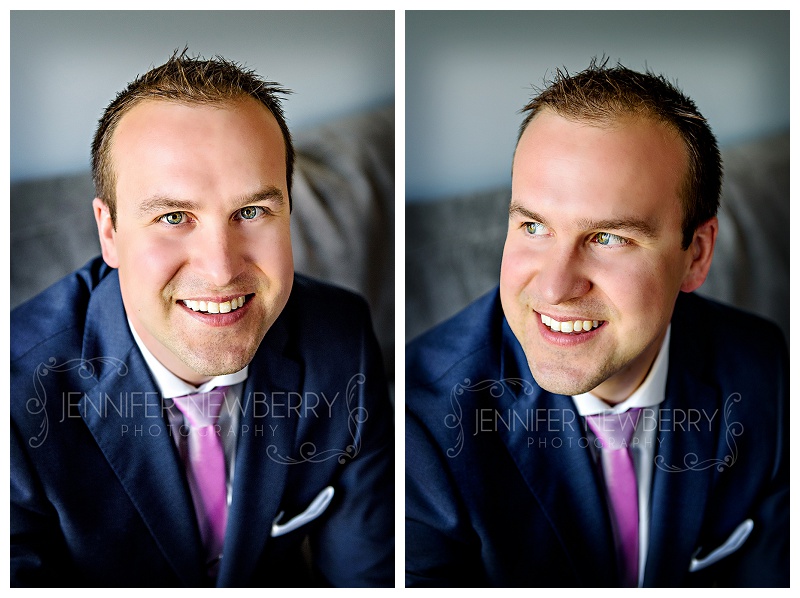 Then we all headed out to the same spot where we did Tiffani and Jonathan's engagement photos, to do some family photos and photos of the groomsmen. While we were there, Jonathan's friend Alex found not one, but TWO four leaf clovers! Double luck! Unlike Alex, who told me that he finds four leaf clovers all the time, I have never found a four leaf clover in my entire life, so I was very excited. As was Jonathan's sister, Vivien (who is awesome, by the way.)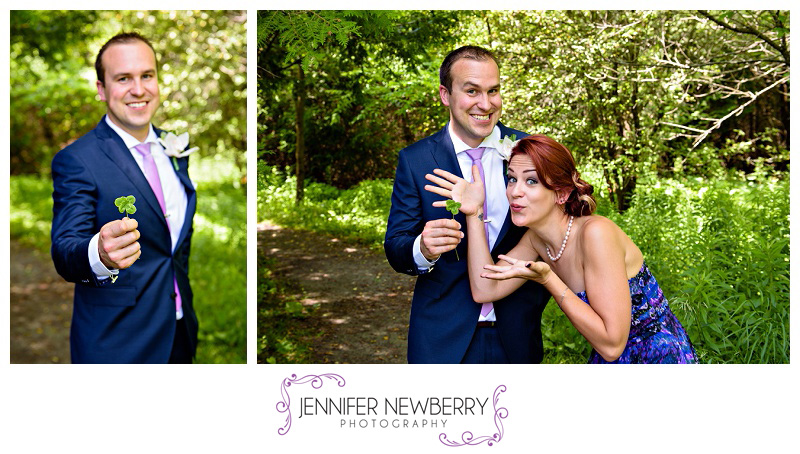 After that, I thoroughly enjoyed the air conditioned drive over to Tiffani's parents' house, where the backyard wedding was taking place. Tiffani's father built this big structure, almost like the skeleton of a barn, in the backyard. It was covered with a big white tarp, which would have covered the guests if it rained, but it also provided shade on the hot day that it was! It was awesome and very impressive! After the wedding, they planned on dismantling it, and using the wood for other projects. The "barn tent" (I'm not really sure what to call it!) was a multi-purpose area which served as the ceremony area as well as the reception area! A really smart set-up, if I do say so myself! At the end of the "barn tent", was a small stage, which was not only the "altar" during the ceremony, but also where the head table was setup for the reception, and then after dinner would turn into a dance floor. Brilliant!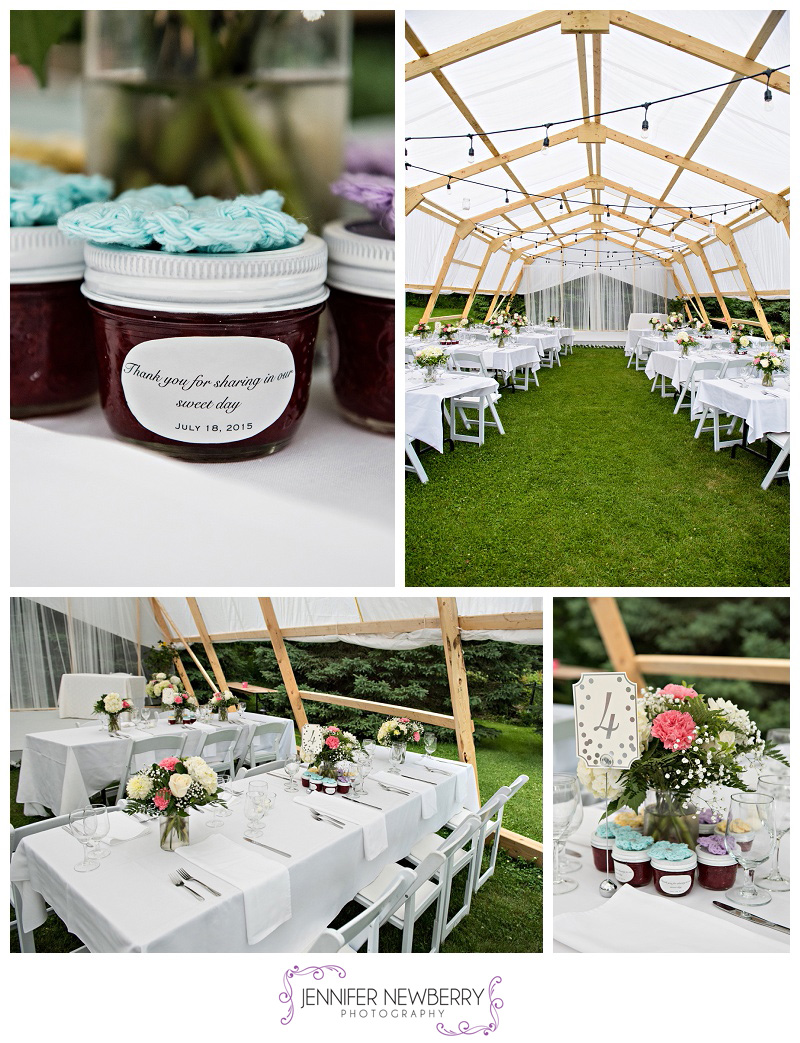 The gorgeous (and delicious!) wedding cake and cupcakes!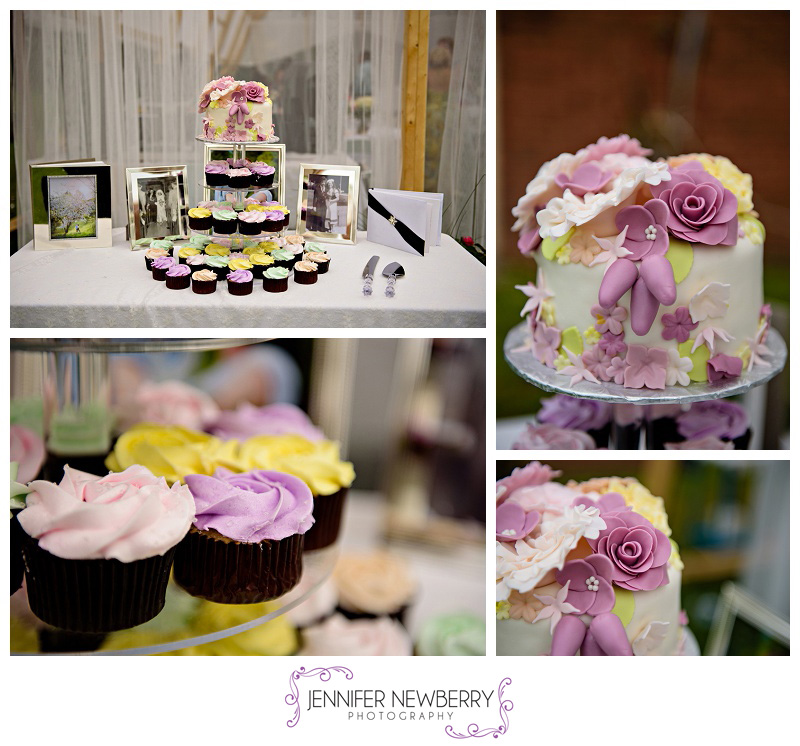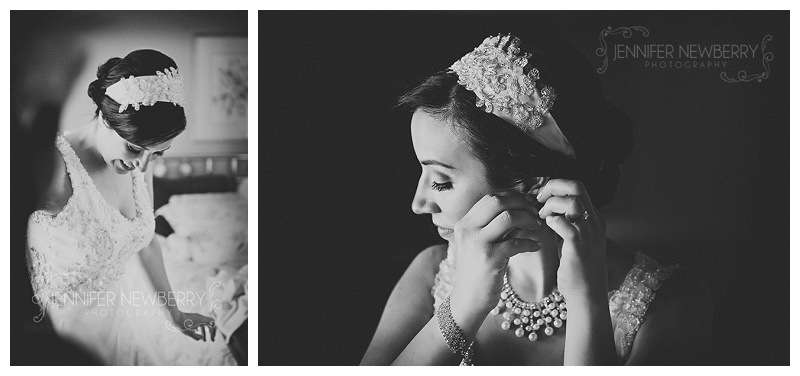 Tiffani's wedding gown was custom made by her friend's mother – and it was stunning! The beading, the fabric, everything!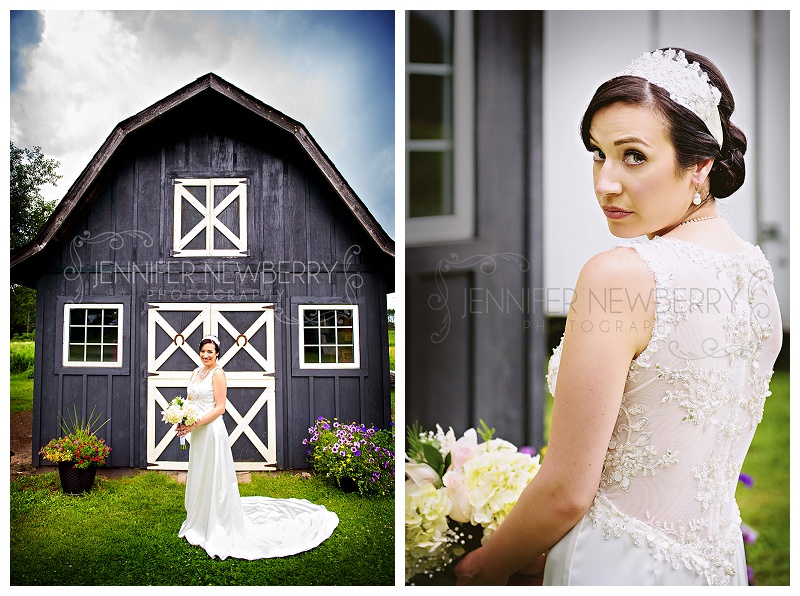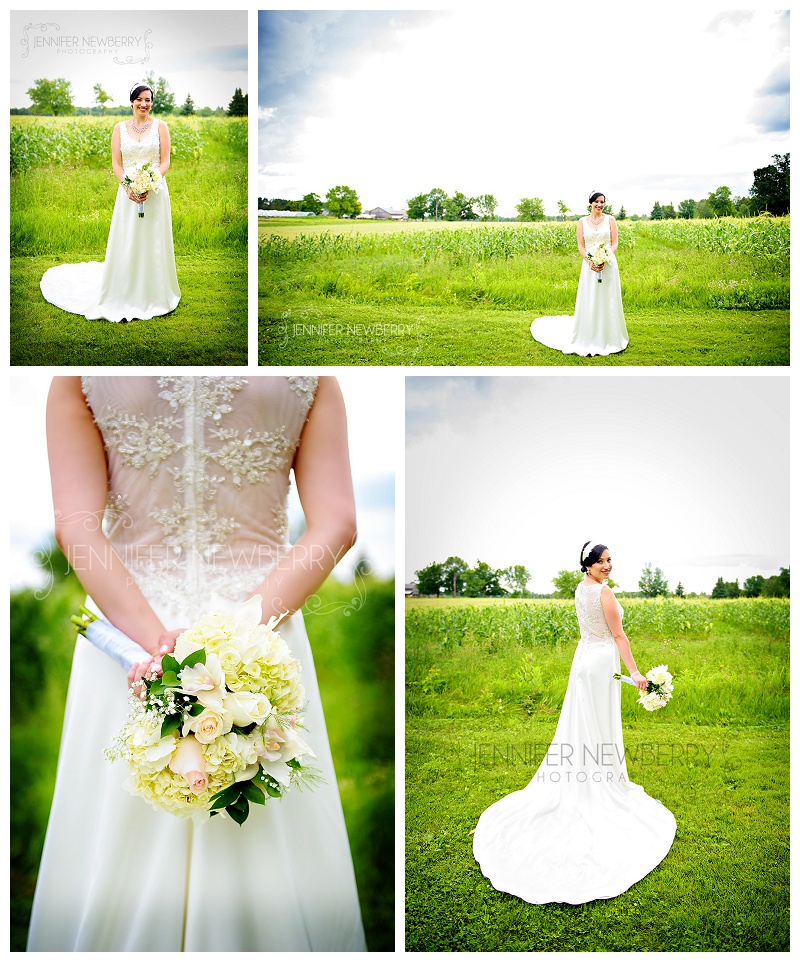 Tiffani walked down the aisle to a piano instrumental version of Christina Perri's song "A Thousand Years". (Side note: I LOVE this song!!! I know it was probably written for spouses/lovers, but it makes me think of my kids, especially my daughter.)

The awesome wedding party! They were all so much fun! And as it turns out, Marisa has a hidden talent for making little kids smile in photos, so she was super helpful 😉 And the guys had me laughing all day! What a great group!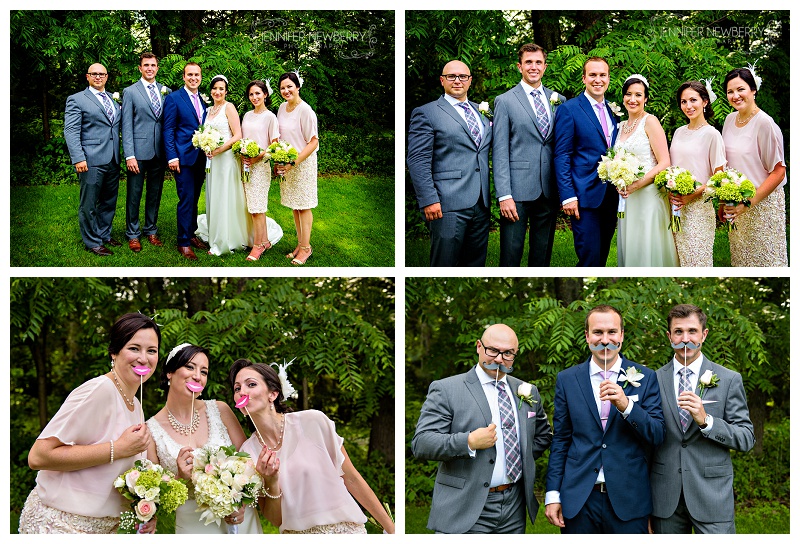 Of course we had to do the ever popular "running from a dinosaur" photo, because Jonathan is a HUGE Jurassic Park fan. If Tiffani had let him, he would have had a Jurassic Park themed wedding.


I took it one step further though, and put some dinosaurs in a few photos – just for you Jonathan!


The whole family got in on the action too! (I thought it was hilarious how a few of them were shoving each other out of the way.)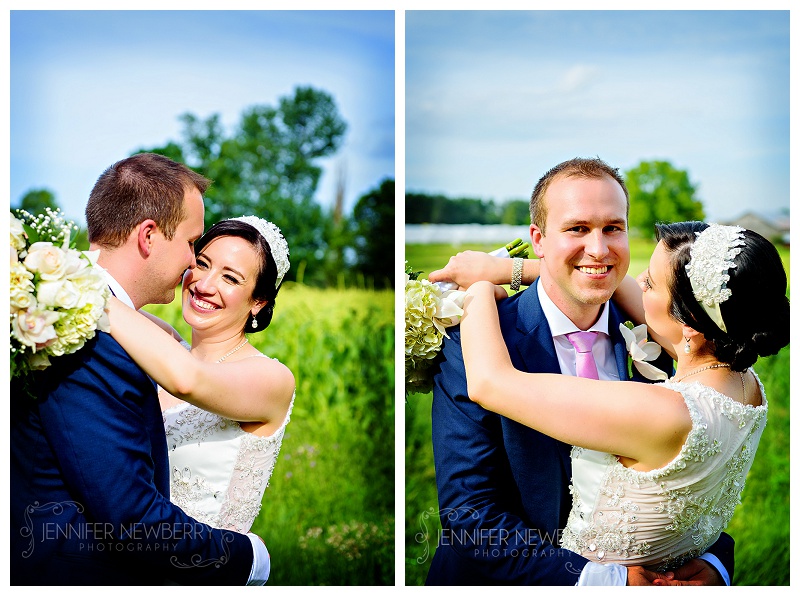 Tiffani and Jonathan have a very regal look. Very "William and Kate", I think.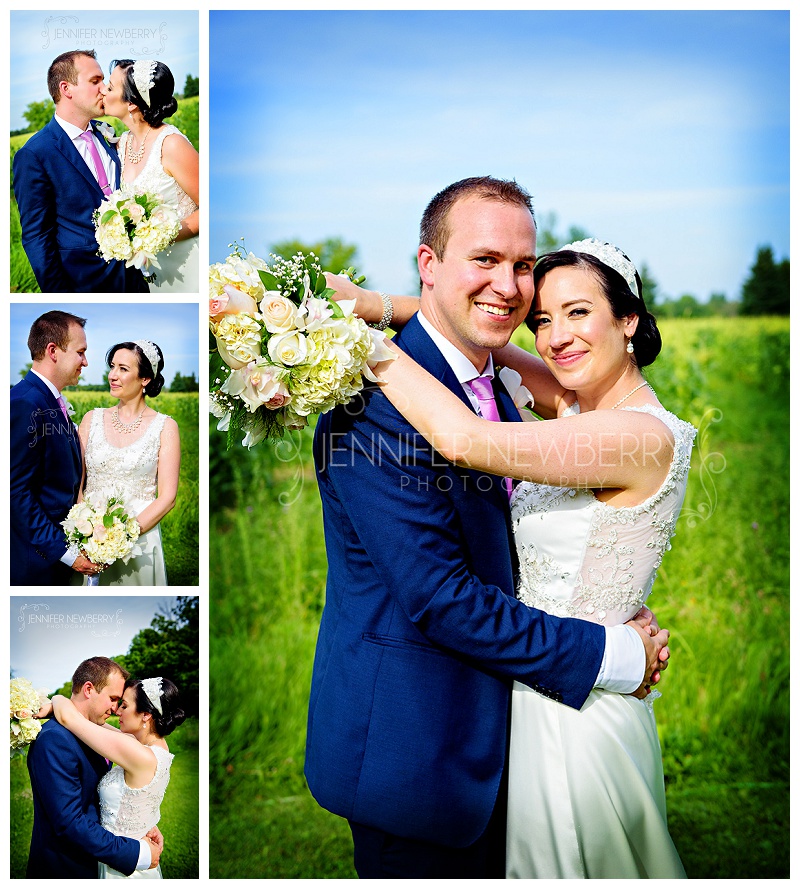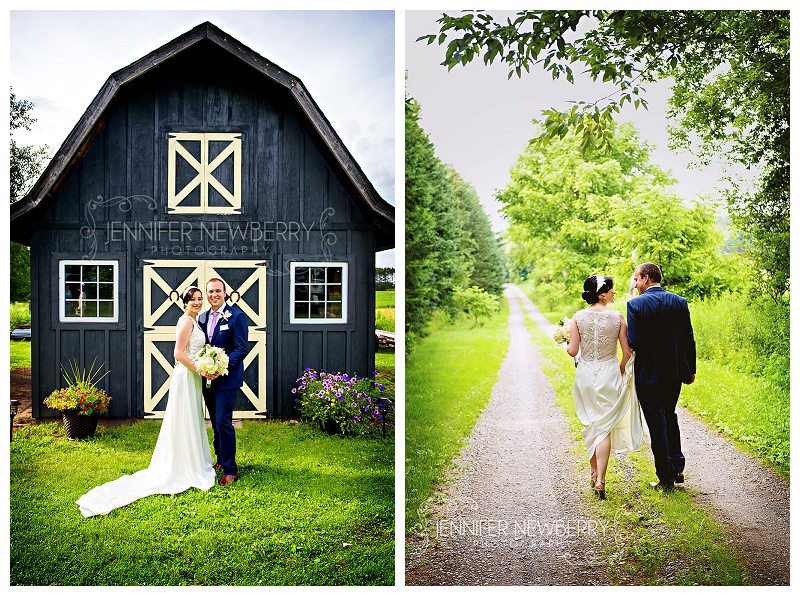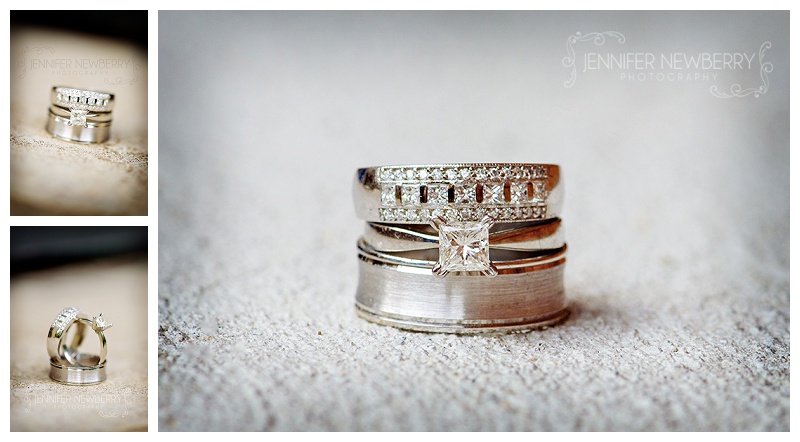 One of Tiffani's friends lives in London, England, and she couldn't make it to the wedding. Luckily, the technology available these days makes it possible to see your friends on your wedding day, even if they are halfway across the world.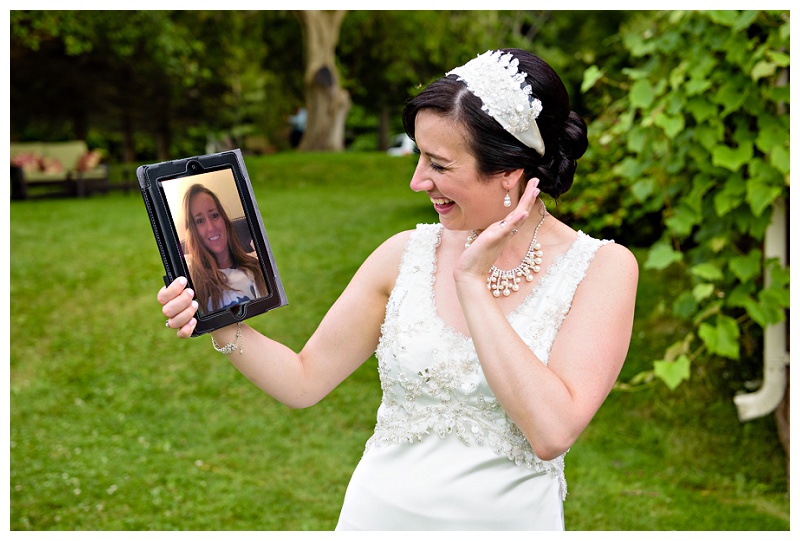 Congrats Tiffani and Jonathan! You two are just so perfect together, and I'm so happy I got to be a part of your special wedding day!
To see more photos from Tiffani and Jonathan's backyard wedding, see the slideshow below!

People who helped make Tiffani and Jonathan's day fantastic!:
Venue: Tiffani's parents' backyard
Officiant: Leslie Sedore
Florist: Keith's Flower Shop
Cake Artist: Bakers Crush Custom Cakes and Cupcakes
DJ: Mike from BFBB Music
Caterer: Big Grill Catering
Hair Artist: Nooshin from Sophisticated Hair and Beauty
Favours: Homemade
Invitations: Vistaprint
Wedding Dress: Custom made by Elena Annibale
Bride's Shoes: Michael Kors
Bridesmaids Dresses: Custom made by Elena Annibale
Bouncy Castle: A Reason to Celebrate
Washrooms: Chantler's Environmental Services
Drone Pilot & Four Leaf Clover Hunter: Alex
Mt. Albert Wedding Photography: Jennifer Newberry Photography
---
Are you getting married? Looking for a Mount Albert backyard wedding photographer? Get in touch to have me, Jennifer Newberry Photography, capture your wedding, whether it's in Mt. Albert, Aurora, Newmarket, Toronto, Barrie, Waterloo, Hamilton, London, Muskoka, or beyond! I'd love to chat about your wedding plans!
---
Mount Albert Backyard Wedding Photography by Newmarket Wedding Photographer, Jennifer Newberry
Jennifer Newberry Photography is anything but your average Mount Albert wedding photographer. Each wedding is treated with care and creativity not found with other Mt. Albert wedding photography studios. Your wedding day is carefully crafted to offer one of a kind unique photography in the Newmarket, York Region and Toronto areas.
This is Mount Albert backyard wedding photography at its best. Jennifer Newberry Photography is an award winning photographer based in the Newmarket area. Offering wedding coverage in Mount Albert, Zephyr, Newmarket, Aurora, Richmond Hill, Markham, Vaughan, Toronto and all of Southern Ontario, this wedding photography studio is one of the top studios in the area and is located right here in Newmarket.
Jennifer Newberry Photography offers Mount Albert wedding photography coverage in the GTA, including but not limited to, Newmarket ON, Toronto ON, Barrie ON, Waterloo ON, London ON, Hamilton ON, Muskoka ON, and the surrounding areas.
Not looking for a Mount Albert wedding photographer? Please be sure to consider me for your family photography needs in the Newmarket area.