Markham Wedding Photographer | Civil Ceremony
Iryna & Tom
As I said in Iryna and Tom's sneak peek post, Iryna and Tom had a small civil ceremony at the Markham Civic Centre. These two make my heart so happy! They were high school sweethearts, dated until college, then went their separate ways. 10 years later, they re-connected and have been together ever since!
Prior to the ceremony, Iryna and Tom wanted to do a First Look and have all their bride and groom photos done beforehand. The problem was that Iryna and Tom live together, and they didn't think they could sneak around each other without catching a glimpse of each other before it was time. "Nonsense!", I said! "We can make it work!"
They did co-ordinating on their end by (I can only assume) yelling through walls at each other if they had to pass by. Once Iryna got her hair and make-up done, I think she just hid in their bedroom and shut the door. Tom left first, and waited in his truck outside. Then I came by and picked up Iryna (that's right, Markham wedding photographer and bridal chauffeur – I do it all!), and we drove a short way over to Toogood Pond Park. Iryna stayed in my car while Tom and I scouted out a nice spot, and then I went back and got Iryna – and the First Look was completed! I'm happy to say it all worked out!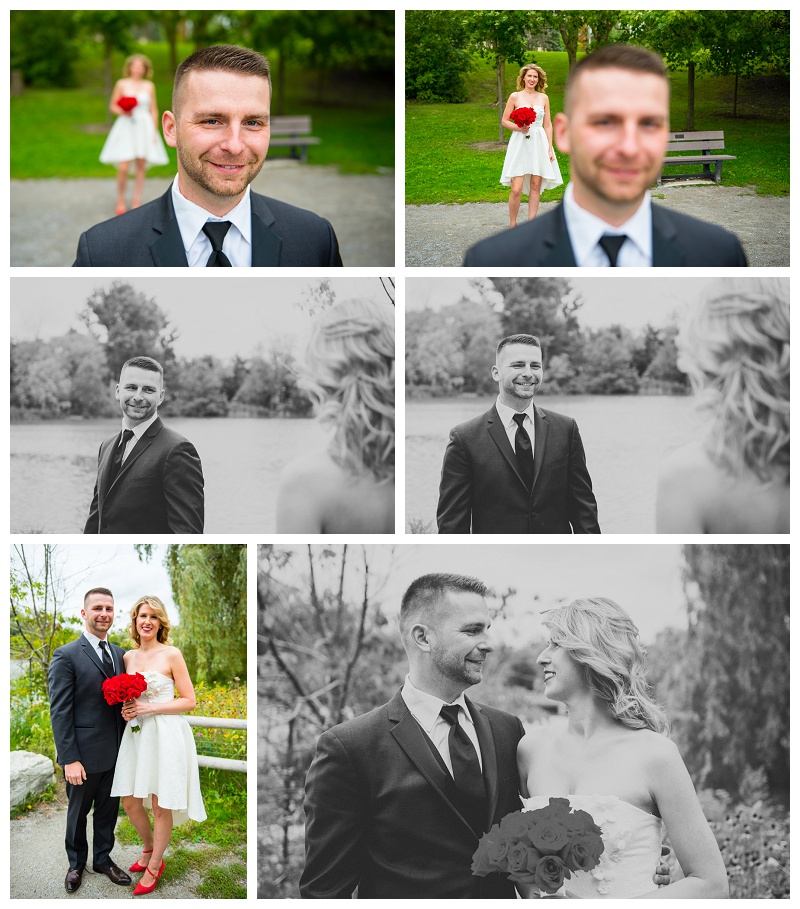 There are tons of great spots all around Toogood Pond Park, and as luck would have it, it was a perfectly overcast day (my favourite kind of natural lighting!), which not only gave us perfect light, but also some awesome-looking dramatic cloud cover!

It was threatening to rain (but luckily it didn't until after the ceremony!), but Iryna came prepared with her most-awesome red-trimmed clear umbrella! She totally rocked her red and white colour scheme, accenting her white dress with her red shoes, nail polish, lip colour, bouquet and umbrella!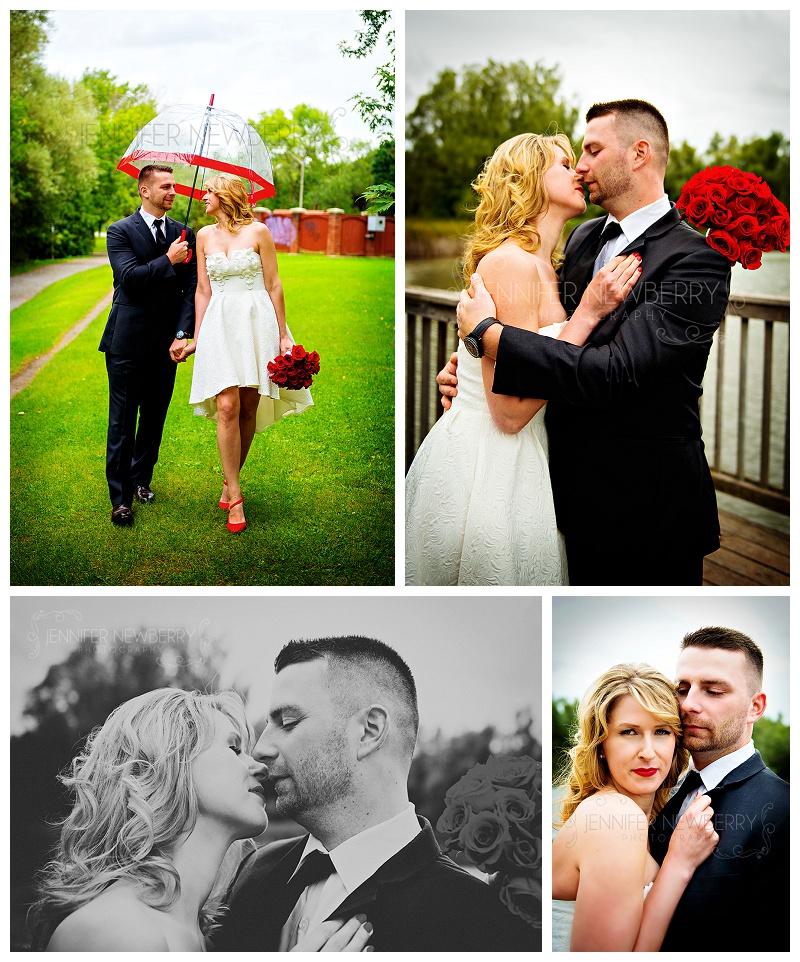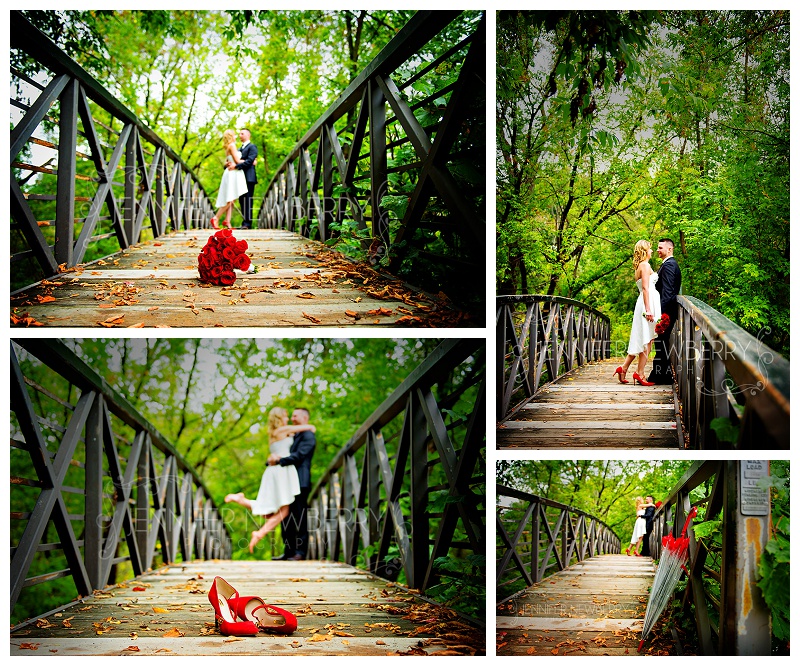 Tom was giving off a very suave Daniel Craig/James Bond vibe, and he totally rocked it!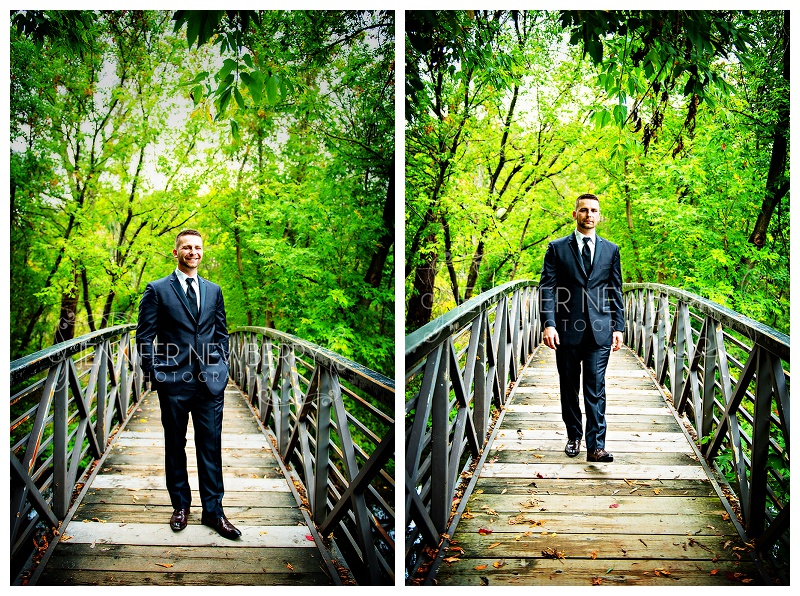 Look at these two, the camera LOVES them!
I just love their wedding ring set! Absolutely gorgeous!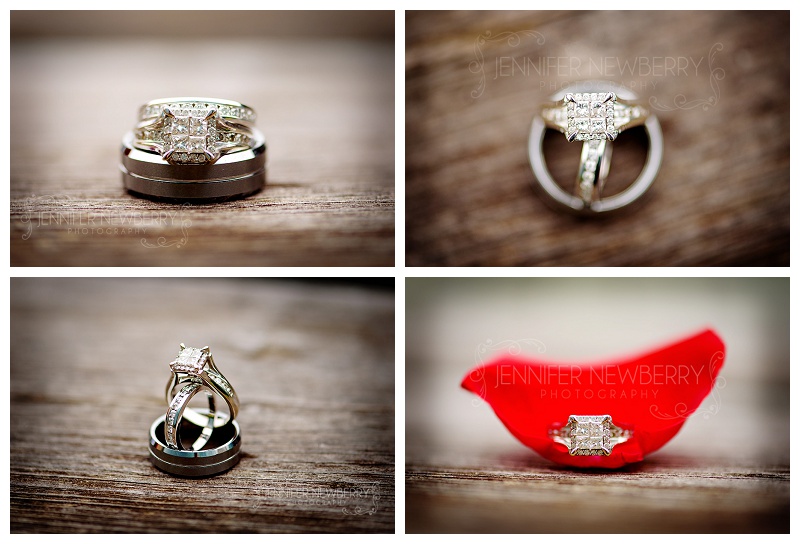 The chapel at the Markham Civic Centre is probably my favourite of all the civil ceremonies that I've photographed in the York Region area. It's actually ON the water, but it's quaint and cozy, and you have to walk through a little tunnel to get in there, which is kind of cool!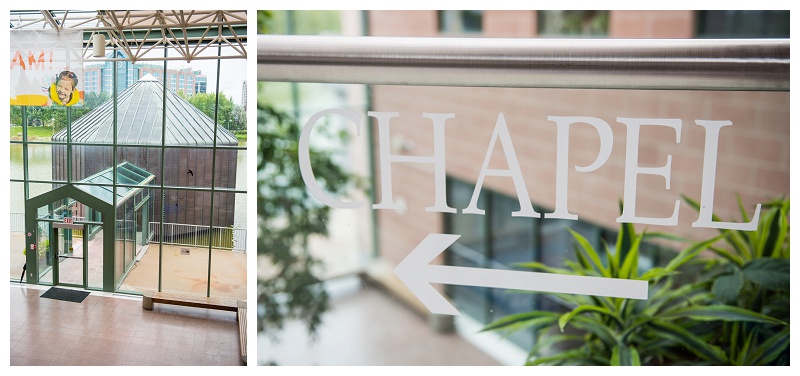 Around the edges of the interior you can see through the floor to the water below, and there is a ledge that runs all around the inside that I took advantage of and stood on, to get a higher viewpoint.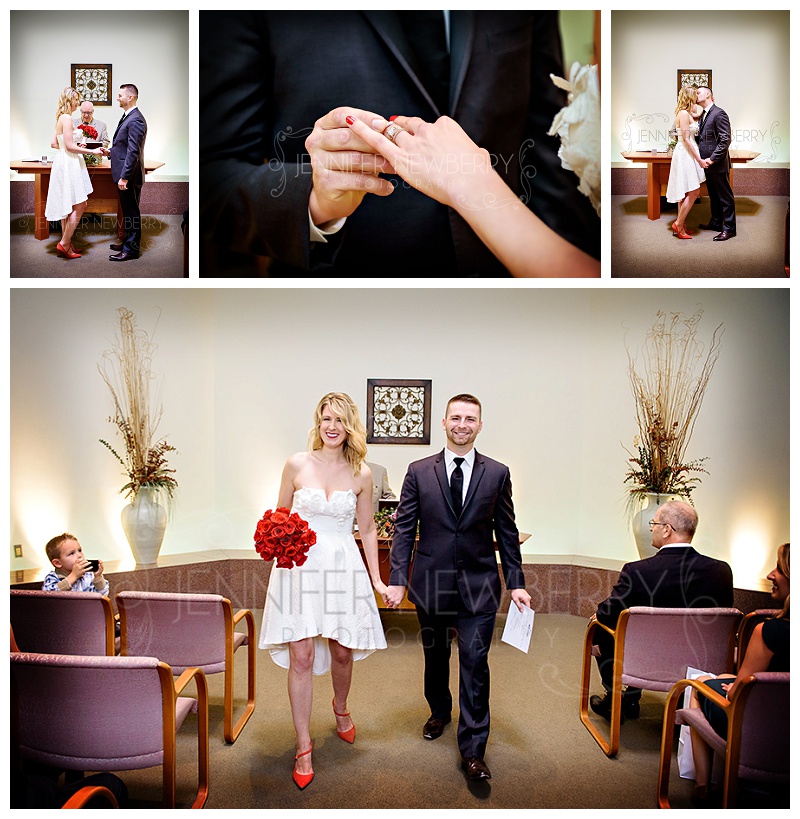 The newlyweds!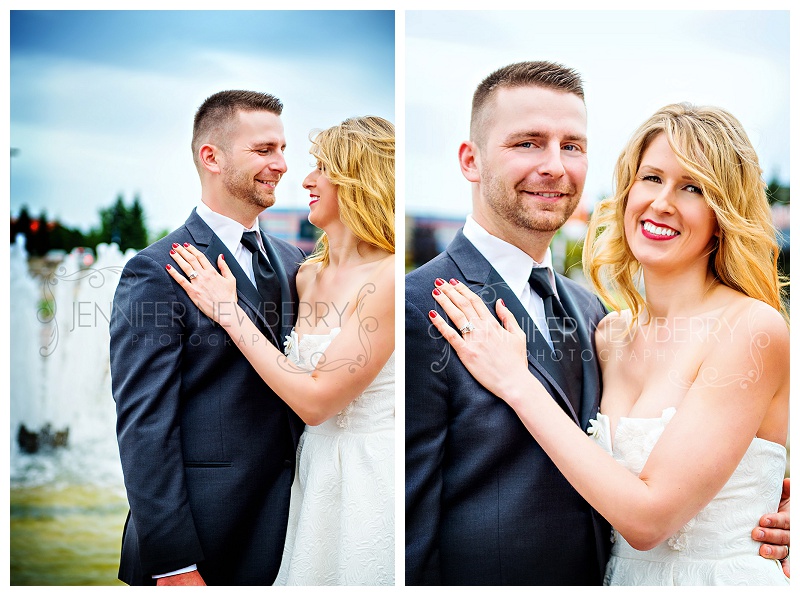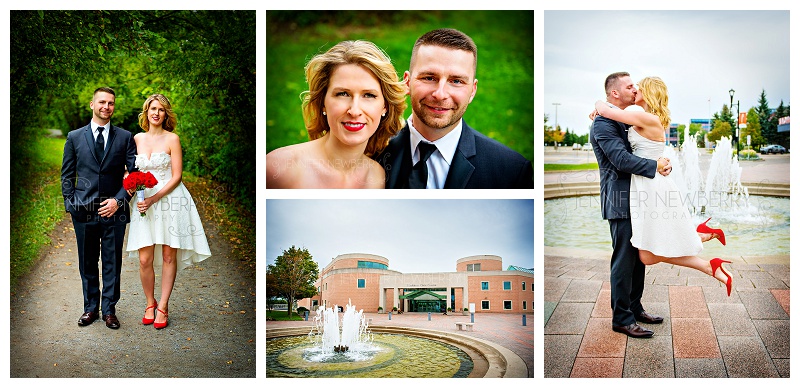 I just can't say enough good things about Iryna and Tom! They were SO much fun to work with! I am so happy that I got to witness and document their first day as Husband and Wife! Congrats you two!
To see more photos from Iryna and Tom's Markham wedding, watch the slideshow below! (If you can't see the slideshow below, click here.)

Tom and Iryna had a fairly small and simple wedding, so there aren't too many other vendors – but I must give credit where credit is due!
Ceremony venue: Markham Civic Centre
Florist: Metro (yes the grocery store! Iryna bought the flowers and then wrapped them herself!)
Make-up & Hair: Yellow Orange Salon Spa – Fashion House
Caterer & Reception venue: The Keg
Invitations: Etsy
Bride's wedding dress designer: Badgley Mischka
Groom's tux: He already owned it
Rings: People's Jewellers
Officiant: Robert Anning
Markham wedding photographer: Jennifer Newberry Photography