#bradandnatalie2017
King's Riding Wedding Photographer | King City Wedding Photographer
Natalie & Brad's Sneak Peeks
Natalie and Brad booked me to be their King's Riding wedding photographer about two years ago, and finally, they are married!

You may be wondering what the sparkly gold stuff is in the ring shot below. Well, it's actually the inside of the envelope that Natalie and Brad's wedding invitations were sent out in! I like to use as many wedding-related "props" as possible for authenticity, so when I saw the sparkliness inside the invitation envelopes, I knew exactly what I wanted to use it for!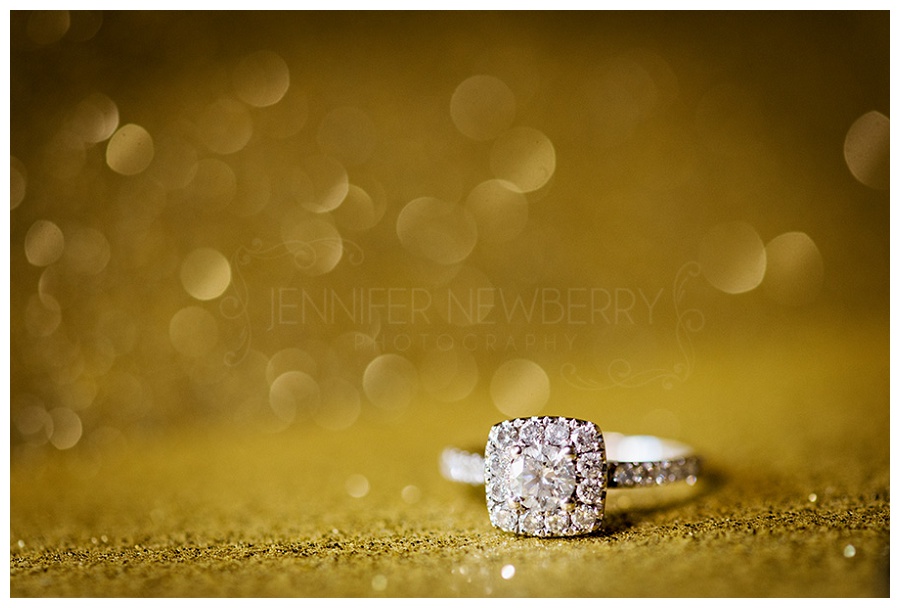 I am always just a little bit extra nervous when there is a baby involved with a wedding. The reason is, just like the weather, you can never predict what the baby's mood will be like on the wedding day. Some babies get very overwhelmed with everything that's going on, and are upset most of the day. Some babies are very serious, observing everything going on, but won't crack a smile. (*cough* Holly *cough*) Little Mila, at 10-months old, made me work for those smiles, but with the help of her stuffed dog Max, I was victorious in capturing some uber-adorable happy faces!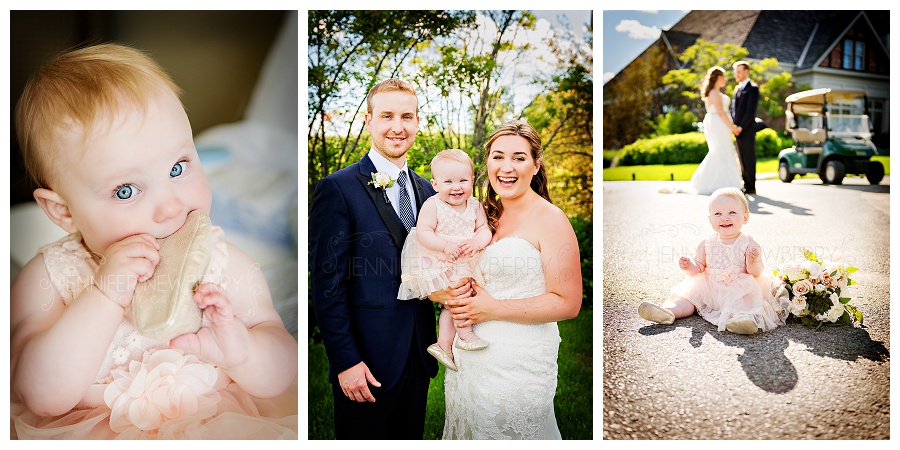 Natalie and Brad had a fantastic wedding party, of course! I enjoyed seeing Sarah again, who was also a bridesmaid at Amanda & Kenny's wedding.
My husband sometimes makes random comments as he walks by and I'm working on photos. In the case of the big wedding party photo below, he offhandedly said "Did they run out of flowers, and that bridesmaid had to carry a baby around instead?" Yes. Yes that is what happened. haha. (Sidenote: Did you hear about that wedding where the girls held rescue puppies instead of bouquets? LOVE!)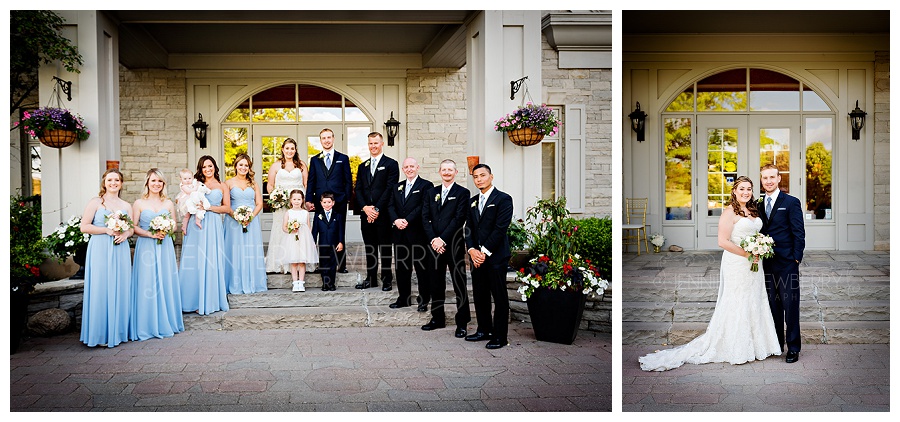 To Natalie and Brad, congrats on your marriage! I loved being there to document yours (and Mila's) special day! Through the chaos of everything that was going on, we got some fantastic photos!


---
Are you getting married? Looking for a King city wedding photographer? Get in touch to have me, Jennifer Newberry Photography, capture your wedding, whether it's in King City, Aurora, Newmarket, Richmond Hill, Toronto, Barrie, Waterloo, Hamilton, London, Muskoka, or beyond! I'd love to chat about your wedding plans!