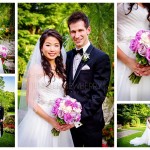 Toronto Wedding Photographer | Estates of Sunnybrook McLean House Wedding Photos
Amy & Michael's Wedding

One thing I love about being a Toronto wedding photographer, is that there are SO many wonderful venues in Toronto! Every so often, I get to shoot at a new location that I've never gotten to photograph a wedding at before! In this case, it was the McLean House at the Estates of Sunnybrook!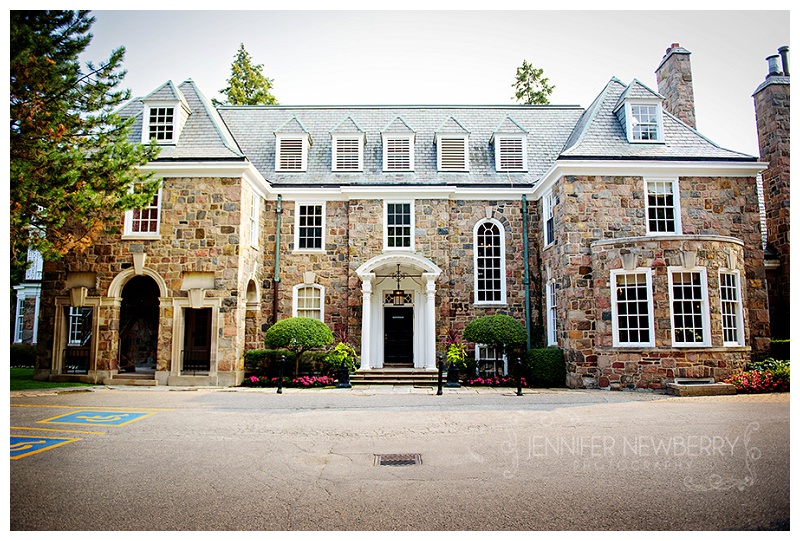 My very first impression of the Estates of Sunnybrook McLean House was that it seemed a lot like Graydon Hall Manor in Toronto. If you've ever been to both venues, you probably know what I mean! There's the big gorgeous house, lovely reception area, and beautiful grounds. The grassy ceremony area at the backs of both venues were pretty similar as well. The McLean house has its gorgeous curved grand staircase, which is the perfect place to put the cake (or in this case, cupcake) table!
Amy and Michael lucked into a summer beautiful day, and they took advantage of it by having their wedding ceremony outdoors, behind the McLean House. The lighting was just perfect, as the sun was setting behind the trees surrounding the ceremony area, placing the ceremony in the perfect spot – open shade!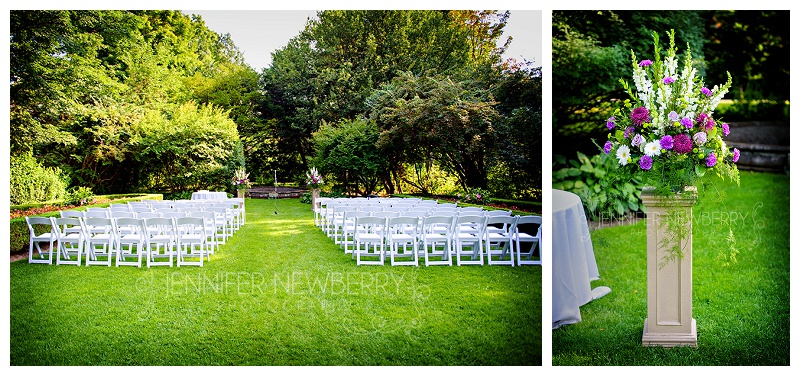 Amy wore a beautiful wedding gown from the Madison Collection. I like photographing wedding dresses in a variety of ways – it's interesting to see how the same dress can look a bit different depending on how it's lit!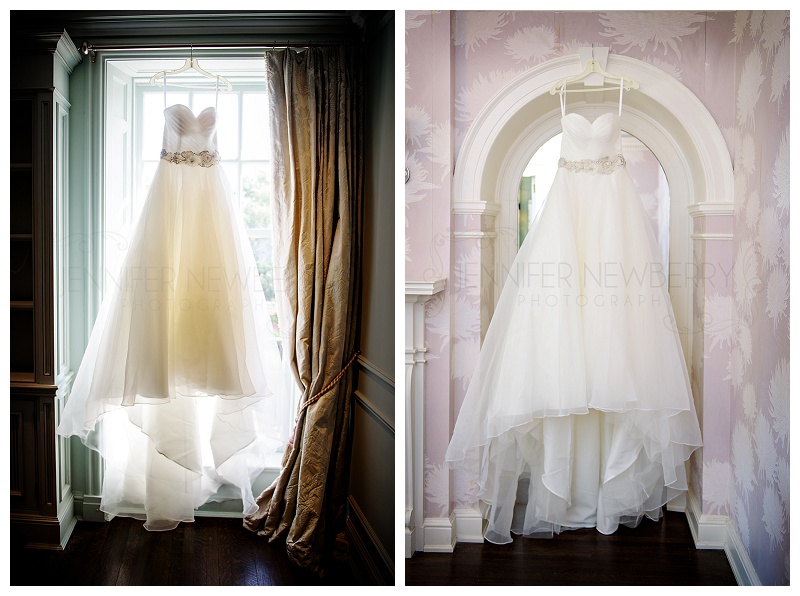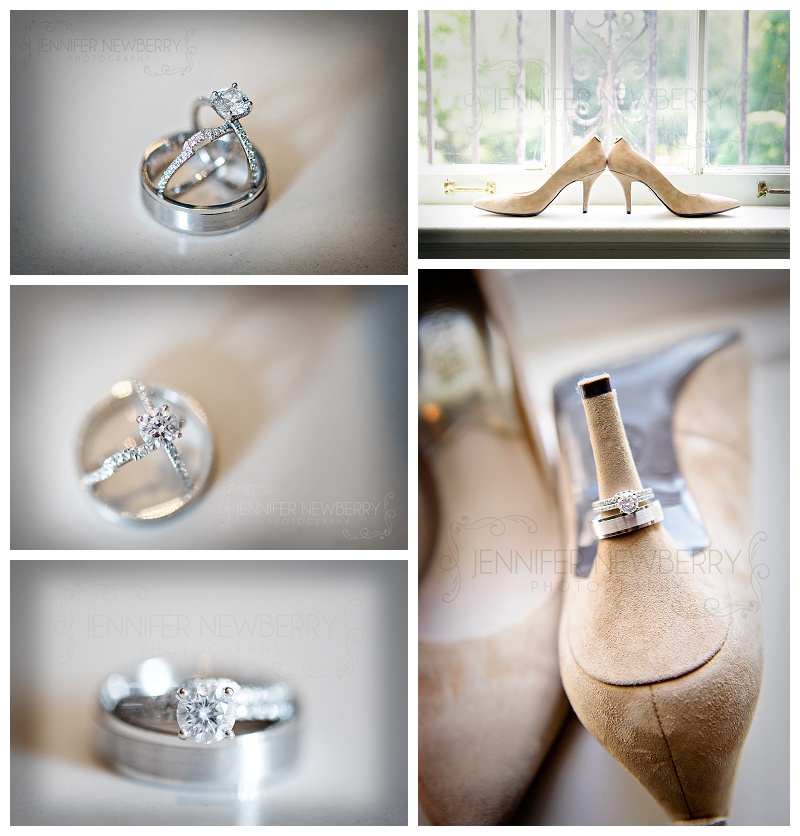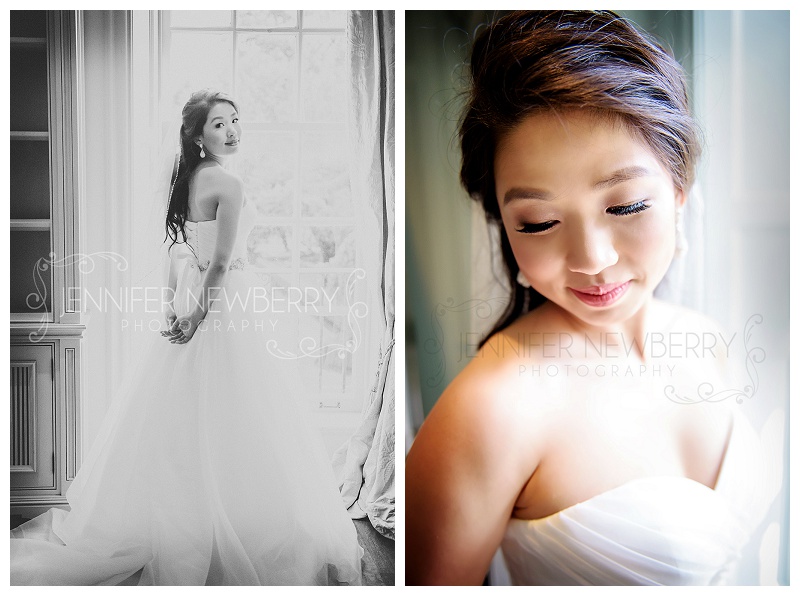 Amy and Michael did a First Look before their ceremony. As I tell many couples, deciding whether to do a First Look or not is entirely up to them, and how they want their wedding day to flow. Amy and Michael wanted to do their bride & groom photos before the ceremony, when they were both looking their best, and ideally before any guests had arrived so they could take advantage of the beautiful venue.
Photographing Amy and Michael was a breeze. I'm pretty sure Amy is hiding a secret modelling career from me, and Michael was so expressive – I love it!! Michael couldn't take his eyes off Amy once he saw her!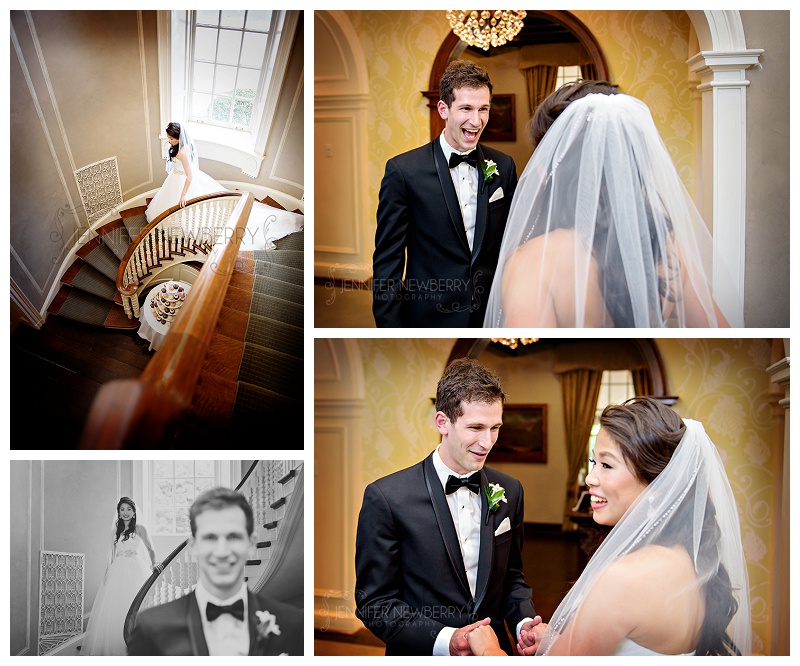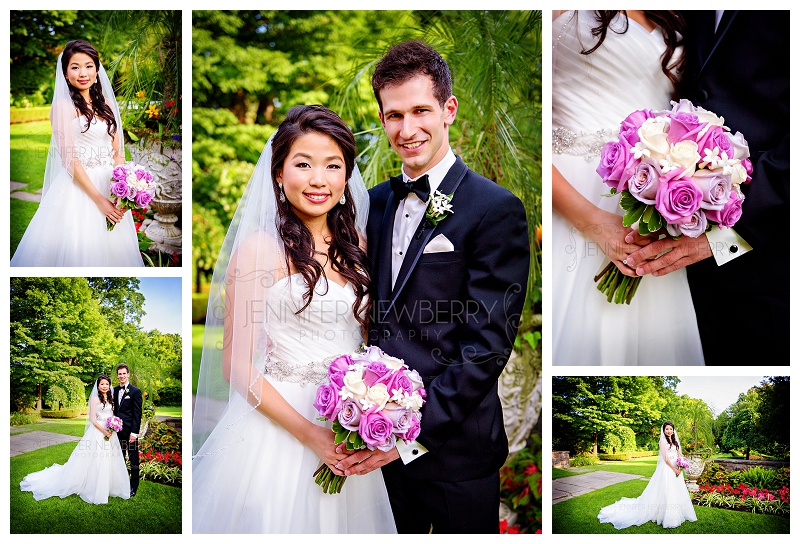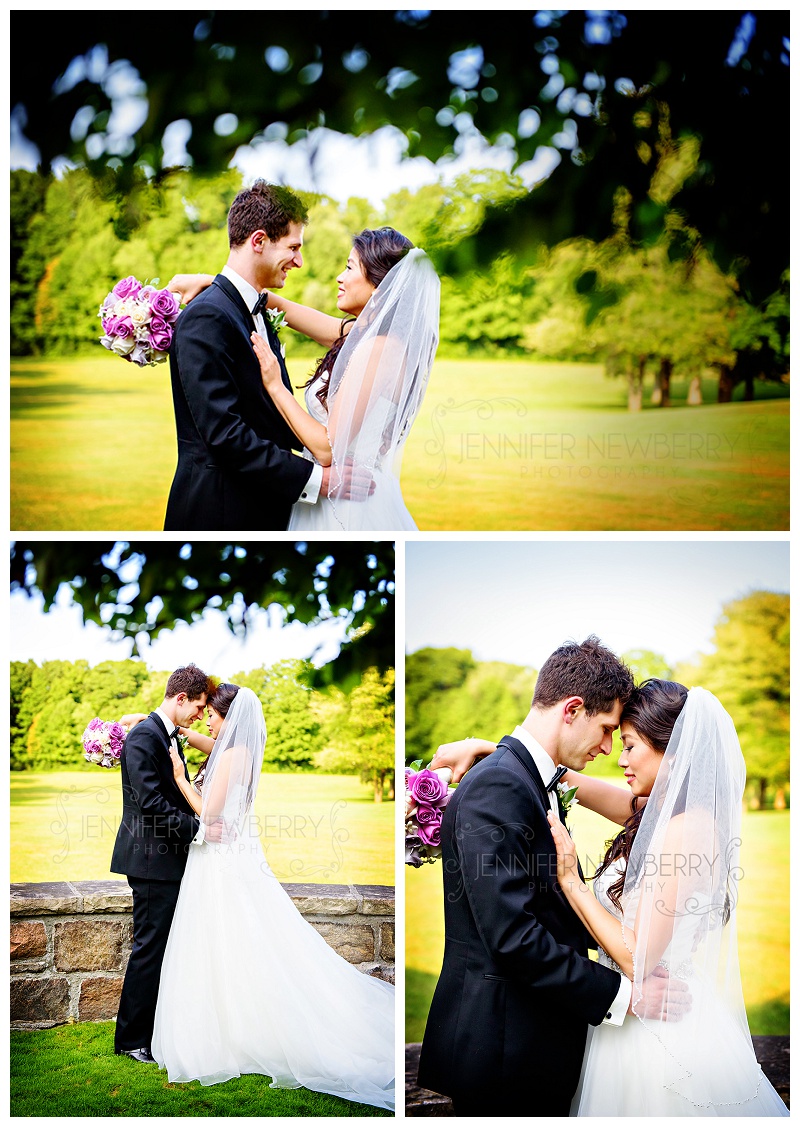 As you can see, we took full advantage of the gorgeous venue, and did bride and groom photos all over the place! There were beautiful photo locations everywhere, inside the McLean House as well as outside!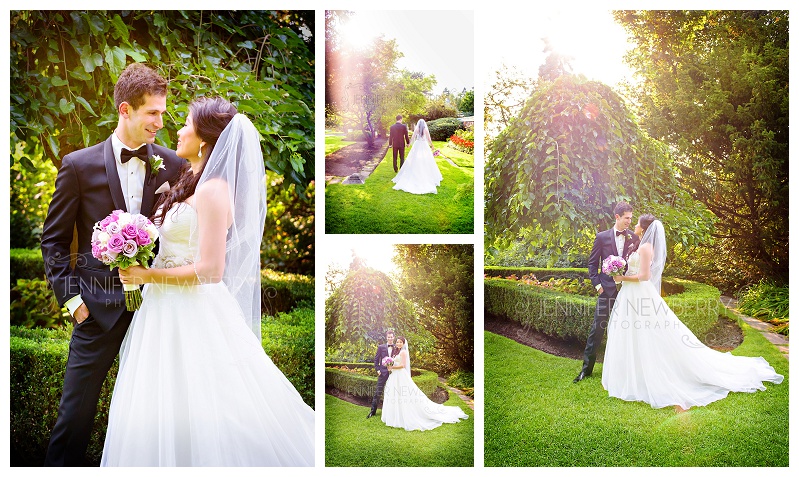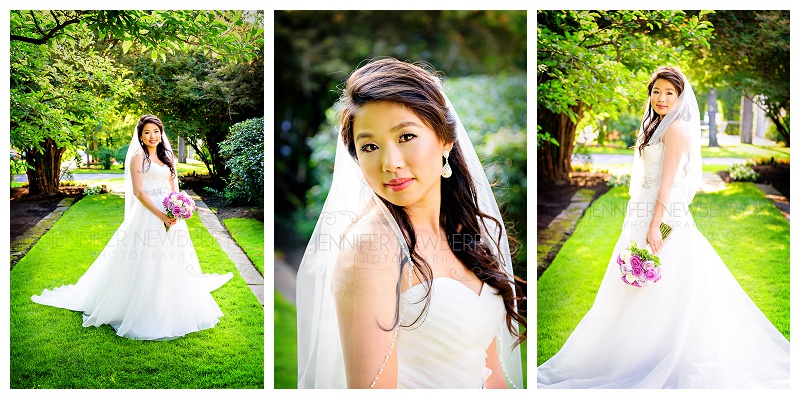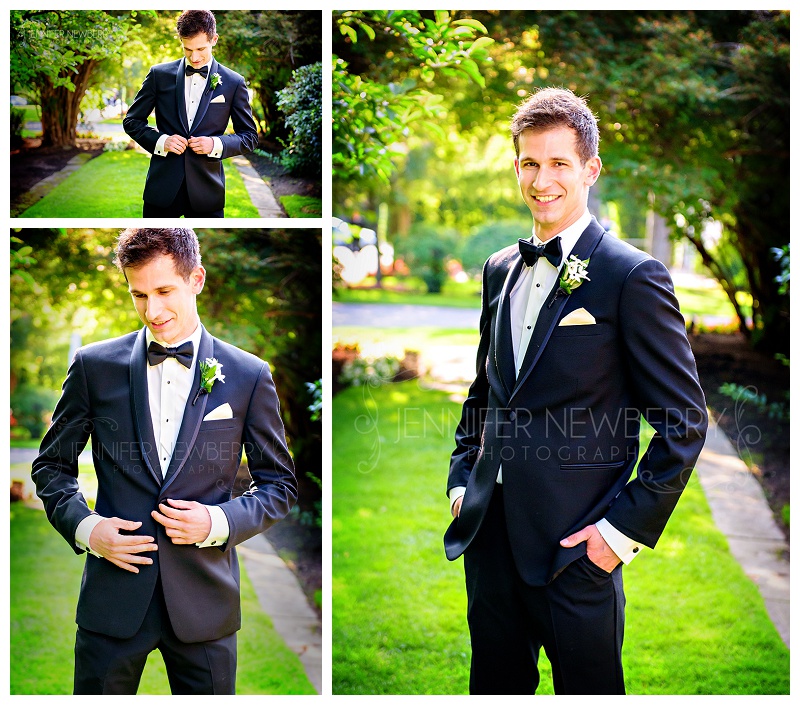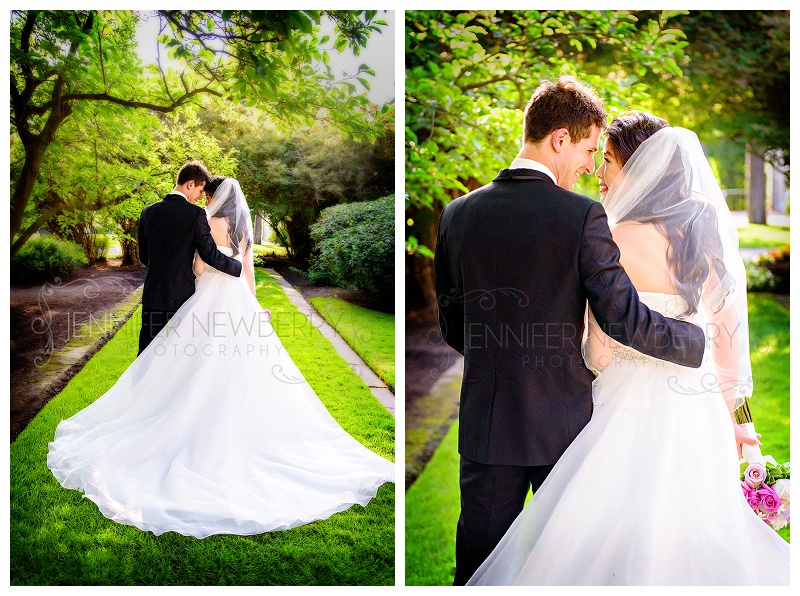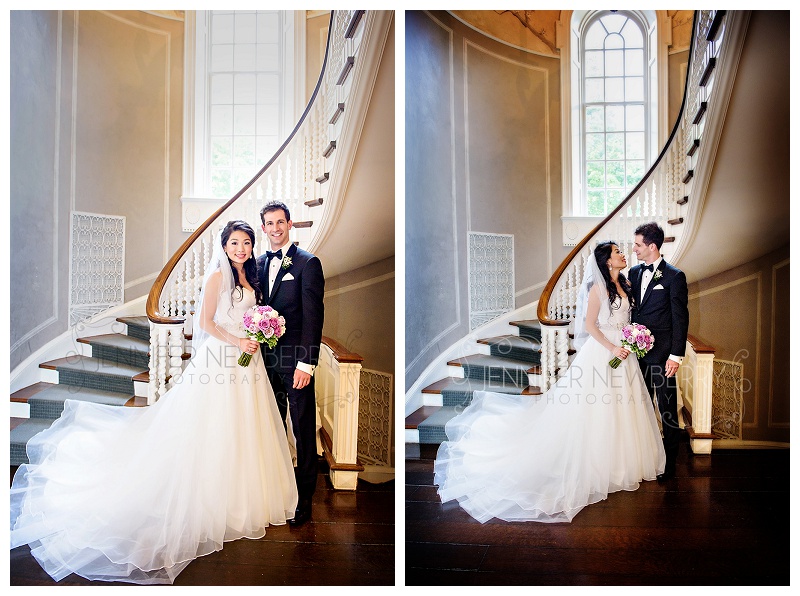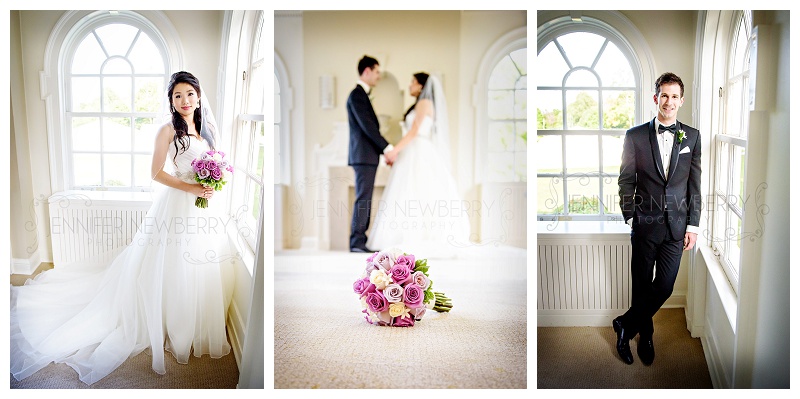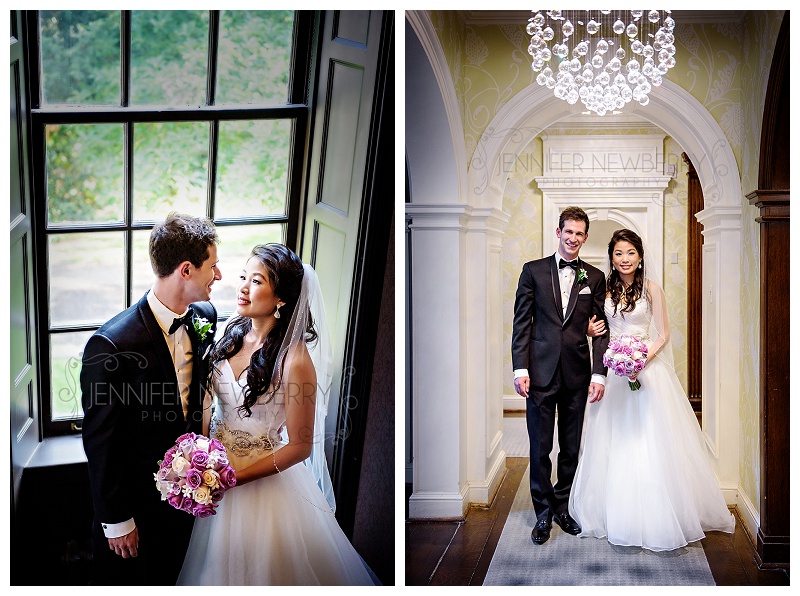 Once we finished the bride and groom pictures, Amy went back upstairs to the bridal suite, while Michael went outside to greet guests. The bridal suite was a big, well-lit, open space. It even had a big bathroom complete with bathtub (which I'm told to-date only one bride has ever used.)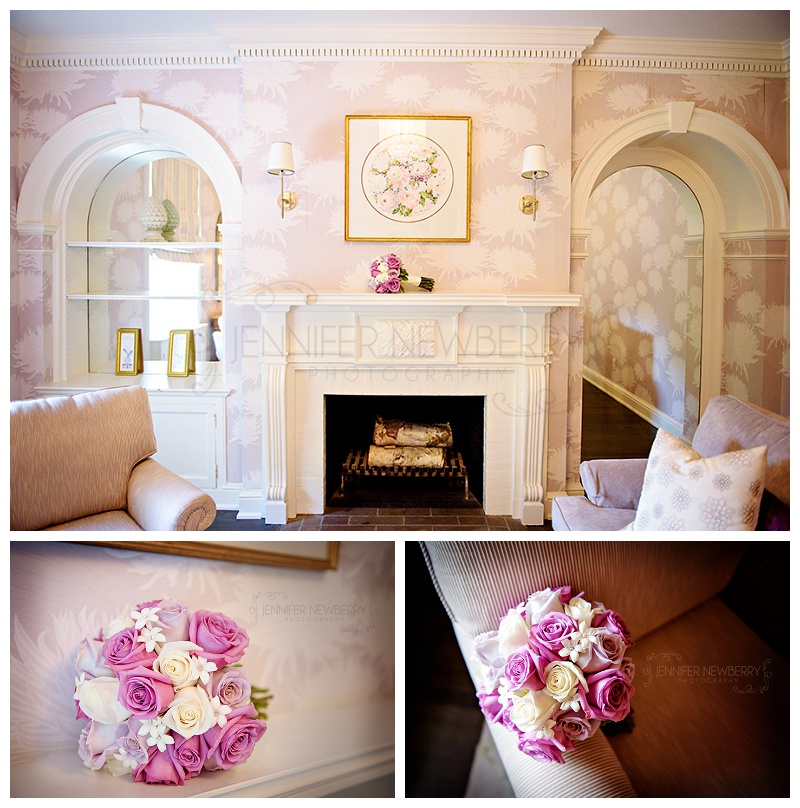 They had a wonderful afternoon ceremony. The majority of the guests hadn't seen Amy in her wedding dress yet, so they all admired how gorgeous she looked as she walked down the aisle. A talented harpist by the name of Chantal Dubé played some romantic and elegant music for Amy to walk down the aisle to.

As I said earlier, I just love how expressive Michael was – the smile on his face as he shook his soon-to-be father-in-law's hand makes the entire photo!

I love outdoor weddings like this because I have SO much room to move around. I can take photos from so many different angles! (This is where you can imagine me running around like a silent photo ninja, taking photos from all angles. haha.)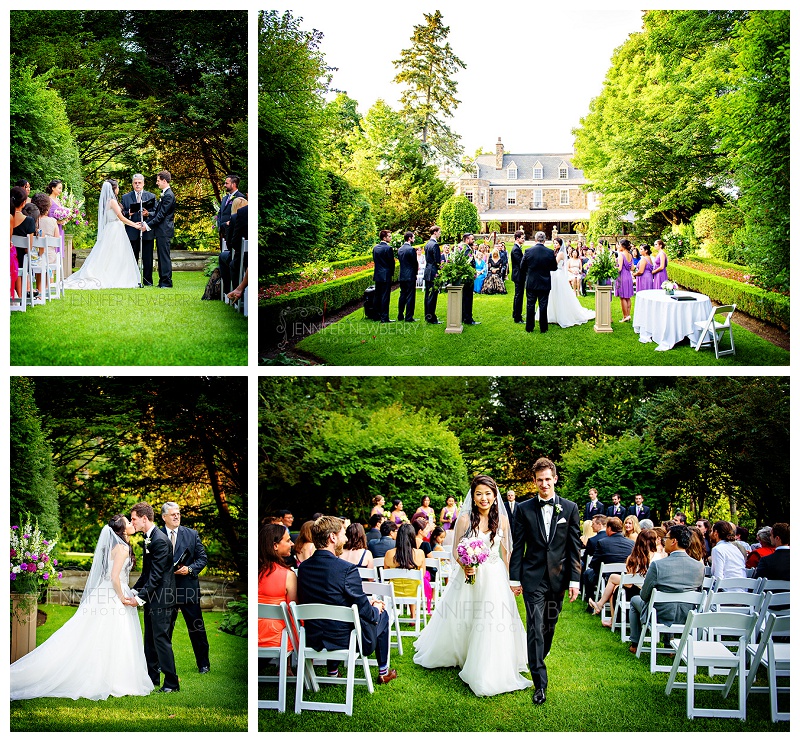 Amy and Michael had a fantastic wedding party – what a fun group of people!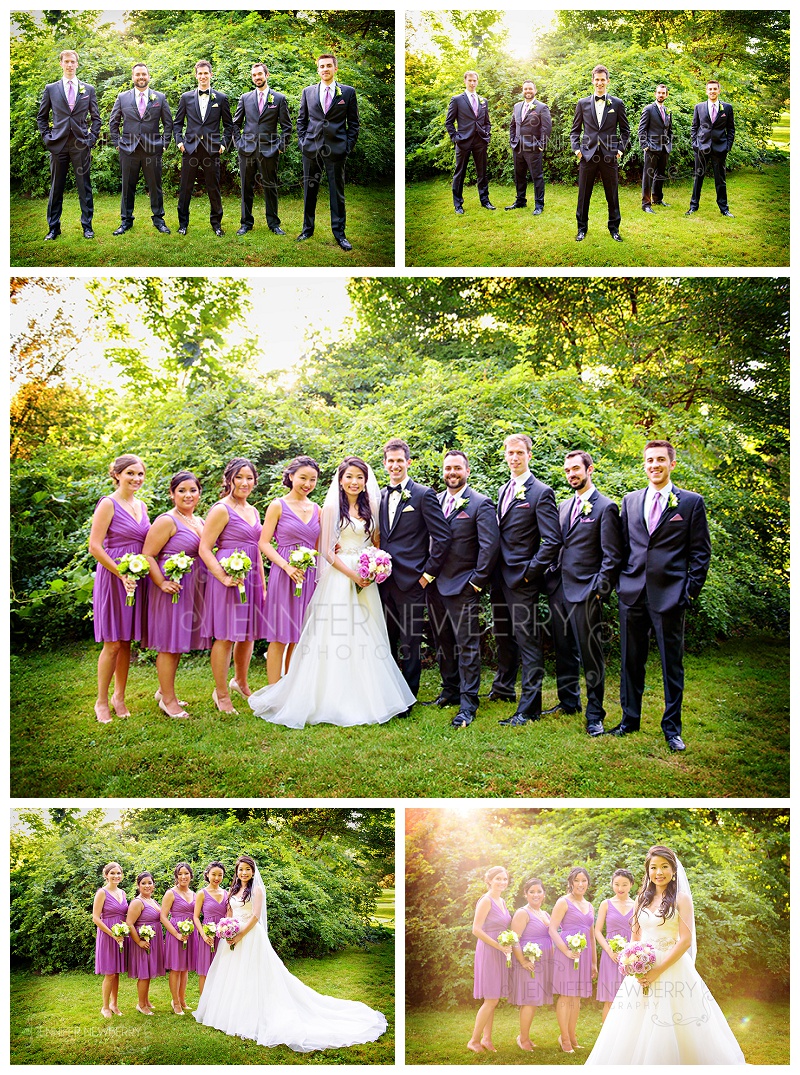 With flowy dresses like Amy's, I do like to do twirling shots sometimes. When I photograph my daughter wearing any type of dress or skirt, she insists on doing twirling photos, and really, aren't we all just 5-year-old girls at heart?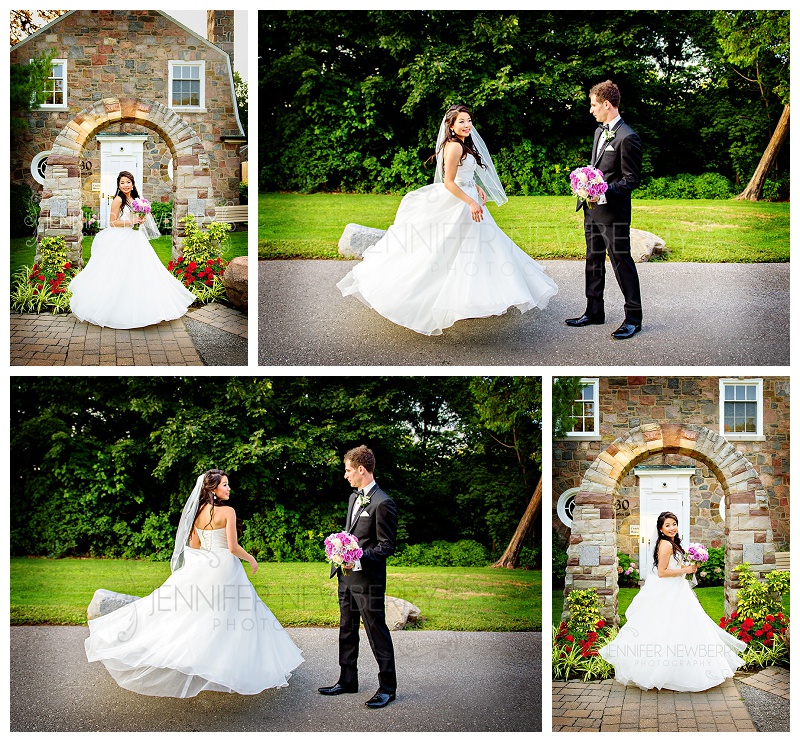 The reception area was elegantly decorated. Amy and Michael had many guests that travelled from far away to attend their wedding! They had guests from China, England, Michigan, and even Mississauga (haha.)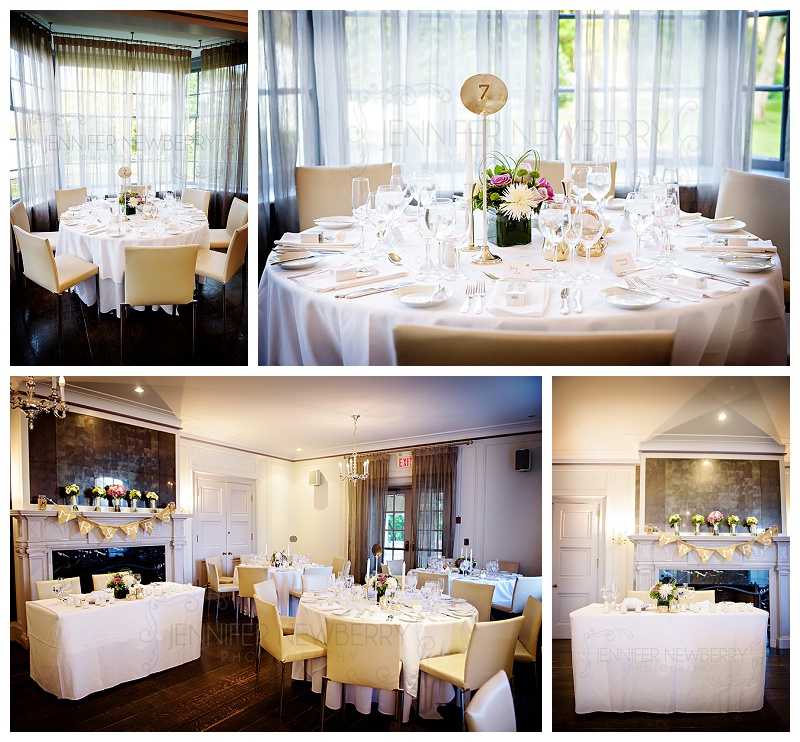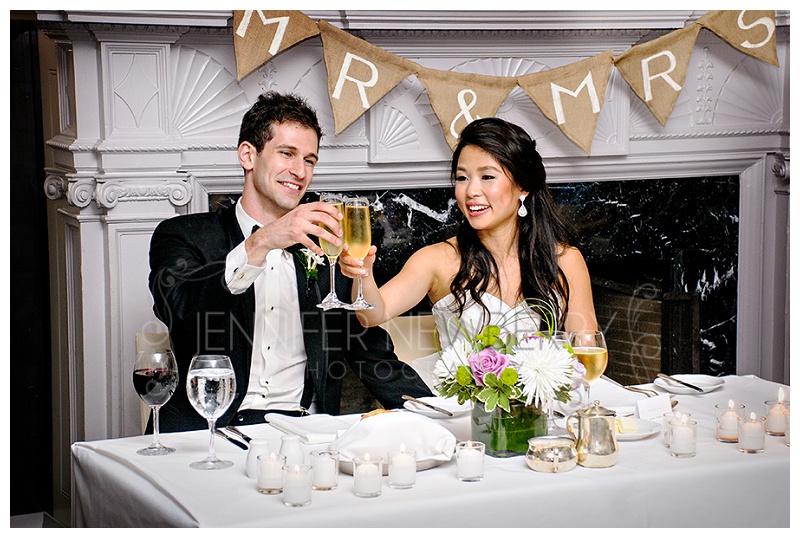 To see more photos from Amy and Michael's wedding, view the slideshow below! (If you can't see the slideshow below, click here.)
Congrats Amy and Michael! It was an absolute pleasure to document your wedding, and I hope you'll enjoy these photos for years to come!
---
Let me introduce the creative team that helped make Amy and Michael's wedding day awesome!
Venue: Estates of Sunnybrook, McLean House
Caterer: Estates of Sunnybrook, McLean House
Florist: Caruso & Company
Cake Artist: Toronto Cupcake
DJ: Brian Master
Make-Up & Hair: Toronto Beauty Group
Favours: Wonderful Wedding Warehouse
Invitations: Vistaprint
Wedding dress store: Best for Bride
Wedding dress designer: Madison Collection
Bride's shoes: Michael Kors
Bridesmaids' dresses: David's Bridal
Mens' tuxes: Tuxedo Royale
Officiant: Wayne Wright
Harpist: Chantal Dubé
Toronto wedding photographer: Jennifer Newberry Photography
---
Are you getting married? Looking for an Estates of Sunnybrook wedding photographer? Get in touch to have me, Jennifer Newberry Photography, capture your wedding, whether it's in Toronto, Newmarket, Barrie, Waterloo, Hamilton, London, Muskoka, or beyond! I'd love to chat about your wedding plans!