Bradford Wedding Photographer | Kailyn & Rob
I loved being Kailyn and Rob's Bradford wedding photographer, because the whole day really felt like I was just hanging out with some friends, who happened to have a really upscale sense of fashion. Their wedding was different than most because it was more casual, and had a lot of casual-fun elements such as playing video games, watching baseball, playing pool in their basement, a quick game of basketball, lots of silly photos, and of course Rob made a run to Tim Horton's.

I started out at Kailyn and Rob's house, where the girls were getting ready. As I always like to do, I began photographing all the wedding details I could find.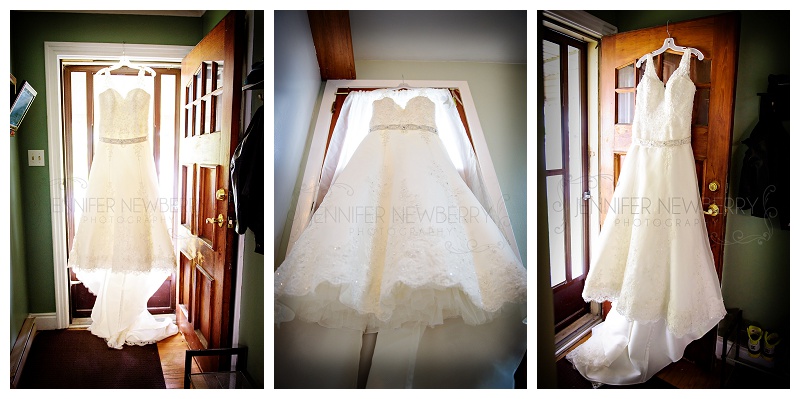 Kailyn wore one of her favourite pairs of sandals that she's owned for many years.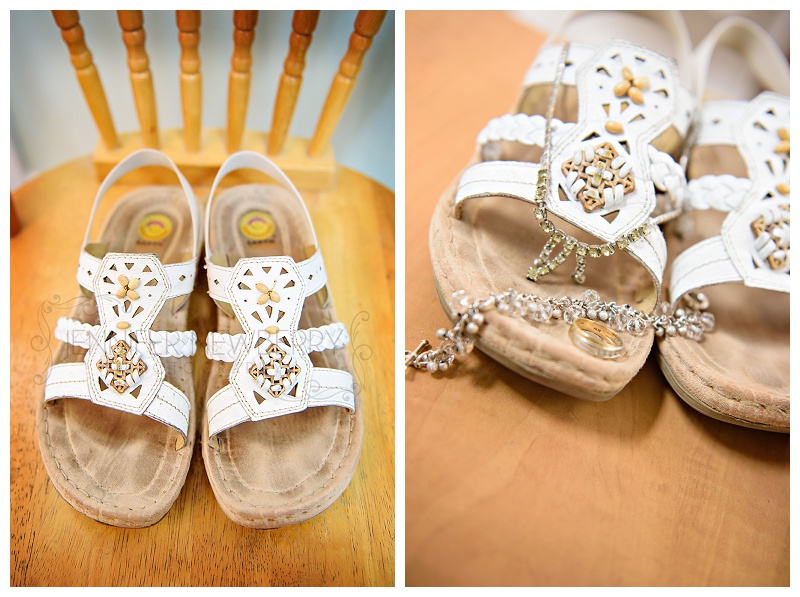 She also wore a necklace, bracelet and her usual wedding ring. (Yep she had her wedding ring long before she got married. Keep reading!)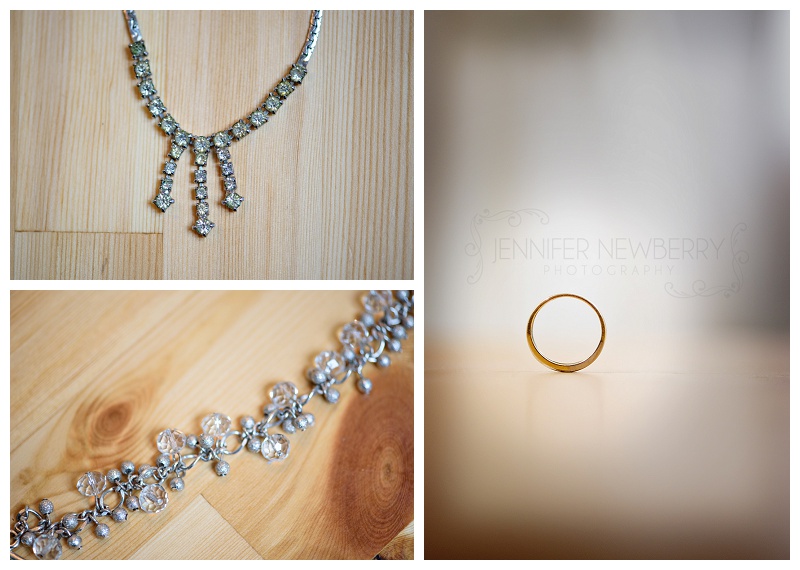 Like a few of my brides this year, Kailyn made her own bouquet. She bought the flowers at Sobey's for $10, and then arranged the bouquet herself, and wrapped it with ribbon.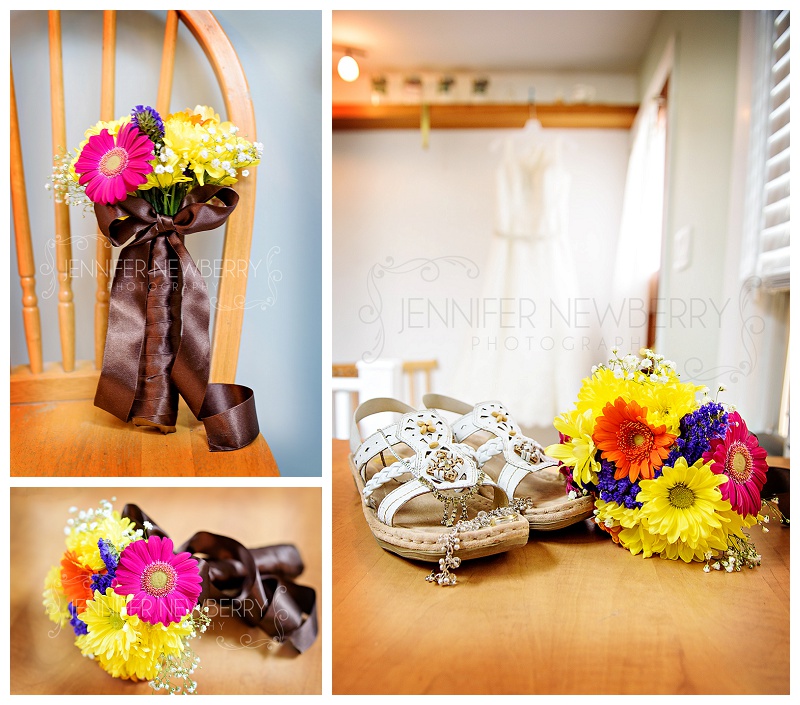 Kailyn decided that she needed something old/new/borrowed/blue, and for "blue" she went with a fancy blue pipecleaner. I love it, haha!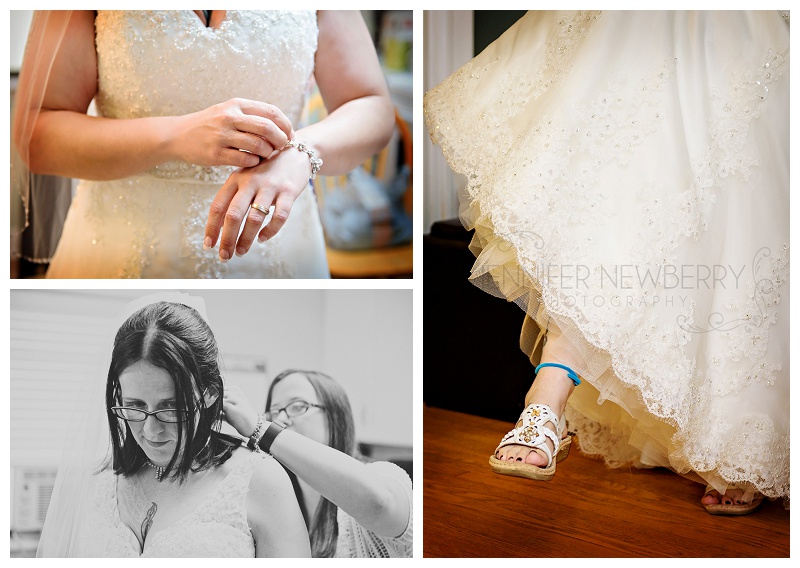 Once Kailyn was all ready to go, she made sure to play an old-school game of Mario with her son Lucas, before heading off to the ceremony venue.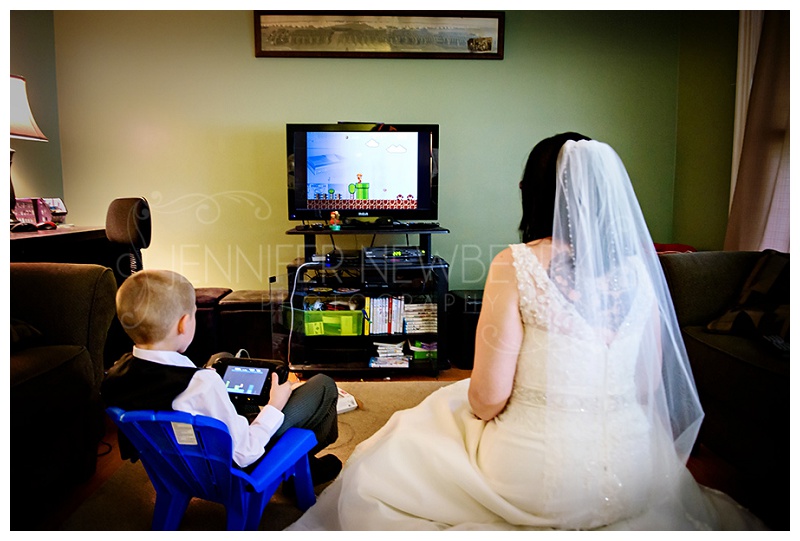 Kailyn and Rob got married at the home of their officiant, Rev. Pamela Covert-Slater, who had a gorgeous property with lots of greenery, which is my favourite for photos!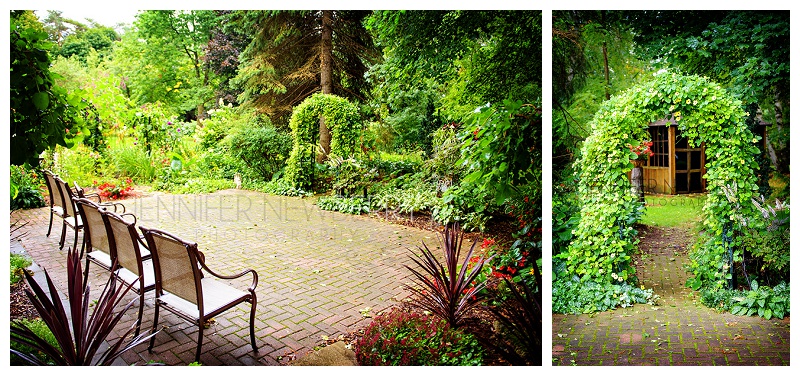 Rob met us there, but the girls got there first so Kailyn could go hide before Rob showed up. They opted not to do a First Look, so Rob didn't see his bride until her son walked her down the aisle.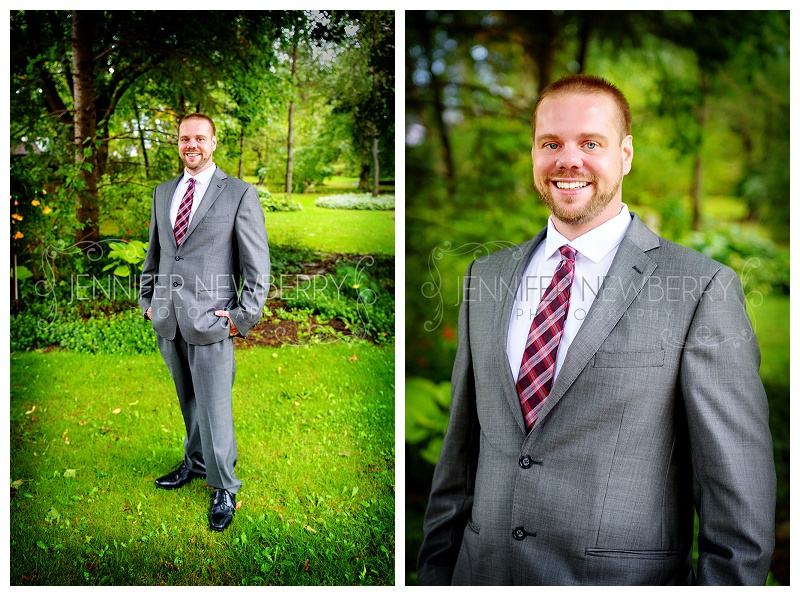 After the small, intimate ceremony in the garden, the guests all clapped while Kailyn took a bow and Rob high-fived Lucas.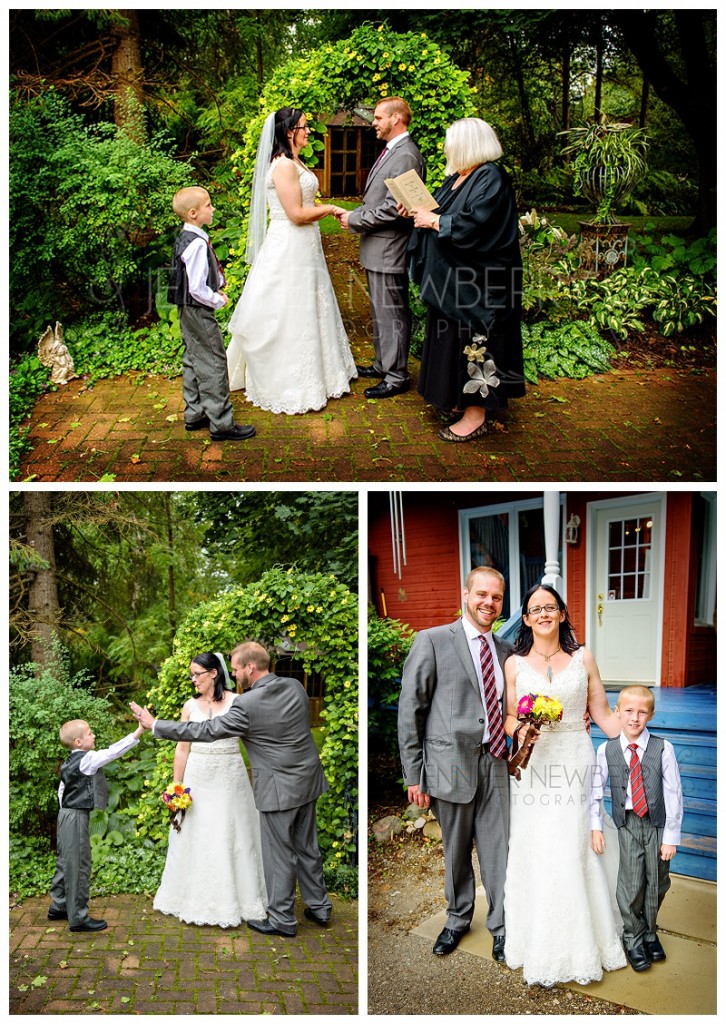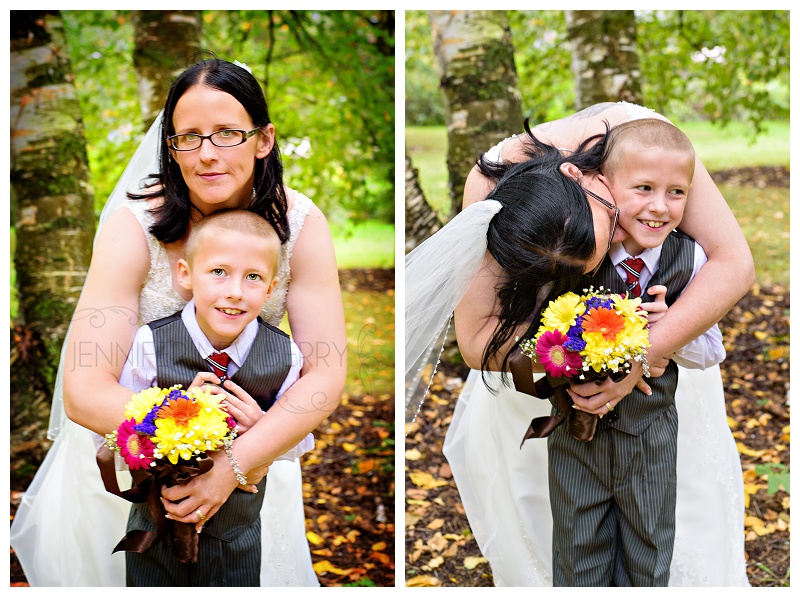 Kailyn does an excellent Mary Katherine Gallagher, so we re-enacted a few shots…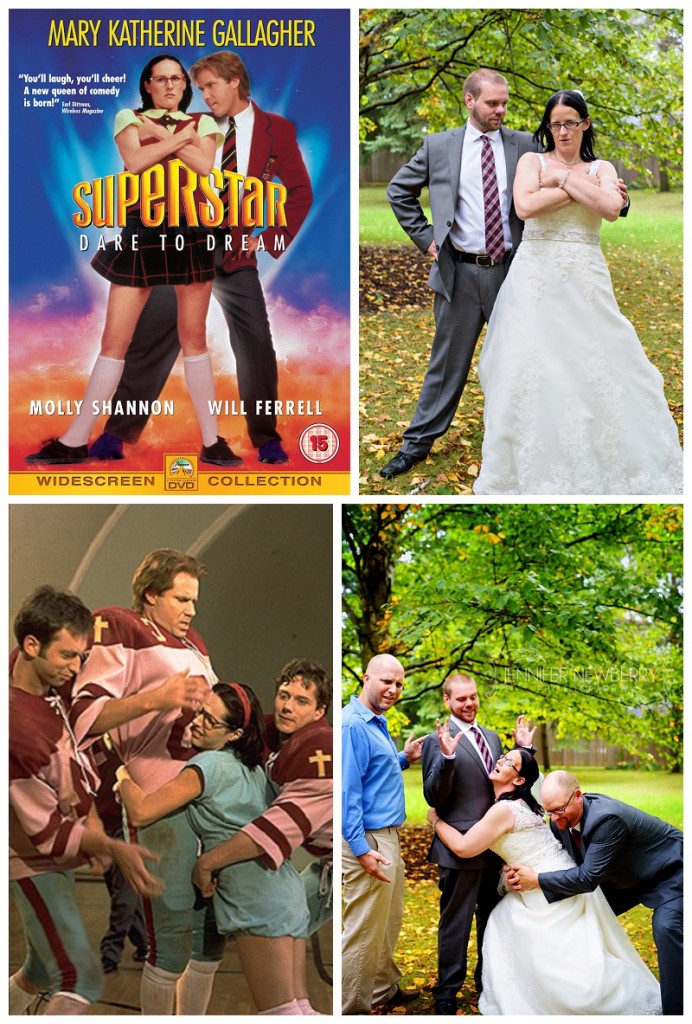 After we left the officiant's place, we went to a local park in Bradford that Kailyn always loved as a child. It had a cute little gazebo and garden area.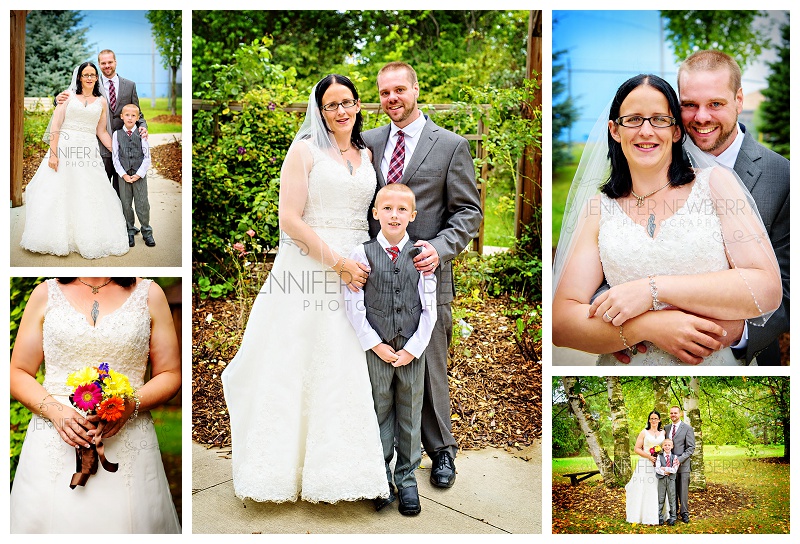 Photos with the veil!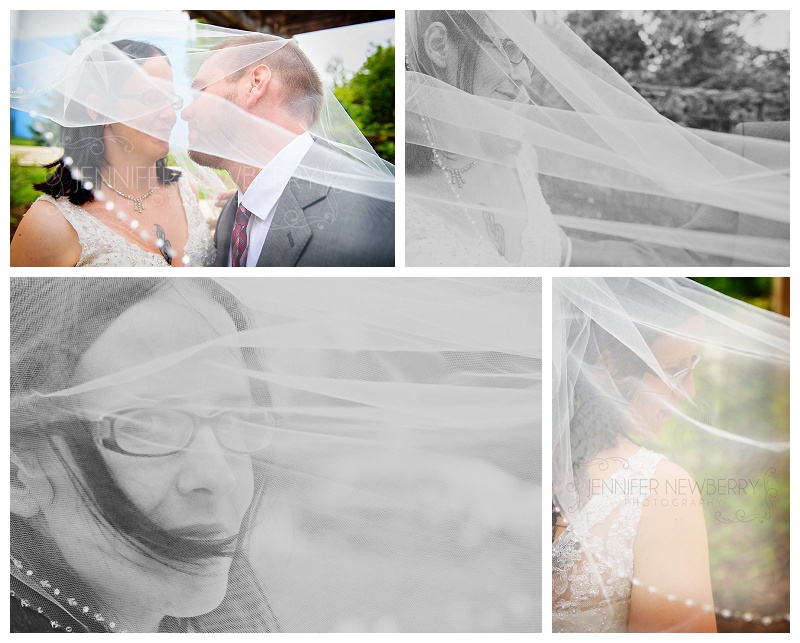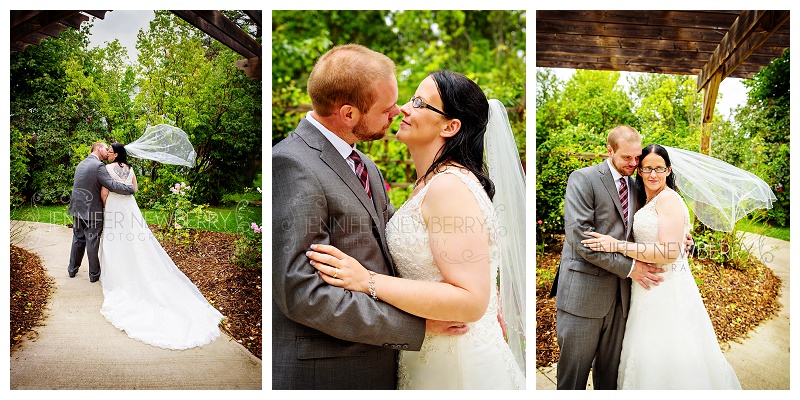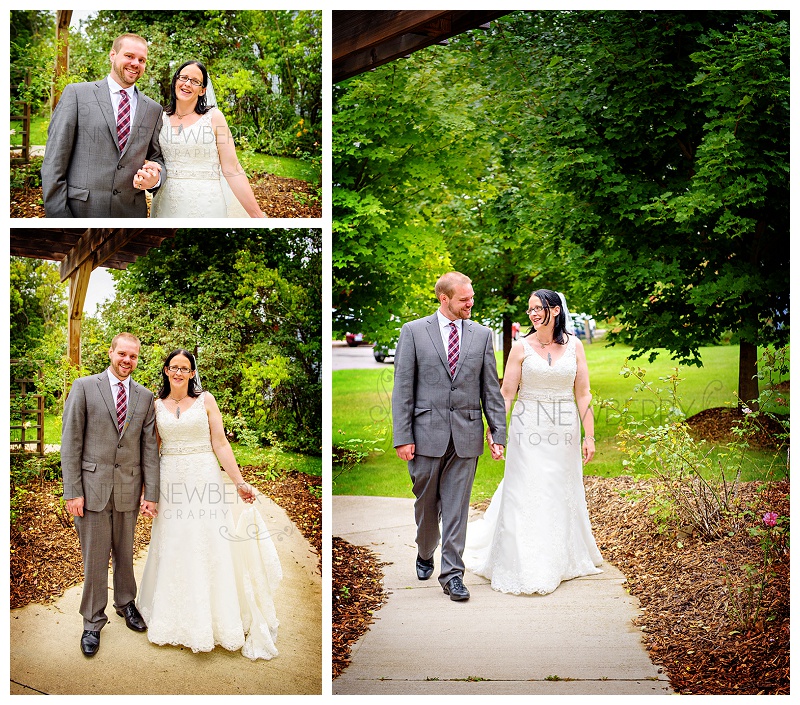 We did lots of fun goofing around shots.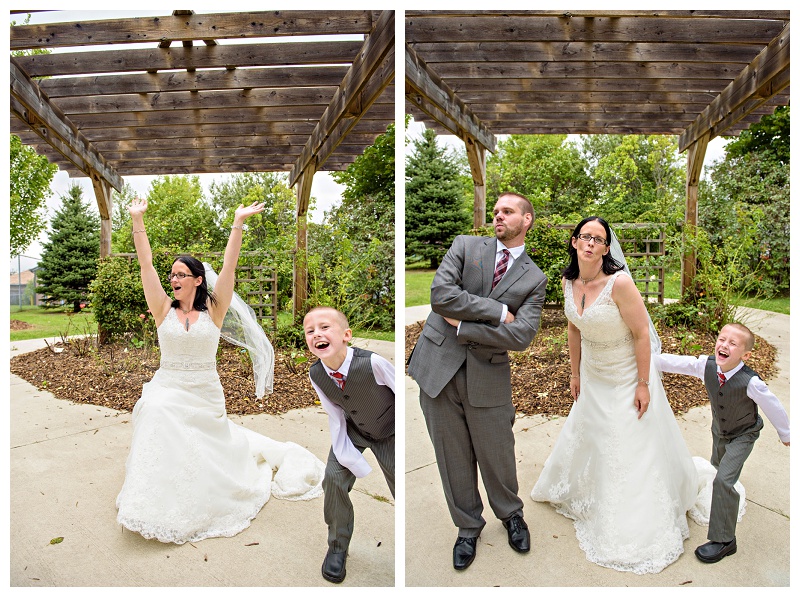 Rob and Lucas went to grab some Tim Horton's, so I did some portraits of Kailyn, and then we met the boys back at Kailyn and Rob's house.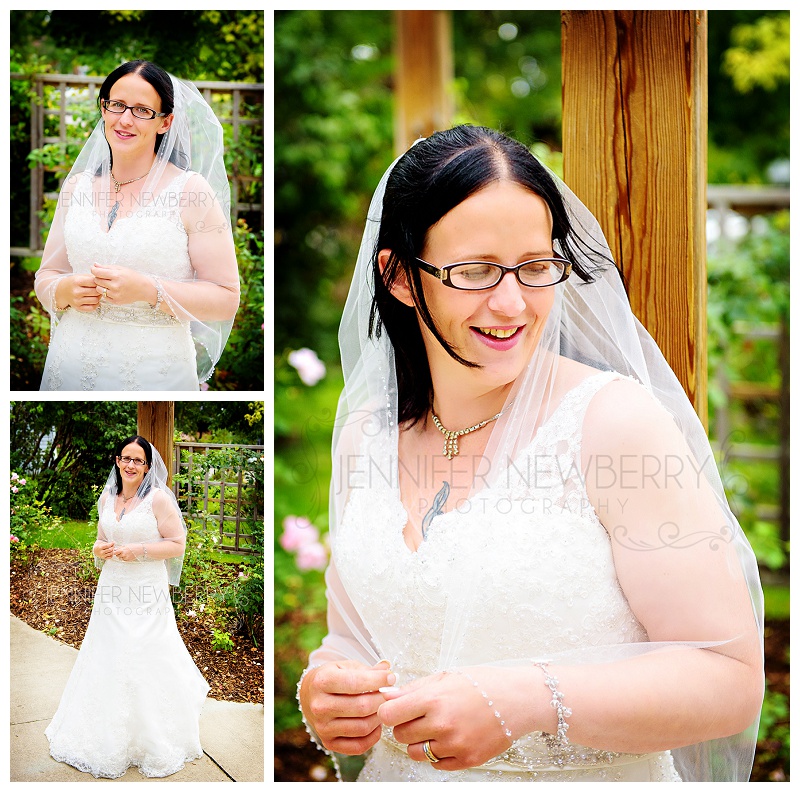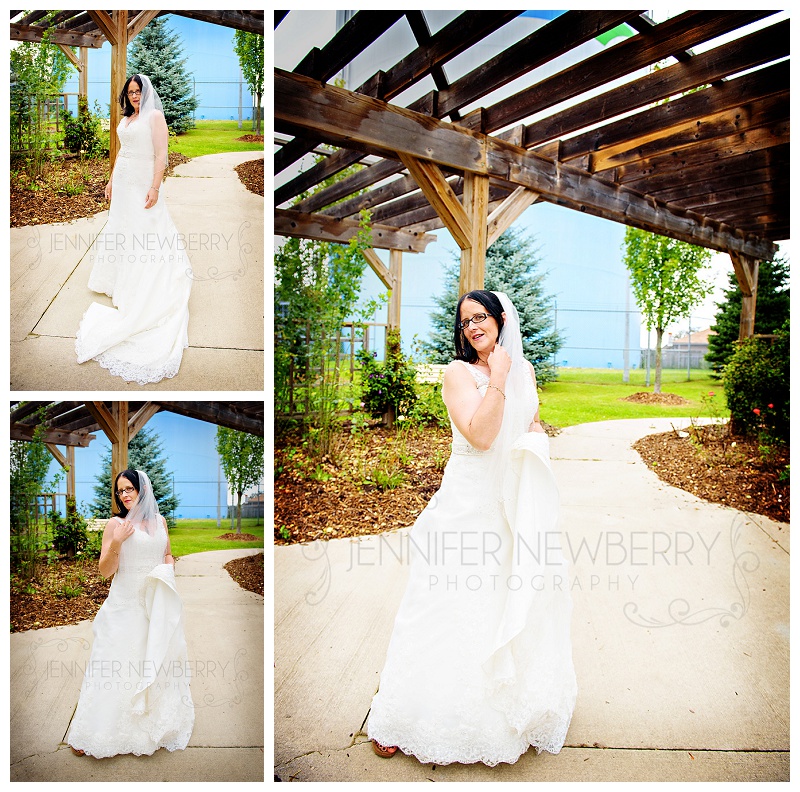 Back at the house, while enjoying our drinks Tim Horton's, I was formally introduced to Lucy – Rob's fish. I have to say, this is the first time I've ever photographed a groom with his fish on his wedding day – but it was my idea. haha.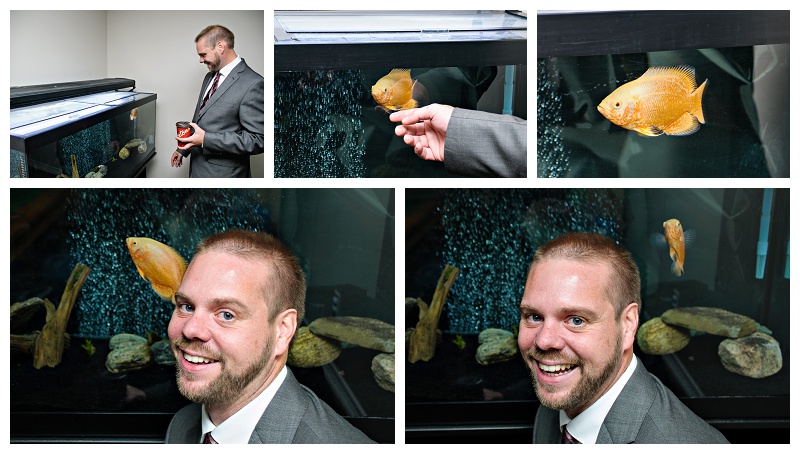 Kailyn couldn't be trusted not to spill on herself, so she drank her coffee with a straw. Then they played some pool in their basement, watched some baseball on TV, and played a game of basketball in the driveway with Lucas before heading to the Trophy Case for the reception.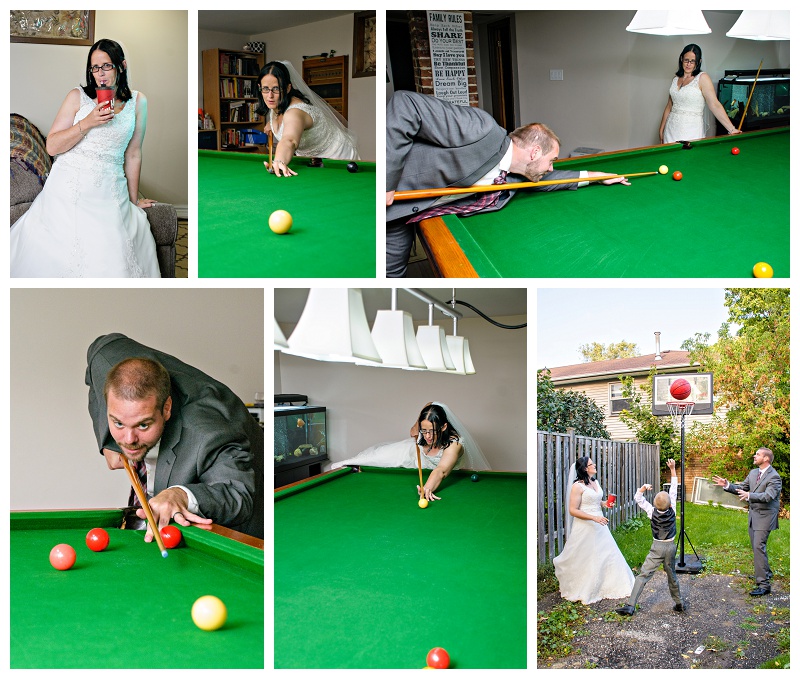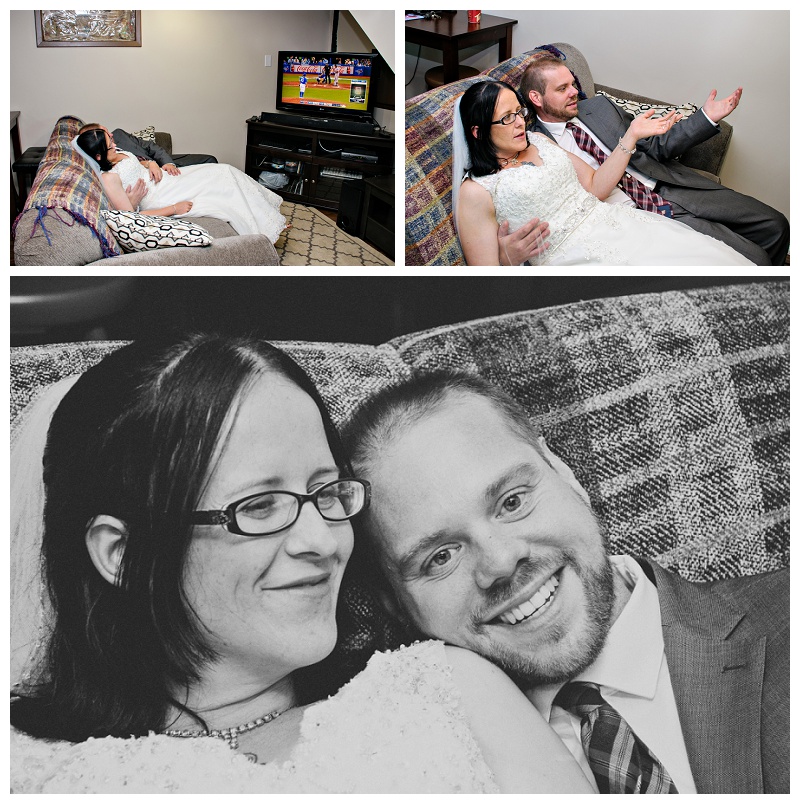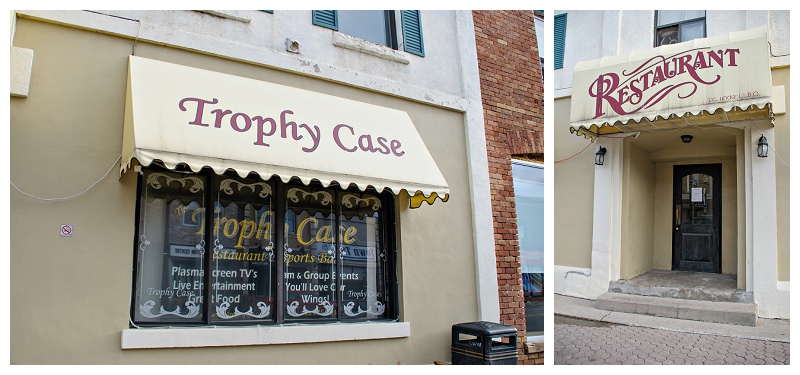 I love how Kailyn and Rob's engagement photos were incorporated into the reception!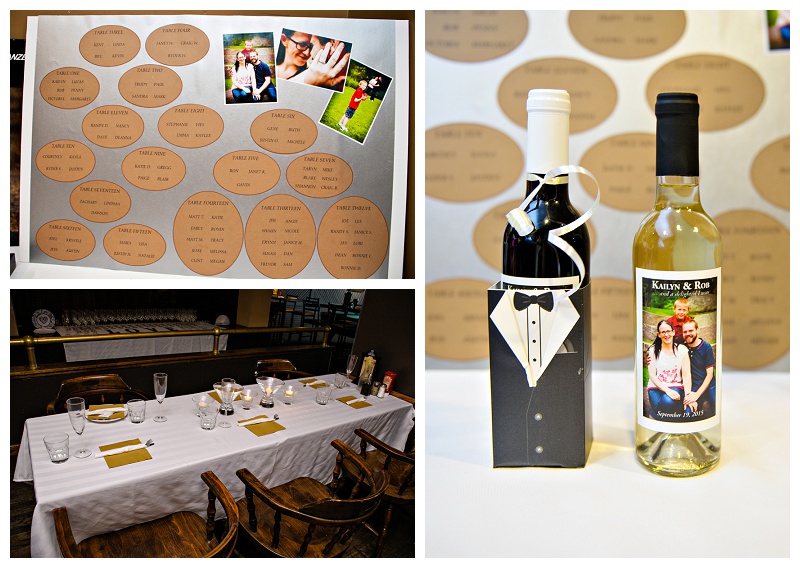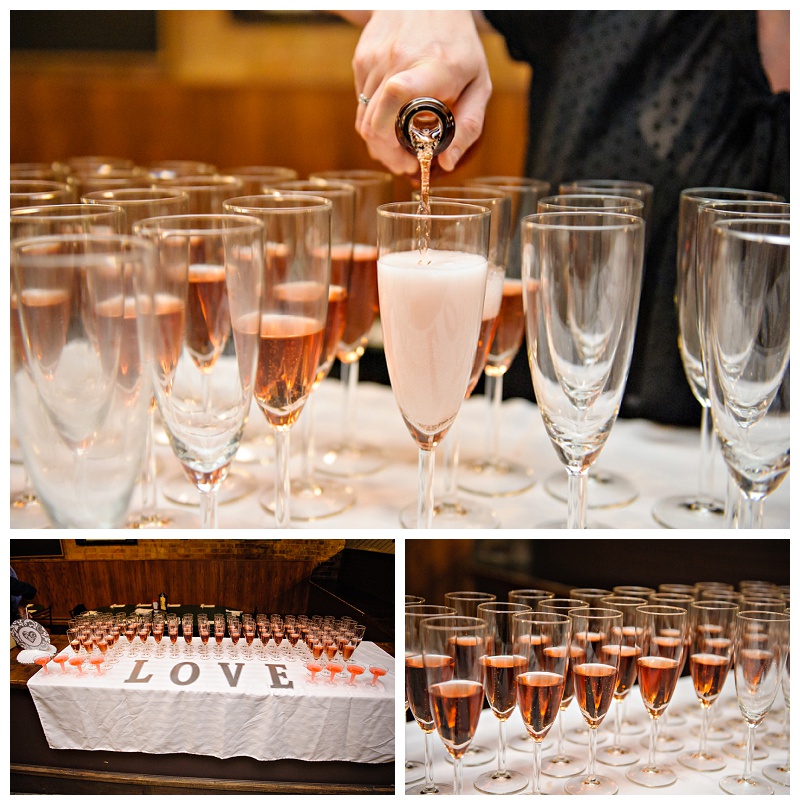 Kailyn and Rob actually exchanged rings before they got married, so they used the same ones for the ceremony as well.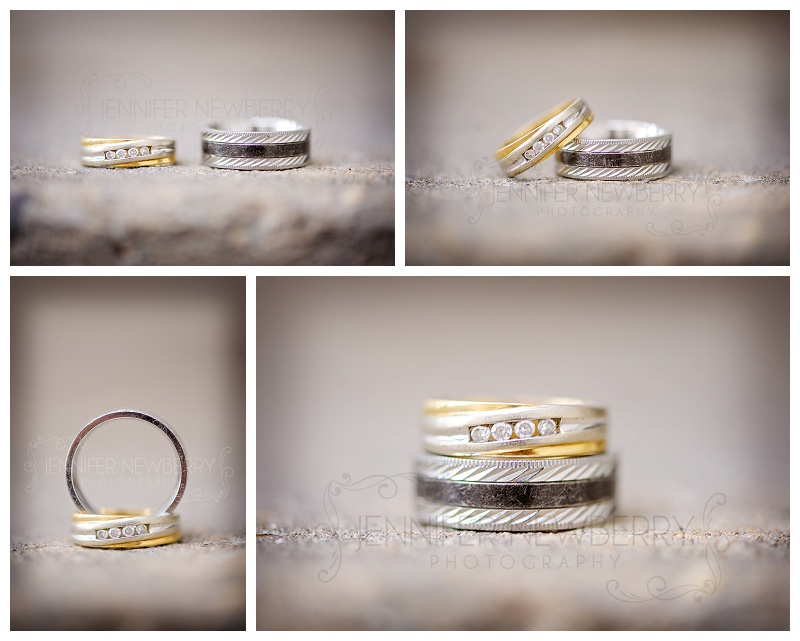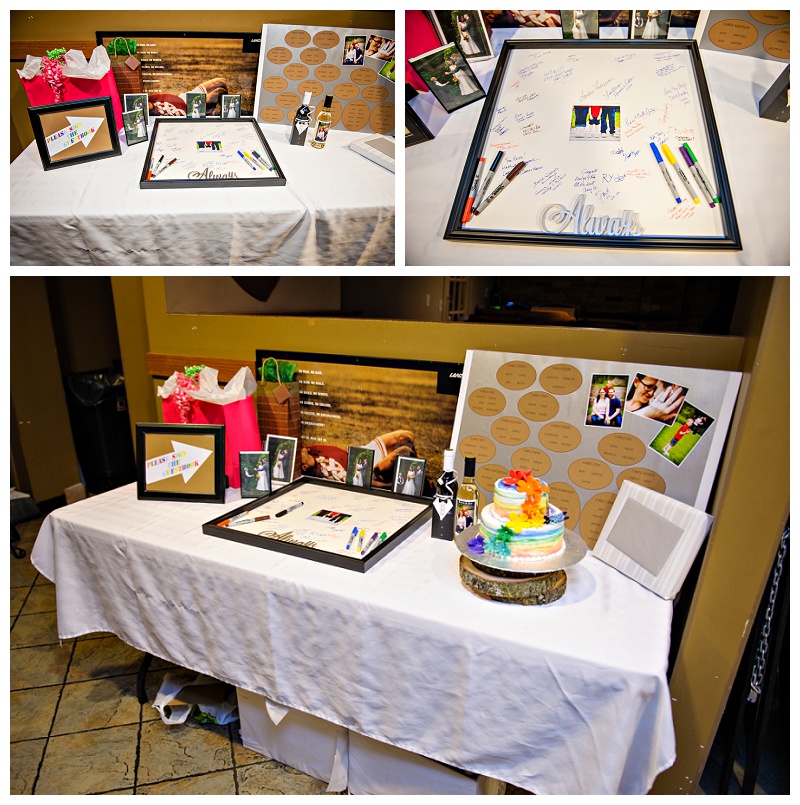 The wedding cake was ordered from Walmart!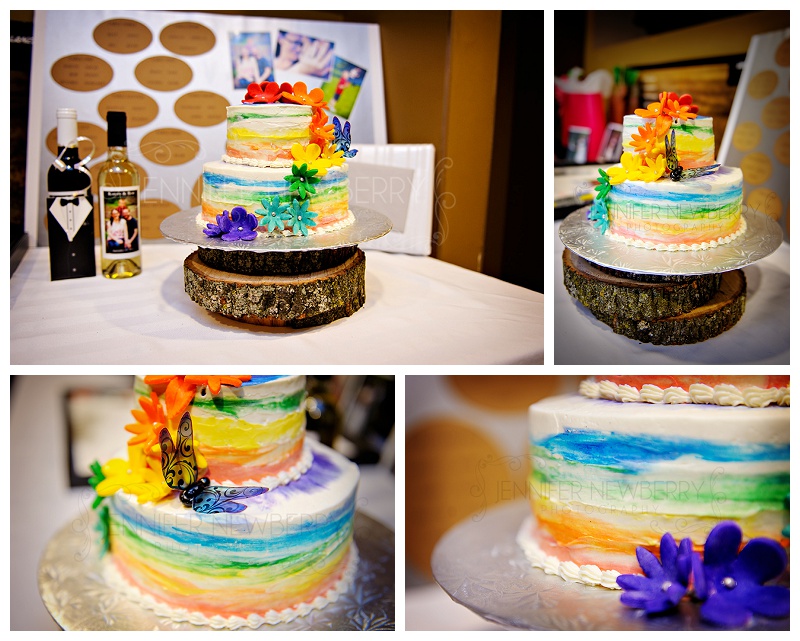 All in all it was a great day! Laid back, comfortable, and fun!

To see more of Kailyn and Rob's wedding photos, view the slideshow below. (If you can't see the slideshow below, click here.)


Ceremony venue: The home of Rev. Pamela Covert-Slater
Reception venue: The Trophy Case
Florist: DIY. Flowers purchased at Sobey's.
Cake Artist: Walmart
Make-up Artist: DIY
Hair Artist: Kailyn's friend Vicky
Caterer: The Trophy Case
Favours: Michael's
Invitations: DIY by Kailyn
Wedding dress shop: Elmwood Brides
Groom's attire: Moore's
Bradford wedding photographer: Jennifer Newberry Photography