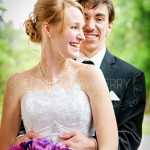 Emily and Tyler's Rainy Aurora Wedding, with Horses!
Emily and Tyler met through a mutual friend, and at the end of May, they were married at the Royal Canadian Legion, in Aurora.
Tyler proposed to Emily when they were on a trip to the Dominican Republic!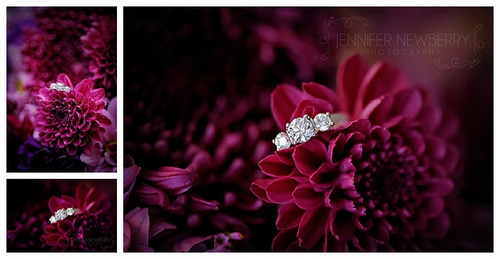 The morning of the wedding, Emily and her bridesmaids all got ready at her parents' house in Mount Albert. The house was set a bit away from the road and there were trees blocking the view of the road – which was good because I do love having brides get ready near large windows 😉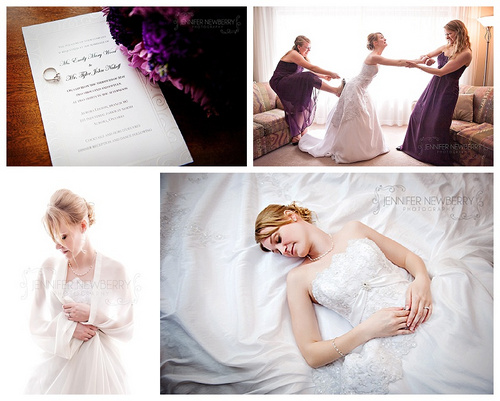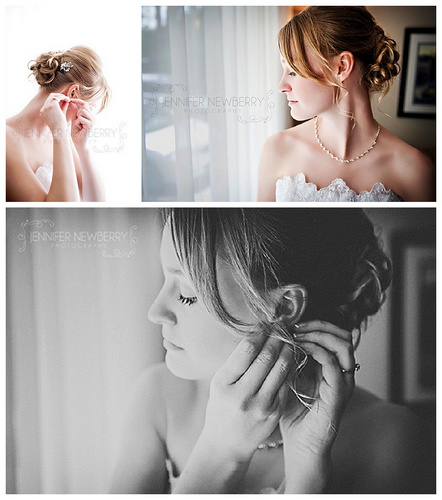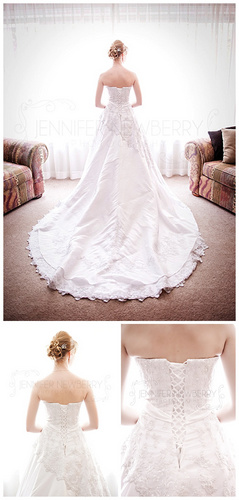 It rained a bit in the morning, but the rain broke and we were able to do some portraits outdoors at Emily's parents' house! The real perk of having a rainy day (minus the actual rain), is that the rain clouds provide a most excellent light diffuser!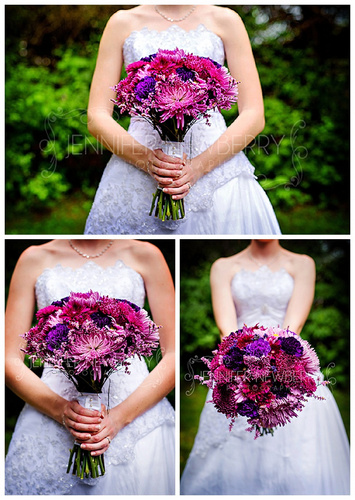 Emily and Tyler had planned an indoor ceremony at the Royal Legion in Aurora, which was a good thing because right as they started saying their vows, there was a huge clap of thunder, and it started POURING rain. You could hear the rain hitting the roof of the building, but Emily and Tyler didn't notice because they were so focused on each other!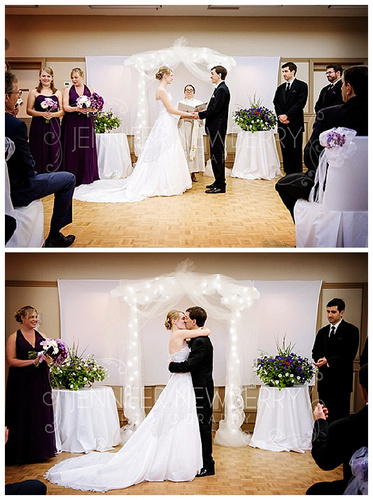 Emily and Tyler had arranged to have their wedding photos taken at a nearby farm, but before heading there we grabbed a quick shot of them holding their parents' wedding photos!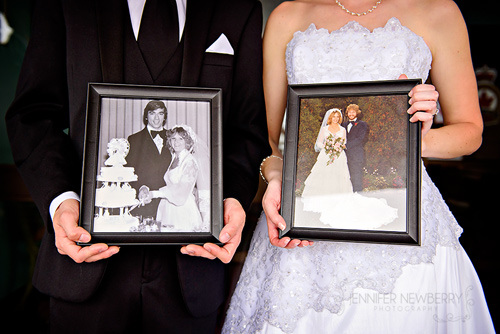 By the time we all got to the farm, it was pouring rain again. So we did photos inside the barn while waiting for a break in the rain. And lucky for us – inside the barn were horses!

The horse below, his name was Thomas. He was SO tall!! How I wish we could have had Emily riding a horse with her wedding dress flowing behind her! But alas, that probably wouldn't have gone over well in the rain. *sigh*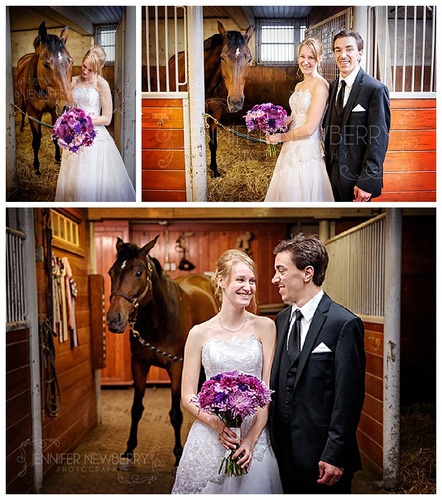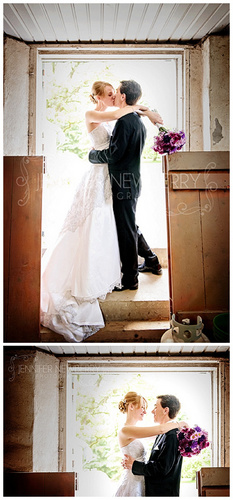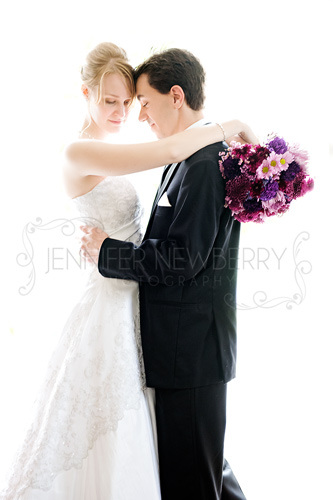 I love these shots below, because it shows that even if it's raining, you can get nice photos and have a great time, all at once!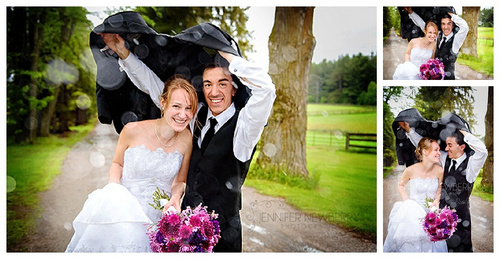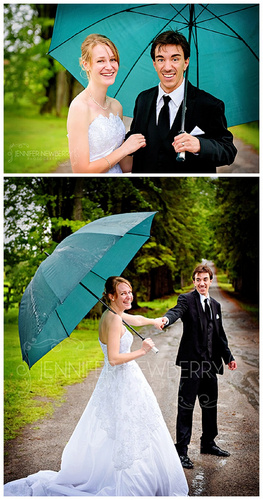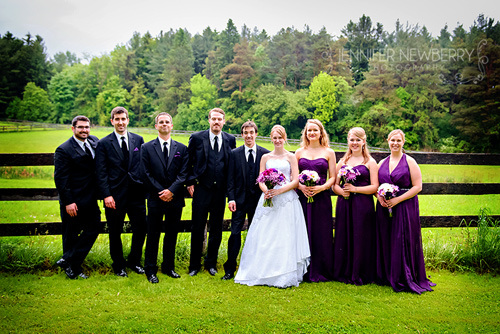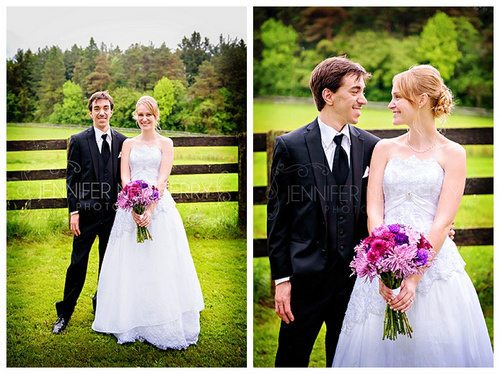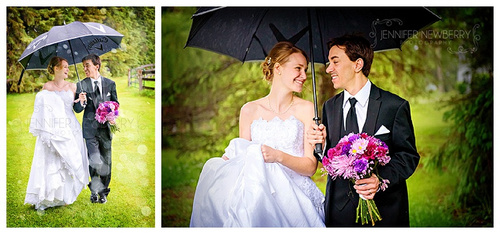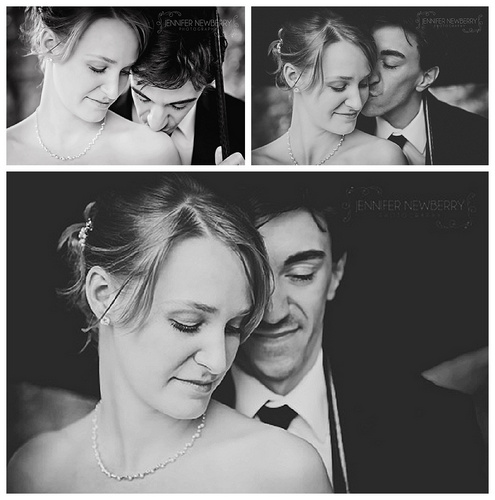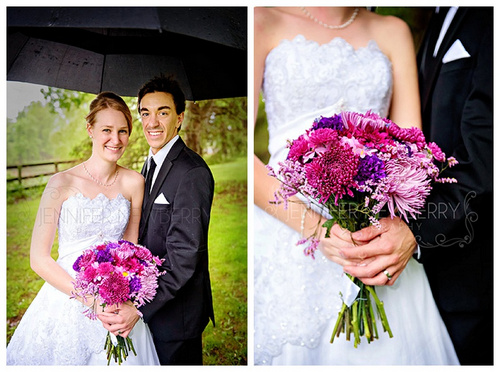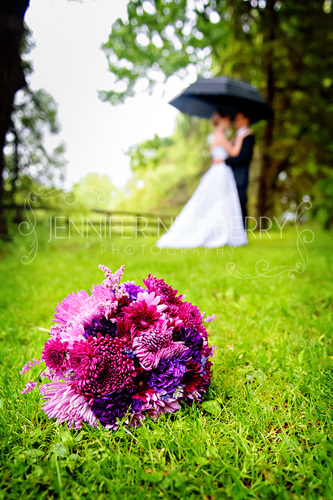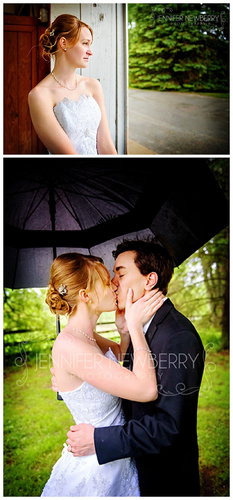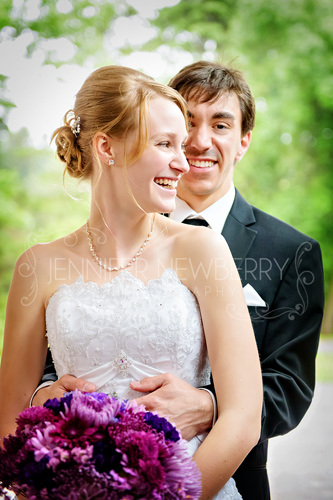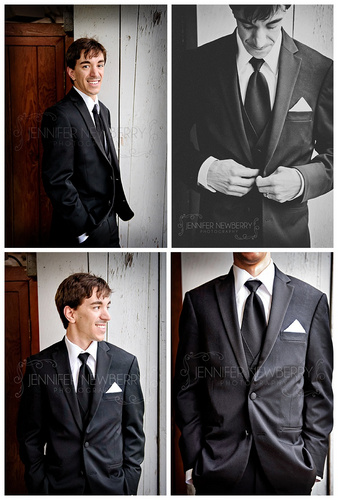 Emily LOVES horses, so she was right at home with the horses in the barn! I can't remember the name of this horse, but I do remember that his competition name was "Forrest Gump", because he just lazily goes along with whatever you want him to do. He was so gorgeous, and friendly!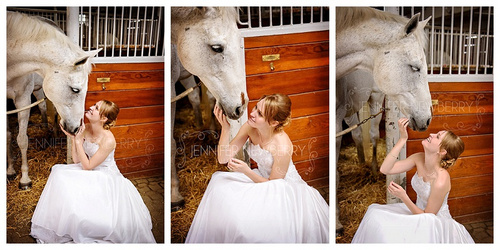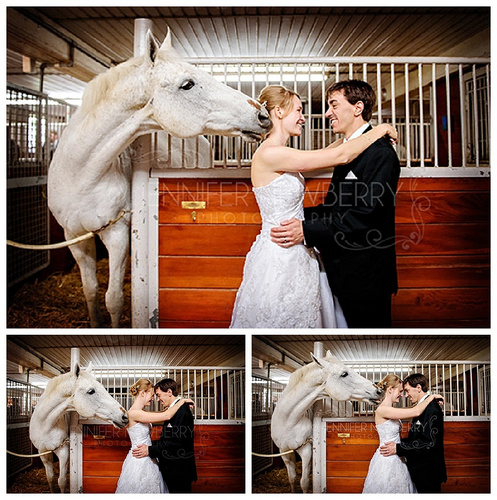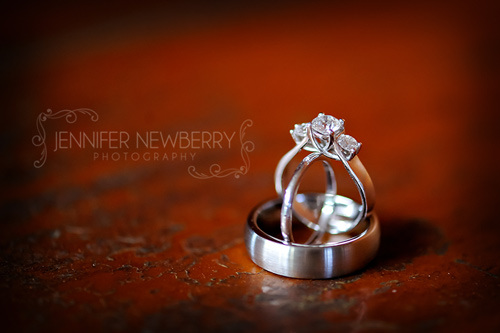 Emily and Tyler, I had so much fun documenting your wedding day! Despite the rain we got some great photos and had a fantastic time! Emily, if you ever want to get in your wedding dress and go horseback riding, you give me a call!

To see more of Emily and Tyler's wedding day, view the slideshow below!

Many thanks to the creative team who made Emily and Tyler's Aurora wedding so special…
Venue: Aurora Royal Canadian Legion
Cake: Amy (Emily's sister)
Wedding Dress: Gown Go Round
Wedding Dress Designer: Maggie Sottero
Bridesmaids Dresses: Elmwood Brides
Mens' Tuxes: Moores
Officiant: Tracy Cox
Photographer: Jennifer Newberry Photography
---
Are you getting married? Looking for an Aurora wedding photographer? Get in touch to have me, Jennifer Newberry Photography, capture your wedding, whether it's in Aurora, Newmarket, Toronto, Barrie, Waterloo, Hamilton, London, Muskoka, or beyond! I'd love to chat about your wedding plans!
---
Aurora Wedding Photography by Newmarket Wedding Photographer, Jennifer Newberry
Jennifer Newberry Photography is anything but your average Aurora wedding photographer. Each wedding is treated with care and creativity not found with other Aurora wedding photography studios. Your wedding day is carefully crafted to offer one of a kind unique photography in the Newmarket, York Region and Toronto areas.
This is Aurora wedding photography at its best. Jennifer Newberry Photography is an award winning photographer based in the Newmarket area. Offering wedding coverage in Newmarket, Aurora, Richmond Hill, Markham, Vaughan, Toronto and all of Southern Ontario, this wedding photography studio is one of the top studios in the area and is located right here in Newmarket.
Creative. Stylish. Award-winning. These are the words typically used to describe this Newmarket wedding photographer. With clients based all over the world, Newmarket is home to this Newmarket wedding photographer.
I take pride in offering our clients the type of Aurora wedding photography they are looking for. It's one thing to take pictures, it's another to create art for my clients.
Our clients are typically looking for artwork for their home vs. snapshots, and that is what draws them into our Newmarket wedding photography studio.
Serving Newmarket, Aurora, Richmond Hill, Markham, Vaughan, Toronto and Beyond
Jennifer Newberry Photography offers Newmarket wedding photography coverage in the GTA, including but not limited to, Aurora ON, Newmarket ON, Toronto ON, Barrie ON, Waterloo ON, London ON, Hamilton ON, Muskoka ON, and the surrounding areas.
Not looking for an Aurora wedding photographer? Please be sure to consider me for your family photography needs in the Newmarket area.